Abstract
Polycyclic aromatic hydrocarbons (PAHs) and naphthenic acids (NAs) are toxic contaminants of environmental concern found in process water and mature fine tailings, or tailings, from the oil sands industry. BioTiger™, a patented microbial consortium of twelve natural environmental isolates, was found to cometabolically biodegrade the NA hexanoic acid and the PAH phenanthrene in the presence of tailings. Hexanoamide was found to be produced and consumed during cometabolism of hexanoic acid. Mechanistic analysis demonstrated three of the BioTiger™ strains generated biosurfactants with the bacterial adhesion to hydrocarbons assay, seven with the methylene blue active substances assay, and nine with a hemolysis assay. Serial transfers of the BioTiger™ consortium demonstrated the stability of hexanoic acid degradation over several generations. The results demonstrate that BioTiger™ cometabolically biodegrades combinations of phenanthrene and hexanoic acid in tailings. This work reveals the potential for in situ bioremediation of tailings with this natural microbial consortium.
Access options
Buy single article
Instant access to the full article PDF.
USD 39.95
Price includes VAT (USA)
Tax calculation will be finalised during checkout.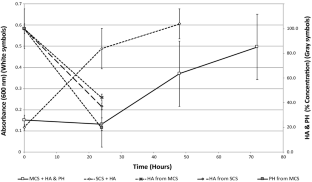 References
Abrajano TA Jr, Yan B, Song J, Bopp R, O'Malley V (2007) High-molecular-weight petrogenic and pyrogenic hydrocarbons in aquatic environments. Treat Geochem 9:1–50

Amodu O, Ojumu T, Ntwampe S (2013) Bioavailability of high molecular weight polycyclic aromatic hydrocarbons using renewable resources. In: Petre M (ed) Environmental biotechnology—new approaches and prospective applications. InTech, Rijeka, Croatia, pp 171–193

Bayat Z, Hassanshahian M, Cappello S (2015) Immobilization of microbes for bioremediation of crude oil polluted environments: a mini review. Open Microbiol J 9:48–54

Bordenave S, Kostenko V, Dutkoski M, Grigoryan A, Martinuzzi R, Voordouw G (2010) Relation between the activity of anaerobic microbial populations in oil sands tailings ponds and the sedimentation of tailings. Chemosphere 81:663–668

Brigmon R, Berry C, Wade A, Simpson W (2016) Bioprocessing-based approach for bitumen/water fines separation and hydrocarbon recovery from oil sands tailings. Soil Sediment Contam 25(3):241–255

Carrillo PG, Mardaraz C, Pitta-Alvarez SI, Giulietti AM (1996) Isolation and selection of biosurfactant-producing bacteria. World J Microbiol Biotechnol 12:82–84

Christofi N, Ivshina IB (2002) Microbial surfactants and their use in field studies of soil remediation. J Appl Microbiol 93:915–929

Dalmia, A (2013) Analysis of naphthenic acids in filtered oil sands process water (OSPW) using LC/TOF with no sample preparation. https://www.perkinelmer.com/CMSResources/Images/44-154957APP_Analysis_of_Nalphthenic_Acids.pdf

Demeter M, Lemire J, Yue G, Ceri H, Turner R (2015) Culturing oil sands microbes as mixed species communities enhances ex situ model naphthenic acid degradation. Front Microbiol 6:1–13

Frank R, Kavanagh R, Burnison B, Arsenault G, Headley J, Peru K, Van Der Kraak G, Solomon K (2008) Toxicity assessment of collected fractions from an extracted naphthenic acid mixture. Chemosphere 72:1309–1314

Gottschalk, G (1986) Assimilation of ammonia. In: Gottschalk G (ed) Bacterial metabolism Springer-Verlag, New York, p 40.

Gunther N IV, Nuñez A, Fett W, Solaiman D (2005) Production of rhamnolipids by Pseudomonas chlororaphis, a nonpathogenic bacterium. Appl Environ Microbiol 71(5):2288–2293

Herman D, Fedorak P, MacKinnon M, Costerton J (1994) Biodegradation of naphthenic acids by microbial populations indigenous to oil sands tailings. Can J Microbiol 40:467–477

Horvath R (1972) Microbial co-metabolism and the degradation of organic compounds in nature. Bacteriol Rev 36(2):146–155

Johnson R, Smith B, Sutton P, McGenity T, Rowland S, Whitby C (2011) Microbial biodegradation of aromatic alkanoic naphthenic acids is affected by the degree of alkyl side chain branching. Int Soc Microbiol J 5:486–496

Jones W (1997) Biosurfactants, bioavailability, and bioremediation. Global Environ Biotechnol 66:379–391

Lawniczak L, Marecik R, Chrzanowski L (2013) Contributions of biosurfactants to natural or induced bioremediation. Appl Microbiol Biotechnol 97:2327–2339

Mahaffey A, Dubé M (2017) Review of the composition and toxicity of oil sands process-affected water. Environ Rev 25(1):97–114

Mortimer M, Holden P (2019) Chapter 3—Fate of engineered nanomaterials in natural environments and impacts on ecosystems. Exposure to engineered nanomaterials in the environment. Elsevier, Amsterdam, pp 61–103

Motta Cabrera SC, Bryan J, Komishke B, Kantzas A (2009) Study of the settling characteristics of tailings using nuclear magnetic resonance (NMR) technique. Int J Min Reclam Environ 23(1):105–120

Mulligan C (2005) Environmental applications for biosurfactants. Environ Pollut 133(2):183–198

Plaza G, Wypych J, Berry C, Brigmon R (2007) Utilization of monocyclic aromatic hydrocarbons individually and in mixture by bacteria isolated from petroleum-contaminated soil. World J Microbiol Biotechnol 23(4):533–542

Quagraine EK, Peterson HG, Headley JV (2007) In situ bioremediation of naphthenic acids contaminated tailing pond waters in the Athabasca Oil Sands Region—demonstrated field studies and plausible options: a review. J Environ Sci Health A 40(3):685–722

Reis RS, Pacheco GJ, Pereira AG, Freire DMG (2013) Biosurfactants: production and applications. In: Chamy R, Rosenkranz F (eds) Biodegradation—life of science. InTech Rijeka, Croatia, pp 31–61

Rogers VR, Wickstrom M, Liber K, MacKinnon MD (2002) Acute and subchronic mammalian toxicity of naphthenic acids from oil sands tailings. Toxicol Sci 66:347–355

Romero C, Suárez F (2009) Effect of temperature on the solubility of short-chain carboxylic acids in water. J Solut Chem 38(3):315–320

Shuttleworth K, Cerniglia C (1996) Bacterial degradation of low concentrations of phenanthrene and inhibition by naphthalene. Microb Ecol 31:305–317

Simpanen S, Dahl M, Gerlach M, Mikkonen A, Malk V, Mikola J, Romantschuk M (2016) Biostimulation proved to be the most efficient method in the comparison of in situ soil remediation treatments after a simulated oil spill accident. Environ Sci Pollut Res Int 23(24):25024–25038

Stringfellow WT, Aitken MD (1995) Competitive metabolism of naphthalene, methylnaphthalenes, and fluorene by phenanthrene-degrading pseudomonads. Appl Environ Microbiol 61:357–362

Thavasi R, Sharma S, Jayalakshmi S (2011) Evaluation of screening methods for the isolation of biosurfactant producing marine bacteria. J Pet Environ Biotechnol S1:001. https://doi.org/10.4172/2157-7463.S1-001

Whitby C (2010) Chapter 3—Microbial naphthenic acid degradation. Advances in Applied Microbiology. Academic Press, Massachusetts, pp 93–125

Willumsen PA, Karlson U (1997) Screening of bacteria, isolated from PAH-contaminated soils, for production of biosurfactants and bioemulsifiers. Biodegradation 7:415–423

Yang L, Chang YF, Chou MS (1999) Feasibility of bioremediation of trichloroethylene contaminated sites by nitrifying bacteria through cometabolism with ammonia. J Hazard Mater 69(1):111–126

Yergeau E, Lawrence J, Sanschagrin S, Roy J, Swerhone G, Korber D, Greer C (2013) Aerobic biofilms grown from Athabasca watershed sediments are inhibited by increasing concentrations of bituminous compounds. Appl Environ Microbiol 79:7398–7412

Young R, Wismer W, Fedorak P (2008) Estimating naphthenic acids concentrations in laboratory-exposed fish and in fish from the wild. Chemosphere 73:498–505

Youssef N, Duncan K, Nagle D, Savage K, Knapp R, McInerney M (2004) Comparison of methods to detect biosurfactant production by diverse microorganisms. J Microbiol Methods 56:339–347
Acknowledgements
This work was funded by the Department of Energy's Science Undergraduate Laboratory Internship (SULI) program. The authors would like to thank Ken Stephenson and Marya Moultrie for technical assistance. This project was supported by Savannah River Nuclear Solutions, LLC under Contract No. DE-AC09-08SRZ2470 with the U.S. Department of Energy.
Ethics declarations
Conflict of interest
The authors declare that they have no conflict of interest.
Additional information
Publisher's Note
Springer Nature remains neutral with regard to jurisdictional claims in published maps and institutional affiliations.
About this article
Cite this article
Reddy, D.O., Milliken, C.E., Foreman, K. et al. Bioremediation of Hexanoic Acid and Phenanthrene in Oil Sands Tailings by the Microbial Consortium BioTiger™. Bull Environ Contam Toxicol 104, 253–258 (2020). https://doi.org/10.1007/s00128-019-02776-x
Received:

Accepted:

Published:

Issue Date:
Keywords
Biosurfactants

BioTiger™

Hexanoamide

Hexanoic acid

Phenanthrene

Mature fine tailings