Abstract
Polycyclic aromatic hydrocarbons (PAHs) were detected and quantified in sediment and edible fish (Megalops atlanticus) from Caleta lagoon (Lagoon of Terminos, Mexico) in order to assess their potential health impact on consumers. Sum PAH concentrations in sediment and fish muscle tissues were dominated by high molecular weight PAH compound (46.4%–93.1%) relative to low molecular weight compounds (6.9%–42.9%). Contamination was associated with local industrial activities and urbanization. The effective range low (ERL: 4022 ng g−1) value were lower suggested adverse biological effect would be rarely observed. While the analysis of PAHs in muscle of M. atlanticus suggests a minimum impact to consumers according to the permitted limits of dibenzo (a, h) anthracene (10 ng g−1) and benzo [a] pyrene (0.1–1.2 μg kg−1). It is advisable to propose environmental strategies to mitigate future environmental damage in the ecosystem.
Access options
Buy single article
Instant access to the full article PDF.
USD 39.95
Price includes VAT (USA)
Tax calculation will be finalised during checkout.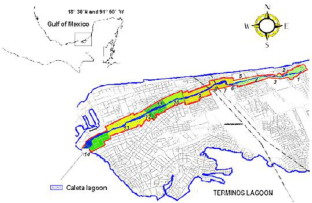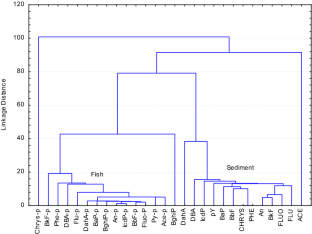 References
Al-Hassan JM, Afzal M, Rao CVN, Faday S (2003) Polycyclic aromatic hydrocarbons (PAHs) and aliphatic hydrocarbons (AHs) in edible fish from the Arabian Gulf. Bull Environ Contam Toxicol 70:205–212

Barakat AO, Mostada A, Wade TL, Sweet ST, Sayed NB (2011) Distribution and characteristics of PAHs in sediments from the Mediterranean coastal environment of Egypt. Mar Pollut Bull 62(9):1969–1978

Baumard P, Budzinski H, Garrigues P (1998) Concentrations of PAHs (polycyclic aromatic hydrocarbons) in various marine organisms in relation to those in sediments and to trophic level. Mar Pollut Bull 36(12):951–960

Briggs D (1977) Soils: sources and methods in geography. Butter-worths, London

Darilmaz E, Kucuksezgin F (2012) Distribution of aliphatic and aromatic hydrocarbons in red mullet (Mullus barbatus) and annular sea brean (Diplodus annularis) from the Izmir Bay (Eastern Aegean). Bull Environ Contam Toxicol 88:283–289

El-Deeb KZ, Said TO, El-Naggar MH, Shreadah MA (2007) Distribution and sources of aliphatic and polycyclic aromatic hydrocarbons in surface sediments, fish and bivalves of Abu Qir Bay (Egyptian Mediterranean Sea). Bull Environ Contam Toxicol 78:373–379

Froehner S, Rizzi J, Vieira LM, Sanez J (2018) PAHs in water, sediment and biota in an area with port activities. Arch Environ Contam Toxicol 75:236–246

Gerger CJ, Weber LP (2015) Comparison of the acute effects of benzo-a-pyrene on adult zebrafish (Danio rerio) cardiorespiratory function following intraperitoneal injection versus aqueous exposure. Aquat Toxicol 165:19–30

Gonul LT, Kucuksezgin F (2012) Aliphatic and polycyclic aromatic hydrocarbons in the surface sediments from the Eastern Aegean: assessment and source recognition of petroleum hydrocarbons. Envrion Sci Pollut Res 19:31–41

Gschwend PM, Hites RA (1981) Fluxes of polycyclic aromatic hydrocarbons to marine and lacustrine sediments in the north-eastern United States. Geochim Cosmochim Acta 45:2359–2367

Kavouras I, Koutrakis P, Tsapakis M, Lagoudaki E, Stephanou E, Baer D, Oyola P (2001) Source appointment of urban aliphatic and polyaromatic hydrocarbons (PAHs) using multivariate methods. Environ Sci Technol 35:2288–2294

Ke CL, Gu YG, Liu Q, Li LD, Huang HH, Cai N, Sun ZW (2017) Polycyclic aromatic hydrocarbons (PAHs) in wild marine organisms from South China Sea: occurrence, sources, and human health implications. Mar Pollut Bull 117:507–511

Liu Y, Yu N, Li Z, Wei Y, Ma L, Zhao J (2012) Sedimentary record of PAHs in the Liangtan River and its relation to socioeconomic development of Chongqing, Southwest China. Chemosphere 89:893–899

Long ER, MacDonald DD, Smith SL, Calder FD (1995) Incidence of adverse biological effects within ranges of chemical concentrations in marine and estuarine sediments. Environ Manage 19:81–97

Macdonald DD, Carr RS, Calder FD, Long ER, Ingersoll CG (1996) Development and evaluation of sediment quality guidelines for florida coastal water. Ecotoxicology 5(4):253–278

Montaño-Vera NC, Ruiz-Marín A, Canedo-López Y, Flores-Trujillo JG, Zavala-Loria JC, Narváez-García A (2017) Sources and distribution of aliphatic and polycyclic aromatic hydrocarbons in surface sediments along the coastal corridor of Laguna de Terminos. Int J Adv Res 5(9):1681–1693

Pinheiro N, Barreira L, Lopes B, Bebianno MJ (2013) Assessment of oil contamination in the bay of Porto Grande (Cape Verde) using the mullet Chelon bispinosus. Afr J Environ Sci Technol 7(7):657–670

Pozo K, Perra G, Menchi V, Urrutia R, Parra O, Rudolph A, Focardi S (2011) Levels and spatial distribution of polycyclic aromatic hydrocarbons (PAHs) in sediments from Lenga Estuary. Central Chile Mar Pollut Bull 62(7):1572–1576

Reddy MS, Basha Joshi HV, Ramachandraiah G (2005) Seasonal distribution and contamination levels of total PHCs, PAHs and heavy metals in coastal water of the Alang-Sosiya ship scrapping yard. Gulf of Cambay, India. Chemosphere 61:1587–1593

Ruiz-Marin A, Campos-Garcia S, Zavala-Loría J, Canedo-López Y (2009) Hydrological aspects of the lagoons of Atasta and Pom, México. Trop Subtrop Agroecosyst 10:63–74

Ruiz-Marín A, Canedo-López Y, Zavala-Loría JC, García-Sarracino RR, Anguebes-Franseschi F, Córdova-Quiroz AV (2014) Variation on the fluxes of nutrients in an urban lagoon by seasonal effects and human activities. Hydrol Curr Res 5(2):1–8. https://doi.org/10.4172/2157-7587.1000170

Salgado LD, Marques AEML, Kramer RD, de Oliveira FG, Moretto SL, de Lima BA, Prodocimo MM, Cestari MM, de Azevedo JCR, de Assis HCS (2019) Integrated assessment of sediment contaminant levels and biological responses in sentinel fish species Atherinella brasiliensis from a subtropical estuary in south Atlantic. Chemosphere 219:15–27

Sicre MA, Marty JC, Saliot A (1987) Aliphatic and aromatic hydrocarbons in different sized aerosols over the Mediterranean Sea: occurrence and origin. Atmos Environ 21:2247–2259

Silva TF, Azevedo DDA, Neto FRDA (2007) Distribution of polycyclic aromatic hydrocarbons in surface sediments and water from Guanabara Bay, Rios de Janeiro Brazil. J Brazil Chem Soc 18(3):628–637

Simko P, Anyakora C, Ogbeche A, Palmer P, Coker H (2004) Determination of polynuclear aromatic hydrocarbons in marine samples of Siokola fishing settlement. J Chrom 2:21–28

Tam NFY, Ke L, Wang XH, Wong YS (2001) Contamination of polycyclic aromatic hydrocarbons in surface sediments of mangrove swamps. Environ Pollut 114(2):255–263

Tian Y, Liu HJ, Zheng TL, Kwon KK, Kim SJ, Yan CL (2008) PAHs contamination and bacterial communities in mangrove surface sediments of the Jiulong River Estuary China. Mar Pollut Bull 57(6–12):707–715

Yunker MB, Macdonald RW (2003) Alkane and PAH depositional history, source and fluxes in sediments from the Fraser River Basin and Strait of Georgia, Canada. Org Geochem 34:1429–1454

Yunker MB, Macdonald RW, Vingarzan R, Mitchell RH, Goyette D, Sylvestre S (2002) PAHs in the Fraser River basin: a critical appraisal of PAH rations as indicators of PAH source and compositions. Org Geochem. https://doi.org/10.1016/S0146-6380(02)00002-5
Additional information
Publisher's Note
Springer Nature remains neutral with regard to jurisdictional claims in published maps and institutional affiliations.
About this article
Cite this article
Canedo-Lopez, Y., Ruiz-Marin, A. & Rocio Barreto-Castro, M. Polycyclic Aromatic Hydrocarbons in Surface Sediments and Fish Tissues Collected from a Protected Lagoon Region. Bull Environ Contam Toxicol 104, 185–192 (2020). https://doi.org/10.1007/s00128-019-02775-y
Received:

Accepted:

Published:

Issue Date:
Keywords
Terminos lagoon

Pahs

Megalops atlanticus

Sediments

Fish tissue

Origin molecular indices