Abstract
Biomarkers are applied as early warning indicators of organisms' exposure to pollutants. The aim of this study was to utilise a multi-biomarker approach in the freshwater shrimp Caridina nilotica (Decapoda: Atyidae) as indicators of persistent pollutant exposure. A suite of biomarkers was selected to cover oxidative stress and damage, and energetics of the organisms. Five sites, representing an agricultural and pesticide application gradient, were sampled during two flow related hydro-periods in rivers of the Phongolo floodplain, north-eastern South Africa. Cytochrome P450 (CYP) activity was significantly higher in shrimp at sites directly adjacent to regions of increased human activity. Increased oxidative responses, i.e. catalase (CAT; p < 0.01) and protein carbonyl (PC, p < 0.01) were also found at these sites. The energetics biomarker did not show any influence of increased contaminant exposure. We demonstrated that the biomarkers of exposure (CYP) and effect (CAT, PC) were suitable to detect effects of stressors, probably persistent pollutants.
Access options
Buy single article
Instant access to the full article PDF.
USD 39.95
Price includes VAT (USA)
Tax calculation will be finalised during checkout.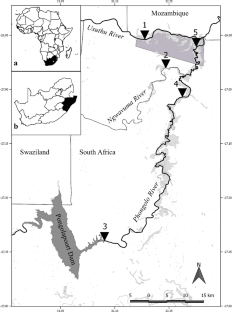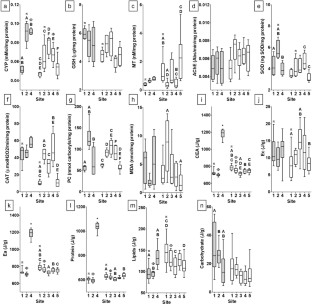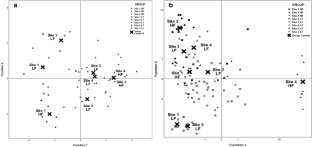 References
Bligh EG, Dyer WJ (1959) A rapid method of total lipid extraction and purification. Can J Biochem Physiol 37:911–917. https://doi.org/10.1139/o59-099

Bradford MM (1976) A rapid and sensitive method for the quantitation of microgram quantities of protein utilizing the principle of protein-dye binding. Anal Biochem 72:248–254. https://doi.org/10.1016/0003-2697(76)90527-3

Cohen G, Dembiec D, Marcus J (1970) Measurement of catalase activity in tissue extracts. Anal Biochem 34:30–38. https://doi.org/10.1016/0003-2697(70)90083-7

Cohn VH, Lyle J (1966) A fluorometric assay for glutathione. Anal Biochem 14:434–440. https://doi.org/10.1016/0003-2697(66)90286-7

De Coen WM, Janssen CR (2003) The missing biomarker link: relationship between effects on the cellular energy allocation biomarker of toxicant-tressed Daphnia Magna and corresponding population characteristics. Environ Toxicol Chem 22:1632–1641. https://doi.org/10.1002/etc.5620220727

Del Maestro RF, McDonald W (1985) Oxidative enzymes in tissue homogenates. In: Greenwald RA (ed) Handbook of methods for oxygen radical research. CRC Press, Boca Raton, pp 291–296

Ellman GL, Courtney KD, Andres V, Featherstone RM (1961) A new and rapid colorimetric determination of acetylcholinesterase activity. Biochem Pharmacol 7:88–95. https://doi.org/10.1016/0006-2952(61)90145-9

Ferreira NGC, Morgado R, Santos MJG et al (2015) Biomarkers and energy reserves in the isopod Porcellionides pruinosus: the effects of long-term exposure to dimethoate. Sci Total Environ 502:91–102. https://doi.org/10.1016/j.scitotenv.2014.08.062

Floor E, Wetzel MG (1998) Increased protein oxidation in human Substantia Nigra Pars Compacta in comparison with basal ganglia and prefrontal cortex measured with an improved dinitrophenylhydrazine assay. J Neurochem 70:268–275. https://doi.org/10.1046/j.1471-4159.1998.70010268.x

Gerpe M, Kling P, Berg AH, Olsson P-E (2000) Arctic char (Salvelinus alpinus) metallothionein: cDNA sequence, expression, and tissue-specific inhibition of cadmium‐mediated metallothionein induction by 17β‐estradiol, 4‐OH‐PCB 30, and PCB 104. Environ Toxicol Chem 19:638. https://doi.org/10.1897/1551-5028(2000)019%3C0638:ACSAMC%3E2.3.CO;2

Goodchild CG, Simpson AM, Minghetti M, DuRant SE (2019) Bioenergetics-adverse outcome pathway: Linking organismal and suborganismal energetic endpoints to adverse outcomes. Environ Toxicol Chem 38:27–45. https://doi.org/10.1002/etc.4280

Gunderson MP, Nguyen BT, Cervantes Reyes JC et al (2018) Response of phase I and II detoxification enzymes, glutathione, metallothionein and acetylcholine esterase to mercury and dimethoate in signal crayfish (Pacifastacus leniusculus). Chemosphere 208:749–756. https://doi.org/10.1016/j.chemosphere.2018.05.183

Han J, Won E-J, Kang H-M et al (2017) Marine copepod cytochrome P450 genes and their applications for molecular ecotoxicological studies in response to oil pollution. Mar Pollut Bull 124:953–961. https://doi.org/10.1016/j.marpolbul.2016.09.048

Hong Y, Yang X, Huang Y et al (2018) Assessment of the oxidative and genotoxic effects of the glyphosate-based herbicide roundup on the freshwater shrimp, Macrobrachium nipponensis Chemosphere 210:896–906. https://doi.org/10.1016/j.chemosphere.2018.07.069

Kemp M, Wepener V, de Kock KN, Wolmarans CT (2017) Metallothionein induction as indicator of low level metal exposure to aquatic macroinvertebrates from a relatively unimpacted river system in South Africa. Bull Environ Contam Toxicol 99:662–667. https://doi.org/10.1007/s00128-017-2201-8

Malherbe W (2018) Ramsar wetlands in South Africa: Historic and current aquatic research Ramsar wetlands in South Africa. South Afr J Sci Technol 37:1–13

Mensah PK, Palmer CG, Muller WJ (2012) Lipid peroxidation in the freshwater shrimp Caridina nilotica as a biomarker of Roundup® herbicide pollution of freshwater systems in South Africa. Water Sci Technol 65:1660–1666. https://doi.org/10.2166/wst.2012.060

Ohkawa H, Ohishi N, Yagi K (1979) Assay for lipid peroxides in animal tissues by thiobarbituric acid reaction. Anal Biochem 95:351–358. https://doi.org/10.1016/0003-2697(79)90738-3

Quinn GP, Keough MJ (2002) Multivariate analysis of variance and discriminant analysis. Experimental design and data analysis for biologists. Cambridge University Press, New York, pp 425–441

Sánchez-Paz A, García-Carreño F, Muhlia-Almazán A et al (2006) Usage of energy reserves in crustaceans during starvation: status and future directions. Insect Biochem Mol Biol 36:241–249. https://doi.org/10.1016/j.ibmb.2006.01.002

Smit NJ, Vlok W, Van Vuren JHJ et al (2016) Socio-ecological system management of the lower Phongolo River and floodplain using relative risk methodology. Water Research Commission, Pretoria

Smolders R, Bervoets L, De Coen W, Blust R (2004) Cellular energy allocation in zebra mussels exposed along a pollution gradient: Linking cellular effects to higher levels of biological organization. Environ Pollut 129:99–112. https://doi.org/10.1016/j.envpol.2003.09.027

Thompson LA, Ikenaka Y, Yohannes YB et al (2017) Concentrations and human health risk assessment of DDT and its metabolites in free-range and commercial chicken products from KwaZulu-Natal, South Africa. Food Addit Contam Part A 34:1959–1969. https://doi.org/10.1080/19440049.2017.1357209

Touaylia S, Khazri A, Mezni A, Bejaoui M (2018) Effect of permethrin (pyrethroid insecticide) on the biochemical response of the freshwater amphipod Echinogammarus tacapensis (Chevreux and Gauthier, 1924). Mar Freshw Behav Physiol 51:57–66. https://doi.org/10.1080/10236244.2018.1473711

van der Oost R, Beyer J, Vermeulen NP (2003) Fish bioaccumulation and biomarkers in environmental risk assessment: a review. Environ Toxicol Pharmacol 13:57–149. https://doi.org/10.1016/S1382-6689(02)00126-6

Viarengo A, Ponzano E, Dondero F, Fabbri R (1997) A simple spectrophotometric method for metallothionein evaluation in marine organisms: an application to Mediterranean and Antarctic molluscs. Mar Environ Res 44:69–84. https://doi.org/10.1016/S0141-1136(96)00103-1

Volschenk CM, Gerber R, Mkhonto MT et al (2019) Bioaccumulation of persistent organic pollutants and their trophic transfer through the food web: human health risks to the rural communities reliant on fish from South Africa's largest floodplain. Sci Total Environ 685:1116–1126. https://doi.org/10.1016/j.scitotenv.2019.06.144

Wepener V (2008) Application of active biomonitoring within an integrated water resources management framework in South Africa. S Afr J Sci 104:367–373

Wepener V, Smit N, Covaci A et al (2012) Seasonal bioaccumulation of organohalogens in Tigerfish, Hydrocynus vittatus Castelnau, from Lake Pongolapoort, South Africa. Bull Environ Contam Toxicol 88:277–282. https://doi.org/10.1007/s00128-011-0439-0

Wolmarans NJ, Du Preez LH, Yohannes YB et al (2018) Linking organochlorine exposure to biomarker response patterns in Anurans: a case study of Müller's clawed frog (Xenopus muelleri) from a tropical malaria vector control region. Ecotoxicology 27:1203–1216. https://doi.org/10.1007/s10646-018-1972-y
Acknowledgements
We would like to acknowledge the collaborators and team members from the Flemish Interuniversity Council (VLIR-UOS Project Number ZIEN21013PR396) and Water Research Commission of South Africa (WRC Project Number K5-2185, NJ Smit PI) that made this project possible. This work is also based on research supported in part by the National Research Foundation (NRF) of South Africa (NRF project CPRR160429163437, Grant 105979, NJ Smit, PI and NRF scarce skills scholarship Grant 89629 to G Jansen van Rensburg). Opinions expressed, and conclusions arrived at, are those of the authors and are not necessarily to be attributed to the NRF. We thank Ezemvelo KZN Wildlife for research permits OP 526/2014, and OP 839/2014. This is contribution number 334 of the North-West University (NWU) Water Research Group.
Ethics declarations
Conflict of interest
The authors declare that they have no conflict of interest.
Ethical Approval
All applicable international, national and/or institutional guidelines for the care and use of animals were followed. All procedures performed in this study were in accordance with the ethical standards of the institution or practice at which the studies were conducted.
About this article
Cite this article
Jansen van Rensburg, G., Bervoets, L., Smit, N.J. et al. Biomarker Responses in the Freshwater Shrimp Caridina nilotica as Indicators of Persistent Pollutant Exposure. Bull Environ Contam Toxicol 104, 193–199 (2020). https://doi.org/10.1007/s00128-019-02773-0
Received:

Accepted:

Published:

Issue Date:
Keywords
Phongolo floodplain

Cytochrome P450, oxidative stress

Multi-biomarker