Abstract
This study was performed to evaluate the microplastics (MPs) pollution of sediments from River Yongfeng. It was observed that the MPs in sediments were present with contents of 0.5–16.75 mg/kg and abundances of 5–72 items/kg, coupled by variation coefficients of 109% and 91%, respectively, indicating that the distribution of MPs had high spatial variation. The land-based source of business zone is thought to be the significant contributor to accumulation of MPs in those sites with high quantity of MPs. Film was the predominant shape of MPs in river sediments followed by the line and fragment ones. Meanwhile, the MPs detected were mainly composed by four types including Polypropylene (24%), Polyethylene (61%), Polyethylene Terephthalate (8%) and Polystyrene (7%) based on number fraction, respectively, which indicates that Polypropylene and Polyethylene were the major types of MPs in the sediments. Size fraction performance suggests that those MPs < 1000 μm were of ubiquitous presence. The weathering of fringes was universally observed regardless of varying surface among MPs. Despite digestion with oxidative acid solution and subsequent washing by distilled water unexpected elements can still be detected, which should be considered as determining the materials associated.
Access options
Buy single article
Instant access to the full article PDF.
USD 39.95
Price includes VAT (USA)
Tax calculation will be finalised during checkout.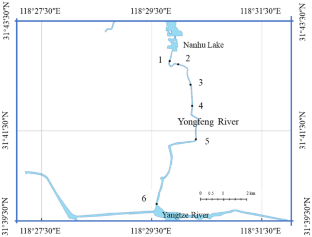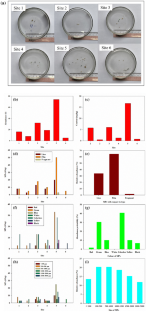 References
Andrady AL (2011) Microplastics in the marine environment. Mar Pollut Bull 62(8):1596–1605

Cesa FS, Turra A, Baruque-Ramos J (2017) Synthetic fibers as microplastics in the marine environment: a review from textile perspective with a focus on domestic washings. Sci Total Environ 598:1116–1129

Cole M, Lindeque P, Fileman E, Halsband C, Goodhead R, Moger J, Galloway TS (2013) Microplastic ingestion by zooplankton. Environ Sci Technol 47(12):6646–6655

Ding J, Zhang S, Zou H, Zhang Y, Zhu R (2017) Occurrence, source and ecotoxicological effect of microplastics in freshwater environment. Ecol Environ Sci 26(9):1619–1626 (In Chinese)

Eerkes-Medrano D, Thompson RC, Aldridge DC (2015) Microplastics in freshwater systems: a review of the emerging threats, identification of knowledge gaps and prioritisation of research needs. Water Res 75:63–82

Eubeler JP, Zok S, Bernhard M, Knepper TP (2009) Environmental biodegradation of synthetic polymers I. Test methodologies and procedures. Trac 28(9):1057–1072

Fendall LS, Sewell MA (2009) Contributing to marine pollution by washing your face: microplastics in facial cleansers. Mar Pollut Bull 58(8):1225–1228

Hernandez E, Nowack B, Mitrano DM (2017) Polyester textiles as a source of microplastics from households: a mechanistic study to understand microfiber release during washing. Environ Sci Technol 51(12):7036–7046

Hidalgo-Ruz V, Gutow L, Thompson RC, Thiel M (2012) Microplastics in the marine environment: a review of the methods used for identification and quantification. Environ Sci Technol 46(6):3060–3075

Klein S, Worch E, Knepper TP (2015) Occurrence and spatial distribution of microplastics in river shore sediments of the Rhine-Main area in Germany. Environ Sci Technol 49(10):6070–6076

Liu S, Jian W, Zhou L, Li W (2019) Distribution and composition of microplastics in sediments in the estuaries of the Ganjiang River leading into Lake Poyang. Acta Pedol Sin. https://doi.org/10.11766/trxb201901080016(In Chinese)

Mason SA, Garneau D, Sutton R, Chu Y, Ehmann K, Barnes J, Rogers DL (2016) Microplastic pollution is widely detected in US municipal wastewater treatment plant effluent. Environ Pollut 218:1045–1054

Ory NC, Gallardo C, Lenz M, Thiel M (2018) Capture, swallowing, and egestion of microplastics by a planktivorous juvenile fish. Environ Pollut 240:566–573

Peng G, Zhu B, Yang D et al (2017) Microplastics in sediments of the Changjiang Estuary, China. Environ Pollut 225:283–290

Peng G, Xu P, Zhu B, Bai M, Li D (2018) Microplastics in freshwater river sediments in shanghai, china: a case study of risk assessment in mega-cities. Environ Pollut 234:448–456

Qi H, Wang Y, Zhang D et al. (2019) Microplastics in Moshui River sediment: abundance, morphology and spatial distribution. Trans Oceanol Limnol 3:69–77 (In Chinese)

Rochman CM, Browne MA, Halpern BS et al (2013) Policy: classify plastic waste as hazardous. Nature 494(7436):169–171

Setälä O, Fleming-Lehtinen V, Lehtiniemi M (2014) Ingestion and transfer of microplastics in the planktonic food web. Environ Pollut 185:77–83

Thompson RC, Moore CJ, Vom Saal FS, Swan SH (2009) Plastics, the environment and human health: current consensus and future trends. Philos T R Soc B 364(1526):2153–2166

Vianello A, Boldrin A, Guerriero P et al (2013) Microplastic particles in sediments of Lagoon of Venice, Italy: first observations on occurrence, spatial patterns and identification. Estuar Coast Shelf Sci 130:54–61

Wagner M, Scherer C, Alvarez-Muñoz D et al (2014) Microplastics in freshwater ecosystems: what we know and what we need to know. Environ Sci Eur 26(1):12

Wang J, Peng J, Tan Z et al (2017) Microplastics in the surface sediments from the Beijiang River littoral zone: composition, abundance, surface textures and interaction with heavy metals. Chemosphere 171:248–258

Wang T, Zou X, Li B et al (2019) Preliminary study of the source apportionment and diversity of microplastics: taking floating microplastics in the South China Sea as an example. Environ pollut 245:965–974

Yonkos L, Friedel E, Perez-Reyes A et al (2014) Microplastics in four estuarine rivers in the Chesapeake Bay, USA. Environ Sci Technol 48(24):14195–14202

Zhang K, Gong W, Lv J, Xiong X, Wu C (2015) Accumulation of floating microplastics behind the Three Gorges Dam. Environ Pollut 204:117–123

Zhang K, Xiong X, Hu H, Wu C, Bi Y, Wu Y et al (2017) Occurrence and characteristics of microplastic pollution in Xiangxi bay of three gorges reservoir. China. Environ sci technol 51(7):3794–3801

Zhang X, Leng Y, Liu X, Wang J (2019) Microplastics' pollution and risk assessment in an urban river: a case study in the Yongjiang River, Nanning City, South China. Expos Health. https://doi.org/10.1007/s12403-018-00296-3

Zhang Y, Li X, Wang X, Li K (2019) Study on analysis of the microplastics in the sediments of Fuxi River. Sichun Environ 38(2):46–51 (In Chinese)

Zhou L, Jian M, Yu H, Li w, Liu S, (2018) Distribution of microplastics and its source in the sediments of the Le'an River in Poyang Lake. Acta Pedol Sin 55(5):1222–1232 (In Chinese)
Acknowledgement
This research was supported by the Natural Science Foundation of Anhui Province (Grant No. 1808085QD109), the National Natural Science Foundation of China (Grant No. 41701553), the Scientific Research Foundation for the Returned Overseas Chinese Scholars of Anhui Province, and the Fund of Key Laboratory for Eco-geochemistry of Ministry of Natural Resources of the People's Republic of China for 2017. The authors are grateful for the support.
Electronic supplementary material
Below is the link to the electronic supplementary material.
About this article
Cite this article
Rao, Z., Niu, S., Zhan, N. et al. Microplastics in Sediments of River Yongfeng from Maanshan City, Anhui Province, China. Bull Environ Contam Toxicol 104, 166–172 (2020). https://doi.org/10.1007/s00128-019-02771-2
Received:

Accepted:

Published:

Issue Date:
Keyword
Microplastics

River

Sediments

Spatial distribution