Abstract
Melano-macrophage centers (MMCs) are nodular clusters of pigmented macrophages, implicated in homeostasis and destruction and recycling of endogenous and exogenous material. They can increase in size and/or frequency under environmental stress resulting in immunohistological biomarkers of water quality. Fluoxetine (FLX), a commonly prescribed antidepressant, can cause neuroendocrine, behavioral and reproductive alterations in teleost fish. In the present study, we analyzed the effects of a 2-week 50 µg/L FLX exposure on MMCs in histological sections of spleen and head-kidney (HK) of the cichlid fish Cichlasoma dimerus. In the spleen, FLX caused an increase in the area and a decrease in the number of MMCs. An increase in the proportion of the HK occupied by MMCs was observed in FLX-exposed fish, due to an increase in their number but not their area. The deposition rate of MMCs varies according to the hemolymphopoietic organ and would be the result of a differential response to FLX on homeostatic functions (elimination of cellular debris, iron processing and immune response).
Access options
Buy single article
Instant access to the full article PDF.
USD 39.95
Price includes VAT (USA)
Tax calculation will be finalised during checkout.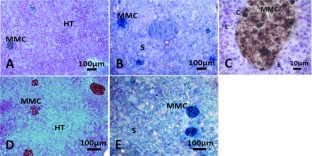 References
Agius C, Roberts RJ (2003) Melano-macrophage centres and their role in fish pathology. J Fish Dis 26:499–509

Barst BD, Bridges K, Korbas M, Roberts AP, Van Kirk K, Mcneel K, Drevnick PE (2015) The role of melano-macrophage aggregates in the storage of mercury and other metals: an example from yelloweye rockfish (Sebastes ruberrimus). Environ Toxicol Chem 34:8: 1918–1925

Backström T, Winberg S (2017) Serotonin coordinates responses to social stress—What we can learn from fish. Front Neurosci 11:595. https://doi.org/10.3389/fnins.2017.00595

Blair BD, Crago JP, Hedman CJ, Klaper RD (2013) Pharmaceuticals and personal care products found in the Great Lakes above concentrations of environmental concern. Chemosphere 93:2116–2123

Christensen AM, Markussen B, Baun A, Halling-Sørensen B (2009) Probabilistic environmental risk characterization of pharmaceuticals in sewage treatmentplant discharges. Chemosphere 77:351–358

Davies LC, Jenkins SJ, Allen JE, Taylor PR (2013) Tissue-resident macrophages. Nat Immunol 14:986–995

Dezfuli BS, Simoni E, Giari L, Manera M (2006) Effects of experimental terbutylazine exposure on the cells of Dicentrarchus labrax (L.). Chemosphere 64:1684–1694

Dorelle LS, Da Cuña RH, Rey Vázquez G, Hocht C, Shimizu A, Genovese G, Lo Nostro FL (2017) The SSRI fluoxetine exhibits mild effects on the reproductive axis in the cichlid fish Cichlasoma dimerus (Teleostei, Cichliformes). Chemosphere 171:370–378

Ferrière F, Khan NA, Meyniel JP, Deschaux P (1999) Characterization of serotonin transport mechanisms in rainbow trout peripheral blood lymphocytes: role in PHA-induced lymphoproliferation. Dev Comp Immunol 23:37

Fournie JW, Summers JK, Courtney LA, Engle VD, Blazer VS (2001) Utility of splenic macrophage aggregates as an indicator of fish exposure to degraded environments. J Aquat Anim Health 13:105–116

Giari L, Simoni E, Manera M, Dezfuli BS (2008) Histocytological responses of Dicentrarchus labrax (L.) following mercury exposure. Ecotoxicol Environ Saf 70:400–410

Hapaaranta A, Valtonen ET, Hoffmann R, Holmes J (1996) Do macrophage centers in freshwater fishes reflect the differences in water quality. Aquat Toxicol 34:253–272

Hedgespeth ML, Nilsson PA, Berglund O (2014) Ecological implications of altered fish foraging after exposure to anantidepressant pharmaceutical. Aquat Toxicol 151:84–87

IRAM (2008) Calidad Ambiental, Calidad Del Agua. Determinación De La Toxicidad Letal Aguda De Sustancias En Peces De Agua Dulce. Método Semiestático IRAM 29112:2008

Jankovic BD (1989) Neuroimmunomodulation: facts and dilemmas. Immunol Lett 21:101

Kakkar KG, Saxena RM, Rathee NS, Joshi M (2011) Water soluble fraction of diesel fuel induced histopathological alterations in the liver of Channa punctatus Toxicol Int 18:14–16

Khan N, Deschaux P (1997) Role of serotonin in fish immunomodulation. J Exp Biol 200:1833–1838

Kolpin DW, Furlong ET, Meyer MT, Thurman EM, Zaugg SD, Barber LB, Buxton HT (2002) Pharmaceuticals, hormones, and other organic waste water contaminants in streams, 1999–2000: a national reconnaissance. Environ Sci Technol 36:1202–1211

Kreke N, Dietrich DR (2008) Physiological endpoints for potential SSRI interactions in fish. Crit Rev Toxicol 37:215–24

Kumar A, Xagoraraki I (2010) Pharmaceuticals, personal care products and endocrine-disrupting chemicals in U.S. surface and finished drinking waters: a proposed ranking system. Sci Total Environ 408:5972–5989. https://doi.org/10.1016/j.scitotenv.2010.08.048

Lillesaar C (2011) The serotonergic system in fish. J Chem Neuroanat 41:294–308

Macchi GJ. Romanol A, Christiansen HE (1992) Melano-macrophage centres in white mouth croaker Micropogonias furneri, as biological indicators of environmental changes. J Fish Biol 40:971–973

Meijide FJ, Da Cuña RH, Prieto JP, Dorelle LS, Babay PA, Lo Nostro FL (2018) Effects of waterborne exposure to the antidepressant fluoxetine on swimming, shoaling and anxiety behaviours of the mosquitofish Gambusia holbrooki. Ecotoxicol Environ Saf 163:646–655

Mennigen JA, Lado WE, Zamora JM, Duarte-Guterman P, Langlois VS, Metcalfe CD, Chang JP, Moon TW, Trudeau VL (2010) Waterborne fluoxetine disrupts the reproductive axis in sexually mature male goldfish, Carassius auratus. Aquat Toxicol 100:354–364

National Research Council (US) (2011) Guide for the care and use of laboratory animals. Eighth ed. Washington, National Academies Press (US).

Osman MM, EL-Fiky SA, Soheir YM, Abeer AI (2009) Impact of water pollution on histopathological and electrophoretic characters of Oreochromis niloticus fish. Res J Environ Toxicol 3:9–23

Rieger AM, Konowalchuk JD, Grayfer L, Katzenback BA, Havixbeck JJ, Kiemele MD, Belosevic M, Barreda D (2012) Fish and mammalian phagocytes differentially regulate pro-inflammatory and homeostatic responses in vivo. PLoS ONE 7:e47070. https://doi.org/10.1371/journal.pone.0047070

Sauvé S, Desrosiers M (2014) A review of what is an emerging contaminant. Chem Cent J 8:15

Sayed AH, Younes HAM (2017) Melanomacrophage centers in Clarias gariepinus as an immunological biomarker for toxicity of silver nanoparticles. J Microsc Ultrastruct 5:97–104

Segura PA, Francois M, Gagnon C, Sauve S (2009) Review of the occurrence of anti-infectives in contaminated wastewaters and natural and drinking waters. Environ Health Perspect 117:675–684

Steinel NC, Bolnick DI (2017) Melanomacrophage centers as a histological indicator of immune function in fish and other poikilotherms. Front Immunol 8:827. https://doi.org/10.3389/fimmu.2017.00827

Stosik MP, Tokarz-Deptuła B, Deptuła W (2019) Melanomacrophages and melanomacrophage centres in Osteichthyes. Cent Eur J Immunol 44:201–205

Taheri R, Salamat N, Movahedinia A (2015) Evaluation of lymphoid tissue structure in Sole (Euryglossa orientalis) and Yellowfin Seabream (Acanthopagus latus) affected by environmental contaminants in the Persian Gulf. J Immunotoxicol 13:301–313

Webb SF (2001) A data-based perspective on the environmental risk assessment of human pharmaceuticals I-collection of available ecotoxicity data. In: Kümmerer K (ed) Pharmaceuticals in the environment—sources, fate, effects and risks. Springer, Berlin, pp 175–201

Weinberger J, Klaper R (2014) Environmental concentrations of the selective serotonin reuptakeinhibitor fluoxetine impact specific behaviors involved inreproduction, feeding and predator avoidance in the fish Pimephales promelas (fathead minnow). Aquat Toxicol 151:77–83

Vigliano FA, Bermúdez R, Quiroga MI, Nieto JM (2006) Evidence for melano-macrophage centres of teleost as evolutionary precursors of germinal centres of higher vertebrates: an immunohistochemical study. Fish Shellfish Immunol 21:467–471

Wolke R (1992) Piscine macrophage aggregates: a review. Annu Rev Fish Dis 2:91–108

Zapata A, Diez B, Cejalvo T, Gutierrez de Frias C, Cortes A (2006) Ontogeny of the immune system of fish. Fish Shellfish Immunol 20:126–136
Acknowledgments
The financial support was provided by grants from Universidad de Buenos Aires (UBACyT 0672, Lo Nostro) and Agencia Nacional de Promoción Científica y Tecnologica (PICT2016-0432, Lo Nostro).
Additional information
Publisher's Note
Springer Nature remains neutral with regard to jurisdictional claims in published maps and institutional affiliations.
About this article
Cite this article
Rey Vázquez, G., Da Cuña, R.H., Dorelle, L.S. et al. Immunohistological Biomarkers of Toxicity by a Pharmaceutical Antidepressant in the Freshwater Cichlid Fish Cichlasoma dimerus (Teleostei, Cichliformes). Bull Environ Contam Toxicol 104, 180–184 (2020). https://doi.org/10.1007/s00128-019-02770-3
Received:

Accepted:

Published:

Issue Date:
Keywords
Melano-macrophage centers

Fluoxetine

Hematopoietic tissue

Spleen

Head kidney