Abstract
Textile effluent treatment methods use biological and chemical treatments to reduce the toxicity and to comply with standard effluent discharge limits. However, trace amounts of pollutants can affect the biological organisms in the receiving environment. The present study used Allium cepa bio assay to assess the cytotoxic and genotoxic effects of treated textile effluents discharged to the natural environment. The results of the bioassay indicated that treated textile effluents can induce alterations in the mitotic index. Also nuclear buds, bi nuclei, condensed nuclei, were recorded in the bioassay and the severity of them decreased towards downstream of the effluent discharge point. Therefore, it can be concluded that even the discharged effluents comply with the standard limits, there is a possibility of causing cytotoxic and genotoxic effects in the organisms living in the natural environment.
Access options
Buy single article
Instant access to the full article PDF.
USD 39.95
Price includes VAT (USA)
Tax calculation will be finalised during checkout.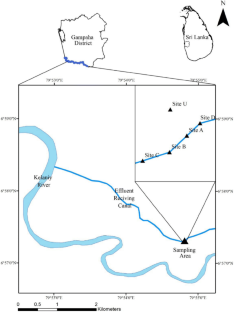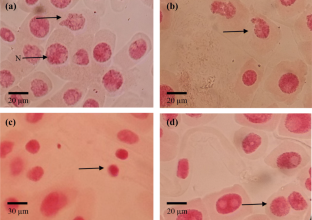 References
Alimba CG, Ogunkanmi AL, Ogunmola FJ (2013) Cytotoxic and genotoxic assessment of textile effluent using Allium assay. Curr Top Toxicol 9:65–74

APHA (1998) Standard methods for the examination of water and wastewater, 20th edn. American Public Health Association, American Water Worker Association, Water Pollution Control Federation, New York

Barberio A, Voltolini JC, Mello MLS (2011) Standardization of bulb androot sample sizes for the Allium cepa test. Ecotoxicology 20:927–935

Cairns J, Mount DI (1990) Aquatic toxicology: part II. Environ Sci Technol 24:154–160

Caritá R, Marin-Morales MA (2008) Induction of chromosome aberrations in the Allium cepa test system caused by the exposure of seeds to industrial effluents contaminated with azo dyes. Chemosphere 72(5):722–725

Carmen Z, Daniela S (2012) Textile organic dyes-characteristics, polluting effects and separation/elimination procedures from industrial effluents: a critical overview. In: Puzyn T (ed) Organic pollutants ten years after the Stockholm convention-environmental and analytical update. InTech, Rijeka, pp 35–86

CEA (2001) Proposed Ambient Water quality Standards for Inland Waters in Sri Lanka. Environment Action 1 Project (Funded by ADB). Central Environmental Authority, Colombo

Claxton LD, Houk VS, Hughes TJ (1998) Genotoxicity of industrial wastes and effluents. Rev Mutat Res 410(3):237–243

Dash S, Panda KK, Panda BB (1988) Biomonitoring of low levels of mercurial derivatives in water and soil by Allium micronucleus assay. Mutat Res 203(1):11–21

Düsman E, Luzza M, Savegnago L, Lauxen D, Vicentini VEP, Tonial IB, Sauer T (2014) Allium cepa L. as a bioindicator to measure cytotoxicity of surface water of the Quatorze River, located in Francisco Beltrao, Parana, Brazil. Environ Monit Assess 186(3):1793–1800. https://doi.org/10.1007/s10661-013-3493-8

Egito LCM, Medeiros MDG, Medeiros SRBD, Agnez-Lima LF (2007) Cytotoxic and genotoxic potential of surface water from the Pitimbu river, northeastern/RN Brazil. Genet Mol Biol 30(2):435–441

Fiskesjo G (1985) The Allium test as a standard in environmental monitoring. Hereditas 102(1):99–112

Grant WF (1985) Chromosome aberration assays in Allium. a report of the U.S. environmental protection agency genetox program. Mutat Res 99(3):273–291

Hemachandra CK, Pathiratne A (2015) Assessing toxicity of copper, cadmium and chromium levels relevant to discharge limits of industrial effluents into inland surface waters using common onion, Allium cepa bioassay. Bull Environ Contam Toxicol 94(2):199–203. https://doi.org/10.1007/s00128-014-1373-8

Hemachandra CK, Pathiratne A (2017) Cytogenotoxicity screening of source water, wastewater and treated water of drinking water treatment plants using two in vivo test systems: Allium cepa root based and Nile tilapia erythrocyte based tests. Water Res 108:320–329

Hettige AI, Mowjood MIM (2015) Reduction of colour in treated wastewater from textile industry using sawdusts as bio-sorbents. Trop Agric Res 26(4):666–676

Ibeh OO, Umeham SN (2018) Genotoxicity assessment of three industrial effluents using the Allium cepa bioassay. Afr J Environ Sci Technol 12(3):115–122

Ileperuma OA (2000) Environmental pollution in Sri Lanka: a review. J Natl Sci Found Sri Lanka 28(4):.301-325

Jaganathan V, Cherurveettil P, Chellasamy A, Premapriya MS (2014) Environmental pollution risk analysis and management in textile industry: a preventive mechanism. Eur Sci J 2:323–329

Kannangara DNM, Pathiratne A (2015) Toxicity assessment of industrial wastewaters reaching Dandugan Oya, Sri Lanka using a plant based bioassay. J Natl Sci Found Sri Lanka 43(2):153–163. https://doi.org/10.4038/jnsfsr.v43i2.7943

Khan S, Anas M, Malik A (2019) Mutagenicity and genotoxicity evaluation of textile industry wastewater using bacterial and plant bioassays. Toxicol Rep 6:193–201. https://doi.org/10.1016/j.toxrep.2019.02.002

Leme DM, Marin-Morales MA (2008) Chromosome aberration and micronucleus frequencies in Allium cepa cells exposed to petroleum polluted water: a case study. Mutat Res 650(1):80–86

Ma TH, Xu Z, Xu C (1995) The improved Allium/Vicia root tip micronucleus assay for clastogenicity of environmental pollutants. Mutat Res 334(2):185–195

Maltby L, Arnold D, Arts G, Davies J, Heimbach F, Pickl C, Poulsen V (2010) Aquatic macrophyte risk assessment for pesticides. CRC Press, Boca Raton, p 135

Olorunfemi DI, Okoloko GE, Bakare AA, Akinboro A (2011) Cytotoxic and genotoxic effects of Cassava effluents using the Allium cepa assay. Res J Mutagen 1:1–9

Pathiratne A, Hemachandra CK, De Silva N (2015) Efficacy of Allium cepa test system for screening cytotoxicity and genotoxicity of industrial effluents originated from different industrial activities. Environ Monit Assess 187(12):730. https://doi.org/10.1007/s10661-015-4954-z

Phiri O, Mumba P, Moyo BHZ, Kadewa W (2005) Assessment of the impact of industrial effluents on water quality of receiving rivers in urban areas of Malawi. Int J Environ Sci Technol 2(3):237–244

Rajapakshe IH, Gunawardana IPP, Najim MMM (2007) Problems associated with utilization and management of wastewater: a case study from Sri Lanka. Environ Monit 7(11):4–13

Rank J, Jensen AG, Skov B, Pedersen LH, Jensen K (1993) Genotoxicity testing of the herbicide Roundup and its active ingredient glyphosate isopropylamine using the mouse bone marrow micronucleus test, Salmonella mutagenicity test, and Allium anaphase-telophase test. Mutat Res 300(1):29–36

Salles FJ, de Toledo MCB, César ACG, Ferreira GM, Barbério A (2016) Cytotoxic and genotoxic assessment of surface water from São Paulo State, Brazil, during the rainy and dry seasons. Ecotoxicology 25(4):633–645

Sponza DT (2002) Necessity of toxicity assessment in Turkish industrial discharges (examples from metal and textile industry effluents). Environ Monit Assess 73(1):41–66

Sudhakar R, Kn NG, Venu G (2001) Mitotic abnormalities induced by silk dyeing industry effluents in the cells of Allium cepa. Cytologia 66(3):235–239

Sultana MS, Islam MS, Saha R, Al-Mansur MA (2009) Impact of the effluents of textile dyeing industries on the surface water quality inside DND embankment, Narayanganj. Bangladesh J Sci Ind Res 44(1):65–80

Verma AK, Dash RR, Bhunia P (2012) A review on chemical coagulation/flocculation technologies for removal of colour from textile wastewaters. J Environ Manag 93(1):154–168

Wijeyaratne WMDN, Wadasinghe LGYJG (2019) Allium cepa bio assay to assess the water and sediment cytogenotoxicity in a tropical stream subjected to multiple point and nonpoint source pollutants. J Toxicol 2019:10. https://doi.org/10.1155/2019/5420124

Zar JH (1999) Biostatistical analysis, 4th edn. Prentice Hall, Upper Saddle River, 1970
Additional information
Publisher's Note
Springer Nature remains neutral with regard to jurisdictional claims in published maps and institutional affiliations.
About this article
Cite this article
Wijeyaratne, W.M.D.N., Wickramasinghe, P.G.M.U. Treated Textile Effluents: Cytotoxic and Genotoxic Effects in the Natural Aquatic Environment. Bull Environ Contam Toxicol 104, 245–252 (2020). https://doi.org/10.1007/s00128-019-02768-x
Received:

Accepted:

Published:

Issue Date:
Keywords
Allium cepa bioassay

Aquatic pollution

Mitotic index

Nuclear abnormalities