Abstract
The dissipation of pendimethalin applied in direct seeded rice (DSR) and transplanted rice (TPR) field at 1.0 and 2.0 kg a.i. ha−1 followed biphasic first order kinetics (R2 > 0.91) and was comparatively faster under flooded TPR than DSR. The half-life (DT50) of pendimethalin in the soil ranged from 2.22 to 2.80 days in the initial phase and 23.51 to 24.66 days in the final phase in TPR for both application rates. However in DSR, DT50 varied from 3.67 to 4.35 days in the initial phase and 34.19 to 34.99 days in the final phase. Residues of pendimethalin in soil samples analyzed by HPLC and GC–MS/MS were below the detection limit (< 0.003 µg g−1) for both the application rates in DSR and TPR whereas 0.003–0.009 µg g−1 and 0.003–0.008 µg g−1 residues of pendimethalin were found in rice grain and straw samples, respectively.
Access options
Buy single article
Instant access to the full article PDF.
USD 39.95
Price includes VAT (USA)
Tax calculation will be finalised during checkout.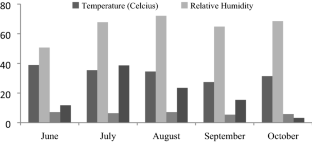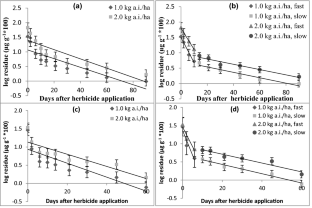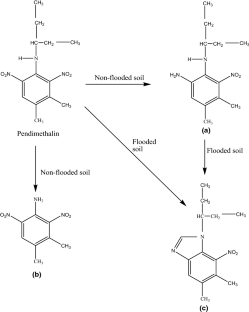 References
Accinelli C, Screpanti C, Vicari A (2005) Influence of flooding on the degradation of linuron, isoproturon and metolachlor in soil. Agron Sustain Dev 25:401–406

Alister CA, Gomez PA, Rojas S, Kogan M (2009) Pendimethalin and oxyfluorfen degradation under two irrigation conditions over four years application. J Environ Sci Health B 44:337–343

Dimitro BD, Gadeva PG, Benova DK (2006) Comparative genotoxicity of the herbicides round up, stomp and reglone in plant and mammalian test systems. Mutagenesis 21:375–382

El-Nady MF, Belal EB (2013) Effect of phytotoxicity of pendimethalin residues and its bioremediation on growth and anatomical characters of Cucumis sativus and Echinachlla gus-galli plants. Asian J Crop Sci 5:222–237

Engebretson J, Hall G, Hengel M, Shibamoto T (2001) Analysis of pendimethalin residues in fruits, nuts, vegetables, grass and mint by gas chromatography. J Agric Food Chem 49:2198–2206

EPA-Environmental Protection Agency (2012) Index to Pesticide Chemical Names, Part 180 Tolerance Information, and Food and Feed Commodities, United States, pp 234–236

FSSAI-Food Safety and Standards Authority of India (2011) Ministry of health and family welfare, New Delhi, pp 16

Gasper JJ, Street JR, Harrison SK, Pound WE (1994) Pendimethalin efficacy and dissipation in turfgrass as influenced by rainfall incorporation. Weed Sci 42:586–592

Gill JS, Walia SS, Gill RS (2014) Direct seeded rice: an alternative rice establishment technique in north-west India—a review. J Adv Res 2:375–386

Helling CS, Krivonak AE (1978) Biological characteristics of bound dinitroaniline herbicides in soils. J Agric Food Chem 26:1164–1172

Jayadeva HM, Bhairappanavar ST, Hugar AY, Rangaswamy BR, Mallikarjun GB, Malleshappa C, Naik DC (2011) Integrated weed management in aerobic rice (Oryza sativa L.). Agric Sci Digest 31:58–61

Jazwa A, Szpyrka E, Sadlo S (2009) Disappearance of pendimethalin in soil and its residue in ripe fennel. J Cent Eur Agric 10:153–158

Kennedy JM, Talbert RE (1977) Comparative persistence of dinitroaniline type herbicides on the soil surface. Weed Sci 25:373–381

Kulshrestha G, Singh SB (1992) Influence of soil moisture and microbial activity on pendimethalin degradation. Bull Environ Contam Toxicol 48:269–274

Kumar V, Ladha JK (2011) Direct seeding of rice: recent developments and future research needs. Adv Agron 111:297–413

Lin HT, Chen SW, Shen CJ, Chu C (2007) Dissipation of pendimethalin in the garlic (Allium sativum L.). Bull Environ Contam Toxicol 79:84–86

Makkar A, Kaur P, Kaur P, Kaur K (2016) Comparison of extraction techniques for quantitative analysis of pendimethalin from soil and rice grain. J Liq Chromatogr Relat Technol 39:718–723

Megadi VB, Tallur PN, Hoskeri RS, Mulla SI, Ninnekar HZ (2010) Biodegradation of pendimethalin by Bacillus circulans. Indian J Biotechnol 9:173–177

Pandey S, Tandon S, Srivastava A (2006) Fate of pendimethalin herbicide in soil and pea plant (Pisum Sativum L.). Environ Sci 1:29–33

Rai AK, Chhonkar PK, Agnihotri NP (2000) Persistence and degradation of pendimethalin and anilofos in flooded versus non-flooded soils. J Indian Soc Soil Sci 48:57–62

Rao VS (2000) Principles of weed science. Science Publishers, New York

Roberts TR, Hutson DH (1998) Metabolic pathways of agrochemicals: herbicide and plant growth regulators part-1. The Royal Society of Chemicals, Cambridge, pp 270–277

Roca E, Errico ED, Izzo A, Strumia S, Esposito A, Fiorentino A (2009) In vitro saprotrophic basidiomycetes tolerance to pendimethalin. Int Biodeterior Biodegradation 63:182–186

Savage KE, Jordan TN (1980) Persistence of three dinitroaniline herbicides on soil surface. Weed Sci 28:105–110

Schleicher LC, Shea PJ, Stougaard RN, Tupy DR (1995) Efficacy and dissipation of dithiopyr and pendimethalin in perennial ryegrass (Lolium perenne) Turf. Weed Sci 43:140–148

Shaner DL (2012) Field dissipation of sulfentrazone and pendimethalin in Colorado. Weed Technol 26:633–637

Sharma R, Mehta H (1989) Studies on pendimethalin and fluchloralin residues in soil and onion. Indian J Agron 34:245–247

Sondhia S (2012) Dissipation of pendimethalin in soil and its residues in chickpea (Cicer arietinum L.) under field conditions. Bull Environ Contam Toxicol 89:1032–1036

Sondhia S (2013a) Dissipation of pendimethalin in the soil of field pea (Pisum sativum L.) and detection of terminal residues in plants. J Environ Sci Health B 48:1043–1048

Sondhia S (2013b) Harvest time residues of pendimethalin in tomato, cauliflower and radish under field conditions. Toxicol Environ Chem 95:254–259

Sondhia S, Dubey RP (2006) Terminal residues of butachlor and pendimethalin in onion. Pestic Res J 18:85–86

Tandon S (2008) Persistence of pendimethalin in soil and potato tuber. Potato J 35:100–102

Tsiropoulos NG, Lolas PC (2004) Persistence of pendimethalin in cotton fields under sprinkler or drip irrigation in central Greece. Int J Environ Anal Chem 84:199–205

Tsiropoulos NG, Miliadis GES (1998) Field persistence study of pendimethalin in soils after herbicide post emergence application in onion cultivation. J Agric Food Chem 46:291–295
Acknowledgements
The authors are obliged to the Director, Directorate of Weed Research, Jabalpur and Head Department of Agronomy, PAU, Ludhiana, for providing necessary facilities to carry out these studies.
Additional information
Publisher's Note
Springer Nature remains neutral with regard to jurisdictional claims in published maps and institutional affiliations.
Electronic supplementary material
Below is the link to the electronic supplementary material.
About this article
Cite this article
Makkar, A., Kaur, P., Kaur, P. et al. Dissipation of Pendimethalin in Soil Under Direct Seeded and Transplanted Rice Field. Bull Environ Contam Toxicol 104, 293–300 (2020). https://doi.org/10.1007/s00128-019-02767-y
Received:

Accepted:

Published:

Issue Date:
Keywords
Biphasic first order kinetics

Direct seeded rice

HPLC

Maximum residue limit

Transplanted rice