Abstract
The aim of this study is to determine seasonal changes in the blood levels of some heavy metals in three Turkey-specific cattle breed: Native Land (NL), Grizzle Race (GR), and South Anatolian Red (SR). Blood samples were collected in summer and winter seasons from a total of 180 cattle aged 12–24 months. The levels of the essential (Zn, Cu, Fe, Co etc.) and non-essential (Cd, Hg, As, Cr, Pb, etc.) heavy metals were analyzed. All heavy metal levels, except that of Co, were significantly higher (p < 0.05) in SR in both seasons compared to the other species. In all breeds, Fe and Co levels were statistically higher (p < 0.05) in the summer season while Mn level was higher (p < 0.05) in the winter season. The levels of all metals analyzed are within the internationally acceptable limits for cattle breeds.
Access options
Buy single article
Instant access to the full article PDF.
USD 39.95
Price includes VAT (USA)
Tax calculation will be finalised during checkout.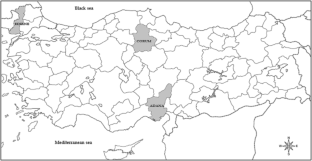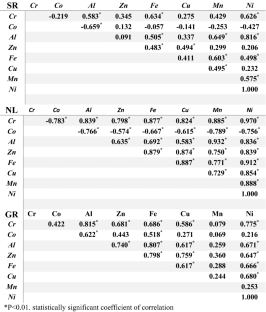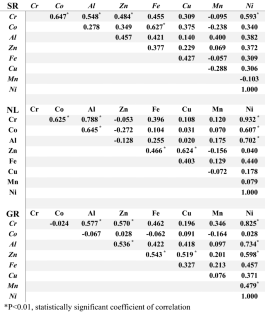 References
Ali H, Khan E, Sajad MA (2013) Phytoremediation of heavy metals-concepts and applications. Chemosphere 91:869–881

Amirah MN, Afiza AS, Faizal WIW, Nurliyana MH, Laili S (2013) Human health risk assessment of metal contamination through consumption of fish. J Environ Pollut Hum Health 1(1):1–5

ATSDR (2004) Toxicological profile for copper (CAS 7440-50-8). U.S. Department of Health and Human Services, Atlanta

Dasari S, Yuan Y (2009) Low-level postnatal methylmercury exposure in vivo alters developmental forms of short-term synaptic plasticity in the visual cortex of the rat. Toxicol Appl Pharmacol 240(3):412–422

Elinder CG, Piscator M (1979) Zinc. In: Friberg L, Nordberg GF, Vouk VB (eds) Handbook on the toxicology of metals. Elsevier, Amsterdam, pp 675–685

Erdogan S, Celik S, Erdogan Z (2004) Seasonal and locational effects on serum, milk, liver and kidney chromium, manganese, copper, zinc, and iron concentrations of dairy cows. Biol Trace Element Res 98(1):51–61

Ghergariu S, Danielescu N, Moldovan N, Pop A (1986) Cuprul si zincul seric la vaci sanatoase, in functie de sezon si starea. Fiziol Rev Cres Anim 36(7):39–42

Grytsyuk N, Arapis G, Perepelyatnikova L, Ivanova T, Vynogradska V (2006) Heavy metals effects on forage crops yields and estimation of elements accumulation in plants as affected by soil. Sci Total Environ 354(2–3):224–231

Knut SN (1979) Animal physiology. Adaptation and environment. Cambridge University Press, Cambridge

López AM, Montaña F, Miranda M, Castillo C, Hernández J, Benedito J (2004) Interactions between toxic (As, Cd, Hg and Pb) and nutritional essential (Ca Co, Cr, Cu, Fe, Mn, Mo, Ni, Se, Zn) elements in the tissues of cattle from NW Spain. Biometals 17:389–397

McDowell LR (1992) Minerals in animal and human nutrition. Academic, London

Morais S, Costa FG, Pereira ML (2012) Heavy metals and human health. In: Oosthuizen J (ed) Environmental health – emerging issues and practice. InTech, Rijeka, pp 227–246

Ozmen O, Mor F (2004) Acute lead intoxication in cattle housed in an old battery factory. Vet Hum Toxicol 46:255–256

Savıatko P, Hıscakova M (1993) Manganese levels in biological materials from dairy cows. Vet Med (Praha) 38:539–546

Siva Sai Kiran B, Raja S (2017) A review on inductively coupled plasma optical emission spectrometry (Icp-Oes) with a special emphasis on its applications. Sch Res Libr Der Pharm Lett 9(10):44–54

Tomza-Marciniak A, Pilarczyk B, Bąkowska M, Pilarczyk R, Wójcik J (2011) Heavy metals and other elements in serum of cattle from organic and conventional farms. Biol Trace Elem Res 143:863–870

Underwood EJ (1983) Los Minerales en la Nutricio del Ganado. Acribia, Zaragoza, pp 107–169

Wang Q, Zhao H, Chen J, Gu K, Zhang Y, ZhuY ZY, Ye L (2009) Adverse health effects of lead exposure on children and exploration to internal lead indicator. Sci Total Environ 407(23):5986–5992

Wildeus S, McDowell R, Fugle JR (1992) Season and lactation effects on serum and liver mineral concentrations of Senepol cattle on St Croix, Virgin Islands. Trop Anim Health Prod 24:223–230

Yipel M, Yarsan E (2014) A risk assessment of heavy metal concentrations in fish and an invertebrate from the Gulf of Antalya. Bull Environ Contam Toxicol 93:542–548
Acknowledgements
The authors gratefully thank Kırıkkale University Research Fund for their financial support, Project Number 2017/082.
About this article
Cite this article
Aluc, Y., Ekici, H. Investigation of Heavy Metal Levels in Blood Samples of Three Cattle Breeds in Turkey. Bull Environ Contam Toxicol 103, 739–744 (2019). https://doi.org/10.1007/s00128-019-02712-z
Received:

Accepted:

Published:

Issue Date:
Keywords
Heavy metals

ICP-OES

Serum

Cattle

Blood