Abstract
The manufacturing and consumption of drugs of addiction has increased globally and their widespread occurrence in the environment is an emerging concern. This study evaluated the phytotoxicity of three compounds: methamphetamine, codeine and morphine; commonly reported in Australian urban water, to the aquatic plant Lemna minor under controlled conditions. L. minor was sensitive to lower drug concentrations when administered in multi-compound mixtures (100–500 µg L−1) than when applied individually (range 600–2500 µg L−1), while no adverse effects were observed at environmentally-relevant concentrations (1–5 µg L−1) detected in wastewater effluent. In conclusion, the results show that the concentrations of these compounds discharged into the environment are unlikely to pose adverse phytotoxic effects. These three compounds are known to be the most stable of their group under such conditions indicating that with this respect it is safe to use recycled water for existing regulated reclaimed purposes including agricultural or parklands irrigation or replenishing surface and groundwater. However, more research on the analysis of methamphetamines and opiates in municipal effluents is needed to reassure the likely environmental hazard of these neuroactive drug classes to aquatic organisms. Given the ever-growing production and aquatic disposal of discharge wastewater globally, this study provides timely and valuable insights into the likely drug-related impacts of effluent disposal on aquatic plants in receiving environments.
Access options
Buy single article
Instant access to the full article PDF.
USD 39.95
Price includes VAT (USA)
Tax calculation will be finalised during checkout.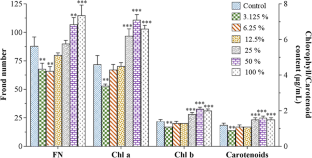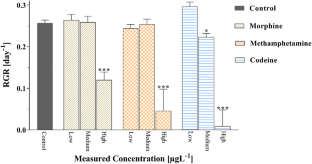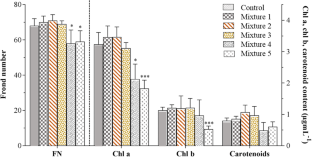 References
AIHW AIoHaW (2017) national drug strategy household survey, NDSHS. Australian Institute of Health and Welfare, Canberra

Alberto M-R, Carmen G-M, María BJ, Sánchez-Díaz MF (1986) Effects of glyphosate [N-(phosphonomethyl)glycine] on photosynthetic pigments, stomatal response and photosynthetic electron transport in Medicago sativa and Trifolium pratense. Physiol Plant 66:63–68. https://doi.org/10.1111/j.1399-3054.1986.tb01234.x

APHA (1998) Standard method for the examination of water and wastewater. American Public Health Association, Washington, DC

Archer E, Petrie B, Kasprzyk-Hordern B, Wolfaardt GM (2017) The fate of pharmaceuticals and personal care products (PPCPs), endocrine disrupting contaminants (EDCs), metabolites and illicit drugs in a WWTW and environmental waters. Chemosphere. https://doi.org/10.1016/j.chemosphere.2017.01.101

Bade R, White JM, Gerber C (2018) Qualitative and quantitative temporal analysis of licit and illicit drugs in wastewater in Australia using liquid chromatography coupled to mass spectrometry. Anal Bioanal Chem 410:529–542. https://doi.org/10.1007/s00216-017-0747-2

Binelli A, Pedriali A, Riva C, Parolini M (2012) Illicit drugs as new environmental pollutants: cyto-genotoxic effects of cocaine on the biological model Dreissena polymorpha. Chemosphere 86:906–911. https://doi.org/10.1016/j.chemosphere.2011.10.056

Castrignanò E et al (2018) Enantiomeric profiling of chiral illicit drugs in a pan-European study. Water Res 130:151–160. https://doi.org/10.1016/j.watres.2017.11.051

Gagné F, André C, Gélinas M (2010) Neurochemical effects of benzodiazepine and morphine on freshwater mussels. Comp Biochem Physiol C 152:207–214

Gubbins EJ, Batty LC, Lead JR (2011) Phytotoxicity of silver nanoparticles to Lemna minor. Environ Pollut 159:1551–1559

Irvine RJ, Kostakis C, Felgate PD, Jaehne EJ, Chen C, White JM (2011) Population drug use in Australia: a wastewater analysis. Forensic Sci Int 210:69–73. https://doi.org/10.1016/j.forsciint.2011.01.037

Lichtenthaler HK (1987) Chlorophylls and carotenoids: pigments of photosynthetic biomembranes. Methods Enzymol, vol 148. Elsevier, Amsterdam, pp 350–382

Moody Mary JM (2005) Lemna minor growth inhibition test. Springer, New york, pp 271–298

Nathaniel T, Huber R, Panksepp J (2012) Specific locomotion behavioral patterns associated with drug; cocaine alters active multifarious behavior in crayfish. Integrative and comparative biology. Oxford Univ Press Inc., Oxford, pp E302–E302

OECD (2006) Test No 221: Lemna sp growth inhibition test. OECD guidelines for the testing of chemicals. OECD, Paris. https://doi.org/10.1787/9789264016194-en

Pal R, Megharaj M, Kirkbride KP, Naidu R (2013) Illicit drugs and the environment: a review. Sci Total Environ 463:1079–1092

Parolini M, Binelli A (2014) Oxidative and genetic responses induced by Δ-9-tetrahydrocannabinol (Δ-9-THC) to Dreissena polymorpha. Sci Total Environ 468:68–76

Parolini M, Magni S, Castiglioni S, Zuccato E, Binelli A (2015) Realistic mixture of illicit drugs impaired the oxidative status of the zebra mussel (Dreissena polymorpha). Chemosphere 128:96–102. https://doi.org/10.1016/j.chemosphere.2014.12.092

Parolini M et al (2017) Environmental concentrations of cocaine and its main metabolites modulated antioxidant response and caused cyto-genotoxic effects in zebrafish embryo cells. Environ Pollut. https://doi.org/10.1016/j.envpol.2017.04.046

Porra R, Thompson W, Kriedemann P (1989) Determination of accurate extinction coefficients and simultaneous equations for assaying chlorophylls a and b extracted with four different solvents: verification of the concentration of chlorophyll standards by atomic absorption spectroscopy. Biochim Biophys Acta 975:384–394

Radić S, Stipaničev D, Cvjetko P, Marijanović Rajčić M, Širac S, Pevalek-Kozlina B, Pavlica M (2011) Duckweed Lemna minor as a tool for testing toxicity and genotoxicity of surface waters. Ecotoxicol Environ Saf 74:182–187. https://doi.org/10.1016/j.ecoenv.2010.06.011

Solovchenko AE, Chivkunova OB, Merzlyak MN, Gudkovsky VA (2005) Relationships between chlorophyll and carotenoid pigments during on- and off-tree ripening of apple fruit as revealed non-destructively with reflectance spectroscopy. Postharvest Biol Technol 38:9–17. https://doi.org/10.1016/j.postharvbio.2005.05.004

Thomas KV et al (2012) Comparing illicit drug use in 19 European cities through sewage analysis. Sci Total Environ 432:432–439

Tscharke BJ, Chen C, Gerber JP, White JM (2015) Trends in stimulant use in Australia: a comparison of wastewater analysis and population surveys. Sci Total Environ 536:331–337

Tscharke BJ, Chen C, Gerber JP, White JM (2016) Temporal trends in drug use in Adelaide, South Australia by wastewater analysis. Sci Total Environ 565:384–391. https://doi.org/10.1016/j.scitotenv.2016.04.183

United Nations Office on Drugs and Crime (2017) World drug report 2017. United Nations Office on Drugs and Crime, United Nations Publicaiton, New Delhi. ISBN 978-92-1-148291-1

Xu Z, Du P, Li K, Gao T, Wang Z, Fu X, Li X (2017) Tracing methamphetamine and amphetamine sources in wastewater and receiving waters via concentration and enantiomeric profiling. Sci Total Environ 601–602:159–166. https://doi.org/10.1016/j.scitotenv.2017.05.045

Yadav MK, Short MD, Aryal R, Gerber C, van den Akker B, Saint CP (2017) Occurrence of illicit drugs in water and wastewater and their removal during wastewater treatment. Water Res 124:713–727. https://doi.org/10.1016/j.watres.2017.07.068

Yadav MK, Short MD, Gerber C, van den Akker B, Aryal R, Saint CP (2018) Occurrence, removal and environmental risk of markers of five drugs of abuse in urban wastewater systems in South Australia. Environ Sci Pollut Res. https://doi.org/10.1007/s11356-018-2464-6

Yadav MK, Aryal R, Short MD, Saint CP (2019a) Fluorescence excitation-emission spectroscopy: an analytical technique to monitor drugs of addiction in wastewater. Water 11:377. https://doi.org/10.3390/w11020377

Yadav MK, Short MD, Gerber C, Awad J, van den Akker B, Saint CP (2019b) Removal of emerging drugs of addiction by wastewater treatment and water recycling processes and impacts on effluent-associated environmental risk. Sci Total Environ 680:13–22. https://doi.org/10.1016/j.scitotenv.2019.05.068

Zaltauskaite J, Sujetoviene G, Cypaite A, Auzbikaviciute A (2014) Lemna minor as a tool for wastewater toxicity assessment and pollutants removal agent. In: Environmental engineering. Proceedings of the international conference on environmental engineering. ICEE, 2014. Vilnius Gediminas Technical University, Department of Construction Economics, p 1. https://doi.org/10.3846/enviro.2014.104

Zezulka Š, Kummerová M, Babula P, Váňová L (2013) Lemna minor exposed to fluoranthene: growth, biochemical, physiological and histochemical changes. Aquat Toxicol 140–141:37–47. https://doi.org/10.1016/j.aquatox.2013.05.011
Acknowledgements
This research was supported by an Australian Government Research Training Program (RTP) Scholarship. The authors would like to acknowledge the Commonwealth Scientific and Industrial Research Organisation (CSIRO) for experimental set-up and providing necessary resources during the experiment. Special thanks are given to Dr Cobus Gerber for reviewing the analytical section and Maulik Ghetia for assisting with instrumental analysis.
Electronic supplementary material
Below is the link to the electronic supplementary material.
About this article
Cite this article
Yadav, M.K., Kumar, A., Short, M.D. et al. Aquatic Phytotoxicity to Lemna minor of Three Commonly Used Drugs of Addiction in Australia. Bull Environ Contam Toxicol 103, 710–716 (2019). https://doi.org/10.1007/s00128-019-02708-9
Received:

Accepted:

Published:

Issue Date:
Keywords
Aquatic plants

Analytical toxicology

Contaminants of emerging concern

Freshwater toxicology

Water quality