Abstract
Climate change is expected to alter hydrological cycles on global and regional scales, impacting groundwater and surface water inputs to stream habitats. In the midwestern United States, the volume and frequency of inputs are expected to become increasingly variable. This region has a high incidence of agriculture, creating enormous potential for transport of pesticides and herbicides into aquatic ecosystems. Metolachlor, an herbicide for corn and soybean crops, has been demonstrated to contaminate surface water and groundwater in the region. This study examines the impact of variable flow conditions on the toxicity of environmentally relevant concentrations of metolachlor in a macroinvertebrate found in midwestern streams, the rusty crayfish (Faxonius rusticus). Changes in crayfish foraging behavior were analyzed using a Mixed Model ANCOVA. Under toxicant exposure, crayfish significantly increased their consumption of macrophytes, but only under the variable flow regime. Thus, the increased variability in toxicant exposure impacted crayfish foraging behavior more than other flow regimes. This significant interaction between flow regime and metolachlor exposure suggests that the greater variability in toxicant inputs to streams may lead to more severe changes in behavior for exposed organisms.
Access options
Buy single article
Instant access to the full article PDF.
USD 39.95
Price includes VAT (USA)
Tax calculation will be finalised during checkout.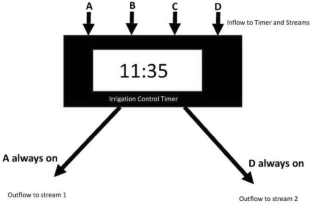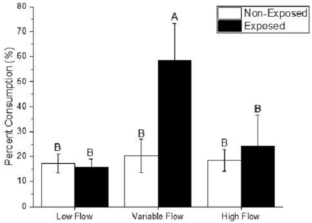 References
Amiard-Triquet C, Amiard JC, Mouneyrac C (2015) Aquatic ecotoxicology: advancing tools for dealing with emerging risks. Academic Press, Cambridge

Ashauer R, Boxall A, Brown C (2006) Predicting effects on aquatic organisms from fluctuating or pulsed exposure to pesticides. Environ Toxicol Chem 25:1899–1912. https://doi.org/10.1897/05-393R.1

Atema J (1996) Eddy chemotaxis and odor landscapes: exploration of nature with animal sensors. Biol Bull 191(1):129–138. https://doi.org/10.2307/1543074

Bates D, Maechler M, Bolker B, Walker S, Christensen RHB, Singmann H, Bin D. Grothendicck G, Green P (2015) Package 'lme4'. Convergence 12(1). https://github.com/lme4/lme4/ http://lme4.r-forge.r-project.org/

Bear J, Cheng AHD (2010) Modeling groundwater flow and contaminant transport, vol 23. Springer, Berlin

Cook ME, Moore PA (2008) The effects of the herbicide metolachlor on agonistic behavior in the crayfish, Orconectes rusticus. Arch Environ Contam Toxicol 55(1):94–102. https://doi.org/10.1007/s00244-007-9088-z

Denny MW (1993) Air and water: the biology and physics of life's media. Princeton University Press, Princeton

Edwards DD, Moore PA (2014) Real exposure: field measurement of chemical plumes in headwater streams. Arch Environ Contam Toxicol 67:413–425. https://doi.org/10.1007/s00244-014-0055-1

Fero K, Simon JL, Jourdie V, Moore PA (2007) Consequences of social dominance on crayfish resource use. Behaviour 144:61–82

Frey JW (2001) Occurrence, distribution, and loads of selected pesticides in streams in the Lake Erie-Lake St. Clair Basin, 1996–1998 US Geological Survey Report No. 2000-4169, pp 1–69. https://doi.org/10.3133/wri004169

Gordon AK, Mantel SK, Muller NW (2012) Review of toxicological effects caused by episodic stressor exposure. Environ Toxicol Chem 31:1169–1174. https://doi.org/10.1002/etc.1781

Grannemann NG, Hunt RJ, Nicholas JR, Reilly TE, Winter TC (2000) The importance of ground water in the Great Lakes region US Geological Survey Report No. 2000-4008. https://water.usgs.gov/ogw/pubs/WRI004008/WRIR_00-4008

Harrigan KM, Moore PA (2017) Scaling to the organism: an innovative model of dynamic exposure hotspots in stream systems. Arch Environ Contam Toxicol. https://doi.org/10.1007/s00244-017-0444-3

Hill AM, Lodge DM (1999) Replacement of resident crayfishes by an exotic crayfish: the roles of competition and predation. Ecol Soc Am 9:678–690. https://doi.org/10.1890/10510761(1999)009%5b0678:RORCBA%5d2.0.CO;2

Kalkhoff SJ, Lee KE, Porter SD, Terrio PJ, Thurman EM (2003) Herbicides and herbicide degradation products in upper Midwest agricultural streams during August base-flow conditions. J Environ Qual 32(3):1025–1035. https://doi.org/10.2134/jeq2003.1025

Kreuzinger N, Clara M, Strenn B, Vogel B (2004) Investigation on the behaviour of selected pharmaceuticals in the groundwater after infiltration of treated wastewater. Water Sci Technol 50:221–228. https://doi.org/10.2166/wst.2004.0130

Leng G, Huang M, Voisin N, Zhang X, Asrar GR, Leung LR (2016) Emergence of new hydrologic regimes of surface water resources in the conterminous United States under future warming. Environ Res Lett 11(11):114003. https://doi.org/10.1088/1748-9326/11/11/114003/pdf

Lenth R (2019) emmeans: estimated marginal means, aka least-squares means. R package version 1.3.4. https://CRAN.R-project.org/package=emmeans

Loecke TD, Burgin AJ, Riveros-Iregui DA, Ward AS, Thomas SA, Davis CA, Clair MAS (2017) Weather whiplash in agricultural regions drives deterioration of water quality. Biogeochemistry 133(1):7–15. https://doi.org/10.1007/s10533-017-0315-z

Ludington TS, Moore PA (2017) The degree of impairment of foraging in crayfish (Orconectes virilis) due to insecticide exposure is dependent upon turbulence dispersion. Arch Environ Contam Toxicol 72:281–293. https://doi.org/10.1007/s00244-016-0341-1

Milne I, Seager J, Mallett M (2000) Effects of short-term pulsed ammonia exposure on fish. Environ Toxicol Chem 19:2929–2936. https://doi.org/10.1002/etc.5620191213

Moore P, Crimaldi J (2004) Odor landscapes and animal behavior: tracking odor plumes in different physical worlds. J Mar Syst 49:55–64. https://doi.org/10.1016/j.jmarsys.2003.05.005

Moore PA, Zimmer-Faust RK, Bement SL, Weissburg MJ, Parrish JM, Gerhardt GA (1992) Measurement of microscale patchiness in a turbulent aquatic odor plume using a semiconductor-based microprobe. Biol Bull 183:138–142. https://doi.org/10.2307/1542414

Moore PA, Weissburg MJ, Parrish JM, Zimmer-Faust RK, Gerhardt GA (1994) Spatial distribution of odors in simulated benthic boundary layer flows. J Chem Ecol 20:255–279. https://doi.org/10.1007/BF02064435

Neal AE, Moore PA (2017) Mimicking natural systems: changes in behavior as a result of dynamic exposure to naproxen. Ecotoxicol Environ Saf 135:347–357. https://doi.org/10.1016/j.ecoenv.2016.10.015

Nearing MA, Pruski FF, O'neal MR (2004) Expected climate change impacts on soil erosion rates: a review. J Soil Water Conserv 59(1):43–50

Nikora V (2010) Hydrodynamics of aquatic ecosystems: an interface between ecology, biomechanics and environmental fluid mechanics. River Res Appl 26:367–384. https://doi.org/10.1002/rra.1291

Patz JA, Vavrus SJ, Uejio CK, McLellan SL (2008) Climate change and waterborne disease risk in the Great Lakes region of the US. Am J Prev Med 35(5):451–458. https://doi.org/10.1016/j.amepre.2008.08.026

R Core Team (2018) R: a language and environment for statistical computing. R Foundation for Statistical Computing, Vienna

Reichenberger S, Bach M, Skitschak A, Frede HG (2007) Mitigation strategies to reduce pesticide inputs into ground and surface water and their effectiveness; a review. Sci Total Environ 384:1–35. https://doi.org/10.1016/j.scitotenv.2007.04.046

Rivard L (2003) Environmental fate of metolachlor. Chemistry 51218(45):42

Schulz R, Liess M (2000) Toxicity of fenvalerate to caddisfly larvae: chronic effects of 1-vs 10-h pulse-exposure with constant doses. Chemosphere 41:1511–1517. https://doi.org/10.1016/S0045-6535(00)00107-7

Sedláček J, Knutti R (2014) Half of the world's population experience robust changes in the water cycle for a 2 C warmer world. Environ Res Lett 9(4):044008. https://doi.org/10.1088/1748-9326/9/4/044008

Steele AN, Belanger RM, Moore PA (2018) Exposure through runoff and ground water contamination differentially impact behavior and physiology of crustaceans in fluvial systems. Arch Environ Contam Toxicol 75:436–448. https://doi.org/10.1007/s00244-018-0542-x

Vogel S (1994) Life in moving fluids. The physical biology of flow, 2nd edn. Princeton University Press, Princeton

Wang Q, Zhang Q, Wu Y, Wang XC (2017) Physicochemical conditions and properties of particles in urban runoff and rivers: implications for runoff pollution. Chemosphere 173:318–325. https://doi.org/10.1016/j.chemosphere.2017.01.066

Wolf MC, Moore PA (2002) Effects of the herbicide metolachlor on the perception of chemical stimuli by Orconectes rusticus. J North Am Benthol Soc 21(3):457–467. https://doi.org/10.2307/1468482

Wood TC, Kelley RE, Moore PA (2018) Feeding in fear: indirect effects of predatory fish on macrophyte communities mediated by altered crayfish foraging behavior. Freshw Biol 63(12):1523–1533. https://doi.org/10.1111/fwb.13181

Yee E, Biltoft CA (2004) Concentration fluctuation measurements in a plume dispersing through a regular array of obstacles. Bound Layer Meteorol 111:363–415. https://doi.org/10.1023/B:BOUN.0000016496.83909.ee

Yokley RA, Mayer LC, Huang SB, Vargo JD (2002) Analytical method for the determination of metolachlor, acetochlor, alachlor, dimethenamid, and their corresponding ethanesulfonic and oxanillic acid degradates in water using SPE and LC/ESI-MS/MS. Anal Chem 74(15):3754–3759. https://doi.org/10.1021/ac020134q
Acknowledgements
The authors would like to thank the UMBS REU program (FA), the Marian P. and David M. Gates graduate student endowment fund (KKW) and the Fulbright Program (PAM) for funding.
About this article
Cite this article
Alacantara, F., Weighman, K.K. & Moore, P.A. Variable Background Flow on Aquatic Toxicant Exposure Alters Foraging Patterns on Crayfish. Bull Environ Contam Toxicol 103, 663–669 (2019). https://doi.org/10.1007/s00128-019-02707-w
Received:

Accepted:

Published:

Issue Date:
Keywords
Dynamic exposure

Flow

Toxicity

Climate change

Runoff

Groundwater