Abstract
Burning of wheat and rice straw on field, after crop harvest, is a quick, cheap and an easy way for land clearing. The ashes generated after burning are mixed with soils and due to their alkaline nature, they may affect the degradation of applied herbicides. Therefore, present paper reports degradation of sulfosulfuron in aqueous suspension of the wheat (WSA) and rice (RSA) straw ashes. The results suggested that both ashes significantly enhanced sulfosulfuron dissipation in water and effect was more with the RSA. The solution pH affected sulfosulfuron dissipation and in control buffers (no ash) herbicide degradation followed the order: acidic > alkaline > neutral. Addition of the RSA significantly increased sulfosulfuron degradation in buffers, but effect was more evident at neutral and alkaline pH. The study has relevance in assessing degradation of sulfosulfuron in soils where crop residues are burned for land clearing.
Access options
Buy single article
Instant access to the full article PDF.
USD 39.95
Price includes VAT (USA)
Tax calculation will be finalised during checkout.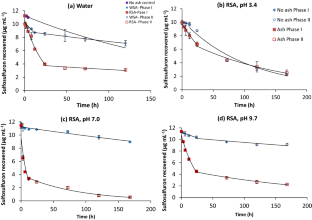 References
Basu M, Pande M, Bhadoria PBS, Mahapatra SC (2009) Potential fly-ash utilization in agriculture: a global review. Prog Nat Sci 19:1173–1186

Böger P, Wakbeyashi K, Hirai K (2002) Herbicide classes in development: mode of action, targets, genetic engineering, chemistry. Springer, Berlin

Brown HM, Kearney PC (1991) Plant biochemistry, environmental properties, and global impact of the sulfonylurea herbicides. ACS Symp Ser 443:32–49

Deokar SK, Mandavgane SA, Kulkarni BD (2016a) Agro-industrial waste: a low cost adsorbent for effective removal of 4-chloro-2-methoxyphenoxyacetic acid herbicide in batch and packed-bed techniques. Environ Sci Pollut Res 23:16164–16175

Deokar SK, Singh D, Modak S, Mandavgane SA, Kulkarni BD (2016b) Adsorptive removal of diuron on biomass ashes: a comparative study using rice husk ash and bagasse fly ash as adsorbents. Desalin Water Treat 57:22378–22391

EFSA (European Food Safety Authority) (2014) Conclusion on the peer review of the pesticide risk assessment of the active substance sulfosulfuron. EFSA J 12(3764):79. https://doi.org/10.2903/j.efsa.2014.3764

Ghosh RK, Singh N (2013) Adsorption-desorption of metolachlor and atrazine in Indian soils: effect of fly ash amendment. Environ Monit Assess 185:1833–1845

Ghosh RK, Singh N, Singh SB (2016) Effect of fly ash amendment on metolachlor and atrazine degradation and microbial activity in two soils. Environ Monit Assess 188:482. https://doi.org/10.1007/s10661-016-5486-x

Hay JB (1990) Chemistry of sulfonylurea herbicides. Pestic Sci 29:247–261

Jain N, Bhatia A, Pathak H (2014) Emission of air pollutants from crop residue burning in India. Aerosol Air Qual Res 14:422–430

Loganayagi C, Ramesh A (2014) Mobility of sulfosulfuron and its metabolite aminopyrimidine in soil under laboratory condition. J Ecol Environ Sci 2:47–54

Maheswari ST, Ramesh A (2007) Adsorption and degradation of sulfosulfuron in soils. Environ Monit Assess 127:97–103

Majumdar K, Singh N (2007) Effect of soil amendments on sorption and mobility of metribuzin in soils. Chemosphere 66:630–637

Nkana JCV, Demeyer A, Verloo MG (1998) Chemical effects of wood ash on plant growth in tropical acid soils. Bioresour Technol 63:251–260

Pandey VC, Singh N (2010) Impact of fly ash incorporation in soil systems. Agric Ecosyst Environ 136:16–27

Ramesh A, Thirugnanam PE, Sathiyanarayanan S (2007) Identification of residues of sulfosulfuron and its metabolites in subsoil-dissipation kinetics and factors influencing the stability and degradation of residues from topsoil to subsoil under predominant cropping conditions. Environ Monit Assess 130:519–528

Saha S, Kulshrestha G (2002) Degradation of sulfosulfuron, a sulfonylurea herbicide, as influenced by abiotic factors. J Agric Food Chem 50:45724575

Saha S, Kulshrestha G (2008) Hydrolysis kinetics of the sulfonylurea herbicide sulfosulfuron. Int J Environ Anal Chem 88:891–898

Sarmah AK, Kookana RS, Duffy MJ, Alston AM, Harch BD (2000) Hydrolysis of triasulfuron, metsulfuron-methyl and chlorsulfuron in alkaline soil and aqueous solutions. Pest Manage Sci 56:463–471

Singh N, Singh SB (2012) Sorption-desorption behavior of metsulfuron-methyl and sulfosulfuron in soils. J Environ Sci Health B47:168–174

Singh N, Raunaq, Singh SB (2013a) Effect of fly ash amendment on persistence of metribuzin in soils. J Environ Sci Health B48:108–113

Singh N, Singh SB, Raunaq, Das TK (2013b) Effect of fly ash on persistence, mobility and bio-efficacy of metribuzin and metsulfuron-methyl in crop fields. Ecotoxicol Environ Saf 85:236–241

Tomlin CDS (2009) The pesticide manual: a world compendium. BCPC, Alton

Trivedi NS, Mandavgane SA, Kulkarni BD (2016) Mustard plant ash: a source of micronutrient and an adsorbent for removal of 2,4-dichlorophenoxyacetic acid. Environ Sci Pollut Res 23:20087–20099
Electronic supplementary material
Below is the link to the electronic supplementary material.
About this article
Cite this article
Kumar, A., Singh, N., Banerjee, T. et al. Chemical Degradation of Sulfosulfuron in Aqueous Suspension of Rice and Wheat Straw Ashes. Bull Environ Contam Toxicol 103, 484–489 (2019). https://doi.org/10.1007/s00128-019-02686-y
Received:

Accepted:

Published:

Issue Date:
Keywords
Sulfosulfuron

Rice and wheat straw ashes

Degradation