Abstract
Experiments were conducted to observe the role of plant growth promoting (PGP) strain PAW3 in reduction of Cr(VI) and cowpea growth. PAW3 was identified as Bacillus subtilus by 16S rRNA sequence analysis. Strain PAW3 produced substantial amounts of PGP substances such as indole acetic acid (IAA), ACC deaminase, exopolysaccharide (EPS), siderophore and solublized phosphate even at 500 µg/mL Cr(VI). PAW3 completely reduced Cr(VI) at pH 5–7, 100–200 µg Cr/mL and 20–35°C. PAW3 reduced Cr(VI) into Cr(III) (30 ± 1 µg/mL in supernatant and 70 ± 2.7 µg/mL in debris). PCR amplification revealed the presence of Cr(VI) reductase gene (ChR) in PAW3 with a fragment size of 300 bp whereas other strains (PAW1, PAW2 and PAW5) did not express. Both malondialdehyde and antioxidant levels increased with increase in Cr(VI). Inoculation of cowpea with PAW3 resulted in the best growth and photosynthesis in pot soils amended with Cr(VI). PAW3 completely reduced Cr(VI) to Cr(III) after 30 days of growth. The capacity to secrete plant growth regulators, antioxidants, and Cr(VI) reduction could be responsible for growth promotion of cowpea.
Access options
Buy single article
Instant access to the full article PDF.
USD 39.95
Price includes VAT (USA)
Tax calculation will be finalised during checkout.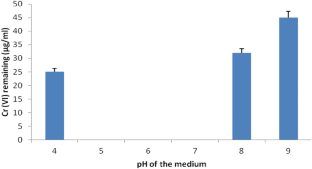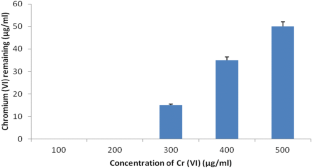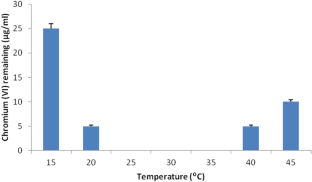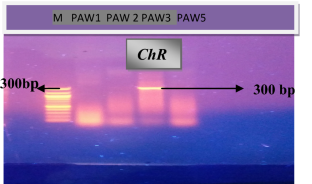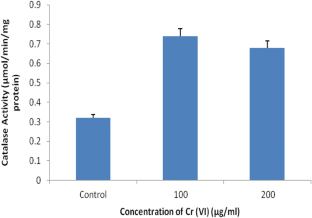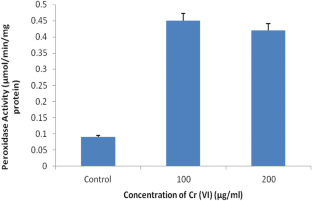 References
Aksu Z (2002) Determination of the equilibrium, kinetic and thermodynamic parameters of the batch biosorption of nickel (II) ions onto Chlorella vulgaris. Pro Biochem 38:89–99

Alexander DB, Zuberer DA (1991) Use of chrome azurol S reagents to evaluate siderophore production by rhizosphere bacteria. Biol Fertil Soils 12(1):39–45

Alvarez AH, Moreno-Sanchez R, Cervantes C (1999) Chromate efflux by means of the ChrA chromate resistance protein from Pseudomonas aeruginosa. J Bacteriol 181:7398–7400

Arnon DI (1949) Copper enzymes in isolated chloroplats, polyphenol oxidase in Beta vulgaris. Plant Physiol 25:1–15

Atkin CL, Neilands JB, Phaff HJ (1970) Rhodotorulic acid from species of Leucosporidium, Rhodosporidium, Rhodotorula, Sporidiobolus, and Sporobolomyces, and a new alanine-containing ferrichrome from Cryptococcus melibiosum. J Bacteriol 103(3):722–733

Awasthi S, Srivastava P, Mishra PK (2017) Application of EPS in agriculture: an important natural resource for crop improvement. Agri Res Technol Open Access J. 8(2):001–003

Bagchi D, Bagchi M, Stohs SJ (2001) Chromium(VI)- induced oxidative stress, apoptotic cell death and modulation of p53 tumor suppressor gene. Mol Cell Biochem 222:149–158

Batayneh AT (2012) Toxic (aluminum, beryllium, boron, chromium and zinc) in groundwater: health risk assessment. Int J Environ Sci Technol 9:153–162

Brick JM, Bostock RM, Silverstone SE (1991) Rapid in situ assay for indoleacetic acid production by bacteria immobilized on a nitrocellulose membrane. App Environ Microbiol 57(2):535–538

Cakmak I, Horst WJ (1991) Effect of aluminum on net efflux of nitrate and potassium from root tips of soybean (Glycine max L.). J Plant Physiol 130:400–403

Chaoui A, Mazhoudi S, Ghorbal MH, Ferjani EE (1997) Cadmium and Zn induction of lipid peroxidation and effects of antioxidant enzyme activities in bean (Phaseolus vulgaris L.). Plant Sci 127:139–147

Choudhary DK, Varma A, Tuteja N (2016) Plant-microbe interaction: an approach to sustainable agriculture. Singapore, Springer Nature

Das S, Mishra J, Das SK, Pandey S, Rao DS, Chakraborty A, Sudarshan M, Das N, Thatoi H (2014) Investigation on mechanism of Cr(VI) reduction and removal by Bacillus amyloliquefaciens, a novel chromate tolerant bacterium isolated from chromite mine soil. Chemos. 96:112–121

Dutton J, Fisher NS (2011) Bioaccumulation of As, Cd, Cr, Hg (II), and Me Hg in killifish (Fundulus heteroclitus) from amphipod and worm prey. Sci Total Environ 409:3438–3447

Dworkin M, Foster J (1958) Experiments with some microorganisms which utilize ethane and hydrogen. J Bacteriol 75:592–601

Eaton AD, Clesceri LS, Greenberg AE (1992) Standard methods for the examination of water and wastewater, American public health association; American water works association (AWWA). Water Environment Federation (WEF), Washington, DC, p 981

Elangovan R, Abhipsa S, Rohit B, Ligy P, Chandraraj K (2006) Reduction of Cr(VI) by a Bacillus sp. Biotechnol Lett 28:247–252

Glick BR (2012) Plant growth-promoting bacteria: mechanisms and applications. Scientifica 2012:1–15

Glick BR, Todorovic B, Czarny J, Cheng Z (2007) Promotion of plant growth by bacterial ACC deaminase. Crit Rev Plant Sci 26(5–6):227–242

Gordon S, Weber RP (1951) The colorimetric estimation of IAA. Plant Physiol 26:192–195

Gu Y, Xu W, Liu Y, Zeng G, Huang J, Tan X, Jian H, Hu X, Li F, Wang D (2015) Mechanism of Cr(VI) reduction by Aspergillus niger: enzymatic characteristic, oxidative stress response, and reduction product. Environ Sci Pollut Res 22:6271–6279

Gupta P, Diwan B (2017) Bacterial exopolysaccharide mediated heavy metal removal: a review on biosynthesis, mechanism and remediation strategies. Biotech Rep 13:58–71

Holt JG, Krieg NR, Sneath PHA, Staley JT, Willams ST (1994) Bergeys manual of determinative bacteriology, 9th edn. Williams and Wilkins, Philadelphia

Hussein KA, Joo JH (2013) Heavy metal resistance of bacteria and its impact on the production of antioxidant enzymes. Afr J Microbiol Res 7:2288–2296

Jackson ML (1976) Soil chemical analysis. Prentice Hall, New Delhi

Karthik C, Oves M, Thangabalu R, Sharma R, Santhosh SB, Arulselvi PI (2016) Cellulosimicrobium funkei-like enhances the growth of Phaseolus vulgaris by modulating oxidative damage under Chromium(VI) toxicity. J Adv Res 7:839–850

Karuppanapandian T, Sinha PB, Kamarul HA, Manoharan K (2009) Chromium induced accumulation of peroxide content, stimulation of antioxidative enzyme and lipid peroxidation in green gram (vigna radiata L cv wilczek) leaves. Afr J Biotechnol 8(3):475–479

King JE (1932) The colorimetric determination of phosphorus. Biochem J 26:292–297

Kwon SI, Anderson AJ (2001) Catalase activities of Phanerochaete chrysosporium are not coordinately produced with ligninolytic metabolism: catalase from a white-rot fungus. Microbiol 42:8–11

Mani D, Kumar C (2014) Biotechnological advances in bioremediation of heavy metals contaminated ecosystems: an overview with special reference to phytoremediation. Int J Environ Sci Technol 11:843–872

Mishra RR, Dhal B, Dutta SK, Dangar TK, Das NN, Thatoi HN (2012) Optimization and characterization of Cr (VI) reduction in saline condition by moderately halophilic Vigribacillus sp. isolated from mangrove soil of Bhitarkanika, India. J Hazard Mater 227–228:219–226

Mody B, Bindra M, Modi V (1989) Extracellular polysaccharides of cowpea rhizobia: compositional and functional studies. Arch Microbiol 153(1):38–42

Oves M, Khan MS, Zaidi A (2013) Biosorption of heavy metals by Bacillus thuringiensis strain OSM29 originating from industrial effluent contaminated north Indian soil. Saud J Biol Sci 20:121–129

Pan X, Liu Z, Chen Z, Cheng Y, Pan D, Shao J, Lin Z, Guan X (2014) Investigation of Cr(VI) reduction and Cr(III) immobilization mechanism by planktonic cells and biofilms of Bacillus subtilis ATCC-6633. Wat Res 55:21

Patra RC, Malik S, Beer M, Megharaj M, Naidu R (2010) Molecular characterization of chromium(VI) reducing potential in Gram positive bacteria isolated from contaminated sites. Soil Biol Biochem 42:1857–1863

Price AH, Hendry GAF (1991) Iron catalyzed oxygen radical formation and its possible contribution to drought damage in nine native grasses and three cereals. Plant Cell Environ 14:477–484

Ramirez-Dıaz MI, Dıaz-Perez C, Vargas E, Riveros-Rosas H, Campos-Garcıa J, Cervantes C (2008) Mechanisms of bacterial resistance to chromium compounds. Biomet 21:321–332

Reeves MW, Pine L, Neilands JB, Balows A (1983) Absence of siderophore activity in Legionella species grown in iron-deficient media. J Bacteriol 154(1):324–329

Sharma S, Kulkarni J, Jha B (2016) Halotolerant rhizobacteria promote growth and enhance salinity tolerance in peanut. Front Microbiol 7:1600

Takahashi CK, Turner A, Millward GE, Glegg GA (2012) Persistence and metallic composition of paint particles in sediments from a tidal inlet. Mar Pollut Bull 64:133–137

Vincent JB (2000) Elucidating a biological role for chromium at a molecular level. Acc Chem Res 33(7):503–510

Vogel C, Rehschuh S, Kemi Olagoke F (2017) Interactions between extracellular polymeric substances and clay minerals affect soil aggregation. EGU General Assembly Conference Abstracts, vol 19, p 18653

Wang Y, Yang Z, Peng B, Chai L, Wu B, Wu R (2013) Biotreatment of chromite ore processing residue by Pannonibacter phragmitetus BB. Env Sci Pollut Res 20:5593–5602

Wang Y, Peng B, Yang Z, Tang C, Chen Y, Liao Q, Liao Y (2014) Treatment of Cr(VI) contaminated water with Pannonibacter phragmitetus BB. Environ Earth Sci 71:4333–4339

Wani PA, Khan MS (2010) Bacillus species enhance growth parameters of chickpea (Cicer arietinum L.) in chromium stressed soils. Food Chem Toxicol 48:3262–3267

Wani PA, Khan MS (2013) Nickel detoxification and plant growth promotion by multi metal resistant plant growth promoting Rhizobium species RL9. Bull Environ Contam Toxicol 91:117–124

Wani PA, Zainab IO, Wasiu ID, Jamiu KO (2015) Cr(VI) reduction by Streptococcus sp. isolated from industrial area of Abeokuta, Ogun State. Nigeria Res J Microbiol 10:66–75

Wani PA, Olamide AN, Wasiu IA, Rafi N, Wahid S, Sunday OO (2016) Sodium alginate/polyvinyl alcohol immobilization of Brevibacillus brevis OZF6 isolated from the industrial waste water of Abeokuta, Ogun State, Nigeria and its role in the removal of toxic chromate. Brit Biotechnol J 15(1):1–10

Wani PA, Sunday OO, Kehinde AM, Oluwaseyi LA, Wasiu IA, Wahid S (2017) Antioxidants and chromium reductases by Penibacillus species enhance the growth of soybean under chromium stress. Int J Environ Sci Technol 15:25. https://doi.org/10.1007/s13762-017-1533-6

Wani PA, Wani JA, Wahid S (2018) Recent advances in the mechanism of detoxification of genotoxic and cytotoxic Cr(VI) by microbes. J. Environ Chem Eng 6:3798–3807

Zeidan AA, Poulsen VK, Janzen T (2017) Polysaccharide production by lactic acid bacteria: from genes to industrial applications. FEMS Microbiol Rev 17:25

Zhang XX, Chunjie L, Zhibiao N (2012) Effects of cadmium stress on seed germination and seedling growth of Elymus dahuricus infected with the Neotyphodium endophyte. Sci Chin Life Sci 55:793–799
About this article
Cite this article
Wani, P.A., Garba, S.H., Wahid, S. et al. Prevention of Oxidative Damage and Phytoremediation of Cr(VI) by Chromium(VI) Reducing Bacillus subtilus PAW3 in Cowpea Plants. Bull Environ Contam Toxicol 103, 476–483 (2019). https://doi.org/10.1007/s00128-019-02683-1
Received:

Accepted:

Published:

Issue Date:
Keywords
Bacillus subtilus

Plant growth regulators

Cr(VI) reduction

Chromium reductase gene

Antioxidants

Cowpea