Abstract
This study evaluates the mortality and immobilization on Daphnia magna after 24–96 h of exposure to microplastic dispersions (PP, PE, PVC, PVC/PE), and to microplastic + surfactant solutions both under fasting and feeding conditions. The tested microplastics were analysed with μFT-IR to determine their chemical composition, purity, and dimensions. The results show that: (i) exposure under fasting conditions produces acceptable results on negative controls no later than 24 h; (ii) the dispersion of microplastics forms homo-agglomerates that are able to affect animals' motility and cause mortality and immobilization; (iii) different types of tested microplastic produce different effects on endpoints (the most toxic is PVC + surfactant); (iv) in all cases, the effects were reduced under feeding conditions (i.e. 4 times reduction of PE toxicity); (v) effects of surfactant on observed toxicity are microplastic-type dependent; (vi) the age of the animal affected the mortality and immobilization responses after exposure under both fasting and feeding conditions.
Access options
Buy single article
Instant access to the full article PDF.
USD 39.95
Price includes VAT (USA)
Tax calculation will be finalised during checkout.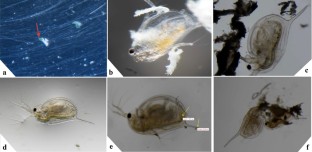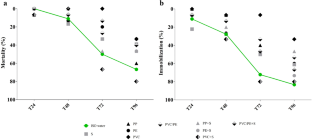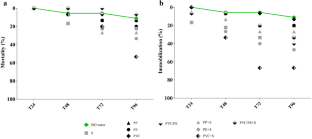 References
Baird DJ, Barber I, Bradley M, Calow P, Soares AMVM (1989) The Daphnia bioassay: a critique. Hydrobiologia 188:403. https://doi.org/10.1007/BF00027806

Bakir A, Rowland SJ, Thompson RC (2014) Enhanced desorption of persistent organic pollutants from microplastics under simulated physiological conditions. Environ Pollut 185:16–23

Baumann J, Sakka Y, Bertrand C, Köser J, Filser J (2014) Adaptation of the Daphnia sp. acute toxicity test: miniaturization and prolongation for the testing of nanomaterials. Environ Sci Pollut Res 21(3):2201–2213. https://doi.org/10.1007/s11356-013-2094-y.

Browne MA, Galloway T, Thompson R (2007) Microplastic—an emerging contaminant of potential concern? Integr Environ Assess Manag 3:559–561. https://doi.org/10.1002/ieam.5630030412

Browne MA, Crump P, Niven SJ, Teuten E, Galloway T, Thompson R (2011) Accumulation of microplastic on shorelines woldwide: sources and sinks. Environ Sci Technol 45(21):9175–9179. https://doi.org/10.1021/es201811s

Cole M, Lindeque P, Fileman E, Halsband C, Goodhead R, Moger J, Galloway T (2013) Microplastic ingestion by zooplankton. Environ Sci Technol 47:6646–6655. https://doi.org/10.1021/es400663f

Duis K, Coors A (2016) Microplastics in the aquatic and terrestrial environment: sources (with a specific focus on personal care products), fate and effects. Environ Sci Eur 28:2. https://doi.org/10.1186/s12302-015-0069-y

Ebert D (2005) Ecology, epidemiology, and evolution of parasitism in Daphnia. National Library of Medicine (US) and National Center for Biotechnology Information (US), Bethesda. ISBN-10: 1-932811-06-0.

Fischer EH, Paglialonga L, Czech E, Taminga M (2016) Microplastic pollution in lakes and lake shoreline sediments—a case study on Lake Bolsena and Lake Chiusi (central Italy). Environ Pollut 213:648–657. https://doi.org/10.1016/j.envpol.2016.03.012

Free CM, Jensen OP, Mason SA, Eriksen M, Williamson NJ, Boldgiv B (2014) High-levels of microplastic pollution in a large, remote, mountain lake. Mar Pollut Bull 85(1):156–163. https://doi.org/10.1016/j.marpolbul.2014.06.001

Frydkjær CK, Iversen N, Roslev P (2017) Daphnia magna: effects of regular and irregular shaped plastic and sorbed phenanthrene. Bull Environ Contam Toxicol 99:655–661. https://doi.org/10.1007/s00128-017-2186-3

Galloway TS, Lewis CN (2016) Marine microplastics spell big problems for future generations. PNAS 113:2331–2333. https://doi.org/10.1073/pnas.1600715113

Imhof HK, Rusek J, Thiel M, Wolinska J, Laforsch C (2017) Do microplastic particles affect Daphnia magna at the morphological, life history and molecular level? PLoS ONE 12(11):e0187590. https://doi.org/10.1371/journal.pone.0187590

Jemec A, Horvat P, Kunej U, Bele M, Kržan A (2016) Uptake and effects of microplastic textile fibers on freshwater crustacean Daphnia magna. Environ Pollut 219(2016):201–209. https://doi.org/10.1016/j.envpol.2016.10.037

Kim D, Chae Y, An Y-J (2017) Mixture toxicity of nickel and microplastics with different functional groups on Daphnia§ magna. Environ Sci Technol 51:12852–12858. https://doi.org/10.1021/acs.est.7b03732

Lassen C, Hansen SF, Magnusson K, Hartmann NB, Rehne Jensen P, Nielsen TG, Brinch A (2015) Microplastics—occurrence, effects and sources of releases to the environment in Denmark. The Danish Environmental Protection Agency, Environmental Project No. 1793

Lechuga M, Fernández-Serrano M, Jurado E, Núñez-Olea J, Ríos F (2016) Acute toxicity of anionic and non-ionic surfactants to aquatic organisms. Ecotoxicol Environ Saf 125:1–8. https://doi.org/10.1016/j.ecoenv.2015.11.027

Murphy F, Ewins C, Carbonnier F, Quinn B (2016) Wastewater treatment works (WwTW) as a source of microplastics in the aquatic environment. Environ Sci Technol 50(11):5800–5808. https://doi.org/10.1021/acs.est.5b05416

Nørgaard LS, Roslev P (2016) Effects of ammonia and density on filtering of commensal and pathogenic Escherichia coli by the cladoceran Daphnia magna. Bull Environ Contam Toxicol 6:848–854. https://doi.org/10.1007/s00128-016-1963-8

OECD (2004) OECD guidelines for the testing of chemicals. Test no. 202 "Daphnia" sp., Acute Immobilisation Test. April 1–12.

Pavan A, Frassine R (2005) Tubazioni in polietilene per il trasporto di acqua. Manuale per la progettazione, la posa e la gestione sicura delle reti idriche. Springer, Mailand. https://doi.org/10.1007/b138839.

Rehse S, Kloas W, Zarfl C (2016) Short-term exposure with high concentrations of pristine microplastic particles leads to immobilisation of Daphnia magna. Chemosphere 153:91–99. https://doi.org/10.1016/j.chemosphere.2016.02.133

Renzi M, Giovani A, Focardi SE (2012) Water pollution by surfactants: fluctuations due to tourism exploitation in a lagoon ecosystem. J Environ Prot 3:1004–1009

Renzi M, Guerranti C, Blašković A (2018a) Microplastic contents from maricultured and natural mussels. Mar Pollut Bull 131:248–251

Renzi M, Blašković A, Bernardi G, Russo GF (2018b) Plastic litter transfer from sediments towards marine trophic webs: a case study on holothurians. Mar Pollut Bull 135:376–385

Rosenkranz P, Qasim C, Stone V, Fernandes TF (2009) A comparison of nanoparticle and fine particle uptake by Daphnia magna. EnvironToxicol Chem 28:2142–2149. https://doi.org/10.1897/08-559.1

Teuten EL, Rowland SJ, Galloway TS, Thompson RC (2007) Potential for plastics to transport hydrophobic contaminants. Environ Sci Technol 41(22):7759–7764. https://doi.org/10.1021/es071737s

Wright SL, Thompson RC, Galloway TS (2013) The physical impacts of microplastics on marine organisms: a review. Environ Pollut 178:483–492. https://doi.org/10.1016/j.envpol.2013.02.031

Wypych G (2015) PVC properties. In: PVC formulary (2 nd edn), pp 5–44. https://doi.org/10.1016/B978-1-895198-84-3.50004-1

Zhang Z, Qu C, Zheng T, Lai Y, Li J (2013) Effect of triton X-100 as dispersant on carbon black for LiFePO4 cathode. Int J Electrochem Sci 8:6722–6733

Ziccardi LM, Edgington A, Hentz K, Kulacki K, Driscoll SK (2016) Microplastics as vectors for bioaccumulation of hydrophobic organic chemicals in the marine environment: a state-of-the-science review. Environ Toxicol Chem 35:1667–1676. https://doi.org/10.1002/etc.3461
Electronic supplementary material
Below is the link to the electronic supplementary material.
About this article
Cite this article
Renzi, M., Grazioli, E. & Blašković, A. Effects of Different Microplastic Types and Surfactant-Microplastic Mixtures Under Fasting and Feeding Conditions: A Case Study on Daphnia magna. Bull Environ Contam Toxicol 103, 367–373 (2019). https://doi.org/10.1007/s00128-019-02678-y
Received:

Accepted:

Published:

Issue Date:
Keywords
Microplastics

Daphnia magna

Surfactants

Fasting and feeding conditions

Freshwater environments