Abstract
The aim of the present research was to determine the trace metal accumulations in Trigonella foenum-graecum irrigated with three different water regimes (ground water, canal water and sugar mill water). Also, transfer factors, pollution load indices, and health risk indices were assessed to evaluate metal transport and accumulation through the food chain. The analysis was conducted by Atomic Absorption Spectrophotometer (Shimadzu model AA-6300) to evaluate the concentration of metals in water, soil and vegetables. Trace metal concentrations in water samples ranged from 0.84 to 1.67, 0.42 to 0.72, 0.45 to 0.85, 2.51 to 9.99, 1.21 to 1.92, 1.82 to 9.98 and 0.64 to 0.91 mg/kg for Cd, Cr, Cu, Fe, Ni, Zn and Mn, respectively. The mean metal concentrations in soil samples were determined as 0.25, 0.86, 0.96, 3.37, 0.4, 0.44 and 2.31 mg/kg for Cd, Cr, Cu, Fe, Ni, Zn and Mn, respectively. Trace metal accumulations in T. foenum-graecum samples gathered from where soil samples were taken are as follows: The contents of Cd, Cr, Cu, Fe, Ni, Zn and Mn ranged from 0.48 to 1.06, 0.11 to 0.35, 0.15 to 0.29, 1.43 to 8.39, 0.39 to 0.54, 2.1 to 3.05 and 0.42 to 0.47 mg/kg, respectively. Statistical analyses showed that the treatments have non-significant effect (p > 0.05) on concentrations of metals in T. foenum-graecum samples collected from three sites for Ni, Cr, Cu, Zn and Mn and significant effect on Fe and Cd.
Access options
Buy single article
Instant access to the full article PDF.
USD 39.95
Price includes VAT (USA)
Tax calculation will be finalised during checkout.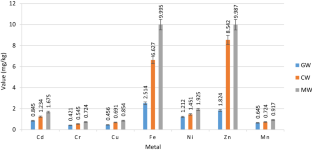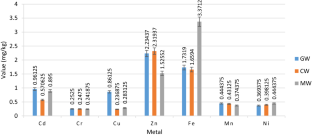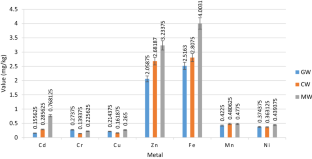 References
Ahmad K, Nawaz K, Khan ZI, Nadeem M, Wajid K et al (2018) Effect of diverse regimes of irrigation on metals accumulation in wheat crop: an assessment-dire need of the day. Fresen Environ Bull 27(2):846–855

Ahmad K, Wajid K, Khan ZI, Ugulu I, Memoona H et al (2019) Evaluation of potential toxic metals accumulation in wheat irrigated with wastewater. Bull Environ Contam Toxicol 102:822–828

Ahmadiani A, Javan M, Semnanian S, Barat E, Kamalinejad M (2001) Anti-inflammatory and antipyretic effects of Trigonella foenum-graecum leaves extract in the rat. J Ethnopharmacol 75:283–286

Arora B, Kiran S, Rani A, Rain B, Kaur M, Mittal N (2008) Heavy metal accumulation in vegetables irrigated with water from different sources. Food Chem 111:811–815

Ashfaq A, Khan ZI, Bibi Z, Ahmad K, Ashraf M et al (2015) Heavy metals uptake by Cucurbita maxima grown in soil contaminated with sewage water and its human health implications in peri-urban areas of Sargodha city. Pak J Zool 47(4):1051–1058

ATSDR (1993) Toxicological profile for trichloroethylene. U.S. Department of Health and Human Services, Public Health Service, Agency for Toxic Substances and Disease Registry. U.S. Government Printing Office, Atlanta

Biddle GN (1982) Toxicology of lead: primer for analytical chemists. J Assoc Off Anal Chem 65:947–952

Biego GH, Joyeux M, Hartemann P, Debry G (1998) Daily intake of essential minerals and metallic micropollutants from foods in France. Sci Total Environ 217:27–36

Charan PD, Jakhar AK, Singh M, Bithoo KS, Meena MK (2014) Analysis of some heavy metals in wastewater irrigated vegetables grown in Bikaner city, Rajasthan. J Appl Phytotechnol Environ Sanit 3(1):29–34

Chiroma TM, Ebewele RO, Hymore FK (2014) Comparative assessment of heavy metal levels in soil, vegetables and urban grey wastewater used for irrigation in Yola and Kano. Int Refereed J Eng Sci 3:1–9

Cui YJ, Zhu YG, Zhai RH, Chen DY, Huang YZ, Qiu Y, Liang JZ (2004) Transfer of metals from soil to vegetables in an area near a smelter in Nanning, China. Environ Int 30(6):785–791

Dogan Y, Ugulu I (2013) Medicinal plants used for gastrointestinal orders in some districts of Izmir Province, Turkey. Stud Ethno-Med 7:149–162

Dogan Y, Ugulu I, Baslar S (2010) Turkish red pine as a biomonitor: a comparative study of the accumulation of trace elements in needles and barks. Ekoloji 19(75):88–96

Dogan Y, Baslar S, Ugulu I (2014a) A study on detecting heavy metal accumulation through biomonitoring: content of trace elements in plants at Mount Kazdagi in Turkey. Appl Ecol Environ Res 12(3):627–636

Dogan Y, Unver MC, Ugulu I, Calis M, Durkan N (2014b) Heavy metal accumulation in the bark and leaves of Juglans regia planted in Artvin City, Turkey. Biotech Biotechnol Equip 28(4):643–649

Dosumu OO, Salam NA, Oguntoy NS (2005) Trace metals bioaccumulation by some Nigerian vegetables. Centrepoint 13(1):23–32

Durkan N, Ugulu I, Unver MC, Dogan Y, Baslar S (2011) Concentrations of trace elements aluminum, boron, cobalt and tin in various wild edible mushroom species from Buyuk Menderes River Basin of Turkey by ICP-OES. Trace Elem Electrolytes 28(4):242–248

FAO/WHO, Codex Alimentarius Commission (2001) Food Additives and Contaminants. Joint FAO/WHO Food Standards programme, ALINORM 01/12A:1-289

WWF Waste Water Forum (2007) Report on national surface water classification criteria, irrigation water quality guidelines for Pakistan, February. Islamabad

Fytianos K, Katsianis G, Triantafyllou P, Zachariadis G (2001) Accumulation of heavy metals in vegetables grown in an industrial area in relation to soil. Bull Environ Contam Toxicol 67(3):0423–0430

Gupta S, Jena V, Jena S, Davić N, Matić N, Radojević D, Solanki JS (2013) Assessment of heavy metal contents of green leafy vegetables. Croat J Food Sci Technol 5(2):53–60

Harikumar PS, Nasir UP, Mujeebu MP, Rahma M (2009) Distribution of heavy metals in the core sediments of a tropical wetland system. Int J Environ Sci Technol 6(2):225–232

Khan ZI, Ugulu I, Sahira S, Ahmad K, Ashfaq A, Mehmood N, Dogan Y (2018a) Determination of toxic metals in fruits of Abelmoschus esculentus grown in contaminated soils with different irrigation sources by spectroscopic method. Int J Environ Res 12:503–511

Khan ZI, Ugulu I, Umar S, Ahmad K, Mehmood N, Ashfaq A, Bashir H, Sohail M (2018b) Potential toxic metal accumulation in soil, forage and blood plasma of buffaloes sampled from Jhang, Pakistan. Bull Environ Contam Toxicol 101:235–242

Khan ZI, Ugulu I, Ahmad K, Yasmeen S, Noorka IR, Mehmood N, Sher M (2018c) Assessment of trace metal and metalloid accumulation and human health risk from vegetables consumption through spinach and coriander specimens irrigated with wastewater. Bull Environ Contam Toxicol 101:787–795

Khan ZI, Ahmad K, Safdar H, Ugulu I, Wajid K, Bashir H, Dogan Y (2018d) Manganese bioaccumulation and translocation of in forages grown in soil irrigated with city effluent: an evaluation on health risk. Res J Pharmaceut Biol Chem Sci 9(5):759–770

Khan ZI, Safdar H, Ahmad K, Wajid K, Bashir H, Ugulu I, Dogan Y (2019a) Health risk assessment through determining bioaccumulation of iron in forages grown in soil irrigated with city effluent. Environ Sci Pollut Res 26:14277–14286

Khan ZI, Arshad N, Ahmad K, Nadeem M, Ashfaq A et al (2019b) Toxicological potential of cobalt in forage for ruminants grown in polluted soil: a health risk assessment from trace metal pollution for livestock. Environ Sci Pollut Res 26:15381–15389

Latif MI, Lone MI, Khan KS (2008) Heavy metals contamination of different water sources, soils and vegetables in Rawalpindi area. Soil Environ 27(1):29–35

Likuku AS, Obuseng G (2015) Health risk assessment of heavy metals via dietary intake of vegetables irrigated with treated wastewater around Gaborone, Botswana. In: Proceedings of the international conference on plant, marine and environmental sciences (PMES-2015), Kuala Lumpur, pp. 1–2

Liu WH, Zhao JZ, Ouyang ZY, Soderlund L, Liu GH (2005) Impacts of sewage irrigation on heavy metals distribution and contamination. Environ Int 31:805–812

Manzoor S, Shah MH, Shaheen N, Tariq SR, Khaliq A, Jaffar M (2004) Distribution of heavy toxic metals in industrial effluents and relevant soils from selected oil and ghee industries in Hattar. J Chem Soc Pak 26:429–435

Muchuweti M, Birkett JW, Chinyanga E, Zvauya R, Scrimshaw MD, Lester JN (2006) Heavy metal content of vegetables irrigated with mixtures of wastewater and sewage sludge in Zimbabwe: implications for human health. Agric Ecosyst Environ 112(1):41–48

Muhammad F, Farooq A, Umar R (2008) Appraisal of heavy metal contents in different vegetables grown in the vicinity of an industrial area. Pak J Bot 40(5):2099–2106

Nadeem M, Qureshi TM, Ugulu I, Riaz MN, An QU et al (2019) Mineral, vitamin and phenolic contents and sugar profiles of some prominent date palm (Phoenix dactylifera) varieties of Pakistan. Pak J Bot 51(1):171–178

Okereke CJ, Essien EB, Wegwu MO (2016) Human health risk assessment of heavy metal contamination for population via consumption of selected vegetables and tubers grown in farmlands in rivers state, South-South Nigeria. J Anal Pharm Res 3(6):00077

Parveen S, Samad A, Nazif W, Shah S (2012) Impact of sewage water on vegetables quality with respect to heavy metals in Peshawar, Pakistan. Pak J Bot 44(6):1923–1931

Ramteke LP, Gogate PR (2016) Treatment of water containing heavy metals using a novel approach of immobilized modified sludge biomass-based adsorbents. Sep Purif Technol 163:215–227

Santos JEP, Juchem SO, Cerri RLA, Galvao KN, Chebel RC, Thatcher WW, Dei C, Bilby C (2004) Effect of bSTand reproductive management on reproductive and lactational performance of Holstein dairy cows. J Dairy Sci 87:868–881

Shardendu SN, Boulyga SF, Stengel E (2003) Phytoremediation of selenium by two helophyte species in subsurface flow constructed wetland. Chemosphere 50:967–973

Singh A, Sharma RK, Agrawal M, Marshall FM (2010) Health risk assessment of heavy metals via dietary intake of foodstuffs from the wastewater irrigated site of a dry tropical area of India. Food Chem Toxicol 48(2):611–618

Steel RGD, Torrie JH (1980) Principles and procedures of statistics. A biometrical approach, vol 2. McGraw-Hill, New York

Ugulu I (2012) Fidelity level and knowledge of medicinal plants used to make therapeutic Turkish baths. Stud Ethno-Med 6(1):1–9

Ugulu I (2015a) Determination of heavy metal accumulation in plant samples by spectrometric techniques in Turkey. Appl Spectros Rev 50(2):113–151

Ugulu I (2015b) Development and validation of an instrument for assessing attitudes of high school students about recycling. Environ Educ Res 21(6):916–942

Ugulu I (2015c) A quantitative investigation on recycling attitudes of gifted/talented students. Biotech Biotechnol Equip 29:20–26

Ugulu I, Baslar S (2010) The determination and fidelity level of medicinal plants used to make traditional Turkish salves. J Altern Complement Med 16(3):313–322

Ugulu I, Baslar S, Yorek N, Dogan Y (2009a) The investigation and quantitative ethnobotanical evaluation of medicinal plants used around Izmir province, Turkey. J Med Plants Res 3(5):345–367

Ugulu I, Baslar S, Dogan Y, Aydin H (2009b) The determination of colour intensity of Rubia tinctorum and Chrozophora tinctoria distributed in Western Anatolia. Biotech Biotechnol Equip 23(SE):410–413

Ugulu I, Dogan Y, Baslar S, Varol O (2012) Biomonitoring of trace element accumulation in plants growing at Murat Mountain. Int J Environ Sci Technol 9:527–534

Ugulu I, Unver MC, Dogan Y (2016) Determination and comparison of heavy metal accumulation level of Ficus carica bark and leaf samples in Artvin, Turkey. Oxid Commun 39(1):765–775

Unver MC, Ugulu I, Durkan N, Baslar S, Dogan Y (2015) Heavy metal contents of Malva sylvestris sold as edible greens in the local markets of Izmir. Ekoloji 24(96):13–25

USEPA (2002) Preliminary remediation goals, Region 9. United States Environmental Protection Agency, Washington, DC

WHO (1996) Trace Elements in Human Nutrition and Health. Prepared in Collaboration with the FAO of the UN and the IAEA. World Health Organization, Geneva

Yorek N, Ugulu I, Aydin H (2016) Using self-organizing neural network map combined with ward's clustering algorithm for visualization of students' cognitive structural models about aliveness concept. Comput Intell Neurosci. https://doi.org/10.1155/2016/2476256
About this article
Cite this article
Ugulu, I., Khan, Z.I., Rehman, S. et al. Trace Metal Accumulation in Trigonella foenum-graecum Irrigated with Wastewater and Human Health Risk of Metal Access Through the Consumption. Bull Environ Contam Toxicol 103, 468–475 (2019). https://doi.org/10.1007/s00128-019-02673-3
Received:

Accepted:

Published:

Issue Date:
Keywords
Trace metal

Vegetable

Wastewater

Health risk

Biomonitoring