Abstract
The objective of this study was to evaluate the adsorption capacity of atrazine and the effects of different environmental conditions such as temperature, pH, Ca2+ and biochar on the adsorption characteristics of atrazine in different types of soil using the intermittent adsorption method. The kinetic experiment showed that the adsorption of atrazine in albic, black and saline–alkaline soils reached equilibrium within 24 h. In the thermodynamics experiment, the Freundlich model effectively described the adsorption characteristics of atrazine in all three types of soil, indicating that the adsorption process forms multi-molecular layers. Lower soil pH conditions were more favorable for the absorption of atrazine. The addition of appropriate concentrations of Ca2+ or biochar could promote the adsorption of atrazine by the soil. Biochar could promote the fixation of atrazine in soils.
Access options
Buy single article
Instant access to the full article PDF.
USD 39.95
Price includes VAT (USA)
Tax calculation will be finalised during checkout.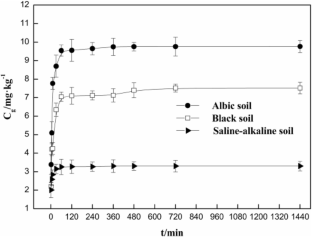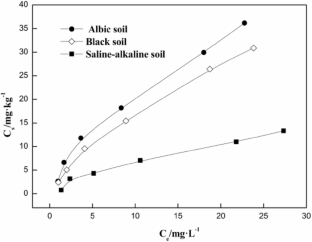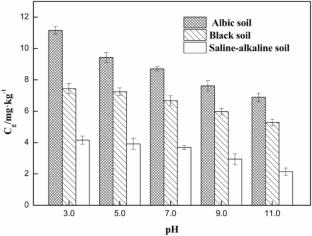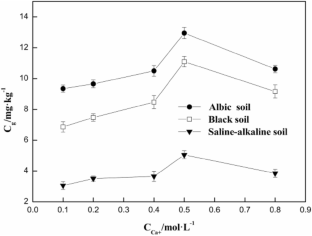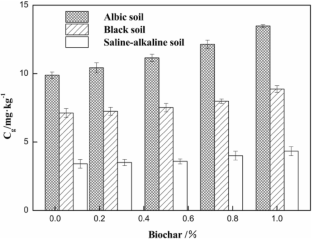 References
Alsharekh A, Swatzell LJ, Moore MT (2018) Leaf composition of American Bur-Reed (Sparganium americanum Nutt.) to determine pesticide mitigation capability. Bull Environ Contam Toxicol 100(4):576

Arias-Estévez M, Soto-González B, López-Periago E, Cancho-Grande B Cancho-Grande, Simal-Gándara J (2005) Atrazine sorption dynamics in acid-surface soils. Bull Environ Contam Toxicol 75(2):264–271

Brondi SHG, Macedo AND, Vicente GHL, Nogueira ARA (2011) Evaluation of the QuEChERS method and gas chromatography-mass spectrometry for the analysis pesticide residues in water and sediment. Bull Environ Contam Toxicol 86(1):18–22

Deng H, Feng D, He JX, Li FZ, Yu HM, Ge CJ (2017) Influence of biochar amendments to soil on the mobility of atrazine using sorption-desorption and soil thin-layer chromatography. Ecol Eng 99:381–390

Deng H, Yu HM, Chen M, Ge CJ (2014) Sorption of atrazine by biochar prepared from manioc wastes in tropical soils. Adv Mater Res 878:433–442

Gao YJ, Wang ZH, Wang S, Jin JJ, Cao HB, Dai J, Yu R (2015) Effects of calcium chloride on winter wheat yield and uptake of Ca and Zn in calcareous soil. J Plant Nutr Fertil 97(4):15–22

Huang Y, Liu Z, He Y, Li Y (2014) Impact of soil primary size fractions on sorption and desorption of atrazine on organo-mineral fractions. Environ Sci Pollut Res 22(6):4396–4405

Huang Y, Liu Z, He Y, Zeng F, Wang R (2013) Quantifying effects of primary parameters on adsorption–desorption of atrazine in soils. J Soils Sediments 13(1):82–93

Huang H, Zhang C, Zhang P, Cao M, Xu G, Wu H et al (2018) Effects of biochar amendment on the sorption and degradation of atrazine in different soils. Soil Sediment Contam 27(8):643–657

Jang YF, Mu ZF, Yves UJ, Sun H, Hu XF, Zhang HY, Liu PY (2016) Study on the adsorption behavior of atrazine onto loess soil in northwest China. Res Environ Sci 29(4):547–552

Jia D, Wang L, Shao X, Li C (2013) Solubility of atrazine in binary mixtures of water + ethanol or 1-propanol from 283.15 to 343.15 k. J Solut Chem 42(5):1051–1062

Kaur P, Makkar A, Kaur P, Shilpa (2017) Temperature dependent adsorption–desorption behaviour of pendimethalin in punjab soils. Bull Environ Contam Toxicol 100(1):167–175

Lin Y, Ge CJ, Feng D, Yu HM, Deng H, Fu BM (2017) Adsorption-desorption behavior of atrazine on agricultural soils in China. J Environ Sci 57(7):180–189

Liu J, Sui Y, Yu Z, Shi Y, Chu HY, Jin J, Liu XB, Wang GH (2015) Soil carbon content drives the biogeographical distribution of fungal communities in the black soil zone of northeast China. Soil Biol Biochem 83:29–39

Lizotte R, Locke M, Bingner R, Steinriede RW, Smith S (2017) Effectiveness of integrated best management practices on mitigation of atrazine and metolachlor in an agricultural lake watershed. Bull Environ Contam Toxicol 98(4):447–453

Lladó Jordi, Lao-Luque C, Ruiz B, Fuente E, Solé-Sardans Montserrat Dorado, A D, (2015) Role of activated carbon properties in atrazine and paracetamol adsorption equilibrium and kinetics. Process Saf Environ Prot 95:51–59

Lu W, Kang C, Wang Y, Xie Z (2015) Influence of biochar on the moisture of dark brown soil and yield of maize in northern China. Int J Agric Biol 17(5):1007–1012

Lupul I, Yperman J, Carleer R, Gryglewicz Grażyna (2015) Adsorption of atrazine on hemp stem-based activated carbons with different surface chemistry. Adsorp J Int Adsorp Soc 21(6–7):489–498

Paszko T (2012) Effect of pH on the adsorption of carbendazim in polish mineral soils. Sci Total Environ 435–436(7):222–229

Qin X, Liu Y, Huang Q, Liu YY, Zhao LJ, Xu YM (2019) In-situ remediation of cadmium and atrazine contaminated acid red soil of South China using sepiolite and biochar. Bull Environ Contam Toxicol 102:128

Sahu MK, Mandal S, Yadav LS, Dash SS, Patel RK (2016) Equilibrium and kinetic studies of Cd(II) ion adsorption from aqueous solution by activated red mud. Desalin Water Treat 57(30):14251–14265

Salazar-Ledesma M, Prado B, Zamora O, Siebe C (2018) Mobility of atrazine in soils of a wastewater irrigated maize field. Agr Ecosyst Environ 255:73–83

Taha Sherif M, Amer Mohamed E, Elmarsafy Ashraf E, Elkady Mohamed Y (2014) Adsorption of 15 different pesticides on untreated and phosphoric acid treated biochar and charcoal from water. J Environ Chem Eng 2(4):2013–2025

Tang WW, Zeng GM, Gong JL, Liu Y, Wang XY, Liu YY (2012) Simultaneous adsorption of atrazine and Cu (II) from wastewater by magnetic multi-walled carbon nanotube. Chem Eng J 211–212(22):470–478

Wang X, Li Q, Li M, Yu L (2018) Interference adsorption mechanisms of dimethoate, metalaxyl, atrazine, malathion and prometryn in a sediment system containing coexisting pesticides/heavy metals based on fractional factor design(resolution v) assisted by 2d-qsar. Chem Res Chin Univ 34(3):397–407

Wei X, Wu Z, Wu Z, Ye BC (2018) Adsorption behaviors of atrazine and Cr (III) onto different activated carbons in single and co-solute systems. Powder Technol 329:207–216

Wu Y, Li Y, Zheng C, Zhang Y, Sun Z (2013) Organic amendment application influence soil organism abundance in saline alkali soil. Eur J Soil Biol 54:32–40

Xu C, Wen D, Zhu Q, Zhu H, Huang D (2016) Effects of peanut shell biochar on the adsorption of Cd(II) by paddy soil. Bull Environ Contam Toxicol 98(3):1–7

Yang F, Zhang SS, Sun LL, Zhang Y (2018) Facile synthesis of highly porous "carbon sponge" with adsorption and co-adsorption behavior of lead ions and atrazine. Environ Sci Pollut Res 25:1–12

Yang X, Cheng K, Jia GZ (2018) Molecular dynamics simulation of temperature-dependent atrazine aqueous solution. J Mol Liq 256:456–461

Zhang P, Sun H, Yu L, Sun T (2013a) Adsorption and catalytic hydrolysis of carbaryl and atrazine on pig manure-derived biochars: impact of structural properties of biochars. J Hazard Mater 244–245:217–224

Zhang X, Wang H, Li Z (2013b) Using biochar for remediation of soils contaminated with heavy metals and organic pollutants. Environ Sci Pollut Res Int 20(12):8472–8483

Zhang Y, Cao B, Zhao L, Sun L, Gao Y, Li J, Yang F (2017) Biochar-supported reduced graphene oxide composite for adsorption and coadsorption of atrazine and lead ions. Appl Surf Sci 427:147–155
Acknowledgement
This research was supported by the National Natural Science Foundation (31672051), The National Key Basic Research Program (2016YFD0200203), The National Key Projects (2016YFC0501201).The authors thank anonymous reviewers for their comments on this article.
About this article
Cite this article
Sun, J., Ma, Xl., Wang, W. et al. The Adsorption Behavior of Atrazine in Common Soils in Northeast China. Bull Environ Contam Toxicol 103, 316–322 (2019). https://doi.org/10.1007/s00128-019-02671-5
Received:

Accepted:

Published:

Issue Date:
Keywords
Atrazine

Albic soil

Black soil

Saline–alkaline soil

Adsorption characteristics

Factor