Abstract
The study aimed to determine the impact of treated domestic wastewater on seed germination, seedling growth and reserve mobilization from Fenugreek (Trigonellafoenum graecum L.). Seeds were germinated by soaking in distilled water (H2O) or wastewater treated with various methods: activated sludge processes (T1), facultative lagoons treatment (T2) and dilution. Results show high levels of organic matter (OM), suspended solids (TSS) and nutrients in TWW (T2) than that of TWW (T1). The embryo length and biomass of fenugreek imbibed by TWW were higher in TWW (T2) compared with TWW (T1). There was more reduction in free amino acids and soluble sugar contents in fenugreek treated with TWW (T1) than treated by TWW (T2). Important solutes leakage is recorded by measuring electric conductivity during seed imbibition with TWW. Improving the quality of wastewater by dilution (50%) stimulated germination of seeds and the growth of the tested plant. Moreover, it significantly reduces the solutes leakage and enhanced seed metabolites accumulation.
Access options
Buy single article
Instant access to the full article PDF.
USD 39.95
Price includes VAT (USA)
Tax calculation will be finalised during checkout.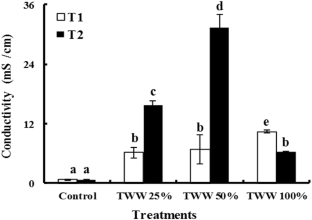 References
Akponikpèa PBI, Wimab K, Yacoubab H, Mermoudc A (2011) Reuse of domestic wastewater treated in macrophyte ponds to irrigate tomato and eggplant in semi-arid West-Africa: benefits and risks. Agr Water Manage 98:834–840

American Public Health Association APHA (1998) Standard Methods for the Examination of Water and Wastewater, 20th edn. American Public Health Association, Washington, DC

American Public Health Association APHA (2005) Standard Methods for the Examination of Water and Wastewater, 21st edn. American Public Health Association, Washington, DC

Basu SK (2015) A phytochemically-rich chemurgic plant with agronomic, pharmaceutical and nutraceutical potential. Livest Res Rural Dev 11:27

Bazai ZA, Achakzai AKK (2006) Effect of waste water from Quetta city on germination and seedling growth of Lettuce (Lactuca sativa L.). J Appl Sci 6:380–382

El-Keblawy A, Al-Rawai A (2005) Effects of salinity, temperature and light on germination of invasive Prosopis juliflora. J Arid Environ 6:555–565

El-Keblawy A, Al-Rawai A (2006) Effects of seed maturation time and dry storage on light and temperature requirements during germination in invasive Prosopisjuli flora. Flora 201:135–214

Gorai M, Neffati M (2007) Germination responses of Reaumuri avermiculata to salinity and temperature. Ann Appl Biol 151:53–59

Gros M, Petrovic M, Ginebrada A, Barcelo D (2010) Removal of pharmacaceutical during wastewater treatment and environmental assessment using hazard indexes. Environ Int 36:24–26

Huang Z, Zhang XS, Zheng GH, Gutterman Y (2003) Influence of light, temperature, salinity and storage on seed germination of Haloxylon ammodendron. J Arid Environ 55:453–546

Jamal A, Ayub N, Usman M, Khan AG (2000) Arbuscular mycorrhizal fungi enhance Zn and Ni uptake from contaminated soil by soybean and lentil. Int J Phytoremedi 24:203–221

Kapanen A, Itawara M (2001) Ecotoxicity tests for compost application. Ecotox Environ Safe 49:1–16

Kaushik P, Garg VK, Singh B (2005) Effect of textile effluents on growth performance of wheat cultivars. Bioresour Technol 96:1189–1193

Khaleel RI, Ismail N, Ibrahim MH (2013) The impact of waste water treatments on seed germination and biochemical parameter of Abelmoschus esculentus L. Proc Soc Behav Sci 91:453–460

Khan MA, Qaiser M (2006) Characteristics, distribution and potential economic usages, West and Central Asia. In: Khan MA, Böer B, Kust GS, Barth HJ (eds) Sabkha ecosystems. Springer, Dordrecht, pp 129–153

Khan MA, Kazi TG, Ansari R, Mujtaba SM, Khanzada B, Khan MA, Shirani MU, Mumtaz S (2007) Effect of untreated sewage sludge on Wheat yield, metal uptake by grain and acculumation in the soil. Pak J Bot 39:2511–2517

Kiziloglu FM, Turan M, Sahin U, Kuslu Y, Dursun A (2008) Effects of untreated and treated wastewater irrigation on some chemical properties of cauliflower (Brassica olerecea L.var. botrytis) and red cabbage (Brassica olerecea L. var. rubra) grown on calcareous soil in Turkey. Agr Water Manage 95:716–724

Manisha P, Angoorbala B (2013) Effect of sewage on growth parameters and chlorophyll content of Trigonella foenum graecum (Methi). Environ Sci Pollut Res 2:5–9

McQueen-Mason S, Cosgrove DJ (1995) Expansion mode of action on cell walls: analysis of wall hydrolysis, stress relaxation, and binding. Plant Physiol 107:87–100

Metahr MS (2012) Simultaneous removal of phosphate and nitrogen pollution of treated wastewater by mixed methods. STEP of Tizi-OUZOU. MS Thesis, University of Mammeri Mouloud, Tizi-Ouzou, Algeria

Michael R, Becwar MR, Stanwood PC, Roos EE (1982) Dehydration effects on imbibitional leakage from desiccation-sensitive seeds. Plant Physiol 69:1132–1135

Mihoub A, Chaoui A, El Ferjani E (2005) Biochemical changes associated with cadmium and copper stress in germinating pea seeds (Pisum sativum L.). Comptes Rendus Biol 328:33–41

Moore S, Stein WH (1954) A modified ninhydrin reagent for the photometric determination of aminoacids and related compounds. J Biol Chem 211:907–913

Nagajyothi C, Dinakr N, Suresh S, Udaykiran Y, Suresh C, Damodharam T (2009) Industrial effluent on the morphological parameters and chlorophyll content of green gram (Phaseolus aureus Roxb). J Environ Biol 30:385–388

Naggar EM, El-Ghamry AM (2001) Comparison of sewage sludge and town refuse as soil conditioners for sandy soil reclamation. Pakistan J Biol Sci 4:775–778

Pattnaik S, Reddy MV (2011) Accumulation and mobility of heavy metals in fenugreek (Trigonella foenum-graceum L) and tomato (Lycopersicum esculentum Mill) grown in the field amended withurban wastes, and their composts and vermicomposts. Int J Environ Manag 14:147

Pena A, Mingorance MD, Guzman I, Sanchez L, Fernandez Espinosa AJ, Valdes B, Rossini-Oliva S (2014) Protecting Effect of recycled urban wastes (sewage sludge and wastewater) on ryegrass against the toxicity of pesticides at high concentrations. J Environ Manage 142:23–29

Prabhakar PS, Manisha M, Jaswanth S (2004) Impact of fertilizer factory effluent on seed germination, seedling growth and chlorophyll content of Gram (Cicer aeritenum). J Environ Biol 27:153–156

Rahoui S, Chaoui A, El Ferjani E (2008) Differential sensitivity to cadmium in germination seeds of three cultivars of faba bean (Vicia faba L.). Acta Physiol Plant 30:451–456

Reid Grant JS (2014) Reserve carbohydrate metabolism in germinating seeds of Trigonella foenum-graecum L. (Leguminosae). Planta 100:131–142

Rich, LG (2003) Aerated Lagoon Technology. Technical Note Number 4. Lagoon Systems in Maine. https://www.lagoonsonline.com/technote4.htm. Accessed 13 May 2008.

Sawaf N (2005) Response of Sorghum spp. to sewage wastewater irrigation. Int J Agric Biol 07:869–874

Sfaxi B, Chaoui A, Ferjani E (2010) Unsuitable availability of nutrients in germination bean embryos exposed to copper excess. Biol Trace Elem Res 135:295–303

Smiri M, Chaoui A, El Ferjani E (2009) Respiratory metabolism in the embryonic axis of germinating pea seed exposed to cadmium. J Plant Physiol 166(2009):259–269

Weckx J, Clijsters H (1997) Zn phytotoxicity induces oxidative stress in primary leaves of Phaseolus vulgaris. Plant Physiol Biochem 35:405–410

Younas M, Shahzad F (1998) Assessment of Cd, Ni, Cu and Pb pollution in Lahore. Pakistan Environ Intern 24:761–766
Acknowledgements
We are grateful to anonymous reviewers for helpful comments on the manuscript. This research was supported by the Tunisian Ministry of Higher Education, Scientific Research, and Technology (Grant to TAKWA MISSAOUI: MEST-2014/2017), University Carthage Tunisia UC/INAT.
About this article
Cite this article
Missaoui, T., Smiri, M. & Hafiane, A. Reserve Mobilization, Membrane Damage and Solutes Leakage in Fenugreek Imbibed with Urban Treated Wastewater. Bull Environ Contam Toxicol 103, 461–467 (2019). https://doi.org/10.1007/s00128-019-02658-2
Received:

Accepted:

Published:

Issue Date:
Keywords
Activated sludge processes

Facultative lagoons treatment

Germination

Treated wastewater

Trigonella foenumgraecum L.