Abstract
The antibiotic sulfadiazine (SDZ) is a challenging threat to the health of aquatic organisms, as it frequently occurs in aquatic ecosystems. Tolerance mechanisms and accumulation of SDZ in a floating macrophyte (Eichhornia crassipes) under hydroponic conditions were investigated in this study to provide more insight into the SDZ removal process. Results show that the presence of 1 mg L−1 SDZ decreased the quickest and ranged from 669.45 to 165.34 μg L−1 from days 5 to 25. Exposing E. crassipes to SDZ ( < 1 mg L−1) maintained stable leaf photosynthetic efficiency. The overall increase in superoxide dismutase and peroxidase activities with SDZ treatments indicated that leaves were resistant. SDZ was absorbed by E. crassipes, following the sequence of root > aerial parts under all treatments. These findings suggest that E. crassipes has the ability to phytoremediation SDZ contaminated water.
Access options
Buy single article
Instant access to the full article PDF.
USD 39.95
Price includes VAT (USA)
Tax calculation will be finalised during checkout.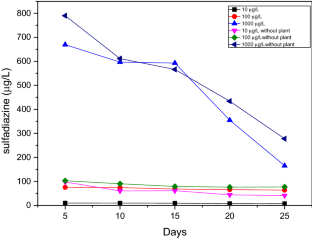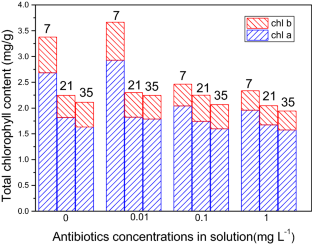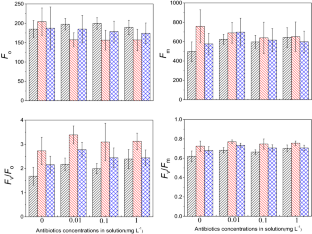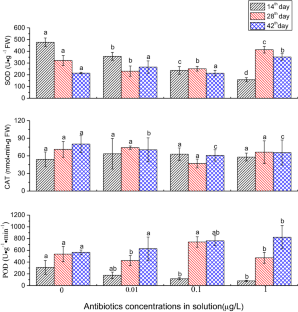 References
Aristilde L, Melis A, Sposito G (2010) Inhibition of photosynthesis by a fluoroquinolone antibiotic. Environ Sci Technol 44:1444–1450

Azanu D, Mortey C, Darko G, Weisser JJ, Styrishave B, Abaidoo RC (2016) Uptake of antibiotics from irrigation water by plants. Chemosphere 157:107–114

Babic S, Perisa M, Skoric I (2013) Photolytic degradation of norfloxacin, enrofloxacin and ciprofloxacin in various aqueous media. Chemosphere 91:1635–1642

Chen J, Xu H, Sun Y, Huang L, Zhang P, Zou C, Yu B, Zhu G, Zhao C (2016) Interspecific differences in growth response and tolerance to the antibiotic sulfadiazine in ten clonal wetland plants in South China. Sci Total Environ 543:197–205

De Liguoro M, Poltronieri C, Capolongo F, Montesissa C (2007) Use of sulfadimethoxine in intensive calf farming: Evaluation of transfer to stable manure and soil. Chemosphere 68(4):671–676

Dordio AV, Duarte C, Barreiros M, Carvalho AJ, Pinto AP, Costa CT (2009) Toxicity and removal efficiency of pharmaceutical metabolite clofibric acid by Typha spp.–potential use for phytoremediation? Bioresour Technol 100:1156–1161

Du J, Zhao H, Liu S, Xie H, Wang Y, Chen J (2017) Antibiotics in the coastal water of the South Yellow Sea in China: occurrence, distribution and ecological risks. Sci Total Environ 595:521–527

Durrieu C, Tran C, Chovelon JM, Barthet L, Chouteau C, Védrine C (2006) Algal biosensors for aquatic ecosystems monitoring. Eur Phys J Appl Phys 36:205–209

Elmolla ES, Chaudhuri M (2010) Comparison of different advanced oxidation processes for treatment of antibiotic aqueous solution. Desalination 256:43–47

Evans-Roberts KM, Mitchenall LA, Wall MK, Leroux J, Mylne JS, Maxwell A (2016) DNA Gyrase is the target for the quinolone drug ciprofloxacin in Arabidopsis thaliana. J Biol Chem 291:3136–3144

Gujarathi NP, Haney BJ, Linden JC (2005) Phytoremediation potential of Myriophyllum aquaticum and Pistia stratiotes to modify antibiotic growth promoters, tetracycline, and oxytetracycline, in aqueous wastewater systems. Int J Phytoremediat 7:99–112

Huang XD, El-Alawi Y, Penrose DM, Glick BR, Greenberg BM (2004) Responses of three grass species to creosote during phytoremediation. Environ Pollut 130:453–463

Johnson GN, Young AJ, Scholes JD, Horton P (1993) The dissipation of excess excitation energy in British plant species. Plant Cell Environ 16:673–679

Kümmerer K (2009) Antibiotics in the aquatic environment – a review – part ii. Chemosphere 75(4):435–441

Liu L, Liu Yh, Liu CX, Wang Z, Dong J, Zhu GF, Huang X (2013) Potential effect and accumulation of veterinary antibiotics in Phragmites australis under hydroponic conditions. Ecol Eng 53:138–143

Malchi T, Maor Y, Tadmor G, Shenker M, Chefetz B (2014) Irrigation of root vegetables with treated wastewater: evaluating uptake of pharmaceuticals and the associated human health risks. Environ Sci Technol 48:9325–9333

Michelini L, Meggio F, La Rocca N, Ferro S, Ghisi R (2012) Accumulation and effects of sulfadimethoxine in Salix fragilis L. plants: a preliminary study to phytoremediation purposes. Int J Phytoremediat 14:388–402

Montavon P, Kukic KR, Bortlik K (2007) A simple method to measure effective catalase activities: optimization, validation, and application in green coffee. Anal Biochem 360:207–215

Pan M, Wong CK, Chu LM (2014) Distribution of antibiotics in wastewater-irrigated soils and their accumulation in vegetable crops in the Pearl River Delta, southern China. J Agric Food Chem 62:11062–11069

Rezania S, Ponraj M, Talaiekhozani A, Mohamad SE, Din MF, Taib SM, Sabbagh F, Sairan FM (2015) Perspectives of phytoremediation using water hyacinth for removal of heavy metals, organic and inorganic pollutants in wastewater. J Environ Manage 163:125–133

Sarmah AK, Meyer MT, Boxall ABA (2006) A global perspective on the use, sales, exposure pathways, occurrence, fate and effects of veterinary antibiotics (VAs) in the environment. Chemosphere 65(5):725–759

Sharma V, Vinoth Kumar R, Pakshirajan K, Pugazhenthi G (2017) Integrated adsorption-membrane filtration process for antibiotic removal from aqueous solution. Powder Technol 321:259–269

Song C, Li L, Zhang C, Qiu L, Fan L, Wu W, Meng S, Hu G, Chen J, Liu Y, Mao A (2017) Dietary risk ranking for residual antibiotics in cultured aquatic products around Tai Lake, China. Ecotoxicol Environ Saf 144:252–257

Stackelberg PE, Gibs J, Furlong ET, Meyer MT, Zaugg SD, Lippincott RL (2007) Efficiency of conventional drinking-water-treatment processes in removal of pharmaceuticals and other organic compounds. Sci Total Environ 377(2–3):255–272

Susarla S, Medina VF, McCutcheon SC (2002) Phytoremediation: an ecological solution to organicd chemical contamination. Ecol Eng 18:674–658

Thuy HTT, Nga LP, Loan TTC (2011) Antibiotic contaminants in coastal wetlands from Vietnamese shrimp farming. Environ Sci Pollut R 18(6):835–841

Védrine C, Leclerc JC, Durrieu C, Tran-Minh C (2003) Optical whole-cell biosensor using Chlorella vulgaris designed for monitoring herbicides. Biosens Bioelectron 18:457–463

Wall MK, Mitchenall LA, Maxwell A (2004) Arabidopsis thaliana DNA gyrase is targeted to chloroplasts and mitochondria. Proc Natl Acad Sci USA 101:7821–7826

Wim VC, Katelijne C, Marc VM, Dirk I, Luit S (1996) Enhancement of oxidative stress tolerance in transgenic tobacco plants overproducing Fe-superoxide dismutase in chloroplasts. Plant Physiol 112:1703–1714

Xia H, Ma X (2006) Phytoremediation of ethion by water hyacinth (Eichhornia crassipes) from water. Bioresour Technol 97:1050–1054

Xian Q, Hu L, Chen H, Chang Z, Zou H (2010) Removal of nutrients and veterinary antibiotics from swine wastewater by a constructed macrophyte floating bed system. J Environ Manage 91:2657–2661

Xu J, Zhang J, Xie H, Li C, Bao N, Zhang C, Shi Q (2010) Physiological responses of Phragmites australis to wastewater with different chemical oxygen demands. Ecol Eng 36:1341–1347

Xu J, Zhang Y, Zhou C, Guo C, Wang D, Du P, Luo Y, Wan J, Meng W (2014) Distribution, sources and composition of antibiotics in sediment, overlying water and pore water from Taihu Lake, China. Sci Total Environ 497–498:267–273

Yan C, Yang Y, Zhou J, Liu M, Nie M, Shi H (2013) Antibiotics in the surface water of the Yangtze estuary: occurrence, distribution and risk assessment. Environ Pollut 175(8):22–29
Acknowledgments
This research was supported by Major Science and Technology Program for Water Pollution Control and Treatment (Number 2017ZX07203-003).
About this article
Cite this article
Yan, Y., Chen, Y., Xu, X. et al. Effects and Removal of the Antibiotic Sulfadiazine by Eichhornia crassipes: Potential Use for Phytoremediation. Bull Environ Contam Toxicol 103, 342–347 (2019). https://doi.org/10.1007/s00128-019-02656-4
Received:

Accepted:

Published:

Issue Date:
Keywords
Accumulation

Tolerance

Antioxidant enzyme

Floating macrophyte

Photosynthetic