Abstract
Free-air O3 enrichment was used to investigate the responses of different antioxidant mechanisms in different rice (Oryza sativa L.) cultivars – O3-sensitive hybrid indica (O3-S) cultivars and O3-tolerant conventional japonica (O3-T) cultivars across all growth stages. Elevated [O3] induced increases in reactive oxygen species (ROS) production in O3-S cultivars, which were more pronounced in the later growing stages. In O3-S cultivars, continuous O3 stress decreased catalase (CAT), peroxidase (POD) and glutathione peroxidase (GPX) activities, while in O3-T cultivars, short-term O3 stress decreased superoxide dismutase (SOD), CAT, POD and GPX activities. The same POD isozyme patterns were observed in both O3-S and O3-T cultivars, while SOD and APX isozymes varied by cultivar. The results suggest that O3 tolerance might be improved at different rice development stages through regulating the responses of antioxidant mechanisms to O3 stress.
Access options
Buy single article
Instant access to the full article PDF.
USD 39.95
Price includes VAT (USA)
Tax calculation will be finalised during checkout.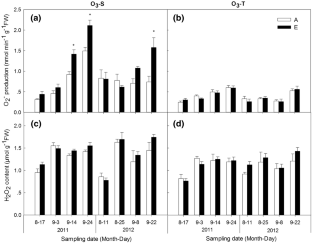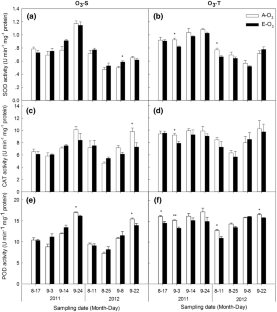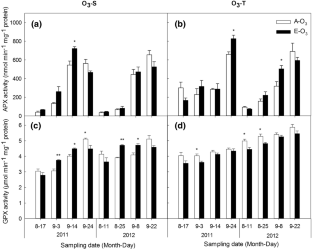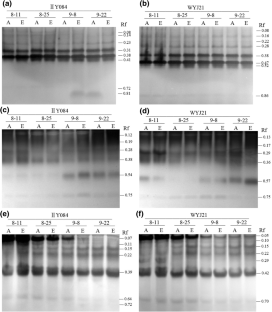 References
Ainsworth EA (2008) Rice production in a changing climate: a meta-analysis of responses to elevated carbon dioxide and elevated ozone concentration. Global Change Biol 14:1642–1650

Beauchamp CO, Fridovich I (1971) Superoxide dismutase: improved assays and an assay applicable to acrylamide gels. Anal Biochem 44:276–287

Bernardi R, Nali C, Gargiulo R, Pugliesi C, Lorenzini G, Durante M (2001) Protein pattern and Fe-superoxide dismutase activity of bean plants under sulphur dioxide stress. J Phytopathol 149:477–480

Castillo FJ, Penel C, Greppin H (1984) Peroxidase release induced by ozone in Sedum album leaves. Plant Physiol 74:846–851

Changey F, Bagard M, Souleymane M, Lerch TZ (2018) Cascading effects of elevated ozone on wheat rhizosphere microbial communities depend on temperature and cultivar sensitivity. Environ Pollut 242:113–125

Cheng FY, Burkey KO, Robinson JM, Booker FL (2007) Leaf extracellular ascorbate in relation to O3 tolerance of two soybean cultivars. Environ Pollut 150:355–362

Cheng L, Wang S, Gong Z, Li H, Yang Q, Wang Y (2018) Regionalization based on spatial and seasonal variation in ground-level ozone concentrations across China. J Environ Sci China 67:179–190

Fiscus EL, Booker FL, Burkey KO (2005) Crop responses to ozone: uptake, modes of action, carbon assimilation and partitioning. Plant Cell Environ 28:997–1011

Fitzgerald MA, McCouch SR, Hall RD (2009) Not just a grain of rice: the quest for quality. Trends Plant Sci 14:133–139

Frei M, Tanaka JP, Chen CP, Wissuwa M (2010) Mechanisms of ozone tolerance in rice: characterization of two QTLs affecting leaf bronzing by gene expression profiling and biochemical analyses. J Exp Bot 61:1405–1417

Huang AY, Wu ZL (1999) Determination of glutathione peroxidase in rice seedlings. J Southwest Agric Univ 21:324–327

IPCC (2013) Climate change 2013: summary for policymakers. The physical science basis. Contribution of working group I to the fifth assessment report of the intergovernmental panel on climate change. In: Core writing team, Stocker TF, Qin D (eds) IPCC, Cambridge, United Kingdom and New York, NY, USA

Li HS, Sun Q, Zhao SJ (2004) Plant physiology biochemistry principle and experimental technique. Higher Education Press, Beijing, pp 260–261

Mittler R (2002) Oxidative stress, antioxidants and stress tolerance. Trends Plant Sci 7:405–410

Nakano Y, Asada K (1987) Purification of ascorbate peroxidase in spinach chloroplasts: its inactivation in ascorbate-depleted medium and reactivation by monodehydroascorbate radical. Plant Cell Physiol 28:131–140

Pang J, Kobayashi K, Zhu JG (2009) Yield and photosynthetic characteristics of flag leaves in Chinese rice (Oryza sativa L.) varieties subjected to free-air release of ozone. Agric Ecosyst Environ 132:203–211

Ranieri A, Castagna A, Soldatini GF (2000) Differential stimulation of ascorbate peroxidase isoforms by ozone exposure in sunflower plants. J Plant Physiol 156:266–271

Shi GY, Yang LX, Wang YX, Kobayashi K, Zhu JG, Tang HY, Pan ST, Chen T, Liu G, Wang YL (2009) Impact of elevated ozone concentration on yield of four Chinese rice cultivars under fully open-air field conditions. Agric Ecosyst Environ 131:178–184

Short EF, North KA, Roberts MR, Hetherington AM, Shirras AD, McAinsh MR (2012) A stress-specific calcium signature regulating an ozone-responsive gene expression network in Arabidopsis. Plant J 71:948–961

Tang H, Pang J, Zhang G, Takigawa M, Liu G, Zhu J, Kobayashi K (2014) Mapping ozone risks for rice in China for years 2000 and 2020 with flux-based and exposure-based doses. Atmos Environ 86:74–83

Wang AG, Luo GH (1990) The quantitative relationship between superoxide radical reaction and hydroxylamine in plants. Plant Physiol Commun 26:55–57

Wang YX, Yang LX, Han Y, Zhu JG, Kobayashi K, Tang HY (2012) The impact of elevated tropospheric ozone on grain quality of hybrid rice: a free-air gas concentration enrichment (FACE) experiment. Field Crop Res 129:81–89

Wang JL, Zeng Q, Zhu JG, Liu G, Tang HY (2013) Dissimilarity of ascorbate–glutathione (AsA–GSH) cycle mechanism in two rice (Oryza sativa L.) cultivars under experimental free-air ozone exposure. Agric Ecosyst Environ 165:39–49

Wang JL, Zeng Q, Zhu JG, Liu G (2014) Phenolic Compounds and antioxidant ability responses to experimental free-air ozone exposure in two wheat cultivars. Bull Environ Contam Toxicol 93:625–631

Zhao H, Zheng Y, Wu X (2018) Assessment of yield and economic losses for wheat and rice due to ground level O3 exposure in the Yangtze River Delta, China. Atmos Environ 191:241–248

Zou Q (2000) Experimental manual on plant physiology. Chinese Agriculture Press, Beijing, pp 127–130
Acknowledgements
This work was supported by the National Natural Science Foundation of China (41807397) and Shanghai Rising-Star Program, China (19QC1400700).
About this article
Cite this article
Wang, J., Liu, G., Liu, F. et al. Responses of Antioxidant Enzymes to Chronic Free-Air Ozone Stress in Rice (Oryza sativa L.) Cultivars with Different Ozone-Sensitivities. Bull Environ Contam Toxicol 103, 428–434 (2019). https://doi.org/10.1007/s00128-019-02653-7
Received:

Accepted:

Published:

Issue Date:
Keywords
Elevated ozone concentration

Reactive oxygen species

Antioxidant enzymes

PAGE