Abstract
Concentrations of heavy metals in bottom sediments of Lake Kenon in descending order are distributed as follows: Mn > Zn > Pb > Mo > Cd. Spatial distribution of metals in bottom sediments of Lake Kenon depends on composition of bottom deposits (sands in shallow water and sapropel silt in the deep part), location of contamination sources (thermal power station, residential area), as well as density and duration of growth of aquatic plants. The greatest pollution of bottom sediments was observed in the area of TPP-1. Due to the intense and all-year-round process of aquatic vegetation growth in the area of TPP-1 contaminants are being accumulated in the bottom sediments of this part of the lake. However, plants that absorb metals in excess amounts and are passively moved by currents through of the system become a source of contamination of bottom sediments in relatively clean parts of the water reservoirs.
Access options
Buy single article
Instant access to the full article PDF.
USD 39.95
Price includes VAT (USA)
Tax calculation will be finalised during checkout.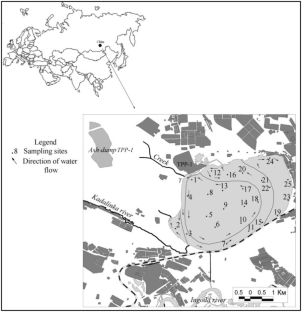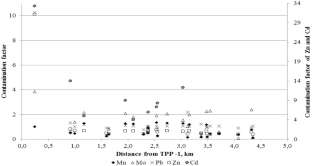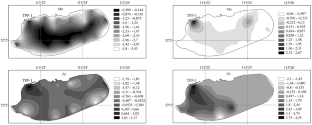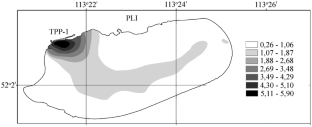 References
Afonina EYu, Tashlikova NA, Bazarova BB (2017) Modern species composition and structure of hydrobiont communities in the Kenon Lake (Zabaikalsky Krai). Bull Moscow Soc Natural 122(1):71–83

Alekseenko VA, Alekseenko LP (2003) Geochemical barriers. Logos, Moskow (in Russian)

Alieva VI (2009) Natural and technogenic streams of chemical elements in the water of the Bratsk water reservoir. Dissertation. University of Irkutsk: p. 18. (in Russian)

Andy H, Rifaat A, Draz S (2011) The Speciation and Potential Mobility of Pb, Cd, Cu and Zn in Lake Qarun Bottom Sediments, Fayioum, Egypt. JKAU 22(2):111–133. https://doi.org/10.4197/Mar.22-2.7

Cardwell AJ, Hawker DW, Greenway M (2002) Metal accumulation in aquatic macrophytes from southeast Queensland Australia. Chemosphere 48(7):653–663. https://doi.org/10.1016/S0045-6535(02)00164-9

Duan D, Ran Y, Cheng H, Chen J, Wan G (2014) Contamination trends of trace metals and coupling with algal productivity in sediment cores in Pearl River Delta, South China. Chemosphere 103:35–43. https://doi.org/10.1016/j.chemosphere.2013.11.011

Dube A, Zbytniewski R, Kowalkowski T, Cukrowska E, Buszewski B (2001) Adsorption and Migration of Heavy Metals in Soil. Pol J Environ Stud 10(1):1–10

Erdoğrul Ö, Erbilir F (2007) Heavy Metal and Trace Elements in Various Fish Samples from Sır Dam Lake, Kahramanmaraş, Turkey. Environ Monit Assess 130:373–379. https://doi.org/10.1007/s10661-006-9404-5

García-Ordiales E, Esbrí JM, Covelli S, López-Berdonces MA, Higueras PL, Loredo J (2016) Heavy metal contamination in sediments of an artificial reservoir impacted by long-term mining activity in the Almaden mercury district (Spain). Environ Sci Pollut Res 23(7):6024–6038. https://doi.org/10.1007/s11356-015-4770-6

Hakanson L (1980) An ecological risk index for aquatic pollution control—a sedimentalogical approach. Water Res 14(8):975–1001. https://doi.org/10.1016/0043-1354(80)90143-8

Jiang Z, Liu B, Liu H, Yang J (2014) Trace metals in Daihai Lake sediments, Inner Mongolia China. Environ Earth Sci 71(1):255–266. https://doi.org/10.1007/s12665-013-2429-5

Klishko OK, Avdeev DV, Zazulina VE, Borzenko CV (2005) The role of chironomids (Diptera, Chironomidae) in the biological migration of chemical elements in the ecosystem of anthropogenic reservoirs. Read Mem Vladimir Yakovlevich Levanidov 3:360–367. https://elibrary.ru/item.asp?id=11672178. Accessed 04 Dec 2017 (in Russian)

Kuklin AP, Matafonov PV (2014) Background concentrations of heavy metals in benthos from transboundary Rivers of the Transbaikalia region Russia. Bull Environ Contam Toxicol 92(2):137–142. https://doi.org/10.1007/s00128-013-1179.0

Kuklin AP, Pomazkova NV (2017) Fresh-water macroalgae in monitoring of water pollution by toxic metals in near-border territories. Res J Pharm Biol Chem Sci 8(3):812–820

Kuriata-Potasznik A, Szymczyk S, Skwierawski A, Glinska-Lewczuk K, Cymes I (2016) Heavy metal contamination in the surface layer of bottom sediments in a flow-through lake: a case study of Lake Symsar in northern Poland. Water 8:358. https://doi.org/10.3390/w8080358

Müller G (1969) Index of geo-accumulation in sediments of Rhine River. GeoJournal 2:108–118. https://doi.org/10.12691/env-1-3-1

Noegrohati S (2006) Bioaccumulation dynamic of heavy metals in Oeochromis nilotycus. Berkala MIPA 16(2):29–40

Palma C, Oliveira A, Filali A, Valenca M, Mhammdi N (2012) Geochemical characteristics of water and sediment in summer period of the Loukkos and Sebou estuaries (NW Morocco): preliminary study. Bull l'Inst Sci Rabat, section Sciences de la Terre 34:69–77

Ptitsyn AB, Grebenshikova AI, Zamana LV, Itigilova MT, Matyugina EB, Smirnova OK, Yurgenson GA (2014) Mobility of chemical elements in water and terrestrial ecosystems. Bull Transbaikal State Univ 8(111): 23–32

Squadrone S, Abete MC, Brizio P, Pessani D, Favaro L (2018) Metals in feathers of African Penguins (Spheniscus demersus): considerations for the welfare and management of seabirds under human care. Bull Environ Contamin Toxicol 100(4):465–471. https://doi.org/10.1007/s00128-018-2293-9

Tomlinson D, Wilson J, Harris C, Jeffery D (1980) Problems in the assessment of heavy metals levels in estuaries and the formation of a pollution index. Helgoländer Meeresunters 33:566–575. https://doi.org/10.1007/BF02414780

Tsybekmitova GTs (2016) Filtration water quality of ash dump tpp-1 and possible ways of their stream into the Kenon Lake (Zabaikalsky Krai). Water Chem Ecol 2:11–17

Tsybekmitova GTs, Kuklin AP, Tashlykova NA, Afonina EY, Bazarova BB, Itigilova MT, Gorlacheva EP, Matafonov PV, Afonin AV (2017) Heavy metals in freshwater ecosystem of the Kenon Lake (Transbaikal Territory, Russia). Res J Pharm Biol Chem Sci 8(1):1779–1789. https://doi.org/10.15293/2226-3365.1703.12

Vinogradov AP (1967) Introduction to ocean geochemistry. science, Moskow (in Russian)

Weng H, Chen X (2000) Impact of polluted canal water on adjacent soil and groundwater systems. Environ Geol 39(8):945–950. https://doi.org/10.1007/s002549900069
Funding
The study is performed within the framework of the federal research program (project IX.137.1).
About this article
Cite this article
Tsybekmitova, G.T., Kuklin, A.P. & Tsyganok, V.I. Heavy Metals in Bottom Sediments of Lake Kenon (The Trans-Baikal Territory, Russia). Bull Environ Contam Toxicol 103, 286–291 (2019). https://doi.org/10.1007/s00128-019-02645-7
Received:

Accepted:

Published:

Issue Date:
Keywords
Coal-fired power plants

Lake

Bottom sediments

Heavy metals

Bioaccumulation

Geoaccumulation