Abstract
In ecotoxicological assays, previously selected and standardized organism tests are exposed to an environmental sample. Some species of the Chironomus genus have been extensively used in ecotoxicological assays. Among these, Chironomus tentans is usually utilized in the USA and Chironomus sancticaroli in Brazil. We conducted ecotoxicological bioassays to compare a population of C. sancticaroli, kept for 6 years under laboratory conditions, with a sylvatic population of the same species, collected in the field. The aim was to test the hypothesis that populations of C. sancticaroli, maintained in the laboratory for long periods, could have a different response to stressors/substances. We analyzed the responses of C. sancticaroli for potassium chloride, zinc chloride, potassium dichromate, linear alkylbenzene sulphonate (LAS) and caffeine. The results showed no significant differences between the two populations in the analyses and seems to indicate the possible use of C. sancticaroli from populations kept in the laboratory for long periods.
Access options
Buy single article
Instant access to the full article PDF.
USD 39.95
Price includes VAT (USA)
Tax calculation will be finalised during checkout.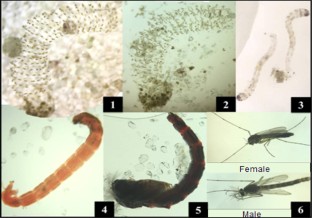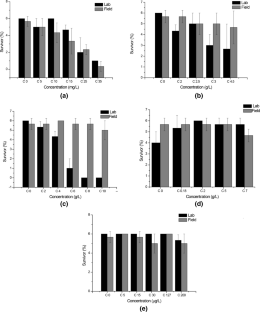 References
Corbi JJ, Gorni GR, Correa RC (2015) An evaluation of Allonais inaequalis Stephenson, 1911 (Oligochaeta: Naididae) as a toxicity test organism. Ecotoxicol Environ Saf 10:7–11

Corbi JJ, Geromel-Costa CGA, Colombo V, Gorni GR, Rios L (2018) Environmental diagnosis of metals in streams near sugarcane cultivation areas: current and historical analysis in the central region of the State of São Paulo. An Acad Bras Cienc 90:2711–2719

Cortez FS, Pereira CDS, Santos AR, Cesar A, Choueri RB, Martini GS, Bohrer-Morel MB (2012) Biological effects of environmentally relevant concentrations of the pharmaceutical Triclosan in the marine mussel Perna perna (Linnaeus, 1758). Environ Pollut 168:145–150

Cui R, Kwak IJ, An YJ (2018) Comparative study of the sensitivity of Daphnia galeata and Daphnia magna to heavy metals. Ecotoxicol Environ Saf 162:63–70

Di Gregorio S, Giorgetti L, Castiglione MF, Marioti L, Lorenzi R (2014) Phytoremediation for improving the quality of effluents from a conventional tannery wastewater treatment plant. Int J Environ Sci Technol. https://doi.org/10.1007/s13762-014-0522-2

Di Veroli A, Santoro F, Pallottini M, Selvaggi R, Scardazza F, Cappelletti D, Goretti E (2014) Deformities of chironomid larvae and heavy metal pollution: from laboratory to field studies. Chemosphere 112:9–17

Dornfeld CB, Rodgher S, Negri RG, Espíndola ELG, Daam MA (2018) Chironomus sancticaroli (Diptera, Chironomidae) as a sensitive tropical test species in laboratory bioassays evaluating metals (copper and cadmium) and field testing. Arch Environ Contam Toxicol. https://doi.org/10.1007/s00244-018-0575-1

Ferreira-Junior DF, Sarmento RA, De Souza Saraiva A, Pereira RR, Picanço MC, Pestana JL, Soares AM (2017) Low concentrations of glyphosate-based herbicide affects the development of Chironomus xanthus. Water Air Soil Pollut 228:390

Fonseca A, Rocha O (2004) Laboratory cultures of the native species Chironomus xanthus Rempel, 1939 (Diptera, Chironomidae). Acta Limnol Bras 16:153–161

Francini A, Mariotti L, Di Gregorio S, Sebastiani L, Andreucci A (2018) Removal of micro-pollutants from urban wastewater by constructed wetlands with Phragmites australis and Salix matsudana. Environ Sci Pollut Res 25:36474–36484

Gaffney JP, Valentine AM (2011) The challenges of trafficking hydrolysis prone metals and ascidians as an archetype. Dalton Trans 40:5827–5835

Geromel-Costa CGA, Corbi JJ, Gorni GR, Colombo V, Correa R, Fiamingo A, Campana-Filho SP (2018) Adsorption of metals by crosslinked chitosan beads in sugarcane contaminated streams. Biomass Bioenergy 119:128–134

Ghiselli G, Jardim WF (2007) Endocrine disruptors in the environment. Quim Nova 30:695–706

Guimarães WNR, Martins LSS, Castro CEF, Carvalho Filho JLS, Loges V (2014) Heliconia phenotypic diversity based on qualitative descriptors. Genet Mol Res 13:3128–3142

Hammer O, Harper D, Ryan PD (2000) PAST: Paleontological Statistics software package for education and data analysis. Paleontol Electron 4:1–9

Jeyasingham K, Ling N (2000) Acute toxicity of arsenic to three species of New Zealand chironomids: Chironomus zealandicus, Chironomus sp. a and Polypedilum pavidus (Diptera, Chironomidae). Bull Environ Contam Toxicol 64:708–715

Marotta H, Dos Santos RO, Enrich-Prast A (2008) Monitoramento limnológico: um instrumento para a conservação dos recursos hídricos no planejamento e na gestão urbano-ambientais. Ambient Soc 11:67–79

Morais G, Pesenti CP, Cestari MM, Navarro-Silva MA (2014) Genotoxic effect of phenanthrene on Chironomus sancticaroli (Diptera: Chironomidae). Zoologia (Curitiba) 31(4):323–328

Novelli A, Vieira BH, Cordeiro D, Cappelini LTD, Vieira EM, Espíndola ELG (2012) Lethal effects of abamectin on the aquatic organisms Daphnia similis, Chironomus xanthus and Danio rerio. Chemosphere 86:36–40

Nowak C, Jost D, Vogt C, Oetken M, Schwenk K, Oehlmann J (2007) Consequences of inbreeding and reduced genetic variation on tolerance to cadmium stress in the midge Chironomus riparius. Aquat Toxicol 85(4):278–284

Nowak C, Vogt C, Pfenninger M, Schwenk K, Oehlmann J, Streit B, Oetken M (2009) Rapid genetic erosion in pollutant-exposed experimental chironomid populations. Environ Pollut 157(3):881–886

Organization for Economy Co-Operation and Development, OECD (2011) Test 235: Chironomus sp., acute immobilization test. OECD Publishing, Paris

Printes LB, Fernandes MN, Espíndola ELG (2011) Laboratory measurements of biomarkers and individual performances in Chironomus xanthus to evaluate pesticide contamination of sediments in a river of southeastern Brazil. Ecotoxicol Environ Saf 74:424–430

R Core Team (2014) R: a language and environment for statistical computing. R Foundation for Statistical Computing, Vienna. https://www.R-project.org/. Accessed 23 Nov

Ribeiro EM, Da Silva FT, De Paiva TCB (2012) Evaluation of the sensitivity of freshwater organisms used in toxicity tests of wastewater from explosives company. Bull Environ Contam Toxicol 89:915–920

Ritz C, Streibig JC (2005) Bioassay analysis using R. J Stat Softw 12:1–22

Roy ED, Richards PD, Martinelli LA, Coletta LD, Lins SRM, Vazquez FF, Willig E, Spera SA, Vanwe LK, Porder S (2016) The phosphorus cost of agricultural intensification in the tropics. Nat Plants 2:1–6

Strixino S, Strixino G (1981) Nova espécie do gênero Chironomus Meigen do sul do Brasil (Diptera: Chironomidae). Rev Bras Entomol 25:333–340

You J, Schuler LJ, Lydy MJ (2004) Acute toxicity of sediment-sorbed endrin, methoxychlor, and endosulfan to Hyalella azteca and Chironomus tentans. Bull Environ Contam Toxicol 73:457–464

Zagatto PA, Bertoletti E (2008) Ecotoxicologia aquática, princípios e aplicações. Rima, São Carlos
Acknowledgements
This research was supported by FAPESP (São Paulo Research Foundation), Process Number 2016/21946-8.
Additional information
Editor's Note: Since this paper does not fall fully within the Aims and Scope of BECT, due to the lack of confirmation of nominal concentrations analytically, it was decided that it should be accepted as a "Concept Note" since it contained some appealing data for our readership. Interestingly, both populations of C. sancticaroli, laboratory reared and field collected, exposed to various concentrations of inorganic (e.g. zinc chloride) and organic (e.g. caffeine) compounds showed similar dose response. These data further verify the usefulness of laboratory-based cultures for aquatic toxicity bioassays to reflect the response in natural populations.
About this article
Cite this article
Corbi, J.J., Bernegossi, A.C., Moura, L. et al. Chironomus sancticaroli (Diptera, Chironomidae) as a Sensitive Test Species: Can We Rely on Its Use After Repeated Generations, Under Laboratory Conditions?. Bull Environ Contam Toxicol 103, 213–217 (2019). https://doi.org/10.1007/s00128-019-02644-8
Received:

Accepted:

Published:

Issue Date:
Keywords
Chironomidae

Ecotoxicology

Population genetics

Chironomus