Abstract
In our study, we collected 146 surface soil samples in Xiamen City and measured the concentrations of five heavy metals (Cr, Cu, Pb, Ni, and Zn) and one metalloid (As). Multivariate statistics, geostatistics and Random Forest methods were applied to identify the potential sources and spatial variation of the six elements. The results revealed that As, Cr, and Ni originated mainly from industrial activities, and higher concentrations were found in developed areas. The amounts of Cu, Pb, and Zn in soils were mainly predetermined by soil parent material and agricultural activities. Besides, the atmospheric deposition rather than industrial activities substantially influenced the accumulation of Pb in the soils near the boundary between Tong'an and Quanzhou City, because there were few industries but many forests in this area. Because of the connections of the six elements with factor values of factor analysis, appropriate and accessible covariates could be used in co-kriging to increase the accuracies of interpolation of heavy metal and metalloid concentrations relative to that in ordinary kriging.
Access options
Buy single article
Instant access to the full article PDF.
USD 39.95
Price includes VAT (USA)
Tax calculation will be finalised during checkout.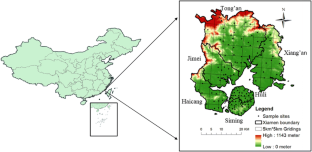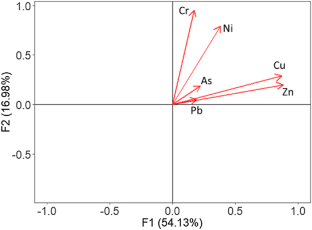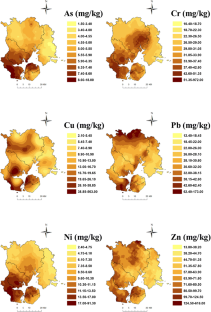 References
Breiman L (2001) Random forests. Mach Learn 45(1):5–32

Cai L, Xu Z, Ren M et al (2012) Source identification of eight hazardous heavy metals in agricultural soils of Huizhou, Guangdong Province, China. Ecotox Environ Safe 78:2–8

Chen Z, Chen C, Liu Y, Wu Y, Yang S, Lu C (1992) The study on background value of soil environment in Fujian Province. Environ Sci. 4:70–75 (In Chinese)

Chen T, Liu X, Li X et al (2009) Heavy metal sources identification and sampling uncertainty analysis in a field-scale vegetable soil of Hangzhou, China. Environ Pollut 157(3):1003–1010

Chen T, Chang Q, Clevers J, Kooistra L (2015) Rapid identification of soil cadmium pollution risk at regional scale based on visible and near-infrared spectroscopy. Environ Pollut 206:217–226

Chen T, Chang Q, Liu J, Clevers J, Kooistra L (2016) Identification of soil heavy metal sources and improvement in spatial mapping based on soil spectral information: a case study in northwest China. Sci Total Environ 565:155–164

Dach J, Starmans D (2005) Heavy metals balance in Polish and Dutch agronomy: actual state and previsions for the future. Agr Ecosyst Environ 107(4):309–316

Facchinelli A, Sacchi E, Mallen L (2001) Multivariate statistical and GIS-based approach to identify heavy metal sources in soils. Environ Pollut 114(3):313–324

Hao L, Tian M, Zhao X, Zhao Y, Lu J, Bai R (2016) Spatial distribution and sources of trace elements in surface soils, Changchun, China: insights from stochastic models and geostatistical analyses. Geoderma 273:54–63

Huang S, Wang L, Zhao Y (2018) Ecological risk assessment from the perspective of soil heavy metal accumulations in Xiamen city, China. Int J Sust Dev World 1–9.

Kheir RB, Greve MH, Abdallah C, Dalgaard T (2010) Spatial soil zinc content distribution from terrain parameters: a GIS-based decision-tree model in Lebanon. Environ Pollut 158(2):520–528

Li X, Feng L (2010) Spatial distribution of hazardous elements in urban topsoils surrounding Xi'an industrial areas (NW, China): controlling factors and contamination assessments. J Hazard Mater 174(1):662–669

Lin CY, Abdullah MH, Praveena SM, Yahaya AHB, Musta B (2012) Delineation of temporal variability and governing factors influencing the spatial variability of shallow groundwater chemistry in a tropical sedimentary island. J Hydrol 432:26–42

Luo XS, Yu S, Zhu YG, Li XD (2012) Trace metal contamination in urban soils of China. Sci Total Environ 421–422(3):17–30. https://doi.org/10.1016/j.scitotenv.2011.04.020

Ma L, Yang Z, Li L, Wang L (2016) Source identification and risk assessment of heavy metal contaminations in urban soils of Changsha, a mine-impacted city in Southern China. Environ Sci Pollut R 23(17):17058–17066

McGrath SP, Cegarra J (1992) Chemical extractability of heavy metals during and after long-term applications of sewage sludge to soil. J Soil Sci 43(2):313–321

Möller A, Müller HW, Abdullah A, Abdelgawad G, Utermann J (2005) Urban soil pollution in Damascus, Syria: concentrations and patterns of heavy metals in the soils of the Damascus Ghouta. Geoderma 124(1):63–71

O'Connell DW, Birkinshaw C, O'Dwyer TF (2008) Heavy metal adsorbents prepared from the modification of cellulose: a review. Bioresour Technol 99(15):6709–6724

Praveena SM, Ahmed A, Radojevic M, Abdullah MH, Aris AZ (2008) Heavy metals in mangrove surface sediment of Mengkabong Lagoon, Sabah: multivariate and geo-accumulation index approaches. Int J Environ Res 2(2):139–148

Sebai T, Lagacherie B, Soulas G, Martin-Laurent F (2007) Spatial variability of isoproturon mineralizing activity within an agricultural field: geostatistical analysis of simple physicochemical and microbiological soil parameters. Environ Pollut 145(3):680–690

Shukla K, Kumar B, Agrawal R, Priyanka K, Venkatesh M (2017) Assessment of Cr, Ni and Pb pollution in rural agricultural soils of tonalite-trondjhemite series in central India. Bull Environ Contam Toxicol 98(6):856–866

Sun C, Liu J, Wang Y, Sun L, Yu H (2013) Multivariate and geostatistical analyses of the spatial distribution and sources of heavy metals in agricultural soil in Dehui, Northeast China. Chemosphere 92(5):517–523

Tang L, Zhao Y, Yin K, Zhao J (2013) Xiamen. Cities 31:615–624

Wang M, Bai Y, Chen W, Markert B, Peng C, Ouyang Z (2012a) A GIS technology based potential eco-risk assessment of metals in urban soils in Beijing, China. Environ Pollut 161:235–242

Wang M, Markert B, Chen W, Peng C, Ouyang Z (2012b) Identification of heavy metal pollutants using multivariate analysis and effects of land uses on their accumulation in urban soils in Beijing China. Environ Monit Assess 184(10):5889–5897

Wei B, Yang L (2010) A review of heavy metal contaminations in urban soils, urban road dusts and agricultural soils from China. Microchem J 94(2):99–107

Wu J, Norvell WA, Hopkins DG, Smith DB, Ulmer MG, Welch RM (2003) Improved prediction and mapping of soil copper by kriging with auxiliary data for cation-exchange capacity. Soil Sci Soc Am J 67(3):919–927

Wuana RA, Okieimen FE (2011) Heavy metals in contaminated soils: a review of sources, chemistry, risks and best available strategies for remediation. ISRN Ecol 2011.

Yang P, Mao R, Shao H, Gao Y (2009) An investigation on the distribution of eight hazardous heavy metals in the suburban farmland of China. J Hazard Mater 167(1):1246–1251

Yang X, Wang L, Wu T, Qiu Q (2018) Ecological risk assessment based on road network development analysis of Xiamen city, China. Int J Sust Dev World 1–10.

Yuswir NS, Praveena SM, Aris AZ, Ismail SNS, Hashim Z (2015) Health risk assessment of heavy metal in urban surface soil (Klang District, Malaysia). Bull Environ Contam Toxicol 95(1):80–89

Zhang C (2006) Using multivariate analyses and GIS to identify pollutants and their spatial patterns in urban soils in Galway, Ireland. Environ Pollut 142(3):501–511

Zhuang P, Zou H, Shu W (2009) Biotransfer of heavy metals along a soil-plant-insect-chicken food chain: field study. J Environ Sci 21(6):849–853
Acknowledgements
This work was supported by the National Key R&D Program of China (2016YFC0502902) and the National Natural Science Foundation of China (71533003).
Electronic Supplementary Material
Below is the link to the electronic supplementary material.
About this article
Cite this article
Huang, S., Shao, G., Wang, L. et al. Spatial Distribution and Potential Sources of Five Heavy Metals and One Metalloid in the Soils of Xiamen City, China. Bull Environ Contam Toxicol 103, 308–315 (2019). https://doi.org/10.1007/s00128-019-02639-5
Received:

Accepted:

Published:

Issue Date:
Keywords
Soil heavy metal

Co-kriging

Source identification

Random Forest

Xiamen City