Abstract
The Golden Horn Estuary, Istanbul, Turkey, had been exposed to untreated industrial discharges and municipal wastewater for over fifty years; however, during the last fifteen years pollution has been reduced due to an extensive rehabilitation campaign. Since sediment is the main accumulation matrix of marine ecosystems, surface sediment samples were collected from the estuary and analyzed for concentrations of some elements and radioactivity. The elements of predominant anthropogenic origin such as As, Cu, Pb, Sb, Sn and Zn and 137Cs were observed in the mid-estuary. Also, elevated geoaccumulation indices for Ag, Cd, Cu and Sb showed that pollution was still occurring in the estuary despite the rehabilitation. There is a huge residential area near the estuary; therefore, people living in this area are affected due to the pollution of the estuary. Thus, the obtained data of the elements and radionuclides are very important for the ecosystem of the Golden Horn.
Access options
Buy single article
Instant access to the full article PDF.
USD 39.95
Price includes VAT (USA)
Tax calculation will be finalised during checkout.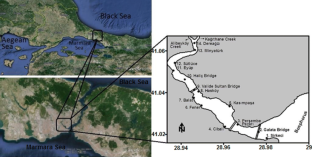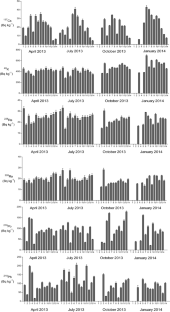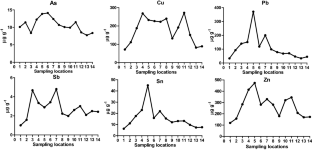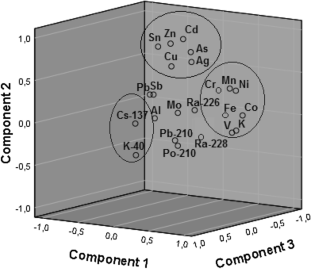 References
Akram M, Qureshi RM, Ahmad N, Jamal Solaija T (2006) Gamma emitting radionuclides in the shallow marine sediments of the Sindh Coast, Arabian Sea. Radiat Prot Dosim 118:440–447

Alfonso JA, Perez K, Handt Palacios D, H, LaBrecque JJ, Mora A, Vasquez Y, (2014) Distribution and environmental impact of radionuclides in marine sediments along the Venezuelan Coast. J Radioanal Nucl Chem 300:219–224

Audry S, Schäfer J, Blanc G, Jouanneau J-M (2004) Fifty-year sedimentary record of heavy metal pollution (Cd, Zn, Cu, Pb) in the Lot River reservoirs (France). Environ Pollut 132:413–426

Bednarova Z, Kuta J, Kohut L, Machat J, Klanova J, Holoubek I, Jarkovsky J, Dusek L, Hilscherova K (2013) Spatial patterns and temporal changes of heavy metal distributions in river sediments in a region with multiple pollution sources. J Soil Sediment 13:1257–1269

Belivermiş M, Kılıç Ö, Çotuk Y (2016) Assessment of metal concentrations in indigenous and caged mussels (Mytilus galloprovincialis) on entire Turkish coastline. Chemosphere 144:1980–1987

Carvalho FP (1995) 210Pb and 210Po in sediments and suspended matter in the Tagus Estuary, Portugal. Local enhancement of natural levels by wastes from phosphate ORE processing industry. Sci Total Environ 159:201–214

Coleman HM, Kanat G, Aydinol Turkdogan FI (2009) Restoration of the golden horn estuary (Haliç). Water Res 43:4989–5003

Diop C, Dewaele D, Cazier F, Diouf A, Ouddane B (2015) Assessment of trace metals contamination level, bioavailability and toxicity in sediments from Dakar Coast and Saint Louis Estuary in Senegal, West Africa. Chemosphere 138:980–987

Ergin M, Saydam C, Baştürk Ö, Erdem E, Yörük R (1991) Heavy metal concentrations in surface sediments from the two coastal inlets (Golden Horn Estuary and Izmit Bay) of the Northeastern Sea of Marmara. Chem Geol 91:269–285

Ergül HA, Belivermiş M, Kılıç Ö, Topcuoglu S, Cotuk Y (2013) Natural and artificial radionuclide activity concentrations in surface sediments of Izmit Bay, Turkey. J Environ Radioact 12:125–132

Frangipane G, Pistolato M, Molinalori E, Guerzoni S, Tagliapietra D (2009) Comparison of Loss on ignition and thermal analysis stepwise methods for determination of sedimentary organic matter. Aquat Conserv 19:24–33

Gönüllü MT, Avşar Y, Bayhan H, Şakar S, Arslankaya E, Apaydin Ö, Kurt U (2005) Primary productivity in the golden horn. Environ Monit Assess 109:57–64

Kim Y, Cho S, Kang HD, Kim W, Lee HR, Doh SH, Kim K, Yun SG, Kim DS, Jeong GY (2006) Radiocesium reaction with illite and organic matter in marine sediment. Marine Poll Bull 52:659–665

Kim Y, Kim K, Kang HD, Kim W, Doh SH, Kim DS, Kim BK (2007) The accumulation of radiocesium in coarse marine sediment: effects of mineralogy and organic matter. Marine Poll Bull 54:1341–1350

Kılıç Ö, Belivermiş M (2013) Spatial and seasonal distribution of trace metal concentrations in mussel (Mytilus galloprovincialis) and sediment of bosphorus and golden horn. B Environ Contam Tox 9:402–408

Kılıç Ö, Belivermiş M, Gözel F, Carvalho FP (2014) Radioactivity Levels in mussels and sediments of the golden horn by the Bosphorus Strait, Marmara Sea. Marine Poll Bull 86:555–561

Kılıç Ö, Çotuk Y (2011) Radioactivity Concentrations in sediment and mussel of bosphorus and golden horn. J Radioanal Nucl Chem 289:627–635

Lanceleur L, Schäfer J, Chiffoleau J-F, Blanc G, Auger D, Renault S, Baudrimont M, Audry S (2011) Long-term records of cadmium and silver contamination in sediments and oysters from the Gironde fluvial–estuarine continuum – Evidence of changing silver sources.Chemosphere 85:1299–1305

Müller G (1979) The changes of heavy metals in the sediments of the rhine. Umsch 79:133–149

Narayana Y, Rajashekara KM (2010) Study of 210Po and 210Pb in the riverine environments of coastal Karnataka. J Environ Radioact 101:468–471

Pfitzner J, Brunskill G, Zagorskis I (2004) 137Cs and Excess 210Pb deposition patterns in estuarine and marine sediment in the central region of the Great Barrier Reef Lagoon, North-Eastern Australia. J Environ Radioact 76:81–102

Sakan SM, Đorđević DS, Manojlović DD, Predrag PS (2009) Assessment of heavy metal pollutants accumulation in the Tisza River Sediments. J Environ Manage 90:3382–3390

Tuncer G, Tuncel G, Balkas TI (2001) Evolution of metal pollution in the golden horn (Turkey) sediments between 1912 and 1987. Mar Pollut Bull 42:350–360

United Nations Scientific Committee on the Effects of Atomic Radiation (UNSCEAR) (2000) Sources and effects of ionizing radiation. Report to General Assembly with scientific annexes United Nations, New York

Uğur A, Yener G, Bassari A (2002) Trace metals and Po/Pb concentrations in mussels (Mytilus galloprovincialis) consumed at western Anatolia. Appl Radiat Isot 57:565–571

Wedepohl KH (1995) The composition of the continental Crust. Appl Radiat Isot 59:1217–1239

Zhang J, Liu CL (2002) Riverine composition and estuarine geochemistry of particulate metals in China weathering features, anthropogenic impact and chemical fluxes. Estuar Coast Mar Sci 54:1051–1070
Acknowledgements
This research was supported by the Scientific and Technological Research Council of Turkey (TÜBİTAK, Project Number: 112Y060) and by the Scientific Research Projects Coordination Unit of Istanbul University (Project Number: 26793).
About this article
Cite this article
Kılıç, Ö., Belivermiş, M., Sezer, N. et al. Multi-pollutant Monitoring in a Rehabilitated Estuary: Elements and Radionuclides. Bull Environ Contam Toxicol 103, 354–361 (2019). https://doi.org/10.1007/s00128-019-02636-8
Received:

Accepted:

Published:

Issue Date:
Keywords
Elements

Radionuclides

Sediment

Enrichment factor

Golden Horn