Abstract
The speciation of metals in surface sediments, as well as metal concentrations in muscle and liver of sharpbelly Hemiculter leucisculus from a stream near the Mo–Ni polymetallic mines in Maoshi town were investigated. The results indicated that metal concentrations were generally highest in the most upstream sampling location that is closest to the former mine operation. The total concentrations of Mn in sediments were higher than other metals. The Cr was mainly associated with residual fraction, while the order of bioavailability of metals (sum of the concentrations of exchangeable, reducible, and oxidizable fractions) was as follows: Cd (89.95%) > Mn (82.32%) > Ni (45.58%) > Mo (29.39%) > Hg (29.23%) > As (22.60%) > Pb (17.38%) > Cr (6.21%). The Cd concentration in muscle of H. leucisculus exceeded the permissible limit which indicated that the fish from this area are not safe for human consumption. The potential ecological risks of Cd cannot be ignored in this study area.
Access options
Buy single article
Instant access to the full article PDF.
USD 39.95
Price includes VAT (USA)
Tax calculation will be finalised during checkout.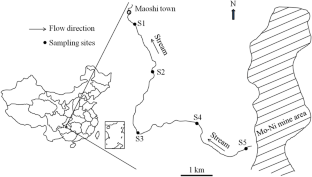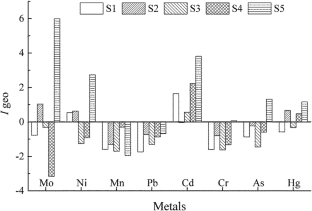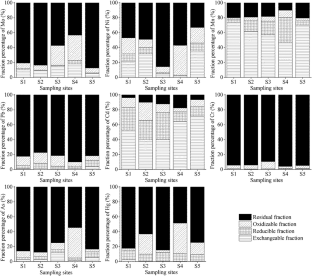 References
Aghili S, Vaezihir A, Hosseinzadeh M (2018) Distribution and modeling of heavy metal pollution in the sediment and water mediums of Pakhir River, at the downstream of Sungun mine tailing dump. Iran. Environ Earth Sci 77:128

Akcay H, Oguz A, Karapire C (2003) Study of heavy metal pollution and speciation in Buyak Menderes and Gediz river sediments. Water Res 37:813–822

Beane SJ, Comber SD, Rieuwerts J, Long P (2016) Abandoned metal mines and their impact on receiving waters: A case study from Southwest England. Chemosphere 153:294–306

Cai S, Ni Z, Li Y, Shen Z, Xiong Z, Zhang Y, Zhou Y (2012) Metals in the tissues of two fish species from the rare and endemic fish nature reserve in the upper reaches of the Yangtze River, China. B Environ Contam Tox 88:922–927

Cai SW, Ni ZH, Liu B, Fan LL (2017) Metal Concentrations and Health Risk Assessment in the Muscle of Ten Commercial Fish Species from the Chishui River, China. Int J Environ Res 11:125–132

Cai S, Shen Z, Ni Z, Li Y, Liu B, Dai Y, Zhao J (2018) Metal distribution in water, sediment, submerged plant, and fish from an urban river in Zunyi, southwest of China. Frese Environ Bull 27:1627–1633

Dhanakumar S, Solaraj G, Mohanraj R (2015) Heavy metal partitioning in sediments and bioaccumulation in commercial fish species of three major reservoirs of river Cauvery delta region, India. Ecotox Environ Safe 113:145–151

He SL (1998) Geochemical background of supergene sediments in Guizhou. Guizhou Geology 15:149–156 (In Chinese)

Hu Y, Cheng H, Tao S (2016) The challenges and solutions for cadmium-contaminated rice in China: a critical review. Environ Int 92–93:515–532

Huang Z, Tang Y, Zhang K et al (2016) Environmental risk assessment of manganese and its associated heavy metals in a stream impacted by manganese mining in South China. Human Ecol Risk Assess 22:1341–1358

Huang B, Guo Z, Tu W et al (2018) Geochemistry and ecological risk of metal(loid)s in overbank sediments near an abandoned lead/zinc mine in Central South China. Environ Earth Sci 77:68

Jayaprakash M, Kumar RS, Giridharan L, Sujitha SB, Sarkar SK, Jonathan MP (2015) Bioaccumulation of metals in fish species from water and sediments in macrotidal Ennore creek, Chennai, SE coast of India: a metropolitan city effect. Ecotox Environ Safe 120:243–255

Ji H, Li H, Zhang Y, Ding H, Gao Y, Xing Y (2018) Distribution and risk assessment of heavy metals in overlying water, porewater, and sediments of Yongding River in a coal mine brownfield. J Soil Sediment 18:624–639

Jia Y, Wang L, Qu Z, Yang Z (2018) Distribution, contamination and accumulation of heavy metals in water, sediments, and freshwater shellfish from Liuyang River, Southern China. Environ Sci Pollut R 25:7012–7020

Kang X, Song J, Yuan H et al (2017) Speciation of heavy metals in different grain sizes of Jiaozhou Bay sediments: bioavailability, ecological risk assessment and source analysis on a centennial timescale. Ecotox Environ Safe 143:296–306

Li M, Zang S, Xiao H, Wu C (2014) Speciation and distribution characteristics of heavy metals and pollution assessments in the sediments of Nashina Lake, Heilongjiang, China. Ecotoxicology 23:681–688

Luís AT, Teixeira P, Almeida SF, Matos JX, Da SE (2011) Environmental impact of mining activities in the Lousal area (Portugal): chemical and diatom characterization of metal-contaminated stream sediments and surface water of Corona stream. Sci Total Environ 409:4312

Ma X, Zuo H, Tian M et al (2016) Assessment of heavy metals contamination in sediments from three adjacent regions of the Yellow River using metal chemical fractions and multivariate analysis techniques. Chemosphere 144:264–272

Müller G (1969) Index of geoaccumulation in sediments of the Rhine River. Geo J 2:108–118

Mutia TM, Virani MZ, Moturi WN, Muyela B, Mavura WJ, Lalah JO (2012) Copper, lead and cadmium concentrations in surface water, sediment and fish, C. Carpio, samples from Lake Naivasha: effect of recent anthropogenic activities. Environ Earth Sci 67:1121–1130

Nemati K, Bakar NKA, Abas MR (2009) Investigation of heavy metals mobility in shrimp aquaculture sludge- Comparison of two sequential extraction procedures. Microchem J 91:227–231

Palleiro L, Patinha C, Rodríguez-Blanco ML, Taboada-Castro MM, Taboada-Castro MT (2016) Metal fractionation in topsoils and bed sediments in the Mero River rural basin: bioavailability and relationship with soil and sediment properties. CATENA 144:34–44

Rauret G, Lópezsánchez JF, Sahuquillo A, Rubio R, Davidson C, Ure A, Quevauviller P (1999) Improvement of the BCR three step sequential extraction procedure prior to the certification of new sediment and soil reference materials. J Environ Monitor 1:57–61

Rieuwerts JS, Mighanetara K, Braungardt CB, Rollinson GK, Pirrie D, Azizi F (2014) Geochemistry and mineralogy of arsenic in mine wastes and stream sediments in a historic metal mining area in the UK. Sci Total Environ 472:226–234

Sekhar KC, Chary NS, Kamala CT, Raj DS, Rao AS (2004) Fractionation studies and bioaccumulation of sediment-bound heavy metals in Kolleru lake by edible fish. Environ Int 29:1001–1008

Sun Z, Xie X, Wang P, Hu Y, Cheng H (2018) Heavy metal pollution caused by small-scale metal ore mining activities: a case study from a polymetallic mine in South China. Sci Total Environ 639:217–227

Varol M (2011) Assessment of heavy metal contamination in sediments of the Tigris River (Turkey) using pollution indices and multivariate statistical techniques. J Hazard Mater 195:355–364

Venkateswaran P, Vellaichamy S, Palanivelu K (2007) Speciation of heavy metals in electroplating industry sludge and wastewater residue using inductively coupled plasma. Int J Environ Sci Te 4:497–504

Xu D, Wang Y, Zhang R, Jing G, Wei Z, Yu K (2016) Distribution, speciation, environmental risk, and source identification of heavy metals in surface sediments from the karst aquatic environment of the Lijiang River, Southwest China. Environ Sci Pollut R 23:9122–9133

Xu L, Wang T, Wang J, Lu A (2017) Occurrence, speciation and transportation of heavy metals in 9 coastal rivers from watershed of Laizhou Bay, China. Chemosphere 173:61–68

Zhuang Q, Li G, Liu Z (2018) Distribution, source and pollution level of heavy metals in river sediments from South China. CATENA 170:386–396
Acknowledgements
The present study was supported by the National Key Research and Development Program of China (Grant No. 2016YFC0400702), Project funded by China Postdoctoral Science Foundation (Grant No. 2017M620431), and the Science and Technology Department of Guizhou Province (No. QKHBSZ [2015] 4003 and No. QKHJ [2015] 2148).
About this article
Cite this article
Cai, S., Zhou, S., Wu, P. et al. Speciation and Bioavailability of Metals in Sediments from a Stream Impacted by Abandoned Mines in Maoshi Town, Southwest of China. Bull Environ Contam Toxicol 103, 302–307 (2019). https://doi.org/10.1007/s00128-019-02635-9
Received:

Accepted:

Published:

Issue Date:
Keywords
Metal

Speciation

Bioavailability

Sediments