Abstract
Tetragnathid spiders (Tetragnatha spp.) found in riparian habitats have recently been used as bioindicators of sediment contamination and insect-mediated contaminant flux. We investigated whether sexual dimorphism (size and behavior) influenced the female:male ratio in composite samples, stable isotope ratios (carbon [δ13C], nitrogen [δ15N]), and Hg concentrations in the southern United States. Additionally, we explored whether biomass for contaminant analysis could be preserved by using the legs of tetragnathids as a surrogate for whole-body δ13C and δ15N signatures. We found that female tetragnathids were significantly larger than male spiders and represented a larger proportion of spiders collected at all sites. However, despite the difference in size between sexes, no differences in growth dynamics, isotopic signatures (δ13C and δ15N), or mercury concentrations were observed. It was determined that the leg of a tetragnathid can accurately represent the stable isotope signature of an entire spider.
Access options
Buy single article
Instant access to the full article PDF.
USD 39.95
Price includes VAT (USA)
Tax calculation will be finalised during checkout.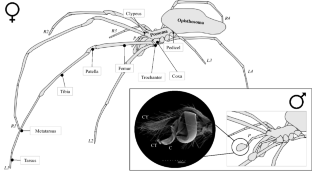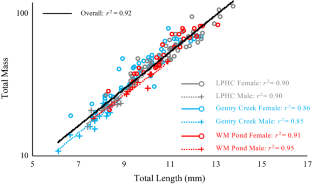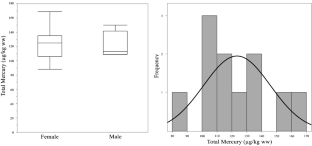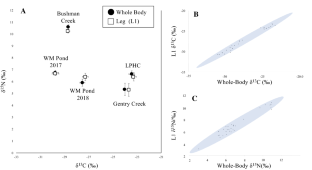 References
Akamatsu F, Toda H, Okino T (2004) Food source of riparian spiders analyzed by using stable isotope ratios. Ecol Res 19(6):655–662

Burger A (2007) A framework and methods for incorporating gender-related issues in wildlife risk assessment: gender-related differences in metal levels and other contaminants as a case study. Environ Res 104:153–162

Chavez-Ulloa R, Taylor BW, Broadley H, Cottingham KL, Baer NA, Weathers KC, Ewing HA, Chen CY (2016) Dissolved organic carbon modulates mercury concentrations in insect subsidies from streams to terrestrial consumers. Ecol Appl 26(6):1771–1784

Collier KJ, Bury S, Gibbs M (2002) A stable isotope study of linkages between stream and terrestrial food webs through spider predation. Freshw Biol 47(9):1651–1659

Cristol DA, Brasso RL, Condon AM, Fovargue RE, Friedman SL, Hallinger KK, Monroe AP, White AE (2008) The movement of aquatic mercury through terrestrial food webs. Science 320(5874):335

Danielson-François A, Fetterer CA, Smallwood PD (2002) Body condition and mate choice in tetragnatha elongata (Araneae, Tetragnathidae). J Arachnol 30(1):20–30

Elgar MA, Ghaffar N, Read AF (1990) Sexual dimorphism in leg length among orb-weaving spiders: a possible role for sexual cannibalism. J Zool 222(3):455–470

Gann GL, Powell CH, Chumchal MM, Drenner RW (2015) Hg-contaminated terrestrial spiders pose a potential risk to songbirds at Caddo Lake (Texas/Louisiana, USA). Environ Toxicol Chem 34(2):303–306

Gergs R, Koester M, Schulz RS, Schulz R (2014) Potential alteration of cross-ecosystem resource subsidies by an invasive aquatic macroinvertebrate: implications for the terrestrial food web. Freshw Biol 59(12):2645–2655

Gillespie R (1987) The mechanism of habitat selection in the long-Jawed Orb-weaving spider Tetragnatha elongata. J Arachnol 15(1):81–90

Kraus JM, Gibson PP, Walters DM, Mills MA (2017) Riparian spiders as sentinels of polychlorinated biphenyl contamination across heterogeneous aquatic ecosystems. Environ Toxicol Chem 36(5):1278–1286

Levi HW (1981) American orb-weaver genera Dolichognatha and Tetragnatha north of Mexico (Araneae: Araneidae, Tetragnathinae). Bull Mus Comp Zool. 149(5):271–318

Nakano S, Murakami M (2001) Reciprocal subsidies: dynamic interdependence between terrestrial and aquatic food webs. Proc Natl Acad Sci USA 98(1):166–170

Otter RR, Hayden M, Mathews T, Fortner A, Bailey FC (2013) The use of tetragnathid spiders as bioindicators of metal exposure as a coal ash spill site. Environ Toxicol Chem 32(9):2065–2068

Sanzone DM, Meyer JL, Marti E, Gardiner EP, Tank JL, Grimm NB (2002) Carbon and nitrogen transfer from a desert stream to riparian predators. Oecologia 134:238–250

Speir SL, Chumchal MM, Drenner RW, Cocke WG, Lewis ME, Whitt HL (2014) Methyl mercury and stable isotopes of nitrogen reveal that a terrestrial spider has a diet of emergent aquatic insects. Environ Toxicol Chem 33(11):2506–2509

Tweedy BN, Drenner RW, Chumchal MM, Kennedy JH (2013) Effects of fish on emergent insect-mediated flux of methyl mercury across a gradient of contamination. Environ Sci Technol 47(3):1614–1619

U.S. Environmental Protection Agency (2002) Method 1631 Revision E. Mercury in water by oxidation, purge and trap, and cold vapor atomic fluorescence spectrometry. Washington D.C.

Walters DM, Fritz KM, Otter RR (2008) The dark side of subsidies: adult stream insects export organic contaminants to riparian predators. Ecol Appl 18(8):1835–1841

Walters DM, Mills MA, Fritz KM, Raikow DF (2009) Spider-mediated flux of PCBs from contaminated sediments to terrestrial ecosystems and potential risks to arachnivorous birds. Environ Sci Technol 44(8):2849–2856

Walters DM, Otter RR, Kraus JM, Mills MA (2018) Riparian spiders indicate the magnitude and sources of polychlorinated biphenyl (pcb) contamination at a large contaminated sediment site. Environ Toxicol Chem 37(9):2467–2474
Acknowledgements
We would like to thank the Tennessee Wildlife Resources Agency for their funding support and logistical aid in this project. We would like to thank the Great Smoky Mountain National Park for their cooperation and aid throughout the duration of this project. We thank Andrew Todd, Jaylen Sims, and Robin Dixon for their assistance with spider collections. We thank Scott Rush of Mississippi State University for all of his assistance at Whigg Meadow. We thank Joyce Miller and the Middle Tennessee State University MIMIC lab for their help and support with the SEM.
About this article
Cite this article
Beaubien, G.B., Olson, C.I. & Otter, R.R. The Role of Sexual Dimorphism and Tissue Selection in Ecotoxicological Studies Using the Riparian Spider Tetragnatha elongata. Bull Environ Contam Toxicol 103, 225–232 (2019). https://doi.org/10.1007/s00128-019-02632-y
Received:

Accepted:

Published:

Issue Date:
Keywords
Spider

Sexual dimorphism

Bioindicator

Mercury