Abstract
Ecological effects of gold nano-particles (AuNP) are examined due to growing use in consumer and industrial materials. This study investigated uptake and movement of AuNPs through an aquatic food chain. Simple (single-species) and diverse (multi-species) periphyton communities were exposed to AuNP (0, 100, 500 µg L−1 treatments). AuNP quickly aggregated and precipitated from the water column, suggesting it is an insignificant route of AuNP exposure even at elevated concentrations. Gold was measured in 100 and 500 µg L−1 periphyton treatments. Gold accumulation was similar between periphyton treatments, suggesting physical processes were important for AuNP basal accumulation. Hyalella azteca and Lymnea stagnalis whole body tissue analysis indicated gold accumulation may be attributed to different feeding mechanisms, general versus selective grazing, respectively. Results suggest trophic transfer of AuNP is organism specific and aggregation properties of AuNP are important when considering fate of nano-particles in the environment and movement through aquatic food webs.
Access options
Buy single article
Instant access to the full article PDF.
USD 39.95
Price includes VAT (USA)
Tax calculation will be finalised during checkout.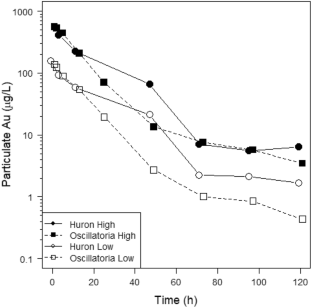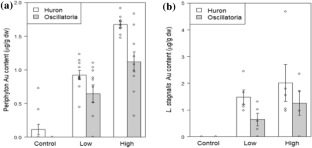 References
Anderson C, Moreno F et al (2005) A comparative analysis of gold-rich plant material using various analytical methods. Microchem J 81:81–85

Baker MA, de Guzman G, Ostermiller JD (2009) Differences in nitrate uptake among benthic algal assemblages in a mountain stream. J N AM Benthol Soc 28:24–33

Balog G, Voronezhskaya E et al (2012) Organization of the serotonergic innervations of the feeding (buccal) musculature during maturation of L. stagnalis. J Comp 520:315–329

Borgmann U (1996) Systematic analysis of aqueous ion requirements of Hyalella azteca: a standard artificial medium. Arch Environ Contam Toxicol 30:356–363

Botha TL, Boodhia K, Wepener V (2016) Adsorption, uptake and distribution of gold nanoparticles in Daphnia magna following long term exposure. Aquat Toxicol 170:104–111

Bozich JS, Lohse SE et al (2014) Surface chemistry, charge and ligand type impact the toxicity of gold nano-particles to Daphnia magna. Environ Sci 1:260

Burton GA Jr., Hudson M et al. (2019) Weight-of-evidence approach for assessing removal of metals from the water column for chronic environmental hazard classification. Environ Toxicol Chem In Press.

Cardinale BJ (2011) Biodiversity improves water quality through niche partitioning. Nature 472:86–91

Costello DM, Rosi-Marshall EJ et al (2015) A novel method to assess the effects of chemical stressors on natural biofilm structure and function. Freshwater Biol 61:12

Croteau MN, Luoma SN (2007) Characterizing dissolved Cu and Cd uptake in terms of the biotic ligand and biodynamics using enriched stable isotopes. Environ Sci Technol 41:3150–3145

Diegoli S, Manciulea AL et al (2008) Interaction between manufactured gold nano-particles and naturally occurring organic macromolecules. Sci Total Environ 402:51–61

Feiyue W, Goulet RR, Chapman PM (2004) Testing sediment biological effects with the freshwater amphipod Hyalella azteca. Chemosphere 57:1713–1724

Ferry J, Craig P et al (2009) Transfer of gold nano-particles from the water column to the estuarine food web. Nat Nanotechnol 4:441–444

Gaiser BK et al (2011) Effects of silver and cerium dioxide micro- and nano-sized particles on Daphnia magna. J Environ Monit 13:1227–1235

Galloway T, Lewis C et al (2010) Sublethal toxicity of nano-titanium dioxide and carbon nanotubes in a sediment dwelling marine polychaete. Environ Pollut 158:1748–1755

Garcia-Cambero JP, Garcia MN et al (2013) Converging hazard assessment of gold nano-particles to aquatic organisms. Chemosphere 93:1194–1200

Glenn JB, White SA, Klaine SJ (2012) Interactions of gold nano-particles with freshwater aquatic macrophytes are size and species dependent. Environ Toxicol Chem 31:194–201

Griffit RJ, Brown-Peterson NJ et al (2011) Effects of chronic nanoparticulate silver exposure to adult and juvenile sheepshead minnows. Environ Toxicol Chem 31:160–167

Handy RD, Cornelis G et al (2012) Ecotoxicity test methods for engineered nanomaterials: practical experiences and recommendations from the bench. Environ Toxicol Chem 31:15–31

Hull MS, Chaurand P et al (2011) Filter-feeding bivalves store and biodeposit colloidally stable gold nano-particles. Environ Sci Technol 45:6592–6599

Hyung H, Fortner HD, Hughes JB, Kim JH (2006) Natural organic matter stabilizes carbon nanotubes in the aqueous phase. Environ Sci Technol 41:179–184

Joubert Y, Pan JF et al (2013) Subcellular localization of gold nano-particles in the estuarine bivalve Scobicularia plana after exposure through the water. Gold Bull 10:1007

Kimling J, Maier M et al (2006) Turkevich method for gold nanoparticle synthesis revisited. J Phys Chem B 110:15700–15707

Kulacki KJ, Cardinale BJ et al (2012) How do stream organisms respond to, and influence, the concentration of TiO2 nanoparticle? Environ Toxicol Chem 31:2414–2422

Manusadzianas L, Caillet C et al (2012) Toxicity of copper oxide nanoparticle suspensions to aquatic biota. Environ Toxicol Chem 31:108–114

McLaughlin J and Bonzongo JC (2012) Effects of natural water chemistry on nanosilver behavior and toxicity to C. dubia and P. subcapitata Environ Toxicol Chem 31:168–75.

Mwangi JN, Wang N et al (2012) Toxicity of carbon nanotubes to freshwater aquatic invertebrates. Environ Toxicol Chem 31:1823–1830

Nason J, McDowell S, Callahan T (2012) Effects of natural organic matter type and concentration on the aggregation of citrate-stabilized AuNP. J Environ Monit 14:1885

Neumann P, Borgmann U, Norwood W (1999) Effect of gut clearance on metal body concentrations in Hyalella azteca. Environ Toxicol Chem 18:976–984

Norwood WP, Borgmann U, Dixon DG (2007) Chronic toxicity of arsenic, cobalt, chromium and manganese to Hyalella azteca in relation to exposure and bioaccumulation. Environ Pollut 147:262–272

Pan JF, Buffet PE et al (2012) Size dependent bioaccumulation and ecotoxicity of gold nano-particles in an endobenthic invertebrate. Environ Pollut 168:37–43

Park S, Woodhall J et al (2015) Do particle size and surface functionality affect uptake and depuration of AuNP by aquatic invertebrates? Environ Toxicol Chem 34:850–859

Parks A, Portis L et al (2013) Bioaccumulation and toxicity of single walled carbon nanotubes (SWNT) to benthic organisms at the base of the marine food chain. Environ Toxicol Chem 32:1270–1277

Petersen EJ, Huang Q, Weber WJ Jr (2008) Ecological uptake and depuration of carbon nanotubes by Lumbriculus variegatus. Environ Health Perspect 116:496–500

Petersen EJ, Akkanen J, Kukkonen JV, Weber WJ (2009) Biological uptake and depuration of carbon nanotubes by Daphnia magna. Environ Sci Technol 43:2969–2975

Petosa AR, Jaisi DP et al (2010) Aggregation and deposition of nanomaterials in aquatic environments: role of physicochemical interactions. Environ Sci Technol 44:6532–6549

Renault S, Baudrimont M et al (2008) Impacts of gold nanoparticle exposure on two freshwater species: a phytoplanktonic alga and a benthic bivalve. Gold Bull 41:116–126

Rogevich EC, Hoang TC, Rand GM (2008) Influence of water quality and organisms age on copper toxicity to the Florida Apple snail. Arch Env Con Tech 54:690–696

Sabater S, Guasch H et al (2007) Monitoring the effect of chemicals on biological communities. The biofilm as an interface. Anal Bioann Chem 387:1425–1434

Schaumann GE et al (2015) Understanding fate and biological effects of Ag- and TiO2-NP in the environment. Sci Total Environ 535:3–19

Skjolding LM, Kern K et al (2014) Uptake and depuration of gold nano-particles in Daphnia magna. Ecotoxicology 23:1172–1183

Tourinho PS, van Gestel C et al (2012) Metal-based nano-particles in soil: fate, behavior, and effects on soil invertebrates. Environ Toxicol Chem 31:1679–1692

United States National Research Council (2012) Summary: committee to develop a research strategy for environmental, health, and safety aspects of engineered nanomaterials. National Academies Press

Unrine JM, Shoults-Wilson WA et al (2012) Trophic transfer of Au nano-particles from soil along a simulated terrestrial food chain. Environ Sci Technol 46:9753–9760

US EPA (1996) Method 3050B: Acid Digestion of Sediments, Sludges, and Soils. Revision 2.

US EPA (2000) Methods for measuring the toxicity and bioaccumulation of sediment-associated contaminants with freshwater invertebrates. Second Edition.

Wang Z, Quik JTK et al (2018) Dissipative particle dynamic simulation and assessment of impacts of humic substances on aggregation of NP. Environ Toxicol Chem 37:1024–1031

Werlin R, Priester JH et al (2011) Biomagnification of cadmium selenide quantum dots in a simple experimental microbial food chain. Nat Nanotechnol 6:65–71

Wray AT, Klaine SJ (2015) Modeling the influence of physiochemical properties on AuNP uptake and elimination by Daphnia magna. Environ Toxicol Chem 34:860–872
Acknowledgements
This study was supported with funding from the U.S. Environmental Protection Agency STAR grant G2007-STAR-R2. We appreciate the support of Steve Klaine and his laboratory personnel at Clemson University. This paper is dedicated to the memory of Steve.
Electronic supplementary material
Below is the link to the electronic supplementary material.
About this article
Cite this article
Hudson, M.L., Costello, D.M., Daley, J.M. et al. Species-Specific (Hyalella azteca and Lymnea stagnalis) Dietary Accumulation of Gold Nano-particles Associated with Periphyton. Bull Environ Contam Toxicol 103, 255–260 (2019). https://doi.org/10.1007/s00128-019-02620-2
Received:

Accepted:

Published:

Issue Date:
Keywords
Gold nano-particles

Uptake

Hyalella azteca
Lymnea stagnalis

Toxicity

Accumulation