Abstract
Methylmercury (MeHg) is a widespread pollutant in aquatic ecosystems, but its toxicity to the early life stages of marine fish has not been adequately investigated. This study used acute toxicity tests on embryonic-larval stages of a marine flounder Paralichthys olivaceus to determine the LC50 values for embryos and larvae and evaluate the responses of several biological endpoints to subacute MeHg exposure. Under exposures (0–15 μg L−1) below LC50 values ( < 15.3 μg L−1 for embryos and 16.3 μg L−1 for larvae), embryos were more sensitive to MeHg than were the larvae. MeHg exposures at ≥ 13 μg L−1 increased morphological deformities and mortality, reduced growth and yolk absorption rate of the embryonic-larval flounder. These endpoints were sensitive to MeHg and their responses were dose-dependent. They could be used as bioindicators for assessing MeHg toxicity to the ELS of the flounder. Embryonic-larval flounder could be a useful fish for ecotoxicological assessment of MeHg in marine ecosystems.
Access options
Buy single article
Instant access to the full article PDF.
USD 39.95
Price includes VAT (USA)
Tax calculation will be finalised during checkout.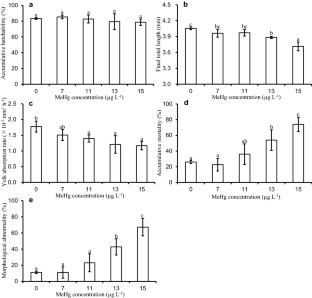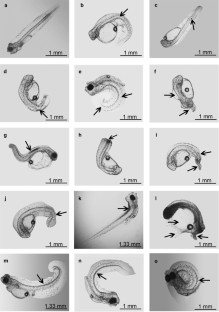 References
Berntssen MHG, Aatland A, Handy RD (2003) Chronic dietary mercury exposure causes oxidative stress, brain lesions, and altered behaviour in Atlantic salmon (Salmo salar) parr. Aquat Toxicol 65:55–72

Cambero JPG, Calvo AC (2010) Lethal and sublethal effects of methylmercury to zebrafish embryos. Toxicol Lett 196:S118

Cambier S, Conzalez P, Mesmer-Dudons N, Brèthes D, Fujimura M, Bourdineaud J (2012) Effects of dietary methylmercury on the zebrafish brain: histological, mitochondrial, and gene transcription analyses. Biometals 25:165–180

Cao L (2010) Toxic effects of cadmium and copper to early life stages of flounder (Paralichthys olivaceus). Ph D. dissertation, Institute of Oceanology, Chinese Academy of Sciences

Cuello S, Ximénez-Embún P, Ruppen I, Schonthaler HB, Ashman K, Madrid Y, Luque-Garcia JL, Cámara C (2012) Analysis of protein expression in developmental toxicity induced by MeHg in zebrafish. Analyst 137:5302–5311

Devlin EW (2006) Acute toxicity, uptake and histopathology of aqueous methyl mercury to fathead minnow embryos. Ecotoxicology 15:97–110

Dong W, Liu J, Wei LX, Jingfeng Y, Chernick M, Hinton DE (2016) Developmental toxicity from exposure to various forms of mercury compounds in medaka fish (Oryzias latipes) embryos. Peerj 4:e2282

Finney DJ (1971) Probit analysis. Cambridge University Press, London

Friedmann AS, Watzin MC, Brinck-Johnsen T, Leiter JS (1996) Low levels of dietary methylmercury inhibit growth and gonadal development in juvenile walleye (Stizostedion vitreum). Aquat Toxicol 35:265–278

Hammerschmidt CR, Sandheinrich MB, Wiener JG, Rada RG (2002) Effects of dietary methylmercury on reproduction of fathead minnows. Environ Sci Technol 36:877–883

Hassan SA, Moussa EA, Abbott LC (2012) The effect of methylmercury exposure on early central nervous system development in the zebrafish (Danio rerio) embryo. J Appl Toxicol 32:707–713

Houck A, Cech JJ (2004) Effects of dietary methylmercury on juvenile Sacramento blackfish bioenergetics. Aquat Toxicol 69:107–123

Huang W (2010) Toxic effects of mercury, lead and zinc on early life stages of flounder (Paralichthys olivaceus). Ph. D. dissertation, Institute of Oceanology, Chinese Academy of Sciences

Jewett SC, Zhang X, Naidu AS, Kelley JJ, Dasher D, Duffy LK (2003) Comparison of mercury and methylmercury in northern pike and Artic grayling from western Alaska rivers. Chemosphere 50:383–392

Jezierska B, Ługowska K, Witeska M (2009) The effects of heavy metals on embryonic development of fish (a review). Fish Physiol Biochem 35:625–640

Khan AT, Weis JS (1987) Effect of methylmercury on egg and juvenile viability in two populations of killifish Fundulus heteroclitus. Environ Res 44:272–278

Latif MA, Bodaly RA, Johnston TA, Fudge RJP (2001) Effects of environmental and maternally derived methylmercury on the embryonic and larval stages of walleye (Stizostedion vitreum). Environ Pollut 111:139–148

Lee JW, De Riu N, Lee S, Bai SC, Moniello G, Hung SS (2011) Effects of dietary methylmercury on growth performance and tissue burden in juvenile green (Acipenser medirostris) and white sturgeon (A. transmontanus). Aquat Toxicol 105:227–234

Mallatt J, Barron MG, McDonough C (1986) Acute toxicity of methyl mercury to the larval lamprey, Petromyzon marinus. Bull Environ Contam Toxicol 37:281–288

Matida Y, Kumada H, Kimura S, Saiga Y, Nose T (1971) Toxicity of mercury compounds to aquatic organisms and accumulation of the compounds by the organisms. Bull Freshw Fish Res Lab 21:197–205

NRC (2005) Mineral tolerance of animals. National Academy Press, Washington, DC

OECD 1998 Fish, short term toxicity test on embryo and sac-fry stages OECD Guidelines for the Testing of Chemicals Paris

Oliva M, Garrido MDC, Perez E, De Canales MLG (2007) Evaluation of acute copper toxicity during early life stages of gilthead seabream, Sparus aurata. J Environ Sci Health A 42:525–533

Roales RR, Perlmutter A (1974) Toxicity of methylmercury and copper, applied singly and jointly, to the blue gourami, Trichogaster trichopterus. Bull Environ Contam Toxicol 12:633–639

Samson JC, Shenker J (2000) The teratogenic effects of methylmercury on early development of the zebrafish, Danio rerio. Aquat Toxicol 48:343–354

Sharp JR, Neff JM (1982) The toxicity of mercuric chloride and methylmercuric chloride to Fundulus heteroclitus embryos in relation to exposure conditions. Environ Biol Fish 7:277–284

Standardization Administration of China, . Laboratory animal-Guideline for ethical review of animal welfare. General Administration of Quality Supervision, Inspection and Quarantine, and Standardization Administration of China, Beijing, China. (in Chinese)

Stefansson ES, Heyes A, Rowe CL (2013) Accumulation of dietary methylmercury and effects on growth and survival in two estuarine forage fish: Cyprinodon variegatus and Menidia beryllina. Environ Toxicol Chem 32:848–856

Witeska M, Sarnowski P, Ługowska K, Kowal E (2014) The effects of cadmium and copper on embryonic and larval development of ide Leuciscus idus L. Fish Physiol Biochem 40:151–163

Wobeser G (1975) Acute toxicity of methyl mercury chloride and mercuric chloride for rainbow trout (Salmo gairdneri) fry and fingerlings. J Fish Res Board Can 32:2005–2013

Zhou T, Scali R, Weis JS (2001) Effects of methylmercury on ontogeny of prey capture ability and growth in three populations of larval Fundulus heteroclitus. Arch Environ Contam Toxicol 41:47–54
Acknowledgements
This study was financially supported by the National Key Basic Research Program (No. 2015CB453302) and the National Natural Science Foundation of China (No. 41406176). We thank Prof. X.M. Liang of the Yellow Sea Fishery Station for providing the flounder eggs for this study.
Electronic supplementary material
Below is the link to the electronic supplementary material.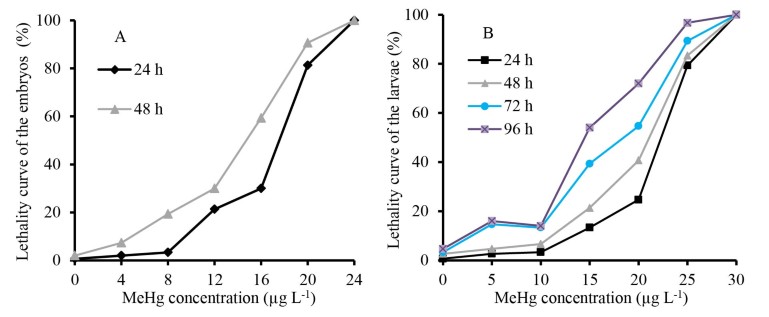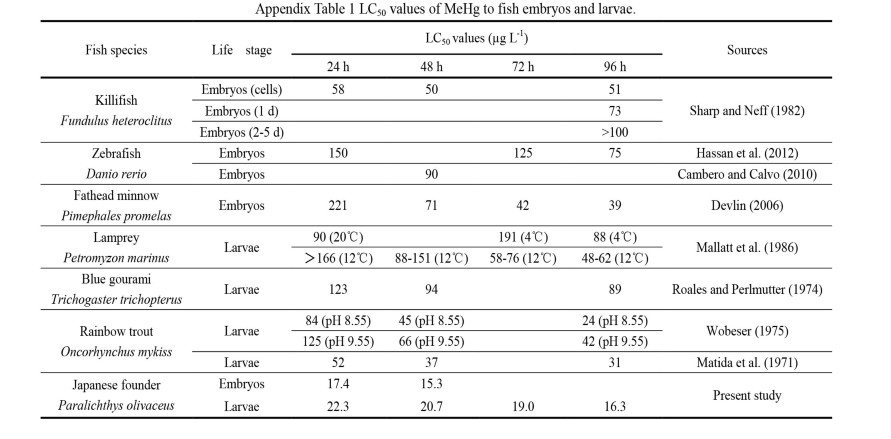 About this article
Cite this article
Ren, Z., Cao, L., Huang, W. et al. Toxicity Test Assay of Waterborne Methylmercury on the Japanese Flounder (Paralichthys olivaceus) at Embryonic-Larval Stages. Bull Environ Contam Toxicol 102, 770–777 (2019). https://doi.org/10.1007/s00128-019-02619-9
Received:

Accepted:

Published:

Issue Date:
Keywords
MeHg

Early life stages

Hatchability

Growth and morphological deformity

Bioindicators