Abstract
When Europeans arrived in America, the Brazilian Atlantic rainforest covered approximately 1,290,000 km2. Now, only 8% of the biome's original vegetation remains. One of the largest areas is Tijuca Forest National Park. In this work, the concentrations of 13 carbonyl compounds in an isolated area inside Tijuca Forest, in an urban park with primary and secondary vegetation (Gericinó Natural Park) and in two typical urban areas (Tijuca District and the city of Nilópolis) were determined. The main compounds were formaldehyde and acetaldehyde. The formaldehyde mean concentrations were 0.98 ± 1.00, 1.27 ± 1.67, 3.09 ± 1.60 and 2.33 ± 2.17 μg m−3 for Tijuca Forest, Gericinó Natural Park, Tijuca District and the city of Nilópolis, respectively. The mean acetaldehyde concentrations were, for the same locations, 0.93 ± 1.05, 2.94 ± 2.54, 2.78 ± 0.91 and 5.48 ± 1.90 μg m−3. The results indicate that the compounds measured within the forest are transported from the city and that the trees play an important role in removing air pollutants. In contrast, the Gericinó protected area is heavily affected by urban emissions, and its capacity to dilute or absorb pollutants is low because of the sparse vegetation.
Access options
Buy single article
Instant access to the full article PDF.
USD 39.95
Price includes VAT (USA)
Tax calculation will be finalised during checkout.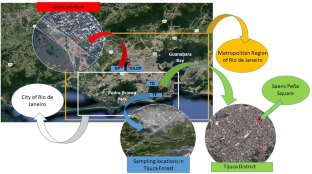 References
Artaxo P, Gatti LV, Leal AMC, Longo KM, Freitas SR, Lara LL, Pauliquevis TM, Procópio AS, Rizzo L (2005) Atmospheric chemistry in Amazonia: the forest and the biomass burning emissions controlling the composition of the Amazonian atmosphere. Acta Amazon 35:185–196

Bellard C, Leclerc C, Leroy B, Bakkenes M, Veloz S, Thuiller W, Courchamp F (2014) Vulnerability of biodiversity hotspots to global change. Glob Ecol Biogeogr 23:1376–1386

Brickus LSR, Cardoso JN, de Aquino Neto FR (1998) Distribution of indoor and outdoor air pollutants in Rio de Janeiro, Brazil: implications to indoor air quality in bayside offices. Environ Sci Technol 32:3485–3490

Campos ICB, Pimentel AS, Corrêa SM, Arbilla G (1999) Simulation of air pollution from mobile source emissions in the city of Rio de Janeiro. J Braz Chem Soc 10:203–208

Correa SM, Arbilla G (2008) Carbonyl emissions in diesel and biodiesel exhaust. Atmos Environ 42:769–775

Correa SM, Arbilla G, Martins EM, Quitério SL, Guimarães CS, Gatti LV (2010) Five years of formaldehyde and acetaaldehyde monitoring in the Rio de Janeiro downtown area – Brazil. Atmos Environ 44:2302–2308

Custodio D, Guimarães CS, Varandas L, Arbilla G (2010) Pattern of volatile aldehydes and aromatic hydrocarbons in the largest urban rainforest in the Americas. Chemosphere 79:1064–1069

de Almeida Azevedo D, Moreira LS, de Siquiera DS (1999) Composition of extractable organic matter in aerosols from urban areas of Rio de Janeiro city, Brazil. Atmos Environ 33:4987–5001

Grosjean D, Miguel AH, Tavares TM (1990) Urban air pollution in Brazil: acetaldheyde and other carbonyls. Atmos Environ 24B:101–106

Hockelmann C, Juttner F (2004) Volatile organic compound (VOC) analysis and sources of limonene, cyclohexanone and straight chain aldehydes in axenic cultures of Calothrix and Plectonema. Water Sci Technol 49:47–54

IBGE (2018) Brasil, Rio de Janeiro. http://cidades.ibge.gov.br/xtras/perfil.php?codmun=330455. Accessed 30 Dec 2018

Kesselmeier J, Staudt M (1999) Biogenic volatile organic compounds (VOC): an overview on emission, physiology and ecology. J Atmos Chem 33:23–88

Kesselmeier J, Kuhn U, Wolf A, Andreae MO, Ciccioli P, Brancaleoni E, Frattoni M, Guenther A, Greenberg J, de Castro Vasconcelos P, Oliva T, Artaxo P (2000) Atmospheric volatile organic compounds (VOC) at a remote tropical forest site in central Amazonia. Atmos Environ 34:4063–4072

Lipari F, Dasch JM, Scruggs WF (1984) Aldehyde emissions from wood-burning fireplaces. Environ Sci Technol 18:326–330

Nowak DJ, Hirabayashi S, Ellis E, Greenfield EJ (2014) Tree and forest effects on air quality and human health in the United States. Environ Pollut 193:119–129

Nowak DJ, Hirabayashib S, Doylec M, McGovernc M, Pasher J (2018) Air pollution removal by urban forests in Canada and its effect on air quality and human health. Urban For Urban Green 29:40–48

Oliveira RL, Custódio DJ, de Rainho CR, Morais E, Felzenszwalb I, Corrêa SM, Azevedo DA, Arbilla G (2018) Polycyclic aromatic hydrocarbon patterns in the city of Rio de Janeiro. Air Qual Atmos Health 11:581–590

Pimentel AS, Arbilla G (1997) Simulação da química da atmosfera poluída por automóveis movidos a álcool. Quim Nova 20:252–260

R (2019). https://www.R-project.org/. Accessed 22 Mar 2019

Rio (2018) Governo do Rio de Janeiro. Câmara Metropolitana. http://www.rj.gov.br/web/guest/exibeconteudo;jsessionid = C651B40DE0F6A464C15953E127A8AC27.lportal2?p_p_id = exibeconteudo_INSTANCE_2wXQ&p_p_lifecycle = 0&refererPlid = 11702&_exibeconteudo_INSTANCE_2wXQ_struts_action = %2Fext%2Fexibeconteudo%2Frss&_exibeconteudo_INSTANCE_2wXQ_groupId = 103138&_exibeconteudo_INSTANCE_2wXQ_articleId = 3730492. Accessed 30 Dec 2018

Scarano FR (2014) The Atlantic Forest: history that looks to the future. Conservação Internacional, Rio de Janeiro

Scarano FR, Ceotto P (2015) Brazilian Atlantic Forest: impact, vulnerability, and adaptation to climate change. Biodivers Conserv 24:2319–2331

Silva CM, da Silva LL, Corrêa SM, Arbilla G (2016a) Kinetic and mechanistic reactivity. Isoprene impact on ozone levels in an urban area near Tijuca Forest, Rio de Janeiro. Bull Environ Contam Toxicol 97:781–785

Silva CM, da Silva LL, Souza ECCA, Oliveira RL, Corrêa SM, Arbilla G (2016b) Volatile organic compounds in the atmosphere of the botanical garden of the city of Rio de Janeiro. Bull Environ Contam Toxicol 97:653–658

Silva CM, Corrêa SM, Arbilla G (2018) Isoprene emissions and ozone formation in urban conditions: a case study in the city of Rio de Janeiro. Bull Environ Contam Toxicol 100:184–188

Tanner RL, Miguel AH, de Andrade JB, Gaffney JS, Streit GE (1988) Atmospheric chemistry of aldheydes: enhanced peroxyacetyl nitrate formation from ethanol-fueled vehicular emissions. Environ Sci Technol 22:1026–1034

Toxnet (2019a). Toxicology Data Network. Pentanal. https://toxnet.nlm.nih.gov/cgi-bin/sis/search/a?dbs+hsdb:@term+@DOCNO+851. Accessed 30 Jan 2019

Toxnet (2019b). Toxicology Data Network. 4-Methylbenzaldheyde. https://toxnet.nlm.nih.gov/cgi-bin/sis/search/a?dbs+hsdb:@term+@DOCNO+5361. Accessed 30 Jan 2019

US EPA (1999) Compendium Method TO-11A. https://www3.epa.gov/ttnamti1/files/ambient/airtox/to-11ar.pdf. Accessed 30 Dec 2018

Yañes-Serrano AM, Nolscher AC, Bourtsoukidis E, Derstroff B, Zannoni N, Gros V, Lanza M, Brito J, Noe SM, House E, Hewitt CN, Langford B, Nemitz E, Behrendt T, Williams J, Artaxo P, Andreae MO, Kesselmeier J (2016) Atmospheric mixing ratios of methyl ethyl ketone (2-butanone) in tropical, boreal, temperate and marine environments. Atmos Chem Phys 16:10965–10984

Yu Y, Wen S, Lu H, Feng Y, Wang X, Sheng G, Fu J (2008) Characteristics of atmospheric carbonyls and VOCs in forest park in South China. Environ Monit Assess 137:275–285
Acknowledgements
The study was funded in part by FAPERJ, CNPq and CAPES. The authors also acknowledge the collaboration of the staff of Tijuca National Park and Gericinó Park.
About this article
Cite this article
Braga, A.L., Siciliano, B., Dantas, G. et al. Levels of Volatile Carbonyl Compounds in the Atlantic Rainforest, in the City of Rio de Janeiro. Bull Environ Contam Toxicol 102, 757–762 (2019). https://doi.org/10.1007/s00128-019-02615-z
Received:

Accepted:

Published:

Issue Date:
Keywords
Tijuca Forest

Atlantic Forest

Carbonyl compounds

Air pollution