Abstract
Isopods of the genus Ligia are deemed as excellent pollution monitoring organisms for coastal zones. A species of Ligia cinerascens was chosen to be tested, which was collected from three coastal zones in Dalian, China. The concentrations of metals followed the order of Cu>As ≈ Cd>Pb. Ligia collected from a municipal sewage outlet in Heishijiao showed the highest level of metals. Ligia from a natural bathing beach in Changshan Island showed the lowest level of metals as expected. Ligia grown in the same site could accumulate different levels of metals due to their different body weight. Both males and females conformably accumulated heavy metals in bodies. Taken together, this work suggests that L. cinerascens can serve as a biomonitor species. Within the range of 0.3–0.9 g body weights, body weight rather than gender should be taken into account as a factor in the process of environmental biomonitoring.
Access options
Buy single article
Instant access to the full article PDF.
USD 39.95
Price includes VAT (USA)
Tax calculation will be finalised during checkout.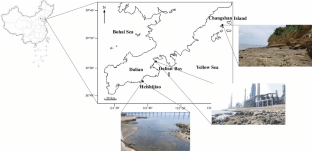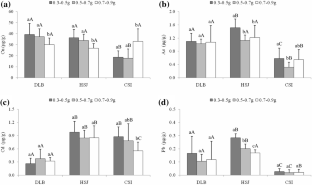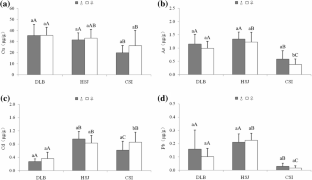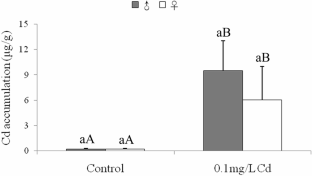 References
Fisher NS, Stupakoff I, Saudo-Wilhelmy S, Wang WX, Teyssié JL, Fowler SW, Crusius J (2000) Trace metals in marine copepods: a field tests of a bioaccumulation model coupled to laboratory uptake kinetics data. Mar Ecol Prog Ser 194:211–218

Furota T, Ito T (1999) Life cycle and environmentally induced semelparity in the shore Isopod Ligia cinerascens (Ligiidae) on a cobble shore along Tokyo Bay, central Japan. J Crustacean Biol 19(4):752–761

Gallagherb FJ, Rodriguez-Saonac C, Holzapfel C, Wadhwaa S (2017) Exposure to heavy metal stress does not increase fluctuating asymmetry in populations of isopod and hardwood trees. Ecol Indic 76:42–51

García-Hernández J, Hurtado LA, Leyva-García G, Güido-Moreno A, Aguilera-Márquez D, Mazzei V, Ferrante M (2015) Isopods of the genus Ligia as potential biomonitors of trace metals from the gulf of California and pacific coast of the Baja California peninsula. Ecotoxicol Environ Saf 112:177–185

Honda M, Qiu X, Koyama J, Uno S, Undap SL, Shimasaki Y, Oshima Y (2018) The wharf roach, Ligia sp., a novel indicator of polycyclic aromatic hydrocarbon contamination in coastal areas. Int J Environ Res 12:1–11

Huang P, Li TG, Li AC, Yu XK, Hu NJ (2014) Distribution, enrichment and sources of heavy metals in surface sediments of the North Yellow Sea. Cont Shelf Res 73:1–13

Hurtado LA, Mateos M, Santamaria CA (2010) Phylogeography of supralittoral rocky intertidal Ligia isopods in the Pacific region from Central California to Central Mexico. PLoS ONE 5(7):e11633

Kalaji-Pirbalouty V, Wägele JW (2010) Two new species of Ligia Fabricius, 1798 (Crustacea: Isopoda: Ligiidae) from coasts of the Persian and Aden gulfs. Org Divers Evol 10:135–145

Longo G, Trovato M, Mazzei V, Ferrante M, Conti GO (2013) Ligia italica (Isopoda, Oniscidea) as bioindicator of mercury pollution of marine rocky coasts. PLoS ONE 8(3):e58548

Qiu X, Undap SL, Honda M, Sekiguchi T, Suzuki N, Shimasaki Y, Ando H, Sato-Okoshi W, Wada T, Sunobe T, Takeda S, Munehara H, Yokoyama H, Momoshima N, Oshima Y (2017) Pollution of radiocesium and radiosilver in wharf roach (Ligia sp.) by the Fukushima Dai-ichi Nuclear Power Plant accident. J Radioanal Nucl Chem 311:121–126

Santamaria CA, Mateos M, Taiti S, DeWitt TJ, Hurtado LA (2013) A complex evolutionary history in a Remote Archipelago: phylogeography and Morphometrics of the Hawaiian Endemic Ligia Isopods. PLoS ONE 8(12):e85199

Schmalfuss H (2003) World catalog of terrestrial isopods (Isopoda: Oniscidea). Staatliches Museum für Naturkunde 654:1–341

Taiti S, Amedo MA, Lew SE, Rodericket GK (2003) Evolution of terrestriality in Hawaiian species of the genus Ligia (Isopoda, Oniscidea). Crustaceana Monogr 2:85–102

Taiti S, Ferrara F (2004) The terrestrial Isopoda (Crustacea: Oniscidea) of the Socotra Archipelago. Fauna Arab 20:211–326

Tsuge M (2008) A new species of the genus Ligia (Crustacea: Isopoda: Ligiidae) from the Lake Shinji (Shimane Prefecture), western Japan. Bull Toyama Sci Mus 31:51

Undap SL, Matsunaga S, Honda M, Sekiguchi T, Suzuki N, Khalil F, Qiu X, Shimasaki Y, Ando H, Sato-Okoshi W, Sunobe T, Takeda S, Munehara H, Oshima Y (2013) Accumulation of organotins in wharf roach (Ligia exotica Roux) and its ability to serve as a biomonitoring species for coastal pollution. Ecotoxicol Environ Saf 96:75–79

Wang Y, Li Z (2010) Current situation and assessment of heavy metal contents in benthos in Dalian bay. Environ Sci Manage 35(12):158–159

Xiao C, Jian H, Chen L, Liu C, Gao H, Zhang C, Liang S, Li Y (2017) Toxic metal pollution in the Yellow Sea and Bohai Sea, China: distribution, controlling factors and potential risk. Mar Pollut Bull 119:381–389

Yamanishi R (2011) Morphological characters of Ligia cinerascens Budde-Lund, 1885 (Crustacea: Isopoda: Ligiidae) newly recorded from Osaka Bay, the inland sea of Japan, compared with those of from Hokkaido and of L. exotica Roux, 1828 from Osaka Bay. Bull Osaka Mus Nat Hist 65:1–8

Yu X, Zhang W, Liu X, Lei J, Lin Z, Yao Z, Yao X, Jin X, Yang H, Huang H (2018) The distribution of and biodegradation impact on spilled oil in sediments from Dalian Bay, NE China. Mar Pollut Bull 135:1007–1015

Zhang P, Sun J, Wang S, He D, Zhao L (2016) Influences of desiccation, submergence, and salinity change on survival of Ligia cinerascens (Crustacea, Isopoda): high potential implication for inland migration and colonization. Hydrobiologia 772(1):277–285

Zhao L, Yang F, Yan X, Huo Z, Zhang G (2012) Heavy metal concentrations in surface sediments and manila clams (Ruditapes philippinarum) from the Dalian coast, China after the Dalian port oil spill. Biol Trace Elem Res 149(2):241–247

Zhao L, Huang Z, Sun J, Zhang P (2018) Morphological analysis of Ligia cinerascens on the Heishijiao Gulf in Dalian. J Biol 35(4):58–61
Acknowledgements
This study is supported by the Key Laboratory for Ecological Environment in Coastal Areas, State Oceanic Administration (No. 201803) and also by the Youth Project of Department of Education of Liaoning Province (No. 50091720101).
About this article
Cite this article
Sun, J., Liu, S., Yan, Z. et al. Influence of Body Weight and Gender on the Accumulation of Heavy Metals in Ligia cinerascens Based on Field Investigation and Cd Exposure Experiment. Bull Environ Contam Toxicol 102, 811–816 (2019). https://doi.org/10.1007/s00128-019-02607-z
Received:

Accepted:

Published:

Issue Date:
Keywords
Ligia cinerascens

Heavy metals

Biomonitor

Body weight

Gender