Abstract
The aim of this study was to assess – for the first time – the occurrence and distribution of microplastics (MPs) in the gastrointestinal tracts (GITs) of a marine commercial fish species (Micropogonias furnieri) from the Bahía Blanca Estuary (BBE) in Argentina, and to evaluate fish potential associated stress. In order to do this, juveniles were sampled using artisanal fishing arts at two sampling locations. Basic measurements of individual fish were taken (total length, total weight, weight of the liver) and GITs were subsequently removed, digested with 30% H2O2 for 5 days at 60°C, filtered on Whatman paper and then dried. Samples were observed with a stereomicroscope, and it was demonstrated that 100% of the individuals contained microplastic particles in their GITs. In total, 241 microplastic particles were removed from the GITs of all fish. They were categorized as fibers (60.8%), pellets (28.9%), fragments (8.6%) and laminas (1.4%), and they ranged in size from 0.98 to > 5 mm. The average number of particles per fish was higher than that reported in previous global marine studies. Moreover, a positive correlation between the number of MPs per fish and hepatosomatic index was found, suggesting a probable stress in their health condition. These findings provide the first and southernmost evidence of microplastic contamination in biota from the Argentinean sea, which is found in the South Atlantic sea.
Access options
Buy single article
Instant access to the full article PDF.
USD 39.95
Price includes VAT (USA)
Tax calculation will be finalised during checkout.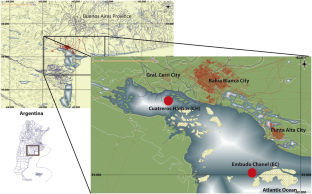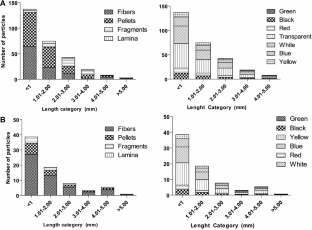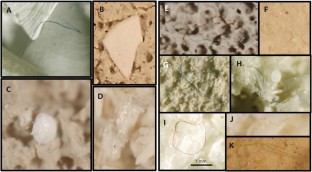 References
Abbasi S, Soltani N, Keshavarzi B, Moore F, Turner A, Hassanaghaei M (2018) Microplastics in different tissues of fish and prawn from the Musa estuary, Persian Gulf. Chemosphere 205:80–87

Akhbarizadeh R, Moore F, Keshavarzi B (2018) Investigating a probable relationship between microplastics and potentially toxic elements in fish muscles from northeast of Persian Gulf. Environ Pollut 232:154–163

Andrady AL (2011) Microplastics in the marine environment. Mar Pollut Bull 62(8):1596–1605

Arias AH, Spetter CV, Freije RH, Marcovecchio JE (2009) Polycyclic aromatic hydrocarbons in water, mussels (Brachidontes sp., Tagelus sp.) and fish (Odontesthes sp.) from Bahía Blanca Estuary, Argentina. Estuar Coast Shelf Sci 85(1):67–81

Arias AH, Vazquez-Botello A, Tombesi N, Ponce-Vélez G, Freije H, Marcovecchio J (2010) Presence, distribution, and origins of polycyclic aromatic hydrocarbons (PAHs) in sediments from Bahía Blanca Estuary. Argentina. Environ Monit Assess 160(1–4):301

Arias AH, Pereyra MT, Marcovecchio JE (2011) Multi-year monitoring of estuarine sediments as ultimate sink for DDT, HCH, and other organochlorinated pesticides in Argentina. Environ Monit Assess 172(1–4):17–32

Arias AH, Piccolo MC, Spetter CV, Freije RH, Marcovecchio JE (2012) Lessons from multi-decadal oceanographic monitoring at an estuarine ecosystem in Argentina. Int J Environ Res 6(1):219–234

Avio CG, Gorbi S, Regoli F (2015) Experimental development of a new protocol for extraction and characterization of microplastics in fish tissues: first observations in commercial species from Adriatic sea. Mar Environ Res 111:18–26

Bellas J, Martínez-Armental J, Martínez-Cámara A, Besada V, Martínez-Gómez C (2016) Ingestion of microplastics by demersal fish from the Spanish Atlantic and Mediterranean coasts. Mar Pollut Bull 109(1):55–60

Bessa F, Barría P, Neto JM, Frias JP, Otero V, Sobral P, Marques JC (2018) Occurrence of microplastics in commercial fish from a natural estuarine environment. Mar Pollut Bull 128:575–584

Browne MA, Crump P, Niven SJ, Teuten E, Tonkin A, Galloway T, Thompson R (2011) Accumulation of microplastic on shorelines woldwide: sources and sinks. Environ Sci Technol 45(21):9175–9179

Cifuentes R, González J, Montoya G, Jara A, Ortíz N, Piedra P, Habit E (2012) Relación longitud-peso y factor de condición de los peces nativos del río San Pedro (cuenca del río Valdivia, Chile). Gayana (Concepción) 76:86–100

Collard F, Gilbert B, Compère P, Eppe G, Das K, Jauniaux T, Parmentier E (2017) Microplastics in livers of European anchovies (Engraulis encrasicolus, L.). Environ Pollut 229:1000–1005

Costa MRD, Araújo FG (2003) Length-weight relationship and condition factor of Micropogonias furnieri (Desmarest)(Perciformes, Sciaenidae) in the Sepetiba Bay, Rio de Janeiro state. Brazil. Rev Bras Zoologia 20(4):685–690

Costanza R, d'Arge R, De Groot R, Farber S, Grasso M, Hannon B, Raskin RG (1997) The value of the world's ecosystem services and natural capital. Nature 387(6630):253

Craig SR, MacKenzie DS, Jones G, Gatlin DM III (2000) Seasonal changes in the reproductive condition and body composition of free-ranging red drum, Sciaenops ocellatus. Aquaculture 190(1–2):89–102

Farrell P, Nelson K (2013) Trophic level transfer of microplastic: Mytilus edulis (L.) to Carcinus maenas (L.). Environ Pollut 177:1–3

Foekema EM, De Gruijter C, Mergia MT, Van Franeker JA, Murk AJ, Koelmans AA (2013) Plastic in north sea fish. Environ Sci Technol 47(15):8818–8824

Frias JPGL, Otero V, Sobral P (2014) Evidence of microplastics in samples of zooplankton from Portuguese coastal waters. Mar Environ Res 95:89–95

Goede RW, Barton BA (1990) Biological indicators of stress in fish. Am Fish Soc Symp 8:93–108

Jabeen K, Su L, Li J, Yang D, Tong C, Mu J, Shi H (2017) Microplastics and mesoplastics in fish from coastal and fresh waters of China. Environ Pollut 221:141–149

Koelmans AA, Bakir A, Burton GA, Janssen CR (2016) Microplastic as a vector for chemicals in the aquatic environment: critical review and model-supported reinterpretation of empirical studies. Environ Sci Technol 50(7):3315–3326

La Colla NS, Botté SE, Oliva AL, Marcovecchio JE (2017) Tracing Cr, Pb, Fe and Mn occurrence in the Bahía Blanca Estuary through commercial fish species. Chemosphere 175:286–293

Limbozzi F, Leitao TE (2008) Characterization of Bahía Blanca main existing pressures and their effects on the state indicators for surface and groundwater quality perspectives on integrated coastal zona management in South America. IST Press, Lisbon, pp 315–331

López Cazorla A (2004) Peces. In: Piccolo MC, Hoffmeyer MS (eds) Ecosistema del Estuario de Bahía Blanca. EDIUNS (UNS), Bahía Blanca, pp 191–201

Lu Y, Zhang Y, Deng Y, Jiang W, Zhao Y, Geng J, Ren H (2016) Uptake and accumulation of polystyrene microplastics in zebrafish (Danio rerio) and toxic effects in liver. Environ Sci Technol 50(7):4054–4060

Lusher AL, Mchugh M, Thompson RC (2013) Occurrence of microplastics in the gastrointestinal tract of pelagic and demersal fish from the english channel. Mar Pollut Bull 67(1–2):94–99

Martinho F, Leitão R, Neto JM, Cabral HN, Marques JC, Pardal MA (2007) The use of nursery areas by Juvenile fish in a temperate estuary. Portugal. Hydrobiologia 587(1):281–290

Nadal MA, Alomar C, Deudero S (2016) High levels of microplastic ingestion by the semipelagic fish bogue Boops boops (L.) around the Balearic islands. Environ Pollut 214:517–523

Nerland IL, Halsband C, Allan I, et al (2014). Microplastics in marine environments: occurrence, distribution and effects

Neves D, Sobral P, Ferreira JL, Pereira T (2015) Ingestion of microplastics by commercial fish off the Portuguese coast. Mar Pollut Bull 101(1):119–126

Oliva AL, Quintas PY, La Colla NS, Arias AH, Marcovecchio JE (2015) Distribution, sources, and potential ecotoxicological risk of polycyclic aromatic hydrocarbons in surface sediments from Bahía Blanca Estuary Argentina. Arch Environ Contam Toxicol 69(2):163–172

Oliva AL, La Colla NS, Arias AH, Blasina GE, Cazorla AL, Marcovecchio JE (2017a) Distribution and human health risk assessment of PAHs in four fish species from a SW Atlantic estuary. Environ Sci Pollut Res 24(23):18979–18990

Oliva AL, Arias AH, Quintas PY, Buzzi NS, Marcovecchio JE (2017b) Polycyclic aromatic hydrocarbons in mussels from a South American estuary. Arch Environ Contam Toxicol 72(4):540–551

Pazos RS, Bauer DE, Gómez N (2018) Microplastics integrating the coastal planktonic community in the inner zone of the Río de la Plata estuary (South America). Environ Pollut 243:134–142

Possatto FE, Barletta M, Costa MF, Do Sul JAI, Dantas DV (2011) Plastic debris ingestion by marine catfish: an unexpected fisheries impact. Mar Pollut Bull 62(5):1098–1102

Rochman CM (2015) The complex mixture, fate and toxicity of chemicals associated with plastic debris in the marine environment. Marine anthropogenic litter, vol 4. Springer, Cham, pp 117–140

Ronda AC, Oliva AL, Arias AH, Orazi MM, Marcovecchio JE (2019) Biomarker responses to polycyclic aromatic hydrocarbons in the native fish Ramnogaster arcuata South America. Int J Environ Res 13(1):77–89

Sadekarpawar S, Parikh P (2013) Gonadosomatic and hepatosomatic indices of freshwater fish Oreochromis mossambicus in response to a plant nutrient. World J Zool 8(1):110–118

Sardiña P, Cazorla AL (2005) Feeding interrelationships and comparative morphology of two young sciaenids co-occurring in South-western Atlantic waters. Hydrobiologia 548(1):41–49

Sardiña et al., 2004. Ecología trófica de estadios juveniles de los esciénidos dominantes en el estuario de Bahía Blanca. Pescadilla de red (Cynoscion guatucupa) y corvina rubia (Micropogonias furnieri). Ph. D. Thesis, Universidad Nacional del Sur

Solé M, Antó M, Baena M, Carrasson M, Cartes JE, Maynou F (2010) Hepatic biomarkers of xenobiotic metabolism in 18 marine fish from NW Mediterranean shelf and slope waters in relation to some of their biological and ecological variables. Mar Environ Res 70(2):181–188

Vendel AL, Bessa F, Alves VEN, Amorim ALA, Patrício J, Palma ART (2017) Widespread microplastic ingestion by fish assemblages in tropical estuaries subjected to anthropogenic pressures. Mar Pollut Bull 117(1–2):448–455

Wright SL, Thompson RC, Galloway TS (2013) The physical impacts of microplastics on marine organisms: a review. Environ Pollut 178:483–492
Acknowledgments
The authors are grateful to Enio Redondo and Beto Conte for their fishing skills in the field. This study was approved and financed by PICT 2015-0709, National Agency for the Promotion of the Science and Technology, PGI 24/ZQ12 (National South University) to Dr. Andrés H. Arias and PICT 2016-0540 granted to Ana C. Ronda, PhD.
About this article
Cite this article
Arias, A.H., Ronda, A.C., Oliva, A.L. et al. Evidence of Microplastic Ingestion by Fish from the Bahía Blanca Estuary in Argentina, South America. Bull Environ Contam Toxicol 102, 750–756 (2019). https://doi.org/10.1007/s00128-019-02604-2
Received:

Accepted:

Published:

Issue Date:
Keywords
Plastic pollution

Fish

Fibers

Estuary

South America