Abstract
Fungicidal effect of 2-amino-4-nitrophenol and its derivates, prepared by replacing the hydrogen atom in its amino group by different organic radicals was studied. Evaluation of the biological activity of studied substances by сomputational chemistry methods was performed. Toxicity of 2-amino-4-nitrophenol and synthesized N-(2-hydroxy-5-nitrophenyl)formamide and N-(2-hydroxy-5-nitrophenyl)acetamide to six species of phytophatogen fungi were tested in the experiment. The results of the study demonstrate that replacement of the hydrogen atom in the amino group by a aldehyde group leads to an increase in fungicidal activity with respect to Rhizoctonia solani and Bipolaris sorokiniana. A replacement of the hydrogen atom by a ketone group increases the inhibitory effect on Sclerotinia sclerotiorum and Venturia inaequalis. The paper contains comparative data on the fungicide effect of commercial preparation for studied fungi also.
Access options
Buy single article
Instant access to the full article PDF.
USD 39.95
Price includes VAT (USA)
Tax calculation will be finalised during checkout.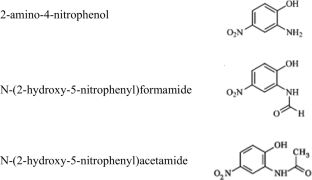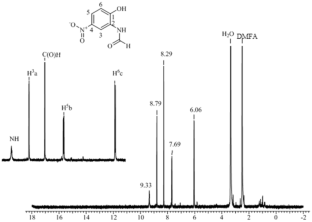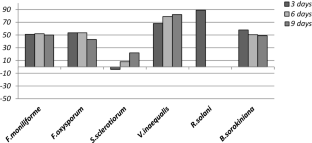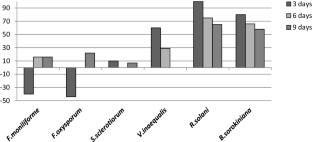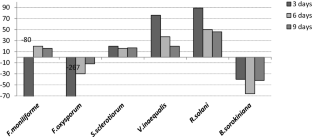 References
Abbott WS (1925) A method of computing the effectiveness of an insecticide. J Econ Entomol 18:267–268

Barratt MD (2000) Prediction of toxicity from chemical structure. Cell Biol Toxicol 16(1):1–13

Binetti R, Costamagna FM, Marcello I (2008) Exponential growth of new chemicals and evolution of information relevant to risk control. Ann Ist Super Sanità 44:13–15

Bronaugh RL, Congdon ER (1984) Percutaneous absorption of hair dyes: correlation with partition coefficients. J Invest Dermatol 83:124–127

Burnett CL, Bergfeld WF, Belsito DV, Klaassen CD, Marks JG Jr, Shank RC, Slaga TJ, Snyder PW, Andersen FA (2009) Final report on the safety assessment of amino nitrophenols as used in hair dyes. Int J Toxicol 28:217S

Commission of the European Communitites (1991) Commission directive 91/184/EEC of 12 March 1991. Off J Eur Commun L91:59–62

Deising HB, Reimann S, Pascholati SF (2008) Mechanisms and significance of fungicide resistance. Braz J Microbiol 39(2):286–295

Dinardo J, Draelos ZD (2007) An animal model assessment of common dye-induced allergic contact dermatitis. J Cosmet Sci 58(3):209–214

IARC. Monographs on the Evaluation of the Carcinogenic Risk of Chemicals to Humans (1993) World Health Organization, International Agency for Research on Cancer, Geneva, (Multivolume work). http://monographs.iarc.fr/ENG/Classification/index.php, p V57 174

Irwin A, Pearl W, Dehn M (1938) Derivatives of picramic acid and some of their rearrangement. J Am Chem Soc 60:925

LoPachin RM, Gavin T (2014) Molecular mechanisms of aldehyde toxicity: a chemical perspective. Chem Res Toxicol 27(7):1081–1091

McKinney JD (1996) Reactivity parameters in structure-activity, relationship-based risk assessment of chemicals. Environ Health Perspect 104:810–816

Mitra D, Vaidyanathan CS (1982) Comparative phytotoxicity of nitrophenolic soil pollutants and their microbial metabolites to the growth of cucumber (Cucumis sativus L.) seedlings. Plant Soil 69:467–471

Smith DA (ed) (2010) Metabolism, pharmacokinetics and toxicity of functional groups: impact of chemical building blocks on ADMET. RSC Publishing, Cambridge, p 530

Struck S, Schmidt U, Gruening B, Jaeger IS, Hossbach J, Preissner R (2008) Toxicity versus potency: elucidation of toxicity properties discriminating between toxins, drugs, and natural compounds. Genome Inform 20:231–242

Bohnet W (2003) Ullmann's encyclopedia of industrial chemistry, vol 1, 6th edn. Federal Republic of Germany, Wiley-VCH Verlag GmbH & Co, Weinheim
Acknowledgements
The study was partly supported by Russian Foundation for Basic Research. Grant No. is 18-04-00274. The authors thank the Resource Center "Magnetic Resonance Methods of Research" of the St. Petersburg State University and the State Collection of Plant Pathogenic Microorganisms, Indicator Plants and Differential Cultivars of the All-Russian Research Institute of Phytopathology (Bolshie Vyazemy, Russia).
About this article
Cite this article
Mukhtorov, L., Pestsov, G., Nikishina, M. et al. Fungicidal Properties of 2-Amino-4-nitrophenol and Its Derivatives. Bull Environ Contam Toxicol 102, 880–886 (2019). https://doi.org/10.1007/s00128-019-02602-4
Received:

Accepted:

Published:

Issue Date:
Keywords
Fungicidal activity

2-Amino-4-nitrophenol

N-(2-hydroxy-5-nitrophenyl)formamide

N-(2-hydroxy-5-nitrophenyl)acetamide

Aldehydes

Ketones