Abstract
Shrimp of Farfantepenaeus californiensis (78 groups) and Litopenaeus stylirostris (14 groups) were caught in the northwestern fishing zones in Mexico during the 2014–2015 fishing season (September–February); both shrimp species have high commercial value. Muscle, hepatopancreas and exoskeleton were analyzed to determine their metal contents. For F. californiensis, the highest Cd, Pb and Zn contents were determined in specimens caught off the State of Baja California Sur (BCS) with 22.4 ± 8.9 (hepatopancreas), 2.83 ± 4.63 (muscle), and 748.5 ± 1567 (muscle) µg/g, in the regions off Mulegé, Los Cabos and Los Cabos, respectively. For L. stylirostris, the fishing zone of Comundú (BCS) showed higher Cd (12.3 ± 11.5 µg/g), Cu (569.1 ± 646.5 µg/g) and Zn (549.7 ± 400.7 µg/g) contents; all values were determined in the hepatopancreas. Regarding the hazard quotient and total hazard quotient calculated in this study, the consumption of marine shrimp caught off NW Mexico does not represent a risk to human health (both < 1).
Access options
Buy single article
Instant access to the full article PDF.
USD 39.95
Price includes VAT (USA)
Tax calculation will be finalised during checkout.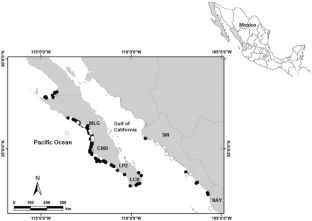 References
Anandkumar A, Nagarajan R, Prabakaran K, Rajaram R (2017) Trace metal dynamics and risk assessment in the commercially important marine shrimp species collected from the Miri coast, Sarawak, East Malaysia. Reg Stud Mar Sci 16:79–88. https://doi.org/10.1016/j.rsma.2017.08.007

Bergey LL, Weis JS (2007) Molting as a mechanism of depuration of metals in the diddler crab, Uca pugnax. Mar Environ Res 64:556–562. https://doi.org/10.1016/j.marenvres.2007.04.009

Boada M, Moreno MA, Gil H, Marcano J, Maza J (2007) Metales pesados (Cu+ 2, Cd+ 2, Pb+ 2, Zn+ 2) en músculo y cefalotórax de camarones silvestres Litopenaeus schmitti. Farfantepenaeus subtilis, F. notialis y F. brasiliensis) de la región oriental de Venezuela. Rev Científ 17:186–192

CANAIVE (2012) Cuánto mide México. El tamaño sí importa. Cámara Nacional de la Industria del Vestido, México D.F.

CONAPESCA (2014) Anuario estadístico de pesca y acuacultura. Comisión Nacional de Acuacultura y Pesca. Instituto Nacional de Pesca, Mazatlán

Daesslé LW, Carriquiry JD, Navarro R, Villaescusa-Celaya JA (2000) Geochemistry of surficial sediments from Sebastian Vizcaino Bay, Baja California. J Coastal Res 16:1133–1145

Delgado-Alvarez C, Ruelas-Inzunza JR, Osuna-López JI, Voltolina D, Frías-Espericueta MG (2015) Mercury content in Litopenaeus vannamei from shrimp farms (NW Mexico). Chemosphere 119:1015–1020. https://doi.org/10.1016/j.chemosphere.2014.08.079

Diop M, Amara R (2016) Mercury concentrations in the coastal marine food web along the Senegalese coast. Environ Sci Pollut Res 23:11975–11984. https://doi.org/10.1007/s11356-016-6386-x

Dökmeci AH, Yildiz T, Ongen A, Sivri N (2014) Heavy metal concentration in deepwater rose shrimp species (Parapenaeus longirostris, Lucas, 1846) collected from the Marmara Sea Coast in Tekirdağ. Environ Monit Assess 186:2449–2454. https://doi.org/10.1007/s10661-013-3551-2

EPA (2000) Risk-based concentration table. U.S. Environmental Protection Agency, Washington, DC

Firat Ö, Gök G, Çoğun HY, Yüzereroğlu TA, Kargin F (2008) Concentrations of Cr, Cd, Cu, Zn and Fe in crab Charybdis longicollis and shrimp Penaeus semisulcatus from the Iskenderun Bay, Turkey. Environ Monit Assess 147:117–123. https://doi.org/10.1007/s10661-007-0103-7

Francesconi K, Lenanton RCJ (1992) Mercury contamination in a semi-enclosed marine embayment: organic and inorganic mercury content of biota, and factors influencing mercury levels in fish. Mar Environ Res 33:189–212. https://doi.org/10.1016/0141-1136(92)90148-F

Frías-Espericueta MG, Izaguirre-Fierro G, Valenzuela-Quiñonez F, Osuna-López JI, Voltolina D, López-López G, Muy-Rangel MD, Rubio-Castro W (2007) Metal content of the Gulf of California blue shrimp Litopenaeus stylirostris (Stimpson). Bull Environ Contam Toxicol 79:214–217. https://doi.org/10.1007/s00128-007-9165-z

Frías-Espericueta MG, Abad-Rosales SM, Aguilar-Juárez M, Osuna-López JI, Izaguirre-Fierro G, Voltolina D (2011) Los metales y la camaronicultura en México. Hidrobiológica 21:217–228

Frías-Espericueta MG, Ramos-Magaña BY, Ruelas-Inzunza J, Soto-Jiménez MF, Escobar-Sánchez O, Aguilar-Juárez M, Izaguirre-Fierro G, Osuna-Martínez CC, Voltolina D (2016) Mercury and selenium concentrations in marine shrimps of NW Mexico: health risk assessment. Environ Monit Assess 188:269. https://doi.org/10.1007/s10661-016-5645-0

Hosseini M, Nabavi SMB, Parsa Y, Ardashir RA (2014) Mercury accumulation in selected tissues of shrimp Penaeus merguiensis from Musa estuary, Persian Gulf: variations related to sex, size and season. Environ Monit Assess 188:629. https://doi.org/10.1007/s10661-014-3793-7

Keteles KA, Fleeger JW (2001) The contribution of ecdysis to the fate of copper, zinc and cadmium in grass shrimp, Palaemonetes pugio Holthius. Mar Pollut Bull 42:1397–1402. https://doi.org/10.1016/S0025-326X(01)00172-2

Marchetti C (2013) Role of calcium channels in heavy metal toxicity. ISRN Toxicol 2013:1–9. https://doi.org/10.1155/2013/184360

Martelli A, Rousselet E, Dycke C, Bouron A, Moulis JM (2006) Cadmium toxicity in animal cells by interference with essential metals. Biochimie 88:1807–1814. https://doi.org/10.1016/j.biochi.2006.05.013

Monikh FA, Maryamabadi A, Savari A, Ghanemi K (2015) Heavy metals concentration in sediment, shrimp and two fish species from the northwest Persian Gulf. Toxicol Ind Health 31:554–565. https://doi.org/10.1177/0748233713475498

Moody JR, Lindstrom RM (1977) Selection and cleaning of plastic containers for storage of trace element samples. Anal Chem 49:2264–2267. https://doi.org/10.1021/ac50022a039

Newman MC, Unger MA (2002) Fundamentals of ecotoxicology. Lewis Publishers, Boca Raton

Páez-Osuna F, Ruiz-Fernández C (1995a) Trace metals in the Mexican shrimp Penaeus vannamei from estuarine and marine environments. Environ Pollut 87:243–247. https://doi.org/10.1016/0269-7491(94)P2612-D

Páez-Osuna F, Ruiz-Fernández C (1995b) Comparative bioaccumulation of trace metals in Penaeus stylirostris in estuarine and coastal environments. Estuarine Coast Shelf Sci 40:35–44. https://doi.org/10.1016/0272-7714(95)90011-X

Páez-Osuna F, Tron-Mayen L (1995) Distribution of heavy metals in tissues of the shrimp Penaeus californiensis from the Northwest coast of Mexico. Bull Environ Contam Toxicol 55:209–215. https://doi.org/10.1007/BF00203011

Roesijadi G, Robinson E (1994) Metal regulation in aquatic animals: mechanisms of uptake, accumulation and release. In: Malins DC, Ostrander GK (eds) Aquatic toxicology. Lewis Publishers, London, pp 387–420

Segovia-Zavala JA, Delgadillo-Hinojosa F, Muñoz-Barbosa A, Gutiérrez-Galindo EA, Vidal-Talamantes R (2004) Cadmium and silver in Mytilus californianus transplanted to an anthropogenic influenced and coastal upwelling areas in the Mexican Northeastern Pacific. Mar Pollut Bull 48:458–464. https://doi.org/10.1016/j.marpolbul.2003.08.022

Smith KL, Guentzel JL (2010) Mercury concentrations and omega-3 fatty acids in fish and shrimp: preferential consumption for maximum health benefits. Mar Pollut Bull 60:1615–1618. https://doi.org/10.1016/j.marpolbul.2010.06.045

Soto-Jiménez MF, Páez-Osuna F, Scelfo G, Hibdon S, Franks R, Aggarawl J, Flegal AR (2008) Lead pollution in subtropical ecosystems on the SE Gulf of California coast: a study of concentrations and isotopic composition. Mar Environ Res 66:451–458. https://doi.org/10.1016/j.marenvres.2008.07.009

Zar JH (2010) Biostatistical Analysis. Pearson, Upper Saddle River
Acknowledgements
This work was supported by PROFAPI 2015/103, Programa para el Desarrollo Profesional Docente (Grant No. CANE year 3) and Consejo Nacional de Ciencia y Tecnología INFRA 2012-01-188029 and INFRA-230061 Grants. Authors thank Y. Montaño-Ley for his help and D. Fischer for editorial services.
Ethics declarations
Conflict of interest
The authors declare that they have no conflict of interest.
About this article
Cite this article
Osuna-Martínez, C.C., Frías-Espericueta, M.G., Ramos-Magaña, B.Y. et al. Assessing Human Health Risks Associated with Consumption of Metal Content in Shrimp from NW Mexico. Bull Environ Contam Toxicol 102, 861–866 (2019). https://doi.org/10.1007/s00128-019-02598-x
Received:

Accepted:

Published:

Issue Date:
Keywords
Hazard quotient

Shrimp

Metal

Risk assessment