Abstract
The karstic aquifer of Yucatan features a high permeability, therefore, all contaminants placed in the soil surface, can reach it through infiltration along with the rain water. The purpose of the present study is to determine the spatial distribution of the aromatic hydrocarbons in the underground water of Merida City. Fifty wells inside the city were sampled. The sampling took place during the dry season, from October 2007 to March 2008. Liquid–liquid Hydrocarbon extraction was performed using hexane and purification was made by previously packed chromatography columns. Regarding the occurrence of polynuclear aromatic hydrocarbon (PAHs) traces, 28 water samples (56%) contained residues of these compounds. The following PAHs presented the highest concentrations: benzo(a)anthracene y benzo(k)fluoranthene 13.26 and 7.88 µg L−1 respectively. Only three of the sampled wells showed levels above those allowed by EPA and WHO norms. The origin of these compounds is mainly pyrogenic.
This is a preview of subscription content, log in to check access.
Access options
Buy single article
Instant access to the full article PDF.
US$ 39.95
Price includes VAT for USA
Subscribe to journal
Immediate online access to all issues from 2019. Subscription will auto renew annually.
US$ 199
This is the net price. Taxes to be calculated in checkout.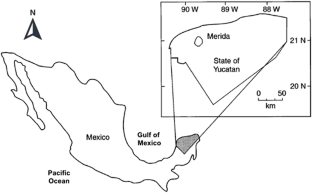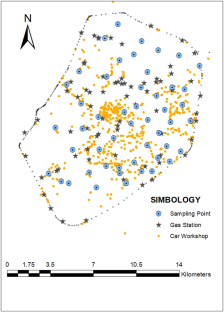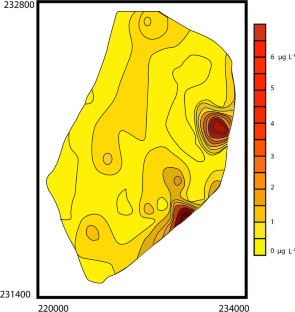 References
Agency for Toxic Substances and Disease Registry (ATSDR) (1995) Toxicological profile for Aromatic Polynuclear Hydrocarbons. Public health abstract. Division of Toxicology. Department of Health and Human Services of the United States of America. 7 pp

Botello AV (2005) Características, composición y propiedades fisicoquímicas del petróleo. En: Golfo de México, Contaminación e Impacto Ambiental: Diagnóstico y Tendencias (AV). Botello JL, Rojas-Galaviz JA, Benítez, y D, Zárate-Lomelí (eds), 2nd edn. Univ. Autón. De Campeche. Univ. Nal. Autón. De México, Instituto Nacional de Ecología, Mexico, pp. 261–268

Cheng D, Rogan J, Schneider L, Cochrane M (2013) Evaluating MODIS active fire products in subtropical Yucatán forest. Remote Sens Lett 4(5):455–464

Chi-Tec ML (2006) Contaminación del agua subterránea por metales traza en el estado de Yucatán, México. Tesis de Maestría. Facultad de Ingeniería Civil. Universidad Autónoma de Yucatán, México

CONAGUA (2016) Comisión Nacional del Agua. Ley Federal de Derechos. Disposiciones Aplicables en Materia de Aguas. Nacionales 2016. Available at: https://www.gob.mx/cms/uploads/attachment/file/105138 L-1ey_Federal_de_Derechos.pdf

Doerfliger N, Jeannin P, Zwahlen F (1999) Water vulnerability assessment in karst environments: a new method of defining protection areas using a multi-attribute approach and GIS tools (EPIK method), Environ. Geol. 39 (2):165–176

Escolero OA, Marin LE, Steinich B, Pacheco J (2000) Delimitation of a hydrogeological reserve for a city within a karstic aquifer: the Merida, Yucatan example. Landsc Urban Plan 51:53–62

European Community (1980) EC directive relating to the quality of water intended for human consumption, 80/778/EEC. Office for Official publications of the European Communities, Luxembourg

González-Herrera R, Sánchez-y-Pinto I, Gamboa-Vargas J (2002) Groundwater-flow modeling in the Yucatan karstic aquifer, Mexico. Hydrogeol J 10:539–552

Guerin WJ, Jones GE (1989) Estuarine ecology of phenantrene-degrading bacteria. Est Coas Shelf Sci 29(2):115–130

Ham-Chi JM (1994) Las aguas subterráneas en México. Memorias Seminario Internacional del agua. Contaminación de cuerpos de aguas superficiales y subterráneas por fuentes no puntuales. Comisión Nacional del Agua. Mazatlán, México

Karyab H, Yunesian M, Nasseri S, Mahvi AH, Ahmadkhaniha R, Rastkari N, Nabizadeh R (2013) Polynuclear aromatic hydrocarbons in drinking water of Tehran, Iran. J Environ Health Sci Eng 11:25

Lambrakis J, Antonakos A, Panagopalus G (2004) The use of multicomponente statistical analysis in hidrogeological environmental research. Water Res 38:1862–1872

Ma Y, Cheng J, Jiao F, Duo K, Rong Z, Li M, Wang W (2008) Distribution, sources, and potential risk of polynuclear aromatic hydrocarbons (PAHs) in drinking water resources from Henan Province in middle of China. Environ Monit Assess 146:127–138

Marín LE (1990) Field investigation and numerical simulation of groundwater flow in the karstic aquifer of Nortwestern Yucatan, Mexico. PhD Thesis Northern University of Illinois, USA

Martínez de Villa PA, Prieto DVI (1999) La contaminación de las aguas por hidrocarburos: un enfoque para abordar su estudio. Rev. Cuba Hig Epidemiol y Microbiol 3781:13–20

Nahuat MC (2006) Evaluación de la contaminación por hidrocarburos en los sedimentos de las lagunas de Bocas de Dzilam y Celestún, Yucatán. Tesis de Maestría. Facultad de Ingeniería Civil. Universidad Autónoma de Yucatán, México

Neff JN, Stout SA, Gunster DG (2005) Ecological risk assessment of polycyclic aromatic hydrocarbons in sediments: identifying sources and ecological hazard. Integr Environ Assess Manag 1(1):22–33

Nigh R, Diemont S (2013) The Maya milpa: fire and the legacy of living soil. Front Ecol Environ 11(s1):e45–e54

Pacheco AJ, Calderón RL, Cabrera SA (2004) Delineación de la zona de protección hidrogeológica para el campo de pozos de la planta Mérida I, en la ciudad de Mérida, Yucatán, México. Ingeniería 8(1):7–16

Pires do Rego EC, Pereira Netto AD (2007) PAHs and BETEX in groundwater of gasoline station from Rio de Janeiro city, Brazil. Bull Environ Contam Toxicol 79:660–664

Steinich B, Marín LE (1996) Hydrogeological investigation in Northwest Yucatan Mexico using resistivity surveys. Groundwater 34(4):640–646

United States Environmental Protection Agency (USEPA) (1986) Method 8310, polynuclear aromatic hydrocarbons

United States Environmental Protection Agency (USEPA) (2003) National primary drinking water standards. http://www.epa.gov/safewater

USEPA (1984) EPA 40 CFR, Part 136, Method 610 polynuclear aromatic hydrocarbons, Fed. Regist. 49, Washington, DC

Valenzuela Sánchez IS, Gold-Bouchot G, Ceja Moreno V (2005) Hidrocarburos en agua y sedimentos en la laguna de Chelem y puerto Progreso, Yucatán, México. En: Golfo de México, Contaminación e Impacto ambiental: Diagnóstico y Tendencias (Botello AV, Rojas-Galaviz JL, Benítez JA, Zárate-Lomelí D, eds.). EPOMEX Serie Científica 5. Universidad Autónoma de Campeche, México. pp 311–328

Vallarino A, Rendon von Osten J (2017) Comparison of organochlorine and PAHs residues in terns eggs from two natural protected areas in the Gulf of Mexico. Mar Poll Bull 116:48–55

Vega S, Gutierrez R, Ortiz R, Schettino B, Ramirez ML, Pérez JJ (2011) Hydrocarbons derived from petroleum in bottled drinking water fro, Mexico city. Bull Environ Contam Toxicol 86:632–636

Villasuso Pino MJ, Méndez-Ramos R (2000) Modelo conceptual del acuífero de la Península de Yucatán. Proyecto Población-Desarrollo-Medio ambiente. IIASA, CINVESTAV IPN, Reporte Interno. Yucatán, México

Wade TL, Atlas EL, Brooks JM, Kennicutt IIMC, Fox RJ, Sericano J, García-Romero B, DeFreitas D (1998) NOAA Gulf of Mexico status and trends program: trace organic contaminant distribution in sediments and oysters. Estuaries 11:171–179

Wang Z, Li K, Fingas M, Sigouin L, Menard L (2002) Characterization and source identification of hydrocarbons in water samples using multiple analytical techniques. J Chromatogr 971:173–184

Wang XT, Miao Y, Zhang Y, Li YC, Wu MH, Yu G (2013) Polycyclic aromatic hydrocarbons (PAHs) in urban soils of the megacity Shanghai: occurrence, source apportionment and potential human health risk. Sci Total Environ 447:80–89

World Health Organizations (WHO) (1997) Non-heterocyclic polycyclic aromatic hydrocarbons. World Health Organization, International Programme on Chemical Safety, Environmental Health Criteria, Geneva, pp 202

WHO (2006) Guidelines for drinking-water quality, volume 1 Recommendations. World Health Organization, Geneva, pp 515

Zar JH (1984) Biostatistical Analysis. Prentice-Hall, Upper Saddle River, pp 719

Zoccolillo L, Babi D, Felli M (2000) Evaluation of polynuclear aromatic hydrocarbons in gasoline by HPLC and GCMS. Chromatogr 52:373–376
Acknowledgements
The authors would like to thank CONACYT-FOMIX Yucatán for funding the present work, through the Project "Diagnóstico de Residuos Peligrosos en Yucatán" registry code YUC-2005-04-21281.
About this article
Cite this article
López-Macias, R., Cobos-Gasca, V., Cabañas-Vargas, D. et al. Presence and Spatial Distribution of Polynuclear Aromatic Hydrocarbons (PAHs) in Groundwater of Merida City, Yucatan, Mexico. Bull Environ Contam Toxicol 102, 538–543 (2019). https://doi.org/10.1007/s00128-019-02580-7
Received:

Accepted:

Published:

Issue Date:
Keywords
Polynuclear aromatic hydrocarbons

Underground water

Karstic aquifer

Benzo(a)pyrenes

Benzo(a)anthracenes