Abstract
This study aims to investigate the dose rate and pollution level of Ciudanovita, Lisava, Anina, and Moldova Noua mining tailing dumps. In order to accomplish this, soil samples were collected according to LUCAS 2009/2012, in the summer of 2017. To start with, these samples were measured in situ for dose rate and revealed some interesting aspects, following this, they were investigated in the laboratory using different physico-chemical methods for more complex data. Therefore, two techniques have been used for structural investigation that revealed some particularities in terms of morphology, color and shape (optical microscopy, scanning electron microscopy) and, two for chemical composition (Fourier transform infrared spectroscopy and inductive coupled plasma mass spectrometry), which provided the qualitative confirmation of chemical groups involved in soil composition along with the heavy and radioactive metals presence (i.e. Pb, U, Cu, Cr, Cd, Ni, Zn, and Mn), expressed also by contamination factor.
This is a preview of subscription content, log in to check access.
Access options
Buy single article
Instant access to the full article PDF.
US$ 39.95
Price includes VAT for USA
Subscribe to journal
Immediate online access to all issues from 2019. Subscription will auto renew annually.
US$ 199
This is the net price. Taxes to be calculated in checkout.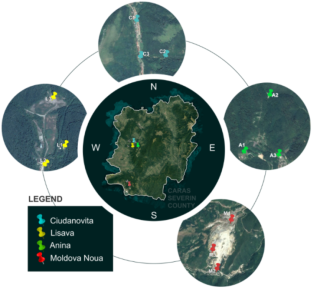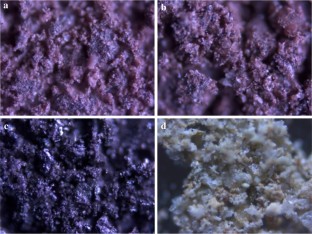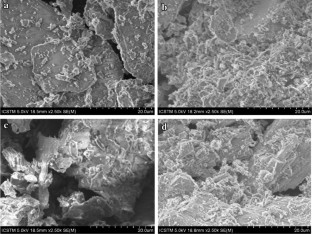 References
Barbes L, Radulescu C, Stihi C (2014) ATR-FTIR spectroscopy characterisation of polymeric materials. Rom Rep Phys 66(3):765–777

Bintintan A, Gligor M, Dulama ID et al (2017) ATR-FTIR and SEM-EDS analyses of Lumea Noua painted pottery from Alba Iulia-Lumea Noua Neolithic Site. Rev Chim (Bucharest) 68(4):847–852

Bleise A, Danesi PR, Burkart W (2003) Properties, use and health effects of depleted uranium (DU): a general overview. J Environ Radioact 64:93–112

Botezatu E, Iacob O, Elisei G et al (2005) Exposure of the population through mineral water consumption. Radioact Environ 7:1099–1107

Bragea M, Perju D, Jinescu G et al (2008a) Research concerning improvement of uranium waste dumps through diminution Ra-226 and U-nat radionuclides migration. Rev Chim (Bucharest) 59(11):1285–1289

Bragea M, Perju D, Jinescu G et al (2008b) Use of ecotoxicological risk evaluation concept for chemical substances in prediction of irradiation danger in a surface uranifer tailing dump. Rev Chim (Bucharest) 59(4):367–370

Colthup NB, Daly LH, Wiberley SE (1990) Introduction to infrared and Raman spectroscopy. Academic Press, San Diego

Committee on Evaluation of EPA Guidelines for Exposure to Naturally Occurring Radioactive Materials, National Research Council (1999) Evaluation of guidelines for exposures to technologically. Enhanced naturally occurring radioactive materials. National Academies Press Washington, DC

Costea I (2014) Uranium of the first bombs. Altip Press, Alba-Iulia

Derrick MR, Stulik D, Landry JM (1999) Infrared spectroscopy in conservation science—scientific tools for conservation. The Getty Conservation Institute, Los Angeles

Dulama ID, Radulescu C, Chelarescu ED et al (2017) Determination of heavy metal contents in surface water by inductively coupled plasma–mass spectrometry: a case study of Ialomita River. Rom J Phys 62(5–6):807

Farmer VC (1974) The Infrared spectra of minerals. Mineralogical Society, London

George AC (2005) Historical development of the natural radiation environment symposia. Radioact Environ 7:3–11

Georgescu AA, Danet AF, Radulescu C et al (2017) Nutritional and food safety aspects related to the consumption of edible mushrooms from Dambovita County in correlation with their levels of some essential and non-essential metals. Rev Chim (Bucharest) 68(10):2402–2406

Global Health Risks (2009) Mortality and burden of disease attributable to selected major risks. WHO Press, Geneva

Harada KH, Niisoe T, Imanaka M et al (2014) Radiation dose rates now and in the future for residents neighboring restricted areas of the Fukushima Daiichi Nuclear Power Plant. Proc Natl Acad Sci USA 111(10):E914–E923

Ion RM, Teodorescu S, Bucurica IA et al (2016a) Restoration and preservation of cultural heritage monuments. Digital presentation and practical solutions. In: Proceedings of digital presentation and preservation of cultural and scientific heritage, vol 6, pp 107–116

Ion RM, Radu A, Teodorescu S et al (2016b) Nanomaterials and preservation mechanisms of architecture monuments. In: Proceedings of SPIE—advanced topics in optoelectronics, microelectronics, and nanotechnologies, vol 8, pp 100101W

Manea C, Podina C, Crutu G et al (2011) Radiological risk assessment by determining the additional effective dose received by the population Ciudanovita mining area (Banat–Romania). Chem Rev 62(10):986–991

Manea I, Manea L, Radulescu C et al (2017) Assessment of metals level in several meat products obtained through conventional and traditional methods. Rom Rep Phys 69(4):711

Mortazavi SMJ, Karam PA (2005) Apparent lack of radiation susceptibility among residents of the high background radiation area in Ramsar, Iran: can we relax our standards? Radioact Environ 7:1141–1147

Nakamoto K (2009) Infrared and raman spectra of inorganic and coordination compounds: part a—theory and applications in inorganic chemistry, 6th edn. John Wiley & Sons, New York

Ojovan MI, Lee WE (2014) An introduction to nuclear waste immobilisation, 2nd edn. Elsevier Ltd., Oxford

Order 756 (1997) Assessment of environmental pollution. Ministry of Water, Forests and Environmental Protection, Bucharest

Parker RL (1967) Composition of the earth's crust. In: Fleischer M (ed) Data of geochemistry. United States Government Printing Office, Washington, pp D1–D19

Radulescu C, Hossu AM, Ionita I (2005) Synthesis of linear bis-thiazolo[2,3-d] [8,9-d]trans quinacridone. Dyes Pigment 65(2):175–177

Radulescu C, Stihi C, Popescu IV et al (2016) ICP-MS and SEM-EDS investigations of insulating materials used in electrical machines. J Sci Arts 1(34):77–84

Radulescu C, Stihi C, Iordache S et al (2017) Characterization of urban atmospheric PM2.5 by ATR-FTIR, ICP-MS and SEM-EDS techniques. Rev Chim (Bucharest) 68(4):805–810

Rahman SH, Khanam D, Adyel TM et al (2012) Assessment of heavy metal contamination of agricultural soil around Dhaka Export Processing Zone (DEPZ), Bangladesh: implication of seasonal variation and indices. Appl Sci 2(3):584–601
Ethics declarations
Conflict of interest
The authors declare that they have no conflict of interest.
About this article
Cite this article
Pehoiu, G., Radulescu, C., Murarescu, O. et al. Health Risk Assessment Associated with Abandoned Copper and Uranium Mine Tailings. Bull Environ Contam Toxicol 102, 504–510 (2019). https://doi.org/10.1007/s00128-019-02570-9
Received:

Accepted:

Published:

Issue Date:
Keywords
Heavy metals

Tailings dumps

Dose rate

SEM

FTIR

ICP–MS