Abstract
In this study, the provenance of anthropogenic lead, a major pollutant of surface sediments, was determined in Huainan Panji coal mining area. The lead concentrations and the pollution degree were investigated by the enrichment factor. Tessier five-step morphology extraction method was used to discuss its potential hazard. By comparing the lead isotope ratios of surface sediments and surrounding potential polluted end-members, the lead isotope ternary mixture model was appropriated to explore the sources and relative contribution fractions. The results showed that: (1) The lead concentrations ranged from 31.44 to 64.07 mg/kg which was mild-moderate pollution. (2) The chemical forms of lead were residue state > iron-manganese oxidation state > exchangeable state > organic state > carbonate state. (3) The anthropogenic lead in surface sediments originated from soil, vehicle exhaust, coal gangue. And the relative contribution fractions were 51.70%, 30.90%, and 17.40%.
This is a preview of subscription content, log in to check access.
Access options
Buy single article
Instant access to the full article PDF.
US$ 39.95
Price includes VAT for USA
Subscribe to journal
Immediate online access to all issues from 2019. Subscription will auto renew annually.
US$ 199
This is the net price. Taxes to be calculated in checkout.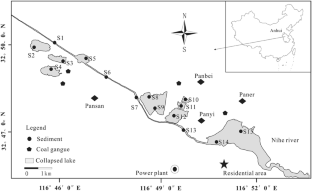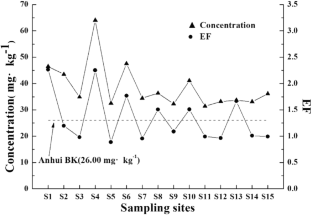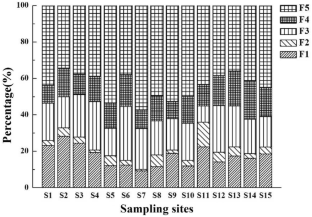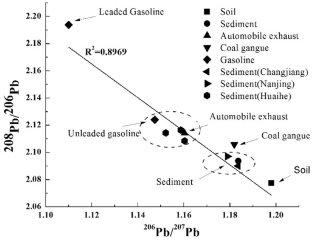 References
Chen J (2017) Analysis and evaluation of heavy metal pollution in water body of coal mining subsidence area in Panyi coal mine. Dissertation, University of Nanjing (in Chinese)

Chen CW, Kao CM, Chen CF, Dong CD (2007) Distribution and accumulation of heavy metals in the sediments of Kaohsiung harbor, Taiwan. Chemosphere 66:1431–1440

Cheng H, Hu Y (2010) Lead (lead) isotopic fingerprinting and its applications in lead pollution studies in China: a review. Environ Pollut 158:1134–1146

China Environmental Monitoring Center (1990) Background values of soil elements in China (in Chinese)

Choi MS, Yi HI, Yang SY, Lee BC, Cha HJ (2007) Identification of lead sources in yellow sea sediments using stable lead isotope ratios. Mar Chem 107:255–274

Damian A, Barbara Ś (2010) The effects of changes in cadmium and lead air pollution on cancer incidence in children. Sci Total Environ 408(20):4420–4428

Fang T, Liu G, Zhou C, Yuan Z, Lam PKS (2014) Distribution and assessment of lead in the supergene environment of the Huainan coal mining area, Anhui, China. Environ Monit Assess 186:4753

Fillion M, Blais JM, Yumvihoze E, Nakajima M, Workman P, Osborne G, Chan HM (2014) Identification of environmental sources of lead exposure in Nunavut (Canada) using stable isotope analyses. Environ Int 71:63–73

Hao Y, Guo Z, Yang Z et al (2008) Tracking historical lead pollution in the coastal area adjacent to the Yangtze river estuary using lead isotopic compositions. Environ Pollut 156:1325–1331

Hu X, Wang C, Zou L (2011) Characteristics of heavy metals and lead isotopic signatures in sediment cores collected from typical urban shallow lakes in Nanjing, China. J Environ Manage 92:742–748

Kaur R, Goyal D (2018) Heavy metal accumulation from coal fly ash by cyanobacterial biofertilizers. Part Sci Technol 2:1–4

Li Q, Cheng HG, Zhou T, Lin CY, Guo S (2012) The estimated atmospheric lead emissions in China, 1990–2009. Atmos Environ 60:1–8

Lin CQ, Hu GR, Yu RL (2015) Lead pollution and isotopic tracing in intertidal sediments of Jiulong river downstream. China Environ Sci 35:2503–2510 (in Chinese)

Lintern A, Leahy PJ, Heijnis H et al (2016) Identifying heavy metal levels in historical flood water deposits using sediment cores. Water Res 105:34–46

Liu WX, Li XD, Shen ZG et al (2003) Multivariate statistical study of heavy metal enrichment in sediments of the Pearl river estuary. Environ Pollut 121:377–388

Liu EF, Shen J, Yang LY, Zhu YX, Sun QY, Wang JJ (2007) Chemical fractionation and pollution characteristics of heavy metals in the sediment of Nansihu lake and its main inflow rivers, Chian. Environ Sci 28:1377–1383 (in Chinese)

Liu G, Tao L, Liu X et al (2013) Heavy metal speciation and pollution of agricultural soils along Jishui river in non-ferrous metal mine area in Jiangxi province, China. J Geochem Explor 132:156–163

Pulles T, Gon HDVD, Appelman W et al (2012) Emission factors for heavy metals from diesel and petrol used in European vehicles. Atmos Environ 61:641–651

Roessler J, Cheng W, Hayes JB et al (2016) Evaluation of the leaching risk posed by the beneficial use of ammoniated coal fly ash. Fuel 184:613–619

Simpson SL, Batley GE (2010) Predicting metal toxicity in sediments: a critique of current approaches. Integr Environ Assess Manage 3:18–31

Simpson SL, Spadaro DA (2016) Bioavailability and chronic toxicity of metal sulfide minerals to benthic marine invertebrates: implications for deep sea exploration, mining and tailings disposal. Environ Sci Technol 50:4061–4070

Sun R, Liu G, Zheng L et al (2010a) Characteristics of coal quality and their relationship with coal-forming environment: a case study from the Zhuji exploration area, Huainan coalfield, Anhui China. Energy 35:423–435

Sun Y, Zhou Q, Xie X, Liu R (2010b) Spatial, sources and risk assessment of heavy metal contamination of urban soils in typical regions of Shenyang, China. J Hazard Mater 174:455–462

Sun JW, Yu RL, HU GR, Su GM, Wang XM (2017) Assessment of heavy metal pollution and tracing sources by lead & Sr isotope in the soil profile of Woodland in Quanzhou. Environ Sci 38:1566–1575 (in Chinese)

Tan MG, Zhang GL, Li XL et al (2006) Comprehensive study of lead pollution in Shanghai by multiple techniques. Anal Chem 78(23):8044–8050

Tanabe A, Mitobe H, Kawata K et al (2001) Seasonal and spatial studies on pesticide residues in surface waters of the Shinano river in Japan. J Agric Food Chem 49(8):3847–3852

Tang Q, Li L, Zhang S et al (2018) Characterization of heavy metals in coal gangue-reclaimed soils from a coal mining area. J Geochem Explor 186:1–11

Tessier A, Camleadell PGC, Bisson M (1979) Sequential extraction procedure for the speciation of particulate trace metals. Anal Chem 51(7):844–851

Varol M (2011) Assessment of heavy metal contamination in sediments of the Tigris river (Turkey) using pollution indices and multivariate statistical techniques. J Hazard Mater 195:355–364

Walraven N, van Os BJ, Klaver GT, Middelburg JJ, Davies GR (2014) The lead (lead) isotope signature, behaviour and fate of traffic-related lead pollution in roadside soils in the Netherlands. Sci Total Environ 472:888–900

Wang XM, Zhang RL, Lu XW, Zha FG, Chen GZ, Hu YH, Cheng YS, Wang B (2016) Eco-toxicity effect of heavy metals in cropland soils collected from the Vicinity of a coal mine in Huainan. Ecol Environ Sci 25:877–884 (in Chinese)

Wang J, Liu GJ, Liu HQ, Lam PKS (2017) Tracking historical mobility behavior and sources of lead in the 59-year sediment core from the Huaihe river using lead isotopic compositions. Chemosphere 184:584

Zhang W, Feng H, Chang J et al (2009) Heavy metal contamination in surface sediments of Yangtze river intertidal zone: an assessment from different indexes. Environ Pollut 157(5):1533–1543
Acknowledgements
This work was financially supported by the Natural Science Foundation of China (Grant Nos. 41373108; 41702176), Science and Technology Development Project of Anhui Traffic and Navigation Engineering (Grant No. JTHW-2017K1). We acknowledge editors and reviewers for polishing the language of the paper and for in-depth discussion.
About this article
Cite this article
Zheng, L., Liu, X., Tang, Q. et al. Lead Pollution and Isotope Tracing of Surface Sediments in the Huainan Panji Coal Mining Subsidence Area, Anhui, China. Bull Environ Contam Toxicol 103, 10–15 (2019). https://doi.org/10.1007/s00128-019-02558-5
Received:

Accepted:

Published:

Issue Date:
Keywords
Coal-mining subsidence area

Surface sediment

Lead

Isotope ratio