Abstract
Cadmium (Cd) is one of the hazardous environmental pollutants, and it can be harmful to human health through consumption of food-plants capable of bioaccumulating Cd. Therefore, lowering cadmium accumulation in plants is highly desirable. Here, a rice cultivar 'Qisanzhan' was studied using differential display reverse transcription-polymerase chain reaction (DDRT-PCR). Fifty-six differentially expressed genes were found in the root tips of 4-leaf stage rice seedlings exposed to 4 and 12 h of 50 µmol/L Cd(NO3)2 in a nutrient solution using DDRT-PCR. Further validation using semi-quantitative RT-PCR showed that the expression patterns of 16 genes were consistent with those found in DDRT-PCR. These genes encode receptor-like protein kinase, pleiotropic drug resistance protein, aquaporin protein, plasma membrane ATPase, etc. The differentially genes identified here can be used to obtain a better understanding of the molecular mechanisms of Cd absorption and accumulation in plants.
This is a preview of subscription content, log in to check access.
Access options
Buy single article
Instant access to the full article PDF.
US$ 39.95
Price includes VAT for USA
Subscribe to journal
Immediate online access to all issues from 2019. Subscription will auto renew annually.
US$ 199
This is the net price. Taxes to be calculated in checkout.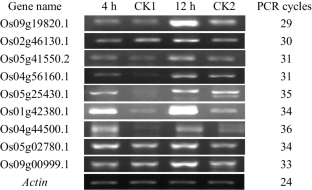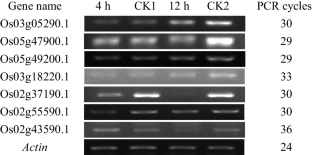 References
Asakura T, Watanabe H, Abe K, Arai S (1995) Rice aspartic proteinase, oryzasin, expressed during seed ripening and germination, has a gene organization distinct from those of animal and microbial aspartic proteinases. Eur J Biochem 232:77–83

Banerjee S, Flores-Rozas H (2005) Cadmium inhibits mismatch repair by blocking the ATPase activity of the MSH2-MSH6 complex. Nucl Acids Res 33:1410–1419

Chomczynski P, Sacchi N (1987) Single-step method of RNA isolation by acid guanidinium thiocyanate-phenol-chloroform extraction. Anal Biochem 162:156–159

Choudhary M, Padaria JC (2015) Transcriptional profiling in pearl millet (Pennisetum glaucum L.R. Br.) for identification of differentially expressed drought responsive genes. Physiol Mol Biol Plants 21:187–196

Dang ZH, Qi Q, Zhang HR, Li HY, Wu SB, Wang YC (2014) Identification of salt stress induced genes from the RNA-Seq data of Reaumuria trigyna using differential-display reverse transcription PCR. Int J Genom 2014:381501

Doerks T, Strauss M, Brendel M, Bork P (2000) GRAM, a novel domain in glucosyltransferases, myotubularins and other putative membrane-associated proteins. Trends Biochem Sci 25:483–485

Geisbrecht ER, Haralalka S, Swanson SK, Florens L, Washburn MP, Abmayr SM (2008) Drosophila ELMO/CED-12 interacts with myoblast city to direct myoblast fusion and ommatidial organization. Dev Biol 314:137–149

Hara M, Sugano Y, Kuboi T (2003) Drought-regulated expression of prolyl-tRNA synthetase genes in radish (Raphanus sativus) seedlings. Plant Sci 165:129–137

Hou XW, Tong HY, Selby J, DeWitt J, Peng XX, He ZH (2005) Involvement of a cell wall-associated kinase, WAKL4, in Arabidopsis mineral responses. Plant Physiol 139(4):1704–1716

Huff J, Lunn RM, Waalkes MP, Tomatis L, Infante PF (2007) Cadmium-induced cancers in animals and in humans. Int J Occup Environ Health 13:202–212

Ke WS, Xiong ZT, Chen SJ, Wang ZH (2008) Differences of Cu accumulation and Cu-induced ATPase activity in roots of two populations of Elsholtzia haichowensis Sun. Environ Toxicol 23:193–199

Liang P, Pardee AB (1992) Differential display of eukaryotic messenger RNA by means of the polymerase chain reaction. Science 257:967–970

Liu CP, Shen ZG, Li XD (2007) Accumulation and detoxification of cadmium in Brassica pekinensis and B. chinensis. Biol Plant 51:116–120

Luo HT, Zhang JY, Wang G, Jia ZH, Huang SN, Wang T, Guo ZR (2017) Functional characterization of water logging and heat stresses tolerance gene pyruvate decarboxylase 2 from Actinidia deliciosa. Int J Mol Sci 18:2377

Nuruzzaman M, Zhang R, Cao HZ, Luo ZY (2014) Plant pleiotropic drug resistance transporters: transport mechanism, gene expression, and function. J Integr Plant Biol 56:729–740

Sakamoto M, Tomita R, Kobayashi K (2009) A protein containing an XYPPX repeat and a C2 domain is associated with virally induced hypersensitive cell death in plants. FEBS Lett 583:2552–2556

Sakurai J, Ishikawa F, Yamaguchi T, Uemura M, Maeshima M (2005) Identification of 33 rice aquaporin genes and analysis of their expression and function. Plant Cell Physiol 46:1568–1577

Scebba F, Arduini I, Ercoli L, Sebastiani L (2006) Cadmium effects on growth and antioxidant enzymes activities in Miscanthus sinensis. Biol Plant 50:688–692

Singh M, Gonzales FA, Cascio D, Heckmann N, Chanfreau G, Feigon J (2009) Structure and functional studies of the CS domain of the essential H/ACA ribonucleoparticle assembly protein SHQ1. J Biol Chem 284:1906–1916

Stein M, Dittgen J, Sanchez-Rodriguez C, Hou BH, Molina A, Schulze-Lefert P, Lipka V, Somerville S (2006) Arabidopsis PEN3/PDR8, an ATP binding cassette transporter, contributes to nonhost resistance to inappropriate pathogens that enter by direct penetration. Plant Cell 18:731–746

Tsukahara T, Ezaki T, Moriguchi J, Furuki K, Shimbo S, Matsuda-Inoguchi N, Ikeda M (2003) Rice as the most influential source of cadmium intake among general Japanese population. Sci Total Environ 305:41–51

Wang YG, Liu HH, Wang SP, Li HJ, Xin QG (2015) Overexpressing of a novel wheat prolyl aminopeptidase gene enhances zinc stress tolerance in transgenic Arabidopsis thaliana. Plant Cell Tissue Org 121:489–499

Wang YQ, Li RH, Li DM, Jia XM, Zhou DW, Li JY, Lyi SM, Hou SY, Huang YL, Kochian LV, Liu JP (2017) NIP1; 2 is a plasma membrane-localized transporter mediating aluminum uptake, translocation, and tolerance in Arabidopsis. PNAS 114:5047–5052

Wu QT, Chen L, Wang GS (1999) Differences on Cd uptake and accumulation among rice cultivars and its mechanism. Acta Ecol Sinica 19:104–107

Yin XY, Hou XW (2017) Role of OsWAK124, a rice wall-associated kinase, in response to environmental heavy metal stresses. Pak J Bot 49:1255–1261

Zhang JJ, He ZH, Tian H, Zhu GH, Peng XX (2007) Identification of aluminium-responsive genes in rice cultivars with different aluminium sensitivities. J Exp Bot 58:2269–2278

Zheng S, Pan TF, Ma CL, Qiu DL (2017) Differential gene expression of longan under simulated acid rain stress. Bull Environ Contam Toxicol 98:726–731

Zhu X, He H, Jiang WJ, Wang JM, Li XF, Yang Y (2009) Phenotypic analysis of glutamyl-tRNA synthetase in transgenic Arabidopsis thaliana and researches on abiotic resistance of transgenic plants. J Sichuan Univ 46:838–842
Acknowledgements
We sincerely thank Dr. David Leung (University of Canterbury, New Zealand) for his critical reading and editing of this manuscript. This work was sponsored by the Research Team Project of the Natural Science Foundation of Guangdong Province (2016A030312009), NSFC-Guangdong Joint Fund (U1501233), the Science and Technology Program of Guangzhou, China (201707010032) and the Scientific Research Foundation for the Returned Overseas Chinese Scholars, State Education Ministry, China ([2007]1108).
Ethics declarations
Conflict of interest
The authors declare that they have no conflict of interest.
About this article
Cite this article
Wang, J., Zhao, H., Mo, C. et al. Identification of Differentially Expressed Genes of Rice Under Cadmium Stress Using DDRT-PCR Approach. Bull Environ Contam Toxicol 102, 589–594 (2019). https://doi.org/10.1007/s00128-019-02554-9
Received:

Accepted:

Published:

Issue Date:
Keywords
Cadmium

DDRT-PCR

Differential gene expression

Rice

sqRT-PCR