Abstract
Cadmium (Cd), an extremely toxic heavy metal is extensively used in modern era because of its constructive chemical and physical properties. Recently Cd contamination was estimated in India's major cities fresh water ecosystem, which may have firm impact on human health. Hence, this study was aimed to detect the time dependent effect of cadmium in fresh water fish C. gariepinus, a bioindicator species of water pollution. In a controlled environment, fishes were exposed to cadmium for different duration and analyzed for Cd accumulation. Cd induced toxicity was assessed by estimating metallothionein biomarker protein of heavy metal toxicity and histomorphometric changes in liver and kidney. Our results revealed that fish exposed to Cd induced apoptosis in fish tissues via induction of caspases and in contrast the metallothionein was also increased consistently with different doses of Cd exposure. Hence we conclude Cd induced structural damages to fishes are attributed to induction of caspases and estimating MT level in tissues can be effective biomarker to analyze the effect of acute environmental exposure to Cd.
This is a preview of subscription content, log in to check access.
Access options
Buy single article
Instant access to the full article PDF.
US$ 39.95
Price includes VAT for USA
Subscribe to journal
Immediate online access to all issues from 2019. Subscription will auto renew annually.
US$ 199
This is the net price. Taxes to be calculated in checkout.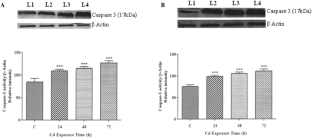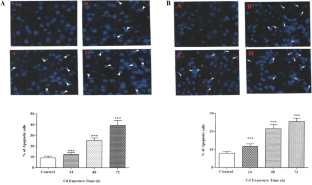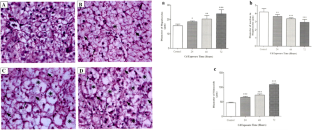 References
Amiard JC, Amiard-Triquet C, Barka S, Pellerin J, Rainbow PS (2005) Metallothioneins in aquatic invertebrates: their role in metal detoxification and their use as biomarkers. Aquat Toxicol 76(2):160–202

Bandara JM, Senevirathna DM, Dasanayake DM, Herath V, Bandara JM, Abeysekara T, Rajapaksha KH (2008) Chronic renal failure among farm families in cascade irrigation systems in Sri Lanka associated with elevated dietary cadmium levels in rice and freshwater fish (Tilapia). Environ Geochem Health 30(5):465–478

Casalino E, Calzaretti G, Sblano C, Landriscina C (2002) Molecular inhibitory mechanisms of antioxidant enzymes in rat liver and kidney by cadmium. Toxicology 179(1–2):37–50

Dangre AJ, Manning S, Brouwer M (2010) Effects of cadmium on hypoxia-induced expression of hemoglobin and erythropoietin in larval sheepshead minnow, Cyprinodon variegatus. Aquat Toxicol 99(2):168–175

Environmental Protection Agency, EPA (2016) Aquatic Life Ambient Water Quality Criteria Cadmium (CAS # 7440-43-9). EPA 820-R-16-002, 30–87

Food and Agriculture Organization of the United Nations, FAO (2016) Blue growth—unlocking the potential of seas and oceans. www.fao.org/zhc/details-events/en/c/233765/

Farombi EO, Adelowo OA, Ajimoko YR (2007) Biomarkers of oxidative stress and heavy metal levels as indicators of environmental pollution in African cat fish Clarias gariepinus from Nigeria Ogun River. Int J Environ Res Public Health 4(2):158–165

Ghiasi F, Mirzargar SS, Badakhshan H, Shamsi S (2010) Effects of low concentration of cadmium on the level of lysozyme in serum, leukocyte count and phagocytic index in Cyprinus carpio under the wintering conditions. JFAS 5:113–119

Giari L, Manera M, Simoni E, Dezfuli BS (2007) Cellular alterations in different organs of European sea bass Dicentrarchus labrax (L.) exposed to cadmium. Chemosphere 67(6):1171–1181

Giguère A, Couillard Y, Campbell PG, Perceval O, Hare L et al (2003) Steady-state distribution of metals among metallothionein and other cytosolic ligands and links to cytotoxicity in bivalves living along a polymetallic gradient. Aquat Toxicol 64(2):185–200

Ladhar-Chaabouni R, Machreki-Ajmi M, Hamza-Chaffai A (2012) Use of metallothioneins as biomarkers for environmental quality assessment in the Gulf of Gabès (Tunisia). Environ Monit Assess 184(4):2177–2192

Li Y, Chai X, Wu H, Jing W, Wang L (2013) The response of metallothionein and malondialdehyde after exclusive and combined Cd/Zn exposure in the crab Sinopotamon henanense. PLoS ONE 8(11) e80475

Liu J, Corton C, Dix DJ, Liu Y, Waalkes MP (2001) Genetic background but not metallothionein phenotype dictates sensitivity to cadmium-induced testicular injury in mice. Toxicol Appl Pharmacol 176:1–9

Liu J, Liu Y, Habeebu SS, Klaassen CD (1998) Metallothionein (MT)-null mice are sensitive to cisplatin-induced hepatotoxicity. Toxicol Appl Pharmacol 149(1):24–31

Lu H, Hunt DM., Ganti R, Davis A, Dutt K, Alam J, Hunt, RC (2002) Metallothionein protects retinal pigment epithelial cells against apoptosis and oxidative stress. Exp Eye Res 74:83–92

Ma W, Wang L, He Y, Yan Y (2008) Tissue-specific cadmium and metallothionein levels in freshwater crab Sinopotamon henanense during acute exposure to waterborne cadmium. Environ Toxicol 23(3):393–400

Mahboob S, Kausar S, Jabeen F, Sultana S, Sultana T et al (2016) Effect of heavy metals on liver, kidney, gills and muscles of Cyprinus carpio and Wallago attu inhabited in the Indus. Braz Arch Biol Technol https://doi.org/10.1590/1678-4324-2016150275

Olsson IM, Eriksson J, Oborn I, Skerfving S, Oskarsson A (2005) Cadmium in food production systems: a health risk for sensitive population groups. Ambio 34(4–5):344–351

Oner G, Sentürk UK, Izgüt-Uysal N (1995) The role of cadmium in the peroxidative response of kidney to stress. Biol Trace Elem Res 48(1):111–117

Pillai A, Gupta S (2005) Antioxidant enzyme activity and lipid peroxidation in liver of female rats co-exposed to lead and cadmium: effects of vitamin E and Mn2+. Free Radic Res 39(7):707–712

Prakash S, Prithiviraj E, Suresh S (2008) Developmental changes of seminiferous tubule in prenatal, postnatal and adult testis of bonnet monkey (Macaca radiata). Anat Histol Embryol 37(1):19–23

Rico D, Martín-González A, Díaz S, de Lucas P, Gutiérrez JC (2009) Heavy metals generate reactive oxygen species in terrestrial and aquatic ciliated protozoa. Comp Biochem Physiol C 149(1):90–96

Rose S, Vincent S, Meena B, Suresh A, Mani R (2014) Immunolocalization of metallothionein in different tissues of fresh water catfish, C. gariepinus on exposure to cadmium. IJPSR 5(12):1000–1006

Sarkar S, Yadav P, Trivedi R, Bansal AK, Bhatnagar D (1995) Cadmium-induced lipid peroxidation and the status of the antioxidant system in rat tissues. J Trace Elem Med Biol 9(3):144–149

Sfakianakis DG, Renieri E, Kentouri M, Tsatsakis AM (2015) Effect of heavy metals on fish larvae deformities: a review. Environ Res 137:246–255 (review)

Tarnowski BI, Spinale FG, Nicholson JH (1991) DAPI as a useful stain for nuclear quantitation. Biotechnol Histochem 66(6):297–302

Thirumoorthy N, Manisenthil Kumar KT, Shyam Sundar A, Panayappan L, Chatterjee M (2007) Metallothionein: an overview. World J Gastroenterol 13(7):993–996

Underwood W, Anthony R, Gwaltney-Brant S, Poison ASPCA, Meyer R (eds)(2013) AVMA guidelines for the euthanasia of animals. Schaumburg, American Veterinary Medical Association

Vélez D, Montoro R (1998) Arsenic speciation in manufactured seafood products. J Food Prot 61(9):1240–1245 (review)

Vesey DA (2010) Transport pathways for cadmium in the intestine and kidney proximal tubule: focus on the interaction with essential metals. Toxicol Lett 198(1):13–19

Waalkes MP, Perantoni A, Palmer AE (1988) Isolation and partial characterization of the low-molecular-mass zinc/cadmium-binding protein from the testes of the patas monkey Erythrocebus patas. Distinction from metallothionein. Biochem J 15(1):131–137

Wang WX, Rainbow PS (2010) Significance of metallothioneins in metal accumulation kinetics in marine animals. Comp Biochem Physiol C 2(1):1–8

Zorita I, Strogyloudi E, Buxens A, Mazón LI, Papathanassiou E (2005) Application of two SH-based methods for metallothionein determination in mussels and intercalibration of the spectrophotometric method: laboratory and field studies in the Mediterranean Sea. Biomarkers 10(5):342–359
Acknowledgements
The financial assistance and support from University Grants Commission (UGC), Government of India, New Delhi and Loyola College are greatly acknowledged.
About this article
Cite this article
Vincent, S., Sumit, R., Bavithra, S. et al. Metallothionein Induced Time Dependent Histomorphometric Analysis of Clarias gariepinus Exposed to Cadmium. Bull Environ Contam Toxicol 102, 32–38 (2019). https://doi.org/10.1007/s00128-018-2484-4
Received:

Accepted:

Published:

Issue Date:
Keywords
Heavy metal toxicity

Cadmium

Freshwater fish

Histomorphometric analysis

Metallothionein