Abstract
Assessing the effects of phytoextraction on soil properties is important for successful implementation of this method. This study was conducted to evaluate the effects of phytoextraction by Sedum alfredii Hance on the availability of metals and improvement of the microbial community (biomass and structure) of a Cd, Zn and Pb contaminated soil. Phytoextraction significantly decreased the acid extractable, Mn/Fe oxide and organic matter bound fractions of Cd and Zn as well as the acid extractable Pb in the rhizosphere soil. Soil microbial biomass, total, bacterial, actinomycete, fungal, AM fungal, and protozoa phospholipid fatty acids (PLFAs) were significantly enhanced. The ratio of fungal to bacterial and gram-positive to gram-negative bacterial PLFAs were significantly changed. Redundancy analysis showed that microbial biomass and specific groups of PLFAs were negatively correlated with available metals while positively correlated with dissolved organic carbon/organic acids. In conclusion, phytoextraction by S. alfredii reduced available metal concentrations and improved soil microbial properties.
Access options
Buy single article
Instant access to the full article PDF.
USD 39.95
Price excludes VAT (USA)
Tax calculation will be finalised during checkout.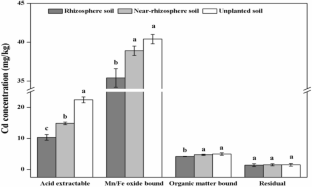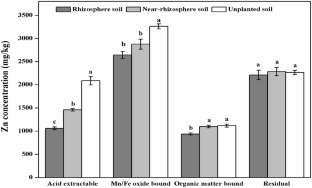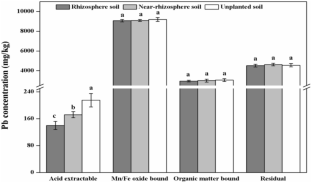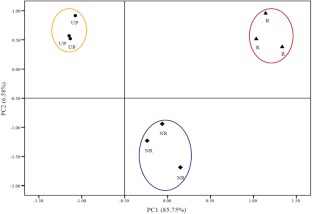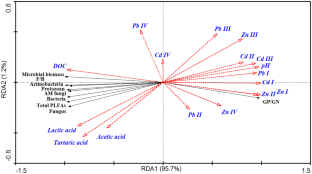 References
Anju M, Banerjee DK (2010) Comparison of two sequential extraction procedures for heavy metal partitioning in mine tailings. Chemosphere 78:1393–1402

Azarbad H, van Straalen NM, Laskowski R, Nikiel K, Röling WFM, Niklińska M (2016) Susceptibility to additional stressors in metal-tolerant soil microbial communities from two pollution gradients. Appl Soil Ecol 98:233–242

Chang E-H, Chen T-H, Tian G, Chiu C-Y (2016) The effect of altitudinal gradient on soil microbial community activity and structure in moso bamboo plantations. Appl Soil Ecol 98:213–220

Chary NS, Kamala CT, Raj DS (2008) Assessing risk of heavy metals from consuming food grown on sewage irrigated soils and food chain transfer. Ecotoxicol Environ Saf 69:513–524

Ciadamidaro L, Madejón P, Madejón E (2014) Soil chemical and biochemical properties under Populus alba growing: three years study in trace element contaminated soils. Appl Soil Ecol 73:26–33

Cieśliński G, Van Rees KCJ, Szmigielska AM, Krishnamurti GSR, Huang PM (1998) Low-molecular-weight organic acids in rhizosphere soils of durum wheat and their effect on cadmium bioaccumulation. Plant Soil 203:109–117

Epelde L, Becerril JM, Mijangos I, Garbisu C (2009) Evaluation of the efficiency of a phytostabilization process with biological indicators of soil health. J Environ Qual 38:2041–2049

Frostegård Å and Bååth E (1996) The use of phospholipid fatty acid analysis to estimate bacterial and fungal biomass in soil. Biol Fertil Soil 22:59–65

Garbisu C, Alkorta I (2001) Phytoextraction: a cost-effective plant-based technology for the removal of metals from the environment. Bioresour Technol 77:229–236

Garcia-Sanchez M, Garcia-Romera I, Cajthaml T, Tlustos P, Szakova J (2015) Changes in soil microbial community functionality and structure in a metal-polluted site: the effect of digestate and fly ash applications. J Environ Manag 162:63–73

Huang H, Yao W, Li R, Ali A, Du J, Guo D, Xiao R, Guo Z, Zhang Z, Awasthi MK (2018) Effect of pyrolysis temperature on chemical form, behavior and environmental risk of Zn, Pb and Cd in biochar produced from phytoremediation residue. Bioresour Technol 249:487–493

Jiang J, Wu L, Li N, Luo Y, Liu L, Zhao Q, Zhang L, Christie P (2010) Effects of multiple heavy metal contamination and repeated phytoextraction by Sedum plumbizincicola on soil microbial properties. Eur J Soil Biol 46:18–26

Jones D, Willett V (2006) Experimental evaluation of methods to quantify dissolved organic nitrogen (DON) and dissolved organic carbon (DOC) in soil. Soil Biol Biochem 38:991–999

Kidd P, Barceló J, Bernal MP, Navari-Izzo F, Poschenrieder C, Shilev S, Clemente R, Monterroso C (2009) Trace element behaviour at the root–soil interface: implications in phytoremediation. Environ Exp Bot 67:243–259

Kim K-R, Owens G, Naidu R, Kwon S-l (2010) Influence of plant roots on rhizosphere soil solution composition of long-term contaminated soils. Geoderma 155:86–92

Li Z, Wu L, Hu P, Luo Y, Zhang H, Christie P (2014) Repeated phytoextraction of four metal-contaminated soils using the cadmium/zinc hyperaccumulator Sedum plumbizincicola. Environ Pollut 189:176–183

Liu A, Cao H, Yang Y, Ma X, Liu X (2016) Combinational effects of sulfomethoxazole and copper on soil microbial community and function. Environ Sci Pollut Res 23:4235–4241

Martínez-Alcalá I, Bernal MP, de la Fuente C, Gondar D, Clemente R (2016) Changes in the heavy metal solubility of two contaminated soils after heavy metals phytoextraction with Noccaea caerulescens. Ecol Eng 89:56–63

Pennanen T, Frostegard A, Fritze H, Baath E (1996) Phospholipid fatty acid composition and heavy metal tolerance of soil microbial communities along two heavy metal-polluted gradients in coniferous forests. Appl Environ Microbiol 62:420–428

Pueyo M, Mateu J, Rigol A, Vidal M, Lopez-Sanchez JF, Rauret G (2008) Use of the modified BCR three-step sequential extraction procedure for the study of trace element dynamics in contaminated soils. Environ Pollut 152:330–341

Ribé V, Nehrenheim E, Odlare M, Gustavsson L, Berglind R, Forsberg A (2012) Ecotoxicological assessment and evaluation of a pine bark biosorbent treatment of five landfill leachates. Waste Manag 32:1886–1894

Sheoran V, Sheoran AS, Poonia P (2010) Role of hyperaccumulators in phytoextraction of metals from contaminated mining sites: a review. Crit Rev Environ Sci Technol 41:168–214

Stevenson BA, Hunter DW, Rhodes PL (2014) Temporal and seasonal change in microbial community structure of an undisturbed, disturbed, and carbon-amended pasture soil. Soil Biol Biochem 75:175–185

Vance ED, Brookes PC, Jenkinson DS (1987) An extraction method for measuring soil microbial biomass C. Soil Biol Biochem 19:703–707

Wang S, Wei S, Ji D, Bai J (2015) Co-planting Cd contaminated field using hyperaccumulator Solanum nigrum L. through interplant with low accumulation welsh onion. Int J Phytoremed 17:879–884

Wang S, Gao B, Li Y, Ok YS, Shen C, Xue S (2017) Biochar provides a safe and value-added solution for hyperaccumulating plant disposal: a case study of Phytolacca acinosa Roxb. (Phytolaccaceae). Chemosphere 178:59–64

Wei S, Twardowska I (2013) Main rhizosphere characteristics of the Cd hyperaccumulator Rorippa globosa Thell. Plant Soil 372:669–681

Wu QT, Wei ZB, Ouyang Y (2007) Phytoextraction of metal-contaminated soil by Sedum alfredii H: effects of chelator and co-planting. Water Air Soil Pollut 180:131–139

Wu Y, Ding N, Wang G, Xu J, Wu J, Brookes PC (2009) Effects of different soil weights, storage times and extraction methods on soil phospholipid fatty acid analyses. Geoderma 150:171–178

Yang W, Li H, Zhang T, Sen L, Ni W (2014) Classification and identification of metal-accumulating plant species by cluster analysis. Environ Sci Pollut Res 21:10626–10637

Zhao X, Wang H, Peng H, Wang L, Lu X, Huang Y, Chen J, Shao T (2017) Buoyant ALG/HA/HGMs composite adsorbents for highly efficient removal of copper from aqueous solution and contaminated kaolin soil. J Chem Eng 327:244–256
Acknowledgements
This research supported by the National Natural Science Foundation of China (Grant No. 41501345), the Natural Science Foundation of Fujian Province (Grant No. 2015J01155), the Foundation for Distinguished Young Scholars of Fujian Agriculture and Forestry University (Grant No. XJQ201628) and the Foundation of Central Guidance for Local Development (Grant No. 2016L3004).
About this article
Cite this article
Yang, W., Li, P., Rensing, C. et al. Changes in Metal Availability and Improvements in Microbial Properties After Phytoextraction of a Cd, Zn and Pb Contaminated Soil. Bull Environ Contam Toxicol 101, 624–630 (2018). https://doi.org/10.1007/s00128-018-2478-2
Received:

Accepted:

Published:

Issue Date:

DOI: https://doi.org/10.1007/s00128-018-2478-2
Keywords
Heavy metal

Phytoextraction

Sedum alfredii

Rhizosphere

Chemical properties

Microbial properties