Abstract
Sardinia was known as an important mine pole in Europe during his history. Still after decades from mine closure, 75.000.000 m3 of mine waste, rich in heavy metals, were left abandoned causing a huge environmental legacy on the mine district area. Consequently, cost effective remediation is required. In this frame, phytoremediation is considered a feasible candidate. This research was focused on Helichrysum microphyllum subsp. tyrrhenicum, which is pioneer in xeric soils with low-functions, like mine tailings. The aim of this study was to evaluate its ability to extract heavy metals from mine soils and accumulate them in plant tissues and its suitability for phytostabilization. Sundry samples of soil, roots and epigean organ were collected through field sampling and analysed in order to obtain metals concentration and mineralogical characteristics. Our results indicate that this species tolerates high concentration of zinc, lead and cadmium, behaving as a species suitable for phytostabilization.
Access options
Buy single article
Instant access to the full article PDF.
USD 39.95
Price excludes VAT (USA)
Tax calculation will be finalised during checkout.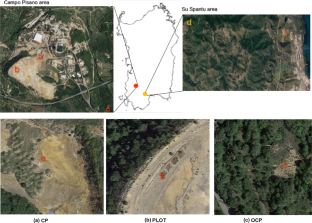 References
Angiolini C, Bacchetta G, Brullo S, Casti M, Giusso del Galdo G, Guarino R (2005) The vegetation of mining dumps in SW-Sardinia. Feddes Repert 116:243–276

Bacchetta G, Brullo S, Mossa L (2003) Note tassonomiche sul genere Helichrysum Miller (Asteraceae) in Sardegna. Inf Bot Ital 35:217–225

Bacchetta G, Casti M, Mossa L, Piras ML (2007) La flora del distretto minerario di Montevecchio (Sardegna sud-occidentale). Webbia 62:27–52

Bacchetta G, Bagella S, Biondi E, Farris E, Filigheddu R, Mossa L (2009) Vegetazione forestale e serie di vegetazione della Sardegna (con rappresentazione cartografica alla scala 1:350.000). Fitosociologia 46:3–82

Bacchetta G, Cao A, Cappai G, Carucci A, Casti M, Fercia ML, Lonis R, Mola F (2012) A field experiment on the use of Pistacia lentiscus L. and Scrophularia canina L. subsp. bicolor (Sibth. et Sm.) Greuter for the phytoremediation of abandoned mining areas. Plant Biosyst 146:1054–1063

Bacchetta G, Cappai G, Carucci A, Tamburini E (2015) Use of native plants for the remediation of abandoned mine sites in Mediterranean semiarid environments. Bull Environ Contam Toxicol 94:326–333

Baker AJM, Reeves RD, Haiar ASM (1994) Heavy metal accumulation and tolerance in British populations of the metallophyte Thlaspi caerulescens J. & C. Presl. (Brassicaceae). New Phytol 127:61–68

Barbafieri M, Lubrano L, Petruzzelli G (1996) Characterization of pollution in sites contaminated by heavy metals: a proposal. Ann Chim 86:585–594

Bechstädt T, Boni M (1994) Sedimentological, stratigraphical and ore deposits field guide of the autochthonous Cambro–Ordovician of Southwestern Sardinia, Italy. Servizio Geologico d'Italia. 434 pp

Brooks GG (1998) Plants that hyperaccumulate heavy metals. CAB International, Wallingford

Caldelas C, Weiss DJ, Cao A, Cappai G, Carucci A, Muntoni A (2017) Zinc homeostasis and isotopic fractionation in plants: a review. Plant Soil 411:17–46

Cao A, Cappai G, Carucci A, Muntoni A (2004) Selection of plants for zinc and lead phytoremediation. J Environ Sci Health 39:1011–1024.

Cao A, Carucci A, Lai T, Bacchetta G, Casti M (2009) Use of native species and biodegradable chelating agent in phytoremediation of abandoned mining area. J Chem Technol Biotechno 84:884–889

Concas S, Lattanzi P, Bacchetta G, Barbafieri M, Vacca A (2015) Zn, Pb and Hg contents of Pistacia lentiscus L. grown on heavy metal-rich soils: implications for phytostabilization. Water Air Soil Pollut 226:340–355

Conyers MK, Davey BG (1988) Observation of same routine methods for soil pH determination. Soil Sci 145:29–36

Crawley MJ (2007) The R Book. Wiley, Chichester

De Giudici G, Medas D, Meneghini C, Casu MA, Giannoncelli A, Iadecola A, Podda S, Lattanzi P (2015) Microscopic bio mineralization processes and Zn bioavailability: a synchrotron-based investigation of Pistacia lentiscus L. root. Environ Sci Pollut Res 22:19352–19361

De Giudici G, Pusceddu C, Medas D, Meneghini C, Giannoncelli A, Rimondi V, Podda F, Cidu R, Lattanzi P, Wanty RB, Kimball BA (2017) The role of natural biogeochemical barriers in limiting metal loading to a stream affected by mine drainage. Appl Geochem 76:124–135

Erdemir Ü, Arslan H, Güleryüz G, Gücer (2017) Elemental composition of plant species from an abandoned tungsten mining area: Are they useful for biogeochemical exploration and/or phytoremediation purposes? Bull Environ Contam Toxicol 98:299–303

Fellet G, Marchiol L, Perosa D, Zerbia G (2007) The application of phytoremediation technology in a soil contaminated by pyrite cinders. Ecol Eng 31:207–214

Feng MH, Shan XQ, Zhang S, Wen B (2005) Comparison of rhizosphere-based method with other one-step extraction methods for assessing the bioavailability of soil metals to wheat. Chemosphere 59:939–949

Gupta AK, Sinha S (2007) Assessment of single extraction methods for the prediction of bioavailability of metals to Brassica juncea L. Czern (var Vaibhav) grown on tannery wate contaminated soil. J Hazard Mater 149:144–150

GURI (1999) Metodi ufficiali di analisi chimica del suolo. Supplemento ordinario alla Gazzetta Ufficiale n p. 248

Jimènez MN, Fernandez E, Navarro EB, Contini E, Casti M, Bacchetta G (2005) Livelli di metalli pesanti in Dittrichia viscosa (L.) Greuter, Cistus salviifolius L. e Euphorbia cupanii Bertol. ex Moris su suoli contaminati e non contaminati dalle attività estrattive nell'Iglesiente (Sardegna sudoccidentale). Inf Bot Ital 37:794–795

Jimènez MN, Bacchetta G, Casti M, Navarro FB, Lallena AM, Fernandèz-Ondono E (2011) Potential use in phytoremediation of three plant species growing on contaminated mine-tailing soils in Sardinia. Ecol Eng 37:392–398

Jimènez MN, Bacchetta G, Casti M, Navarro FB, Lallena AM, Fernandèz-Ondono E (2014) Study of Zn, Cu and Pb content in plants and contaminated soils in Sardinia. Plant Biosyst 148:419–428

Kabata-Pendias A, Pendias H (1992) Trace elements in soils and plants, 2nd edt. CRC Press, Boca Raton

Lai T, Cappai G, Carucci A, Bacchetta G (2015) Phytoremediation of abandoned mining areas using native plant species: a Sardinian case study. Environ Sci Eng 11:256–277

Li Y, Zhjang MK (2013) A comparison of physiologically based extraction test (PBET) and single-extraction methods for release of Cu, Zn, and Pb from mildy acidic and alkali soils. Environ Sci Pollut Res 20:3140–3148

Li G, Hu N, Ding D, Zheng J, Liu Y, Wang Y, Nie X (2011) Screening of plant species for phytoremediation of uranium,. thorium, barium, nickel, strontium and lead contaminated soils from a uranium mill tailings repository in south china. Bull Environ Contam Toxicol 86:646–652

Linsday WL, Norvell WA (1978) Development of a DTPA soil test for zinc, iron, manganese, and copper. Soil Sci Soc Am J 42:421–428

Medas D, Lattanzi P, Casu MA, Musu E, De Giudici G (2014) The amorphous Zn biomineralization at Naracauli stream, Sardinia: Electron microscopy and X-ray absorption spectroscopy. Environ Sci Pollut Res 21:6775–6782

Medas D, De Giudici G, Casu MA, Musu E, Giannoncelli A, Iadecola A, Meneghini C, Tamburini E, Sprocati AR, Turnau K, Lattanzi P (2015) Microscopic processes ruling the bioavailability of Zn to roots of Euphorbia pithyusa L. pioneer plant. Environ Sci Technol 49:1400–1408

Medas D, De Giudici G, Pusceddu C, Casu MA, Birarda G, Vaccari L, Giannoncelli A, Meneghini C (2017) Impact of Zn excess on biomineralization processes in Juncus acutus grown in mine polluted sites. J Hazard Mater. https://doi.org/10.1016/j.jhazmat.2017.08.031

Mulligan CN, Yong RN, Gibbs BF (2001) Remediation technologies for metal-contaminated soils and groundwater, an evaluation. Eng Geol 60:193–207

Nicoară A, Neagoe A, Stancu P, De Giudici G, Langella F, Sprocati AR (2014) Coupled pot and lysimeter experiments assessing plant performance in microbially assisted phytoremediation. Environ Sci Pollut Res 21:6905–6920

Podda F, Medas D, De Giudici G, Ryszka P, Wolowski K, Turnau K (2014) Zn biomineralization processes and microbial biofilm in a metal-rich stream (Naracauli, Sardinia). Environ Sci Pollut Res 21:6793–6808

R Development Core Team (2014) R: A Language and Environment for Statistical Computing. Vienna, Austria: R Foundation for Statistical Computing. http://www.R-project.org

Raskin I, Ensley B (2000) Phytoremediation of toxic metals using plants to clean the environment. Wiley, New York

Sprocati AR, Alisi C, Pinto V, Montereali MR, Marconi P, Tasso F, Turnau K, De Giudici G, Goralska K, Bevilacqua M, Marini F, Cremisini C (2014) Assessment of the applicability of a "toolbox" designed for microbially assisted phytoremediation: the case study at Ingurtosu mining site (Italy). Environ Sci Pollut Res 21:6939–6951

Tamburini E, Sergi S, Serreli L, Bacchetta G, Milia S, Cappai G, Carucci A (2016) Bioaugmentation-assisted phytostabilisation of abandoned mine sites in south west Sardinia. Bull Environ Contam Toxicol 98:310–316

Zhu QH, Huang DY, Liu SL, Luo ZC, Zhu HH, Zhou B, Lei M, Rao ZX, Cao XL (2012) Assessment of single extraction methods for evaluatingthe immobilization effect of amendments on cadmiumin contaminated acidic paddy soil. Plant Soil Environ 58:98–103
Acknowledgements
This work is part of the research project RE-MINE -REstoration and remediation of abandoned MINE sites, funded by the Fondazione di Sardegna and Regional Sardinian Government (Grant CUP F72F16003160002). We gratefully acknowledge the University of Cagliari for the financial support of the Ph.D scholarship of Maria Enrica Boi (years 2015–2018).
About this article
Cite this article
Bacchetta, G., Boi, M.E., Cappai, G. et al. Metal Tolerance Capability of Helichrysum microphyllum Cambess. subsp. tyrrhenicum Bacch., Brullo & Giusso: A Candidate for Phytostabilization in Abandoned Mine Sites. Bull Environ Contam Toxicol 101, 758–765 (2018). https://doi.org/10.1007/s00128-018-2463-9
Received:

Accepted:

Published:

Issue Date:

DOI: https://doi.org/10.1007/s00128-018-2463-9
Keywords
Heavy metals

Mine tailings

Mediterranean flora

Phytostabilization

Vascular plant