Abstract
We assessed the presence and distribution of oil mineral aggregates (OMAs) in surficial sediments of Mexican waters in the NW Gulf of Mexico, their potential sources and their correlation with polycyclic aromatic hydrocarbons (PAH). In summer of 2010, OMAs were detected in three shallow sites. In winter of 2011, OMAs were observed in ten sites, two of them in the northernmost area at > 1500 m depth. These particles were possibly advected from the north Gulf and Mississippi area following the deep-water currents of the zone. The OMAs from shallower sites may reflect local pollution sources. PAHs displayed low concentrations in both surveys (from 0.01 to 0.7 µg g−1 in summer, and from 0.01 to 0.51 µg g−1 in winter), and showed rather a local origin. The expansion of the oil and port industry in the region is accountable for most of the OMAs detected.
Access options
Buy single article
Instant access to the full article PDF.
USD 39.95
Price includes VAT (USA)
Tax calculation will be finalised during checkout.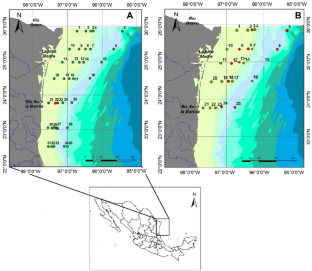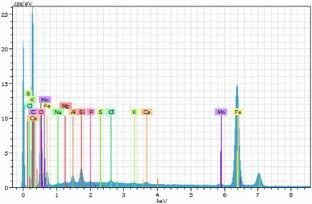 References
Androulidakis YS, Kourafalou VH, Schiller RV (2015) Process studies on the evolution of the Mississippi River plume: impact of topography, wind and discharge conditions. Cont Shelf Res 107:33–49

Arias AH, Vazquez-Botello A, Tombesi N, Ponce-Vélez G, Freije H, Marcovecchio J (2010) Presence, distribution, and origins of polycyclic aromatic hydrocarbons (PAHs) in sediments from Bahía Blanca estuary, Argentina. Environ Monit Assess 160(1–4):301

Botello AV, Soto LA, Ponce-Vélez G, Villanueva S (2015) Baseline for PAHs and metals in NW Gulf of Mexico related to the Deepwater Horizon oil spill. Estuar Coast Shelf Sci 156:124–133

Bunchman MF (2008) NOAA screening quick reference tables, NOAA OR&R Report 08-1. Office of Response and Restoration Division, National Oceanic and Atmospheric Administration, Seattle

CANADIAN COUNCIL OF MINISTERS OF THE ENVIRONMENT (CCME) (2001) Canadian sediment quality guidelines for the protection of aquatic life: Summary tables. Canadian environmental quality guidelines, 1999

Filipek LH, Owen RM (1981) Diagenetic controls of phosphorus in outer continental-shelf sediments from the Gulf of Mexico. Chem Geol 33(1–4):181–204

Ingall ED, Van Cappellen P (1990) Relation between sedimentation rate and burial of organic phosphorus and organic carbon in marine sediments. Geochim Cosmochim Acta 54(2):373–386

Kepkay PE, Bugden JBC, Lee K, Stoffyn-Egli P (2002) Application of ultraviolet fluorescence spectroscopy to monitor oil–mineral aggregate formation. Spill Sci Technol Bull 8(1):101–108

Lee K, Stoffyn-Egli P, Tremblay GH, Owens EH, Sergy G, Guénett CC, Prince RC (2003) Oil–mineral aggregate formation on oiled beaches: natural attenuation and sediment relocation. Spill Sci Technol Bull 8(3):285–296

Long ER, MacDonald DD, Smith SL, Calder FD (1995) Incidence of adverse biological effects within ranges of chemical concentrations in marine and estuarine sediments. Environ Manag 19(1):81–97

Ma X, Cogswel A, Li Z, Lee K (2008) Particle size analysis of dispersed oil and oil-mineral aggregates with an automated ultraviolet epi-fluorescence microscopy system. Environ Technol 29(7):739–748

MacDonald IR, Garcia-Pineda O, Beet A, Daneshgar AS, Feng L, Graettinger G, French-McCay D, Holmes J, Hu C, Huffer F, Leifer I, Muller-Karger F, Solow A, Silva M, Swayze G (2015) Natural and unnatural oil slicks in the Gulf of Mexico. J Geophys Res Oceans 120:8364–8380

Morey SL, Martin PJ, O'Brien JJ, Wallcraft AA, Zavala-Hidalgo J (2003) Export pathways for river discharged fresh water in the northern Gulf of Mexico. J Geophys Res Oceans 108:C10

Ortiz-Ubilla A, Tolson G (2004) Interpretación estructural de una sección sísmica en la región Arcabuz Culebra de la Cuenca de Burgos, NE de México. Rev Mex Cienc Geol 21(2):226–235

Ponce-Vélez G, Botello AV, Díaz-González G (2006) Organic and inorganic pollutants in marine sediments from northern and southern continental shelf of the Gulf of Mexico. Int J Environ Pollut 26(1–3):295–311

Romanou A, Chassigne EP, Sturges W (2004) Gulf of Mexico circulation within a high-resolution numerical simulation of the North Atlantic Ocean. J Geophys Res Oceans 109(C1):1–25

Romero IC, Schwing PT, Brooks GR, Larson RA, Hastings DW, Ellis G, Goddard EA, Hollander DJ (2015) Hydrocarbons in deep-sea sediments following the 2010 Deepwater Horizon blowout in the northeast Gulf of Mexico. PLoS ONE 10(5):e0128371

Saha M, Togo A, Mizukawa K, Murakami M, Takada H, Zakaria MP, Sarkar SK (2009) Sources of sedimentary PAHs in tropical Asian waters: differentiation between pyrogenic and petrogenic sources by alkyl homolog abundance. Mar Poll Bull 58(2):189–200

Salcedo DL, Soto LA, Estradas-Romero A, Botello AV (2017) Interannual variability of soft-bottom macrobenthic communities of the NW Gulf of Mexico in relationship to the Deepwater Horizon oil spill. Mar Poll Bull 114(2):987–994

Santschi PH, Rowe GT (2008) Radiocarbon-derived sedimentation rates in the Gulf of Mexico. Deep Sea Res II 55(24):2572–2576

Scafe DW, Kunze GW (1971) A clay mineral investigation of six cores from the Gulf of Mexico. Mar Geol 10(1):69–85

Soto LA, Vázquez-Botello A (2013) Legal issues and scientific constraints in the environmental assessment of the Deepwater Horizon oil spill in Mexico exclusive economic zone (EEZ) in the Gulf of Mexico. Int J Geosci 4(05):39

Spier C, Stringfellow WT, Hazen TC, Conrad M (2013) Distribution of hydrocarbons released during the 2010 MC252 oil spill in deep offshore waters. Environ Pollut 173:224–230

Stoffyn-Egli P, Lee K (2002) Formation and characterization of oil–mineral aggregates. Spill Sci Technol Bull 8(1):31–44

Valentine DL, Fisher GB, Bagby SC, Nelson RK, Reddy CM, Sylva SP, Woo MA (2014) Fallout plume of submerged oil from Deepwater Horizon. Proc Natl Acad Sci USA 111(45):15906–15911

Vazquez FG, Sharma VK (2004) Major and trace elements in sediments of the Campeche Sound, southeast Gulf of Mexico. Mar Poll Bull 48(1):87–90

Vonk SM, Hollander DJ, Murk AJ (2015) Was the extreme and wide-spread marine oil-snow sedimentation and flocculent accumulation (MOSSFA) event during the Deepwater Horizon blow-out unique? Mar Poll Bull 100(1):5–12

Yunker MB, Macdonald RW, Vingarzan R, Mitchell RH, Goyette D, Sylvestre S (2002) PAHs in the Fraser River basin: a critical appraisal of PAH ratios as indicators of PAH source and composition. Org Geochem 33(4):489–515
Acknowledgements
We would like to thank Sergio Licea for providing the fluorescence microscope facility. Our appreciation to the members of the Benthic Ecology Laboratory: Karla Sierra, Mariana Tapia and Karina Arvizu for their help in the sample processing. Many thanks to the crew of the R/V. Justo Sierra for their support during the MARZEE monitoring program. Funds for this project were provided by the Instituto Nacional de Ecología y Cambio Climático (INECC).
About this article
Cite this article
Zubillaga, A., Soto, L.A., Salcedo, D.L. et al. Presence of Oil Mineral Aggregates (OMAs) in Surface Sediments from Mexico's Exclusive Economic Zone, NW Gulf of Mexico. Bull Environ Contam Toxicol 101, 173–177 (2018). https://doi.org/10.1007/s00128-018-2396-3
Received:

Accepted:

Published:

Issue Date:
Keywords
Oil mineral aggregates

Polycyclic aromatic hydrocarbons

NW Gulf of Mexico