Abstract
As a commonly used phthalate compound, di(n-butyl) phthalate (DBP) is an emerging group of polyvinyl chloride plasticizers. The acute toxicity of DBP has been extensively studied using the aquatic indicator organism, Daphnia magna. However, little is known about chronic and transgenerational toxicity of DBP. In this study, acute LC50 values were 3.04 mg/L (24 h) and 2.55 mg/L (48 h). Chronic toxicity tests in the case of maternal exposure to DBP revealed that DBP had negligible effects on growth and reproduction of F3 generation of D. magna, although the growth rate of body length and the intrinsic rate of increase were prominently reduced, to a pretty small extent. At specific concentrations, DBP generated beneficial effects on the parental generation of D. magna and no obvious impacts on the F1 generation. This study showed that maternal exposure to DBP did not cause any transgenerational effects on D. magna.
Access options
Buy single article
Instant access to the full article PDF.
USD 39.95
Price includes VAT (USA)
Tax calculation will be finalised during checkout.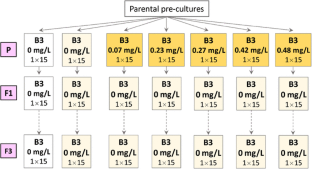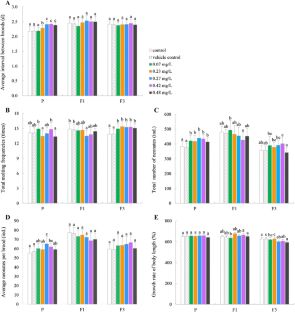 References
Adams WJ, Biddinger GR, Robillard KA, Gorsuch JW (1995) A summary of the acute toxicity of 14 phthalate esters to representative aquatic organisms. Environ Toxicol Chem 14(9):1569–1574

Barata C, Campos B, Rivetti C, Leblanc GA, Eytcheson S, Mcknight S, Toborkaplon M, De VBS, Choi S, Choi J (2017) Validation of a two-generational reproduction test in Daphnia magna: an interlaboratory exercise. Sci Total Environ 579:1073–1083

Bhatia H, Kumar A, Chapman JC, Mclaughlin MJ (2015) Long-term exposures to di-n-butyl phthalate inhibit body growth and impair gonad development in juvenile Murray rainbowfish (Melanotaenia fluviatilis). J Appl Toxicol 35(7):806–816

Bodar CWM (2008) Environmental risk limits for dibutylphthalate (DBP). RIVM, Bilthoven. Report no. 601782009

Castro BB, Freches AR, Rodrigues M, Nunes B, Antunes SC (2018) Transgenerational effects of toxicants: an extension of the daphnia 21-day chronic assay? Arch Environ Con Tox:1–11

Chen JA, Liu H, Qiu Z, Shu W (2008) Analysis of di-n-butyl phthalate and other organic pollutants in Chongqing women undergoing parturition. Environ Pollut 156(3):849–853

Cruciani V, Iovine C, Thomé JP, Joaquim-Justo C (2015) Impact of three phthalate esters on the sexual reproduction of the Monogonont rotifer, Brachionus calyciflorus. Ecotoxicology 25(1):192–200

Deneer JW, Leeuwen CJV, Seinen W, Maas-Diepeveen JL, Hermens JLM (1989) QSAR study of the toxicity of nitrobenzene derivatives towards Daphnia magna, Chlorella pyrenoidosa and Photobacterium phosphoreum. Aquat Toxicol 15(1):83–98

EPA (1996) Method 3510C (SW-846): Separatory funnel liquid-liquid extraction. https://www.epa.gov/sites/production/files/2015-12/documents/3510c.pdf (Revision 3)

EPA (2014) Method 8270D (SW-846): Semivolatile organic compounds by gas chromatography/mass spectrometry (GC/MS). https://www.epa.gov/sites/production/files/2015-07/documents/epa-8270d.pdf (Revision 5)

Fatoki OS, Vernon F (1990) Phthalate esters in rivers of the greater Manchester area. UK Sci Total Environ 95(90):227–232

Guo F, Wang L, Wang WX (2012) Acute and chronic toxicity of polychlorinated biphenyl 126 to Tigriopus japonicus: effects on survival, growth, reproduction, and intrinsic rate of population growth. Environ Toxicol Chem 31(3):639–645

Hassanzadeh N, Sari AE, Khodabandeh S, Bahramifar N (2014) Occurrence and distribution of two phthalate esters in the sediments of the Anzali wetlands on the coast of the Caspian Sea (Iran). Mar Pollut Bull 89(1):128–135

Huang B, Li D, Yang Y (2016) Joint toxicity of two phthalates with waterborne copper to Daphnia magna and photobacterium phosphoreum. B Environ Contam Tox 97(3):380–386

Jie S, Ji X, Rui Z, Yu H, Ying L, Du J, Xie X, Li A (2016) Endocrine disrupting compounds reduction and water quality improvement in reclaimed municipal wastewater: a field-scale study along Jialu River in North China. Chemosphere 157:232–240

Liu Y, Qi S, Zhang W, Li X, Qiu L, Wang C (2012) Acute and chronic toxicity of buprofezin on Daphnia Magna and the recovery evaluation. B Environ Contam Tox 89(5):966–969

Martino-Andrade AJ, Chahoud I (2010) Reproductive toxicity of phthalate esters. Mol Nut Food Res 54(1):148–157

Massarin S, Alonzo F, Garciasanchez L, Gilbin R, Garnierlaplace J, Poggiale JC (2010) Effects of chronic uranium exposure on life history and physiology of Daphnia magna over three successive generations. Aquat Toxicol 99(3):309–319

Mayer FL, Sanders HO (1973) Toxicology of phthalic acid esters in aquatic organisms. Environ Health Persp 3:153–157

Mccarthy JF, Whitmore DK (2010) Chronic toxicity of di-n-butyl and di-n-octyl phthalate to Daphnia magna and the fathead minnow. Environ Toxicol Chem 4(2):167–179

OECD (2004) Guideline for testing of chemicals, Daphnia sp, acute immobilisation test

OECD (2008) Guideline for testing of chemicals, Daphnia magna reproduction test

Peijnenburg WJ, Struijs J (2006) Occurrence of phthalate esters in the environment of the Netherlands. Ecotoxicol Environ Saf 63(2):204–215

Sha Y, Xia X, Yang Z, Huang GH (2007) Distribution of PAEs in the middle and lower reaches of the Yellow River, China. Environ Monit Assess 124(1):277–287

Teuten EL, Saquing JM, Knappe DRU, Barlaz MA, Jonsson S, Björn A, Rowland SJ, Thompson RC, Galloway TS, Yamashita R (2009) Transport and release of chemicals from plastics to the environment and to wildlife. Philos T R Soc B 364(1526):2027–2045

Wang J, Chen L, Shi H, Qian Y (2000) Microbial degradation of phthalic acid esters under anaerobic digestion of sludge. Chemosphere 41(8):1245–1248

Wang H, Wang C, Wu W, Mo Z, Wang Z (2003) Persistent organic pollutants in water and surface sediments of Taihu Lake, China and risk assessment. Chemosphere 50(4):557–562

Wang F, Xia X, Sha Y (2008) Distribution of phthalic acid esters in Wuhan section of the Yangtze River, China. J Hazard Mater 154(1):317–324

Zhou J, Cai ZH, Xing KZ (2011) Potential mechanisms of phthalate ester embryotoxicity in the abalone Haliotis diversicolor supertexta. Environ Pollut 159(5):1114–1122
Acknowledgements
This research was financially supported by the National Natural Science Foundation of China (No. 41501535), Special Program for Key Basic Research of the Ministry of Science and Technology, China (No. 2014FY210700), Liaoning Province Natural Science Foundation of China (201601387).
About this article
Cite this article
Wei, J., Shen, Q., Ban, Y. et al. Characterization of Acute and Chronic Toxicity of DBP to Daphnia magna. Bull Environ Contam Toxicol 101, 214–221 (2018). https://doi.org/10.1007/s00128-018-2391-8
Received:

Accepted:

Published:

Issue Date:
Keywords
Daphnia magna

Acute and chronic toxicity

Di(n-butyl) phthalate

Transgenerational toxicity