Abstract
A multi-purpose Water Quality Index (WQI) was developed to assess the suitability of surface water for drinking, fish-culture, as well as irrigation in Durgapur industrial city, India. WQI was calculated for 48 sampling locations, where 2.08%, 4.17% and 22.91% of the sampling locations have excellent water quality (WQI: 0–25) and 20.83%, 33.33% and 34.35% have good quality (WQI: 25–50), which represents its suitability for drinking, irrigation, and fish-culture respectively. Further, health risk was evaluated by Hazard Index (HI), which reflected that the population were prone to risk on oral ingestion [HI (female): 1.52; HI (male): 1.29], while safe for dermal contact (HI < 1). Potent toxic pollutants like Co, F, Mn, NO3 were identified to cause health hazards. The pollutants were attributed to rock-weathering, industries, agriculture and municipal sources, was investigated by factor analysis. This novel assessment technique with integration of geographical information system affirmed its effectiveness and easiness to evaluate water quality for multiple uses in any area.
Access options
Buy single article
Instant access to the full article PDF.
USD 39.95
Price includes VAT (USA)
Tax calculation will be finalised during checkout.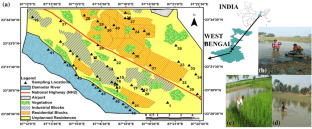 References
Abdullah EJ (2013) Evaluation of surface water quality indices for heavy metals of Diyala River-Iraq. J Nat Sci Res 3:63–69

Aitman TJ (2001) DNA microarrays in medical practice. BMJ 323:611–615. https://doi.org/10.1136/bmj.323.7313.611

APHA/AWWA/WEF (2012) Standard methods for the examination of water and wastewater. American Public Health Association, Washington, DC

Austin B (1998) The effects of pollution on fish health. J Appl Microbiol 85:234–242. https://doi.org/10.1111/j.1365-2672.1998.tb05303.x

Bhat SA, Meraj G, Yaseen S, Pandit AK (2014) Statistical assessment of water quality parameters for pollution source identification in Sukhnag Stream: an inflow stream of Lake Wular (Ramsar Site), Kashmir Himalaya. J Ecosyst 2014:1–18. https://doi.org/10.1155/2014/898054

Bhavimani H, Puttaiah ET (2014) Fish culture and physico-chemical characteristics of Madikoppa Pond, Dharwad Tq/Dist, Karnatak. J Waste Water Treat Anal 5:1–3. https://doi.org/10.4172/2157-7587.1000162

BIS (2003) Quality tolerance for fresh water for fish culture IS 13891: 2003. Bureau of Indian Standards, New Delhi

BIS (2009) Guidelines for the quality of irrigation water IS 11624: 2009. Bureau of Indian Standards, New Delhi

BIS (2012) Indian standard drinking water specifications IS 10500:2012. Bureau of Indian Standards, New Delhi

Boyacioglu H (2007) Development of a water quality index based on a European classification scheme. Water Sa 33:101–106. https://doi.org/10.4314/wsa.v33i1.47882

Brindha K, Elango L (2011) Fluoride in groundwater: causes, implications and mitigation measures. Fluoride Prop Appl Environ Manag 1:111–136

Chowdhury A, Naz A, Maiti SK (2017) Health risk assessment of 'tiger prawn seed'collectors exposed to heavy metal pollution in the conserved mangrove forest of Indian Sundarbans: A socio-environmental perspective. Hum Ecol Risk Assess: Int J 23:203–224. https://doi.org/10.1080/10807039.2016.1238300

CPCB (2009) Comprehensive environmental assessment of industrial clusters. Central Pollution Control Board, New Delhi

Garg RK, Rao RJ, Uchchariya D, Shukla G, Saksena DN (2010) Seasonal variations in water quality and major threats to Ramsagar reservoir, India. Afr J Environ Sci Technol 4:61–76

Golomb D, Ryan D, Eby N, Underhill J, Zemba S (1997) Atmospheric deposition of toxics onto Massachusetts Bay—I Metals. Atmos Environ 31:1349–1359. https://doi.org/10.1016/S1352-2310(96)00276-2

Lawlor AJ, Tipping E (2003) Metals in bulk deposition and surface waters at two upland locations in northern England. Environ Pollut 121:153–167. https://doi.org/10.1016/S0269-7491(02)00228-2

Mebrahtu G, Zerabruk S (2011) Concentration of heavy metals in drinking water from urban areas of the Tigray. Momona Ethiop J Sci 3:105–121. https://doi.org/10.4314/mejs.v3i1.63689

MedIndia (2017) Body surface area for adults. http://www.medindia.net/doctors/clinical_cal/body_surface_area.asp. Accessed 14 Nov 2017

Mishra S, Dwivedi SP, Singh RB (2010) A review on epigenetic effect of heavy metal carcinogens on human health. Open Nutraceuticals J 3:188–193

Misra V, Pandey SD (2005) Hazardous waste, impact on health and environment for development of better waste management strategies in future in India. Environ Int 31:417–431. https://doi.org/10.1016/j.envint.2004.08.005

Moghaddam MH, Lashkaripour GR, Dehghan P (2014) Assessing the effect of heavy metal concentrations (Fe, Pb, Zn, Ni, Cd, As, Cu, Cr) on the quality of adjacent groundwater resources of Khorasan steel complex. Int J Plant Anim Environ Sci 4:511–518

Murty MN, Kumar S (2011) Water pollution in india: an economic appraisal. India Infrastruct Rep 19:285–298

Patel P, Raju NJ, Reddy BSR, Suresh U, Gossel W, Wycisk P (2016) Geochemical processes and multivariate statistical analysis for the assessment of groundwater quality in the Swarnamukhi River basin, Andhra Pradesh, India. Environ Earth Sci 75:1–24. https://doi.org/10.1007/s12665-015-5108-x

Ravikumar P, Mehmood MA, Somashekar RK (2013) Water quality index to determine the surface water quality of Sankey tank and Mallathahalli lake, Bangalore urban district, Karnataka, India. Appl Water Sci 3:247–261. https://doi.org/10.1007/s13201-013-0077-2

Saha P, Paul B (2018) Assessment of heavy metal toxicity related with human health risk in the surface water of an industrialized area by a novel technique. Hum Ecol Risk Assess: Int J. https://doi.org/10.1080/10807039.2018.1458595

Semrau KT (1957) Emission of fluorides from industrial processes—a review. J Air Pollut Control Assoc 7:92–108. https://doi.org/10.1080/00966665.1957.10467795

Simsek C, Gunduz O (2007) IWQ Index: A GIS-integrated technique to assess irrigation water quality. Environ Monit Assess 128:277–300. https://doi.org/10.1007/s10661-006-9312-8

Tiwari AK, De Maio M, Singh PK, Mahato MK (2015) Evaluation of surface water quality by using GIS and a heavy metal pollution index (HPI) model in a coal mining area, India. Bull Environ Contam Toxicol 95:304–310. https://doi.org/10.1007/s00128-015-1558-9

Tripathee L, Kang S, Sharma CM et al (2016) Preliminary health risk assessment of potentially toxic metals in surface water of the Himalayan Rivers, Nepal. Bull Environ Contam Toxicol 97:855–862. https://doi.org/10.1007/s00128-016-1945-x

USEPA (US Environmental Protection Agency) (2004) Risk Assessment Guidance for Superfund Volume I: Human Health Evaluation Manual (Part E, Supplemental Guidance for Dermal Risk Assessment) Final. EPA/540/R/99/005 OSWER 9285.7-02EP PB99-963312 July 2004. Office of Superfund Remediation and Technology Innovation, Washington, DC

USEPA (US Environmental Protection Agency) (2016) https://www.epa.gov/risk/regional-screening-levels-rsls-generic-tables-may-2016. Accessed 21 Mar 2017
Acknowledgements
The authors would like to thank Ministry of Human Recourse Development, Government of India for funding the research work and Indian Institute of Technology (Indian School of Mines), Dhanbad for providing laboratory facilities.
About this article
Cite this article
Saha, P., Paul, B. Suitability Assessment of Surface Water Quality with Reference to Drinking, Irrigation and Fish Culture: A Human Health Risk Perspective. Bull Environ Contam Toxicol 101, 262–271 (2018). https://doi.org/10.1007/s00128-018-2389-2
Received:

Accepted:

Published:

Issue Date:
Keywords
Fish culture

Hazard Index

Irrigation

Factor analysis

Water Quality Index