Abstract
The occurrence of 15 perfluoroalkyl substances (PFASs) in water, sediments, and fish from Songhua River and Yalu River in Jilin Province, Northeast China, during their spring flood period were investigated for the first time. The short-chain perfluorobutanoic acid was the dominant PFAS in the water with the mean concentrations of 10 ng L−1 in Songhua River and 9.0 ng L−1 in Yalu River, and also dominant in sediments with the mean concentrations of 2.0 and 1.8 ng g−1 dry weight. Perfluorodecane sulfonate was the predominant compound in fish. The detected frequencies and concentrations of perfluorooctane sulfonate and perfluorooctanoic acid were very low in the water, sediments, and fish. Low detected frequencies and concentrations of long-chain PFASs led to relative low sediment–water partition coefficients and bioaccumulation factors. The concentration levels of PFASs in the two rivers were lower than those in other major rivers in China.
Access options
Buy single article
Instant access to the full article PDF.
USD 39.95
Price includes VAT (USA)
Tax calculation will be finalised during checkout.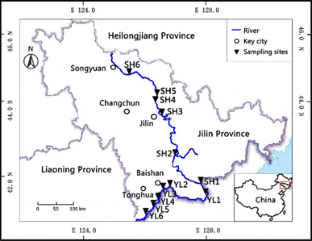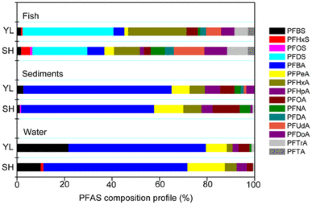 References
Ahrens L, Taniyasu S, Yeung LWY, Yamashita N, Lam PKS, Ebinghaus R (2010) Distribution of polyfluoroalkyl compounds in water, suspended particulate matter and sediment from Tokyo Bay, Japan. Chemosphere 79:266–272

Buck RC, Franklin J, Berger U, Conder JM, Cousins IT, De Voogt P, Jensen AA, Kannan K, Mabury SA, van Leeuwen SP (2011) Perfluoroalkyl and polyfluoroalkyl substances in the environment: terminology, classification, and origins. Integr Environ Asses Manag 7:513–541

Campo J, Perez F, Masia A, Pico Y, Farre M, Barcelo D (2014) Perfluoroalkyl substance contamination of the Llobregat River ecosystem (Mediterranean area, NE Spain). Sci Total Environ 503:48–57

Campo J, Lorenzo M, Perez F, Pico Y, Farre M, Barcelo D (2016) Analysis of the presence of perfluoroalkyl substances in water, sediment and biota of the Jucar River (E Spain). Sources, partitioning and relationships with water physical characteristics. Environ Res 147:503–512

Dong DM, Liu XX, Hua XY, Guo ZY, Li LF, Zhang LW, Xie YJ (2016) Sedimentary record of polycyclic aromatic hydrocarbons in Songhua River, China. Environ Earth Sci 75:508

Eschauzier C, Raat KJ, Stuyfzand PJ, De Voogt P (2013) Perfluorinated alkylated acids in groundwater and drinking water: identification, origin and mobility. Sci Total Environ 458:477–485

Gronnestad R, Villanger GD, Polder A, Kovacs KM, Lydersen C, Jenssen BM, Borga K (2017) Maternal transfer of perfluoroalkyl substances in hooded seals. Environ Toxicol Chem 36:763–770

Han DM, Currell MJ (2017) Persistent organic pollutants in China's surface water systems. Sci Total Environ 580:602–625

Hansen KJ, Clemen LA, Ellefson ME, Johnson HO (2001) Compound-specific, quantitative characterization of organic: fluorochemicals in biological matrices. Environ Sci Technol 35:766–770

Higgins CP, Luthy RG (2006) Sorption of perfluorinated surfactants on sediments. Environ Sci Technol 40:7251–7256

Kwadijk CJAF., Korytar P, Koelmans AA (2010) Distribution of perfluorinated compounds in aquatic systems in the Netherlands. Environ Sci Technol 44:3746–3751

Lam NH, Cho CR, Kannan K, Cho HS (2017) A nationwide survey of perfluorinated alkyl substances in waters, sediment and biota collected from aquatic environment in Vietnam: distributions and bioconcentration profiles. J Hazard Mater 323:116–127

Liu BL, Zhang H, Li JY, Dong WH, Xie LW (2017) Perfluoroalkyl acids (PFAAs) in sediments from rivers of the Pearl River Delta, Southern China. Environ Monit Assess 189:213

Lorenzo M, Campo J, Farre M, Perez F, Pico Y, Barcelo D (2016) Perfluoroalkyl substances in the Ebro and Guadalquivir river basins (Spain). Sci Total Environ 540:191–199

Martin JW, Ellis DA, Mabury SA, Hurley MD, Wallington TJ (2006) Atmospheric chemistry of perfluoroalkanesulfonamides: kinetic and product studies of the OH radical and Cl atom initiated oxidation of N-ethyl perfluorobutanesulfonamide. Environ Sci Technol 40:864–872

Myers AL, Crozier PW, Helm PA, Brimacombe C, Furdui VI, Reiner EJ, Burniston D, Marvin CH (2012) Fate, distribution, and contrasting temporal trends of perfluoroalkyl substances (PFASs) in Lake Ontario, Canada. Environ Int 44:92–99

Pan CG, Ying GG, Zhao JL, Liu YS, Jiang YX, Zhang QQ (2014a) Spatiotemporal distribution and mass loadings of perfluoroalkyl substances in the Yangtze River of China. Sci Total Environ 493:580–587

Pan CG, Zhao JL, Liu YS, Zhang QQ, Chen ZF, Lai HJ, Peng FJ, Liu SS, Ying GG (2014b) Bioaccumulation and risk assessment of per- and polyfluoroalkyl substances in wild freshwater fish from rivers in the Pearl River Delta region, South China. Ecotoxicol Environ Saf 107:192–199

Piao HT, Jiao XC, Gai N, Chen S, Lu GH, Yin XC, Yamazaki E, Yamashita N, Tan KY, Yang YL, Pan J (2017) Perfluoroalkyl substances in waters along the Grand Canal, China. Chemosphere 179:387–394

Pico Y, Blasco C, Farre M, Barcelo D (2012) Occurrence of perfluorinated compounds in water and sediment of L'Albufera Natural Park (Valencia, Spain). Environ Sci Pollut Res 19:946–957

Sun ZY, Zhang CJ, Yan H, Han CL, Chen L, Meng XZ, Zhou Q (2017) Spatiotemporal distribution and potential sources of perfluoroalkyl acids in Huangpu River, Shanghai, China. Chemosphere 174:127–135

Xu J, Guo CS, Zhang Y, Meng W (2014) Bioaccumulation and trophic transfer of perfluorinated compounds in a eutrophic freshwater food web. Environ Pollut 184:254–261

Yang LP, Zhu LY, Liu ZT (2011) Occurrence and partition of perfluorinated compounds in water and sediment from Liao River and Taihu Lake, China. Chemosphere 83:806–814

Yu NY, Shi W, Zhang BB, Su GY, Feng JF, Zhang XW, Wei S, Yu HX (2013) Occurrence of perfluoroalkyl acids including perfluorooctane sulfonate isomers in Huai River Basin and Taihu Lake in Jiangsu Province, China. Environ Sci Technol 47:710–717

Zhang YY, Lai SC, Zhao Z, Liu FB, Chen HW, Zou SC, Xie ZY, Ebinghaus R (2013) Spatial distribution of perfluoroalkyl acids in the Pearl River of Southern China. Chemosphere 93:1519–1525

Zhou Z, Shi YL, Li WH, Xu L, Cai YQ (2012) Perfluorinated compounds in surface water and organisms from Baiyangdian Lake in North China: Source profiles, bioaccumulation and potential risk. Bull Environ Contam Toxicol 89:519–524
Acknowledgements
This study was supported by the National Natural Science Foundation of China (21307041), Scientific Research Project of Environmental Protection Bureau of Jilin Province (2017-15), Science and Technology Planning Project of General Administration of Quality Supervision, Inspection and Quarantine of China (2007IK142), and 111 Project (B16020).
About this article
Cite this article
Zhang, X., Hu, T., Yang, L. et al. The Investigation of Perfluoroalkyl Substances in Seasonal Freeze–Thaw Rivers During Spring Flood Period: A Case Study in Songhua River and Yalu River, China. Bull Environ Contam Toxicol 101, 166–172 (2018). https://doi.org/10.1007/s00128-018-2381-x
Received:

Accepted:

Published:

Issue Date:
Keywords
Occurrence

Partition

Bioaccumulation

Northeast China

PFOS

PFOA