Abstract
This study evaluated the effects of a commercially recommended concentration (1 mL/L) of a fungicide tebuconazole (TBZ) on testicular and epididymal histomorphometry of Artibeus lituratus, following 7 and 30-day oral exposure. TBZ30 bats showed a reduction in the percentage of tubules and seminiferous epithelium, as well as a decrease in tubule and epithelium somatic indexes, and tubular diameter. Inversely, these animals showed increased percentage of intertubular compartment, Leydig cells and blood vessels. The volume of Leydig cells and their number per gram of testis also increased in TBZ30 bats. Alterations in epididymal morphometry were observed in all regions of the organ, with increase of ductal diameter in both exposure times. These results indicate that exposure to low concentration of TBZ resulted in testicular and epididymal morphometric changes in fruit bats, mainly at 30-day exposure, suggesting that functional alterations might be occurring in these organs and impacting reproductive capacity.
Access options
Buy single article
Instant access to the full article PDF.
USD 39.95
Price includes VAT (USA)
Tax calculation will be finalised during checkout.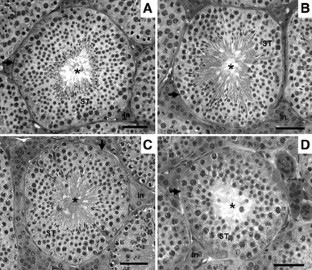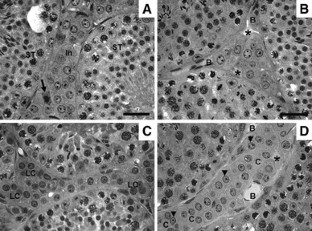 References
Amaral TS, Carvalho TF, Silva MC et al (2012) Metabolic and histopathological alterations in the fruit-eating bat Artibeus lituratus induced by the organophosphorous pesticide fenthion. Acta Chiropter 14:225–232

Bartlewicz J, Pozo MI, Honnay O, Lievens B, Jacquemyn H (2016) Effects of agricultural fungicides on microorganisms associated with floral nectar: susceptibility assays and field experiments. Environ Sci Pollut Res 23:19776–19786

Belleanneé C, Thimon V, Sullivan R (2012) Region-specific gene expression in the epididymis. Cell Tissue Res 349:717–731

Blanco A, Moyano R, Vivo J et al (2007) Quantitative changes in the testicular structure in mice exposed to low doses of cadmium. Environ Toxicol Pharmacol 23:93–101

Byskov AG, Andersen CY, Nordholm L, Thogersen H, Xia G, Wassmann O (1995) Chemical structure of sterols that activate oocyte meiosis. Nature 374:559–562

Cao S, Ye L, Wu Y, Mao B, Chen L, Wang X, Huang P, Su Y, Ge RS (2017) The effects of fungicides on human 3β-hydroxysteroid dehydrogenase 1 and aromatase in human placental cell line JEG-3. Pharmacology 100:139–147

Castro MM, Gonçalves WG, Teixeira SAMV, Fialho MCQ, Santos FC, Oliveira JM, Serrão JE, Machado-Neves M (2017) Ultrastructure and morphometric features of epididymal epithelium in Desmodus rotundus. Micron 102:35–43

Cecconi S, Paro R, Rossi G, Macchiarelli G (2007) The effects of endocrine disruptors dithiocarbamates on the mammalian ovary with particular regard to mancozeb. Curr Pharm Des 13:2989–3004

Clegg ED, Perreault SD, Klinefelter GR (2001) Assessment of male reproductive toxicity. In: Principles and methods of toxicology, 4th edn. Taylor & Francis, Philadelphia, pp 1263–1300

Cornwall GA (2009) New insights into epididymal biology and function. Hum Reprod Update 15:223–227

Debeljak N, Horvat S, Vouk K, Lee M, Rozman D (2000) Characterization of the mouse lanosterol 14alphademethylase (CYP51), a new member of the evolutionarily most conserved cytochrome P450 family. Arch Biochem Biophys 379:37–45

Domeniconi RF, Souza ACF, Xu B, Washington AM, Hinton BT (2016) Is the epididymis a series of organs placed side by side? Biol Reprod 95:1–8

Fernandez CDB, Porto EM, Arena AC, Kempinas WG (2008) Effects of altered epididymal sperm transit time on sperm quality. Int J Androl 31:427–437

França LR, Russell LD (1998) The testis of domestic mammals. In: Martinez-Garcia Regadera J (ed) Male reproduction: a multidisciplinary overview. Churchill Livingstone, Madrid, pp 197–219

Fu Y, Zheng Z, Wei P, Wang M, Zhu G, Liu Y (2016) Distribution of thifluzamide, fenoxanil and tebuconazole in rice paddy and dietary risk assessment. Toxicol Environ Chem 98:118–127

Gerell R, Lunderg KG (1993) Decline of a bat Pipistrellus pipistrellus population in an industrialized area in south Sweden. Biol Conserv 65:153–157

Goetz AK, Rockett JC, Ren H, Thillainadarajah I, Dix DJ (2009) Inhibition of rat and human steroidogenesis by triazole antifungals. Syst Biol Reprod Med 55:214–226

Gorchov DL, Cornejo F, Ascorra C, Jaramillo M (1993) The role of seed dispersal in the natural regeneration of rain forest after stripcutting in the Peruvian Amazon. In: Fleming TH, Estrada A (eds) Frugivory and seed dispersal: ecological and evolutionary aspects. W. Kluwer Academic Publishers, Dordrecht, pp 339–349

Gray LE, Wilson VS, Stoker T, Lambright C, Furr J, Noriega N, Howdeshell K, Ankley GT, Guillette L (2006) Adverse effects of environmental antiandrogens and androgens on reproductive development in mammals. Int J Androl 29:96–104

Hass U, Boberg J, Christiansen S, Jacobsen PR, Vinggaard AM, Taxvig C, Poulsen ME, Herrmann SS, Jensen BH, Petersen A, Clemmensen LH, Axelstad M (2012) Adverse effects on sexual development in rat offspring after low dose exposure to a mixture of endocrine disrupting pesticides. Reprod Toxicol 34:261–274

Joshi SC, Gulati N (2005) Effects of tebuconazole on reproductive function of male rat. J Cell Tissue Res 5:457–460

Joshi SC, Nandan G, Bhawana S, Priyanka S (2016) Effects of tebuconazole (a fungicide) on reproduction of male rat. Int J Pharma Res Health Sci 4:1489–1494

Kwok IM-Y, Loeffler RT (1993) The biochemical mode of action of some newer azole fungicides. Pestic Sci 39:1–11

Melo BES, Barros MS, Carvalho TF, Amaral TS, Freitas MB (2012) Energy reserves of Artibeus lituratus (Chiroptera: Phyllostomidae) in two areas with different degrees of conservation in Minas Gerais, Brazil. Braz J Biol 72:181–187

Mispagel C, Allinson M, Allinson G, Iseki N, Grant C, Morita M (2004) DDT and metabolites residues in the southern bent-wing bat (Miniopterus schreibersii bassanii) of south-eastern Australia. Chemosphere 55:997–1003

Morais ACT, Balarini MK, Lopes EO, Menezes TP, Quintela FM, Morais DB, Gomes Mde L, Matta SL (2014) The tubular compartment and the spermatogenic dynamics of the wild rodent Oxymycterus nasutus (Rodentia: Cricetidae). Anim Reprod Sci 149:249–258

Mori H, Christensen K (1980) Morphometric analysis of Leydig cells in the normal rat testis. J Cell Biol 84:340–354

Moser VC, Barone S Jr, Smialowicz RJ, Harris MW, Davis BJ, Overstreet D, Mauney M, Chapin RE (2001) The effects of perinatal tebuconazole exposure on adult neurological, immunological, and reproductive function in rats. Toxicol Sci 62:339–352

Qi S. Liu X, Zhu L, Chen X, Wang C (2018) Racemic, R-, and S-tebuconazole altered chitinase and chitobiase activity of Daphnia magna. J Environ Sci Health B 53:171–175

Robertson KM, O'Donnell L, Jones ME, Meachem SJ, Boon WC, Fisher CR, Graves KH, McLachlan RI, Simpson ER (1999) Impairment of spermatogenesis in mice lacking a functional aromatase (cyp 19) gene. Proc Natl Acad Sci USA 96:7986–7991

Russell LD, Ettlin RA, Sinha-Hikim AP, Clegg ED (1990) Histological and histopathological evaluation of the testis. Cache River Press, Clearwater, Florida

Sancho E, Fernández-Vega C, Villarroel MA, Andreu-Moliner E, Ferrando MA (2009) Physiological effects of tricyclazole on zebrafish (Danio rerio) and post-exposure recovery. Comp Biochem Physiol C Toxicol Pharmacol 150:25–32

Shen Z, Zhu W, Liu D, Xu X, Zhang P, Zhou Z (2012) Stereoselective degradation of tebuconazole in rat liver microsomes. Chirality 24:67–71

Siu ER, Mruk DD, Porto CS, Cheng CY (2009) Cadmium-induced testicular injury. Toxicol Appl Pharmacol 238:240–249

Souza ACF, Marchesi SC, Liman GDA, Ferraz RP, Santos FC, da Matta SLP, Machado-Neves M (2016) Effects of sodium arsenite and arsenate in testicular histomorphometry and antioxidants enzymes activities in rats. Biol Trace Elem Res 171:354–362

Swanepoel RE, Racey PA, Shore RF, Speakman JR (1999) Energetic effects of sublethal exposure to lindane on pipistrelle bats (Pipistrellus pipistrellus). Environ Pollut 104:169–177

Taboga SR, Souza RS, Santos DC, Oliani SM (1999) Spontaneous germ cell death by apoptosis in epididymis of the adult bat Artibeus lituratus. Cytobios 99:3945

Taxvig C, Hass U, Axelstad M, Dalgaard M, Boberg J, Andeasen HR, Vinggaard AM (2007) Endocrine-disrupting activities in vivo of the fungicides tebuconazole and epoxiconazole. Toxicol Sci 100:464–473

Vinggaard AM, Hnida C, Breinholt V, Larsen JC (2000) Screening of selected pesticides for inhibition of CYP19 aromatase activity in vitro. Toxicol in vitro 14:227–234

Walker UJ, Nogués V (1994) Changes induced by treatment with aromatase inhibitors in testicular Leydig cells of rats and dogs. Exp Toxicol Pathol 46:211–213

Zhao W, Uehera S, Tanaka K, Tadokoro S, Kusamori K, Katsumi H, Sakane T, Yamamoto A (2016) Effects of polyoxyethylene alkyl ethers on the intestinal transport and absorption of rhodamine 123: a P-glycoprotein substrate by in vitro and in vivo studies. J Pharm Sci 105:1526–1534

Zhar JH (2010) Biostatistical analysis, 4th edn. Upper Saddle River, Prentice-Hall

Zhou J, Zhang J, Li F, Liu J (2016) Triazole fungicide tebuconazole disrupts human placental trophoblast cell functions. J Hazard Mater 308:294–302
Acknowledgements
This work was supported by Coordenação de Aperfeiçoamento de Pessoal de Nível Superior (Master fellowship to MJON and DCM), Fundação de Amparo à Pesquisa do Estado de Minas Gerais (APQ-02514-16 to MMN) and Conselho Nacional de Desenvolvimento Científico e Tecnlógico (448455/2014-5 to MMN; Postdoctoral fellowship 150333/2018-8 to ACFS).
Ethics declarations
Conflict of interest
The authors declare that they have no conflict of interest.
About this article
Cite this article
Machado-Neves, M., Neto, M.J.O., Miranda, D.C. et al. Dietary Exposure to Tebuconazole Affects Testicular and Epididymal Histomorphometry in Frugivorous Bats. Bull Environ Contam Toxicol 101, 197–204 (2018). https://doi.org/10.1007/s00128-018-2377-6
Received:

Accepted:

Published:

Issue Date:
Keywords
Reproductive toxicology

Fungicides

Testis

Epididymis

Stereology

Artibeus lituratus