Abstract
Transcriptional changes of genes encoded with phytochelatins synthase (PCS) was investigated in rice seedlings exposed to potassium chromate Cr(VI) or chromium nitrate Cr(III) using qRT-PCR. Our study demonstrates that both Cr variants initiated different responses of phytochelatin content and PCS activities in rice tissues. Six putative PCS genes were expressed differentially in response to both Cr species. Comparing gene expression between root/shoots, only LOC_Os05g34290.1 and LOC_Os06g01260.1 genes were expressed in similar patterns in Cr(VI) treatment, while none of them were expressed equally in Cr(III) treatments. Inconsistent expression of PCS genes in two Cr variants as well as in rice tissues were most likely related to its individual chemical properties and chemical speciation. Results presented here indicate that the role of phytochelatins in Cr detoxification between two Cr variants in rice was different and six putative PCS genes functioned differently in stimulating PCS activities and regulating phytochelatin formation.
Access options
Buy single article
Instant access to the full article PDF.
USD 39.95
Price includes VAT (USA)
Tax calculation will be finalised during checkout.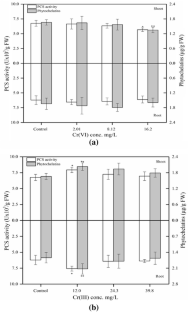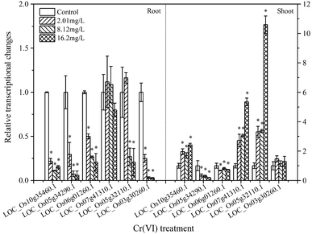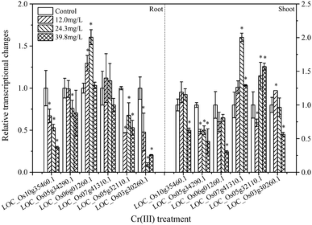 References
Branco D, Lima A, Almeida S, Figueira E (2010) Sensitivity of biochemical markers to evaluate cadmium stress in the freshwater diatom Nitzschia palea (Kutzing) W. Smith. Aquat Toxicol 99:109–117

Bundy JG, Kille P, Liebeke M, Spurgeon D (2014) Metallothioneins may not he enough-the role of phytochelatins in invertebrate metal detoxification. Environ Sci Technol 48:885–886

Cobbett C, Goldsbrough P (2002) Phytochelatins and metallothioneins: roles in heavy metal detoxification and homeostasis. Annu Rev Plant Biol 53:159–182

Estrella-Gomez N, Mendoza-Cozatl D, Moreno-Sanchez R, Gonzalez-Mendoza D, Zapata-Perez O, Martinez-Hernandez A, Santamaria JM (2009) The Pb-hyperaccumulator aquatic fern Salvinia minima Baker, responds to Pb(2+) by increasing phytochelatins via changes in SmPCS expression and in phytochelatin synthase activity. Aquat Toxicol 91:320–328

Figueira E, Greitas R, Guasch H, Almeida APS (2014) Efficiency of cadmium chelation by phytochelatins in Nitzschia Palea (Kutzing) W. Smith. Ecotoxicology 23:285–292

Grill E, Winnacker EL, Zenk MH (1985) Phytochelatins: the principal heavy-metal complexing peptides of higher plants. Science 230:674–676

Gupta DK, Huang HG, Nicoloso FT, Schetinger RR, Farias JG, Li TQ, Razafindrabe BHN, Aryal N, Inouhe M (2013) Effects of Hg, As and Pb on biomass production, photosynthetic rate, nutrients uptake and phytochelatin induction in Pfaffia glomerata. Ecotoxicology 22:1403–1412

Hall JL (2002) Cellular mechanisms for heavy metal detoxification and tolerance. J Exp Bot 53:1–11

Hussain S, Yin H, Peng S, Khan FA, Khan F, Sameeullah M, Hussain HA, Huang J, Cui K, Nie L (2016) Comparative transcriptional profiling of primed and non-primed rice seedlings under submergence stress. Front Plant Sci 7:1125

Li HM, Wang HB, Wang HJ, Song YH, Zhong ZY (2012) Effects of arsenic speciation on the phytochelatins (PCs) synthesis by Hydrilla verticillata. Chin J Ecol 31:1233–1240 (in Chinese)

Livak KJ, Schmittgen TD (2001) Analysis of relative gene expression data using real time quantitative PCR and the 2–∆∆CT method. Methods 25:402–408

Pal R, Rai J (2010) Phytochelatins: peptides involved in heavy metal detoxification. Appl Biochem Biotechnol 160:945–963

Pawlik-Skowronska B, Toppi LS, Favali MA, Fossati F, Pirszel J, Skowronski T (2002) Lichens respond to heavy metals by phytochelatin synthesis. New Phytol 156:95–102

Rea P (2012) Phytochelatin synthase: of a protease a peptide polymerase made. Physiol Plant 145:154–164

Roncarati F, Saez CA, Greco M, Gledhill M, Bitonti MB, Brown MT (2015) Response differences between Ectocarpus siliculosus population to copper stress involve cellular exclusion and induction of the phytochelatin biosynthetic pathway. Aquat Toxicol 159:167–175

Shukla D, Tiwari M, Tripathi ED, Nath P, Trivedi PK (2013) Synthetic phytochelatins complement a phytochelatin-deficient Arabidopsis mutant and enhance the accumulation of heavy metal(loid)s. Biochem Biophy Res Commun 434:664–669

Torok A, Gulyas Z, Szalai G, Kocsy G, Majdik C (2015) Phytoremediation capacity of aquatic plants is associated with the degree of phytochelatin polymerization. J Hazard Mater 299:371–378

Wood BA, Feldmann J (2012) Quantification of phytochelatins and their metal(loid) complexes: critical assessment of current analytical methodology. Anal Bioanal Chem 402:3299–3309

Yu XZ, Zhang FF, Liu W (2017) Chromium-induced depression of 15N content and nitrate reductase activity in rice seedlings. Int J Environ Sci Technol 14:29–36

Yu XZ, Feng YX, Liang YP (2018a) Kinetics of phyto-accumulation of hexavalent and trivalent chromium in rice seedlings. Int Biodeterior Biodegradation 128:72–77

Yu XZ, Fan WJ, Lin YJ, Zhang FF, Gupta DK (2018b) Differential expression of the PAL gene family in rice seedlings exposed to chromium by microarray analysis. Ecotoxicology 27:325–335

Zeng F, Zhou W, Qiu B, Ali S, Wu F, Zhang G (2011) Subcellular distribution and chemical forms of chromium in rice plants suffering from different levels of chromium toxicity. J Plant Nutr Soil Sci 174:249–256

Zitka O, Krystofova O, Sobrova P, Adam V, Zehnalek J, Beklova M, Kizek R (2011) Phytochelatin synthase activity as a marker of metal pollution. J Hazard Mater 192:794–800
Acknowledgements
This work was financially supported by the National Natural Science Foundation of China (No: 41761094) and The Guangxi Talent Highland for Hazardous Waste Disposal Industrialization.
About this article
Cite this article
Yu, XZ., Ling, QL., Li, YH. et al. mRNA Analysis of Genes Encoded with Phytochelatin Synthase (PCS) in Rice Seedlings Exposed to Chromium: The Role of Phytochelatins in Cr Detoxification. Bull Environ Contam Toxicol 101, 257–261 (2018). https://doi.org/10.1007/s00128-018-2362-0
Received:

Accepted:

Published:

Issue Date:
Keywords
Chromium

Genes

Phytochelatins synthase

Rice