Abstract
This study was conducted to determine the concentration of toxic metals in soil, forage and blood plasma of lactating and non-lactating buffaloes in the district Jhang, Punjab, Pakistan. Soil samples were collected from varying distances from the road side. Plasma separation was achieved by centrifugation. The concentration of arsenic (As), selenium (Se), cadmium (Cd), chromium (Cr), iron (Fe), zinc (Zn), copper (Cu) and cobalt (Co) were determined by using Atomic Absorption Spectrophotometer. The results of the study showed that the mean As, Se and Cd concentrations in soil samples were lower while Cr, Fe, Zn, Cu and Co were higher than the official guidelines. In plasma samples, mean concentration values of Co, Zn, Fe, Cd, Se and As were lower while Cu and Cr were higher than the recommended concentrations. According to the results of the study there was no potential exposure of toxicity in buffaloes of the study area.
Access options
Buy single article
Instant access to the full article PDF.
USD 39.95
Price includes VAT (USA)
Tax calculation will be finalised during checkout.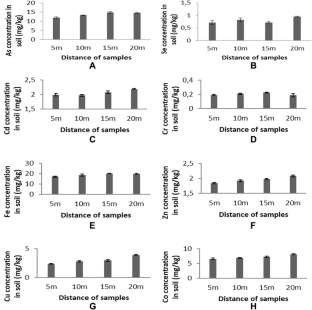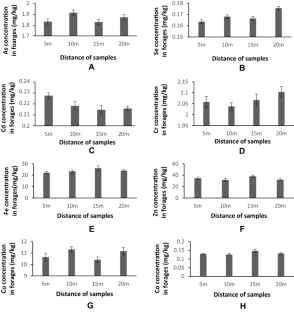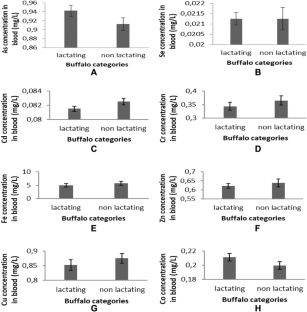 References
Ahmad K, Ejaz A, Khan ZI et al (2010) Evaluation of dynamics of iron and manganese from pasture to buffaloes: a case study of rural livestock farms. Pak J Bot 42:3415–3421

Ahmad K, Ashfaq A, Khan ZI et al (2016a) Health risk assessment of heavy metals and metalloids via dietary intake of a potential vegetable grown in contaminated water irrigated agricultural sites of Sargodha, Pakistan. Hum Ecol Risk Assess 22(3):597–610

Ahmad K, Khan ZI, Yasmin S et al (2016b) Contamination of soil and carrots irrigated with different sources of water in Punjab, Pakistan. Environ Earth Sci 75:426

Ahmad K, Khan ZI, Ashfaq A et al (2016c) Contamination and accumulation of heavy metals in brinjal (Solanum melongena L.) grown in a long-term wastewater-irrigated agricultural land of Sargodha, Pakistan. Fresenius Environ Bull 25(7):2404–2410

Ahmad K, Nawaz K, Khan ZI et al (2018) Effect of diverse regimes of irrigation on metals accumulation in wheat crop: an assessment-dire need of the day. Fresenius Environ Bull 27(2):846–855

Amlan K, Ghosh MA, Bhatt HP et al (2012) Effect of long-term application of treated sewage water on heavy metal accumulation in vegetables grown in Northern India. Environ Monit Assess 184:1025–1036

Bhardwaj RL (1998) Age correlated histoenzymic distribution of acetyl cholinesterase and non-specific esterase in the ovary of Indian buffalo. Ind J Anim Sci 68:448–449

Carneiro M, Colaço B, Colaço J et al (2016) Biomonitoring of metals and metalloids with raptors from Portugal and Spain: a review. Environ Rev 24:63–83

Chandio AA, Yuansheng J, Magsi H (2016) Agricultural sub-sectors performance: an analysis of sector-wise share in agriculture GDP of Pakistan. Int J Econ Financ 8(2):156–162

Chiroma TM, Ebewele RO, Hymore FK (2014) Comparative assessment of heavy metal levels in soil, vegetables and urban grey waste water used for irrigation in Yola and Kano. Int Refer J Eng Sci 3:1–9

Christensen JM, Holst E, Bonde JP, Knudsen L (1993) Determination of chromium in blood and serum—evaluation of quality control procedures and estimation of reference values in Danish subjects. Sci Tot Environ 132:11–25

Dogan Y, Ugulu I, Baslar S (2010) Turkish red pine as a biomonitor: a comperative study of the accumulation of trace elements in needles and barks. Ekoloji 19(75):88–96

Dogan Y, Baslar S, Ugulu I (2014a) A study on detecting heavy metal accumulation through biomonitoring: content of trace elements in plants at Mount Kazdagi in Turkey. Appl Ecol Environ Res 12(3):627–636

Dogan Y, Unver MC, Ugulu I, Calis M, Durkan N (2014b) Heavy metal accumulation in the bark and leaves of Juglans regia planted in Artvin City, Turkey. Biotech Biotechnol Equip 28(4):643–649. https://doi.org/10.1080/13102818.2014.947076

Durkan N, Ugulu I, Unver MC, Dogan Y, Baslar S (2011) Concentrations of trace elements aluminum, boron, cobalt and tin in various wild edible mushroom species from Buyuk Menderes River Basin of Turkey by ICP-OES. Trace Elem Electrolyte 28(4):242–248. https://doi.org/10.5414/TEX01198

Gowda NKS, Malathi VS, Jash S, Roy KS (2003) Status of pollutants and trace elements in water, soil, vegetation and dairy animals in industrial area of Bangalore. Ind J Dairy Sci 56:86–90

Khan ZI, Ahmad K, Ashraf M, Valeem EE, McDowell LR (2009) Mineral status of forage and its relationship with that of plasma of farm animals in southern Punjab. Pak J Bot 41:67–72

Khan ZI, Ahmad K, Ashraf M et al (2016a) Risk assessment of heavy metal toxicity through contaminated vegetable from sewage water: Implications for populace health. Hum Ecol Risk Assess 22(2):302–311

Khan ZI, Ahmad K, Ashraf M et al (2016b) Risk assessment of heavy metal and metalloid toxicity through a contaminated vegetable from wastewater irrigated area: a case study for a site-specific risk assessment in Jhang, Pakistan. Hum Ecol Risk Assess 22(1):86–98

Kincaid RL, Hodgson AS (1989) Relationship of selenium concentrations in blood of calves to blood selenium of the dam and supplemental selenium. J Dairy Sci 72:259–263

McDowell LR (2003) Minerals in animal and human nutrition. Elsevier Science, Amsterdam

National Research Council (NRC) (1996) Nutrient requirements of beef cattle. National Academy Press, Washington, DC

Puis R (1981) Veterinary trace mineral deficiency and toxicity information. Canada Department of Agriculture. Publication 5139. Ottawa, Canada

Rehman A, Kinacid MM, Elzubejr PI (1998) Mineral deficiencies in grazing cattle in Kardofan and Darfur regions in the eastern Sudan. Trop Anim Health Prod 30:123–135

Ugulu I (2015a) A quantitative investigation on recycling attitudes of gifted/talented students. Biotech Biotechnol Equip 29:20–26. https://doi.org/10.1080/13102818.2015.1047168

Ugulu I (2015b) Development and validation of an instrument for assessing attitudes of high school students about recycling. Environ Educ Res 21(6):916–942. https://doi.org/10.1080/13504622.2014.923381

Ugulu I (2015c) Determination of heavy metal accumulation in plant samples by spectrometric techniques in Turkey. Appl Spectros Rev 50(2):113–151. https://doi.org/10.1080/05704928.2014.935981

Ugulu I, Dogan Y, Baslar S, Varol O (2012) Biomonitoring of trace element accumulation in plants growing at Murat Mountain. Int J Environ Sci Tech 9:527–534

Ugulu I, Unver MC, Dogan Y (2016) Determination and comparison of heavy metal accumulation level of Ficus carica bark and leaf samples in Artvin, Turkey. Oxid Commun 39(1):765–775

Unver MC, Ugulu I, Durkan N, Baslar S, Dogan Y (2015) Heavy metal contents of Malva sylvestris sold as edible greens in the local markets of Izmir. Ekoloji 24(96):13–25

USEPA (US Environmental Protection Agency) (2002) Exposure factors handbook. Volume II-food ingestion factors. Office of Research and Development, Washington, DC

WHO Study Group (1983) Recommended health-based limits in occupational exposure to heavy metals. World Health Organization, Geneva

Wieczorek-Dabrowska M, Tomza-Marciniak A, Pilarczyk B, Balicka-Ramisz A (2013) Roe and red deer as bioindicators of heavy metals contamination in north-western Poland. Chem Ecol 29(2):100–110
Acknowledgements
Laboratory facilities are provided by High Tech Lab University of Sargodha. The authors also thank all the supporters for suggestions and comments for the improvement of this manuscript.
About this article
Cite this article
Khan, Z.I., Ugulu, I., Umar, S. et al. Potential Toxic Metal Accumulation in Soil, Forage and Blood Plasma of Buffaloes Sampled from Jhang, Pakistan. Bull Environ Contam Toxicol 101, 235–242 (2018). https://doi.org/10.1007/s00128-018-2353-1
Received:

Accepted:

Published:

Issue Date:
Keywords
Soil

Forage

Blood plasma

Metals

Buffalo