Abstract
Two experimental modules with different stocking densities (M1 = 70 and M2 = 120 shrimp m−2) were examined weekly during 72-day culture cycle at low-salinity water (1.9 g L−1) and zero-water exchange to examine the effects of water quality deterioration on the antennal gland (AG) of shrimp. Results showed survival rates of 87.7% and 11.9% in M1 and M2, respectively. Water temperature, pH, dissolved oxygen, and chlorophyll a were not significantly different between modules but the concentrations of the nitrogen compounds were significantly different between modules with the exception of nitrite-N, showing a higher histological alteration index in M2 (32 ± 10) than M1 (22 ± 0) with a strong correlation with the nitrogen compounds. During the last weeks was evidenced in M1 inflammation and hemocytic and hemolymph infiltration, while in M2, melanization, hemocytic melanized nodules and cells with kariorrexis.
Access options
Buy single article
Instant access to the full article PDF.
USD 39.95
Price includes VAT (USA)
Tax calculation will be finalised during checkout.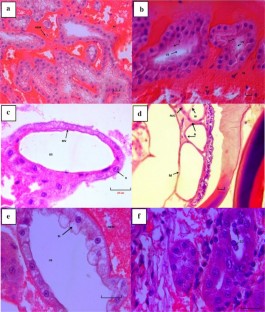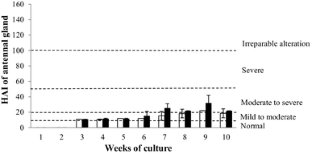 References
Bell TA, Lightner DV (1988) A handbook of normal penaeid shrimp histology. World Aquaculture Society, Baton Rouge

Dall W, Hill BJ, Rothlisberg PC, Sharples DJ (1990) The biology of the Penaeidae. In: Blaxter JMS, Soutward AJ (eds) Advances in marine biology. Academic Press, San Diego, pp 1–489

DeVries MC, Wolcott DL, Holliday CW (1994) High ammonia and low pH in the urine of the ghost crab Ocypode quadrata. Biol Bull 186:342–348

Díaz F, Farfán C, Sierra E, Re AD (2001) Effects of temperature and salinity fluctuation on the ammonium excretion and osmoregulation of juveniles of Penaeus vannamei. Mar Fresh Behav Physiol 34:93–104

Dröge W (2002) Free radicals in the physiological control of cell function. Physiol Rev 82(1):47–95

FAO-Food and Administration Organization (2016) Statistics in fisheries and aquaculture. http://www.fao.org/fishery/statistics/global-aquaculture-production/es. Accessed 23 June 2016

Ferreira NC, Bonetti C, Seiffert WQ (2011) Hydrological and water quality indices as management tools in marine shrimp culture. Aquaculture 318:425–433

Flaherty M, Szuster B, Miller P (2000) Low salinity inland shrimp farming in Thailand. Ambio 29:174–179

Fregoso-López MG, Morales-Covarrubias MS, Franco-Nava MA, Ramírez-Rochín J, Fierro-Sañudo JF, Ponce-Palafox JT, Páez-Osuna F (2017) Histological alterations in gills of shrimp Litopenaeus vannamei in low salinity waters under different stocking densities: potential relationship with nitrogen compounds. Aquac Res 48:5854–5863

Freire CA, Onken H, McNamara JC (2008) A structure-function analysis of ion transport in crustacean gills and excretory organs. Comp Biochem Physiol A 151:272–304

He X, Hu G, Lu G (2013) The effect of lower salinity on microstructure of antennary gland of Litopenaeus vannamei. J Food Agric Environ 11(1):782–785

Hong M, Chen L, Qin JG, Sun X, Li E, Gu S, Yu N (2009) Acute tolerance and metabolic responses of Chinese mitten crab (Eriocheir sinensis) juveniles to ambient nitrite. Comp Biochem Physiol C 149:419–426

Kuhn DD, Smith SA, Boardman GD, Angier MW, Marsh L, Flick GJ (2010) Chronic toxicity of nitrate to Pacific white shrimp, Litopenaeus vannamei: impacts on survival, growth, antennae length, and pathology. Aquaculture 309:109–114

Li EC, Chen LQ, Zeng C, Chen XM, Yu N, Lai QM (2007) Growth, body composition, respiration and ambient ammonia nitrogen tolerance of the juvenile white shrimp, Litopenaeus vannamei, at different salinities. Aquaculture 265:385–390

Liang Z, Liu R, Zhao D, Wang L, Sun M, Wang M, Song L (2016) Ammonia exposure induces oxidative stress, endoplasmic reticulum stress and apoptosis in hepatopancreas of Pacific white Shrimp (Litopenaeus vannamei). Fish Shellfish Immun 54:523–528

Liao S, Li Q, Wang A, Xian J, Chen X, Gou N, Zhang S, Wang L, Xu X (2012) Effect of nitrite on immunity of the white shrimp Litopenaeus vannamei at low temperature and low salinity. Ecotoxicology 21:1603–1608

Norfolk JRW, Craik JCA (1980) Investigation of the control of urine production in the shore crab, Carcinus maenas. Comp Biochem Physiol A 67:141–148

Poleksic V, Mitrovic-Tutundzic V (1994) Fish gills as a monitor of sublethal and chronic effects of pollution. In: Muller R, Lloyd R (eds) Sublethal and chronic effects of pollutants on freshwater fish. Cambridge University Press, Cambridge, pp 339–352

Ramírez-Rochín J, Frías-Espericueta MG, Fierro-Sañudo JF, Alarcón-Silvas SG, Fregoso-López MG, Páez-Osuna F (2017) Acute toxicity of nitrite on white shrimp Litopenaeus vannamei (Boone) juveniles in low-salinity water. Aquac Res 48:2337–2343

Romano N, Zeng C (2013) Toxic effects of ammonia, nitrite and nitrate to Decapod crustaceans: a review on factor influencing their toxicity, physiological consequences and coping mechanisms. Rev Fish Sci 21:1–21

Schuler DJ, Boardman GD, Kuhn DD, Flick GJ (2010) Acute toxicity of ammonia and nitrite to Pacific white shrimp, Litopenaeus vannamei, at low salinities. J World Aquac Soc 41(3):438–446

Tal Y, Schreier HJ, Sowers KR, Stubblefield JD, Place AR, Zohar Y (2009) Environmentally sustainable land-based marine aquaculture. Aquaculture 286:28–35
Acknowledgements
Study supported by the Program UNAM-DGAPA-PAPIIT IN201916 "Evaluación de efectos letales y subletales de amonio, nitritos y nitratos en camarón Litopenaeus vannamei en aguas de baja salinidad". Also was supported by the Red PRODEP "Contaminación acuática: niveles y efectos" (año 3), and by the research grant from CONACYT through the CONACYT INFR-2013 project 204818, 2017710219-Morales-Covarrubias MS and Fundación Produce Colima 06-2011-0018. Authors thank H Bojórquez-Leyva and A Velázquez-Garay for their assistance.
About this article
Cite this article
Fregoso-López, M.G., Morales-Covarrubias, M.S., Franco-Nava, M.A. et al. Effect of Nitrogen Compounds on Shrimp Litopenaeus vannamei: Histological Alterations of the Antennal Gland. Bull Environ Contam Toxicol 100, 772–777 (2018). https://doi.org/10.1007/s00128-018-2349-x
Received:

Accepted:

Published:

Issue Date:
Keywords
Shrimp

Nitrogen compound

Antennal gland

Histopathology