Abstract
This study evaluated the environmental safety of Igbokoda River, a popular fishing hub in an oil producing area in Nigeria. Biomarkers of oxidative stress and heavy metals were determined in the liver and muscle of Clarias gariepinus from Igbokoda River and also in fish samples from a clean fish farm (control). Water samples from both sites were analysed for physicochemical parameters, heavy metals and bacterial contamination. There was significant increase in the level of heavy metals in water samples and in the organs of fish from Igbokoda River. A significant increase in malondialdehyde level as well as alterations in antioxidant status was observed in the organs of fish samples from Igbokoda River compared with control. Coliforms and salmonella were also visible in Igbokoda River alongside particulate matter. These results show that Igbokoda River is polluted; consumption of aquatic organisms from the River may be unsafe for people in that community.
Access options
Buy single article
Instant access to the full article PDF.
USD 39.95
Price includes VAT (USA)
Tax calculation will be finalised during checkout.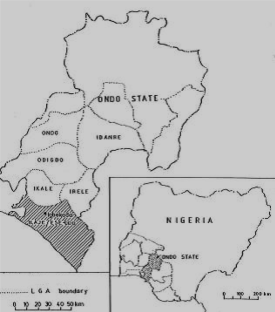 References
Abdel-Gawad FK, Guerriero G, Khalil WKB, Abbas HH (2016) Evaluation of oxidative stress, genotoxicity and gene expression alterations as oil pollution markers in solea vulgaris from Suez Canal. Quantum Matter 5(2):291–296

Abdus-Salam N, Adekola FA, Apata AO (2010) A physicochemical assessment of water quality of oil producing areas of Ilaje, Nigeria. Adv Nat Appl Sci 4(3):333–344

Achi C (2003) Hydrocarbon exploitation, environmental degradation and poverty: the Niger Delta experience. In: Proceedings of the Diffuse Pollution Conference, Dublin

Adebowale KO, Foluso OA, Bamidele IO (2008) Impact of natural and anthropogenic multiple sources of pollution on the environmental conditions of Ondo state coastal water, Nigeria. Electron J Environ Agric Food Chem 7:2797–2811

Baird L, Dinkova-Kostova AT (2011) The cytoprotective role of the Keap1–Nrf2 pathway. Arch Toxicol. 85:241–272

Bayode OJA, Adewunmi EA, Odunwole S (2011) Environmental implications of oil exploration and exploitation in the coastal region of Ondo State, Nigeria: a regional planning appraisal. J Geogr Reg Plan 4(3):110–121

Borković SS, Saponjić JS, Pavlović SZ, Blagojević DP, Milosević SM, Kovacević TB, Radojicić RM, Spasić MB, Zikić RV, Saicić ZS (2005) The activity of antioxidant defence enzymes in the mussel Mytilus galloprovincialis from the Adriatic Sea. Comp Biochem Physiol 141(4):366–374

Capaldo A, Gay F, Scudiero R, Trinchella F, Caputo I, Lepretti M, Marabotti A, Esposito C, Laforgia V (2016) Histological changes, apoptosis and metallothionein levels in Triturus carnifex (Amphibia, Urodela) exposed to environmental cadmium concentrations. Aquat Toxicol 173:63–73

Censi P, Spoto SE, Saiano F, Sprovieri M, Mazzola S, Nardone G, Ottonello D (2006) Heavy metals in coastal water systems. A case study from the northwestern Gulf of Thailand. Chemosphere 64:1167–1176

Chang LW, Magos L, Suzuki T (eds) (1996) Toxicology of metals. CRC Press, Boca Raton, FL

El-Moselhy KM, Othman AI, Abd El-Azem H, El-Metwally MEA (2014) Bioaccumulation of heavy metals in some tissues of fish in the Red Sea, Egypt. Egypt J Basic Appl Sci 1(2):97–105

Eroglu A, Dogan Z, Kanak EG, Atli G, Canli M (2015) Effects of heavy metals (Cd, Cu, Cr, Pb, Zn) on fish glutathione metabolism. Environ Sci Pollut Res Int 22(5):3229–3237

Falfushynska H, Stolyar O (2009) Responses of biochemical markers in carp Cyprinus carpio from two field sites in Western Ukraine. Ecotoxicol Environ Saf 72(3):729–736

Farombi EO, Tahnteng JG, Agboola AO, Nwankwo JO, Emerole GO (2000) Chemoprevention of 2-acetylaminofluorene-induced hepatotoxicity and lipid peroxidation in rats by kolaviron-a Garcinia kola seed extract. Food Chem Toxicol 38(6):353–541

Farombi EO, Adelowo OA, Ajimoko YR (2007) Biomarkers of oxidative stress and heavy metal levels as indicators of environmental pollution in African Cat Fish (Clarias gariepinus) from Nigeria Ogun River. Int J Environ Res Publ Health 4(2):158–165

Farombi EO, Ajimoko YR, Adelowo OA (2008) Effect of butachlor on antioxidant enzyme status and lipid peroxidation in fresh water African Catfish, (Clarias gariepinus). Int J Environ Res Publ Health 5(5):423–427

Gavrilescu M, Demnerová K, Aamand J, Agathos S. Fava F (2015) Emerging pollutants in the environment: present and future challenges in biomonitoring, ecological risks and bioremediation. New Biotechnol 32(1):147–156

Giustarini D, Dalle-Donne I, Milzani A, Fanti P, Rossi R (2013) Analysis of GSH and GSSG after derivatization with N-ethylmaleimide. Nat Protoc 8(9):1660–1669

Godwin AI (2016) Assessment of heavy metals associated with bottom sediment of Asejire Reservoir, Southwest Nigeria. Int Lett Nat Sci 55:9–16

Gorur FK, Keser R, Akcay N, Dizman S (2012) Radioactivity and heavy metal concentrations of some commercial fish species consumed in the Black Sea Region of Turkey. Chemosphere 87:356. https://doi.org/10.1016/j.chemosphere.2011.12.022

Huang DJ, Zhang YM, Song G, Long J, Liu JH, Ji WH (2000) Contaminants-induced oxidative damage on the Carp Cyprinus carpio collected from the upper Yellow River, China. J Environ Monit Assess 128(1–3):483–488

Iyun BI, Oke EA (2000) Ecological and cultural barriers to treatment of childhood diarrhea in riverine areas of Ondo State. Nigeria Soc Sci Med 50(7–8):953–964

Jollow DJ, Michell JR, Zampaglione N, Gillete JR (1974) Bromobenzene induced liver Necrosis: protective role of GSH and evidence for 3,4-Bromobenzene oxide as the Hepatotoxic metabolite. Pharmacology 11(3):151–169

Kong L, Kadokami K, Wang S, Duong HT, Chau HTC (2015) Monitoring of 1300 organic micro-pollutants in surface waters from Tianjin, North China. Chemosphere 122:125–130

Kress N, Herut B, Galil BS (2004) Sewage sludge impact on the sediment quality and benthic assemblage off the Mediterranean coast of Israel—a long term study. Marine Environ Res 57:213–233

Liu W-X, Wang Y, He W, Qin N, Kong XZ, He QS, Yang B, Yang C, Jiang YJ, Jorgensen SE, Xu FL (2016) Aquatic biota as potential biological indicators of the contamination, bioaccumulation and health risks caused by organochlorine pesticides in a large, shallow Chinese lake (Lake Chaohu). Ecol Indic 60:335–345

Mahmoud HH (2016) New method for assessment of serum catalase activity. Indian J Sci Technol 9(4):1–5

Misra HP, Fridovich I (1972) The role of superoxide anion in the autooxidation of epinephrine and a simple assay for superoxide dismutase. J Biol Chem 247(10):3170–3175

Murray KS, Rogers DT, Kaufman MM (2004) Heavy metals in an Urban Watershed in Southeastern Michigan. J Environ Qual 33:163–172

Nie M, Xian N, Fu X, Chen X, Li B (2010) The interactive effects of petrolem-hydrocarbon spillage and plant rhizosphere on concentrations and distribution of heavy metals in sediments in the Yellow River Delta, China. J Hazard Mater 174(1):156–161

Nwankwo N, Ifeadi CN (1988) Case studies on the environmental impact of oil production and marketing in Nigeria. In: Sada PO, Odemerho FO (eds) Environmental issues and management in Nigerian Development. Ibadan.: Evans Brothers (Nigeria Publishers) Limited, Ibadan, pp 208–223

Okay OS, Ozmen M, Güngördü A, Yilmaz A, Yakan SD, Karacik B, Tutak B, Schramm KW (2016) Heavy metal pollution in sediments and mussels: assessment by using pollution indices and metallothionein levels. Environ Monit Assess 188(6):352

Olaniyan CO. (1985). The balance of nature: live and let live. 1986 Foundation Day lecture of the Federal University of Technology, Akure, Nigeria, Held on 23 April, 1986

Olaniyan RF, Ugwumba AO, Ayoade AA (2016) Physicochemical properties of Igbokoda River, Ondo State, Nigeria. Int J Sci Edu 6(1):16–20

Omobowale TO, Oyagbemi AA, Akinrinde AS, Saba AB, Daramola OT, Ogunpolu BS, Olopade JO (2014) Failure of recovery from lead induced hepatoxicity and disruption of erythrocyte antioxidant defence system in Wistar rats. Environ Toxicol Pharm 37(3):1202–1211

Onisokyetu A, Godwin M, Chinenye NG (2016) Bioaccumulation of selected heavy metals in water, sediment and Blue Crab (Callinectes amnicola) from Bodo Creek, Niger Delta, Nigeria. J Fish Sci 10(3):77–83

Ordinioha B, Brisibe S (2013) The human health implications of crude oil spills in the Niger delta, Nigeria: an interpretation of published studies. Niger Med J 54(1):10–16. https://doi.org/10.4103/0300-1652.108887

Osuji LC, Onojake CM (2004) Trace heavy metals associated with crude oil: a case study of Ebocha-8 oil-spill-polluted site in Niger Delta, Nigeria. Chem Biodivers 1(11):1708–1715

Oyagbemi AA, Omobowale TO, Akinrinde AS, Saba AB, Ogunpolu BS, Daramola O (2015) Lack of reversal of oxidative damage in renal tissues of lead acetate-treated rats. Environ Toxicol 30(11):1235–1243

Oyagbemi AA, Omobowale TO, Asenuga ER, Adejumobi AO, Ajibade TO, Ige TM et al (2017) Sodium fluoride induces hypertension and cardiac complications through generation of reactive oxygen species and activation of nuclear factor kappa beta. Environ Toxicol 32:1089–1101

Quilbé R, Pieri I, Wicherek S, Dugas N, Tasteyre A, Thomas Y, Oudinet J (2004) Combinatory chemical and biological approaches to investigate metal elements in agricultural runoff water. J Environ Qual 33:149–153

Sanchez W, Selim A, Olivier P, Jean-Maxence D, Jean-Marc P (2007), Preliminary investigation of multi-biomarker responses in three-spined stickleback (Gasteros-teus aculeatus L.) sampled in contaminated streams. Ecotoxicology 16(2), 279–287

Sinha AK (1972) Colorimetric assay of catalase. Anal Biochem 47(2):389–394

Stern BR (2010) Essentiality and toxicity in copper health risk assessment: overview, update and regulatory considerations. J Toxicol Environ Health A 73(2):114–127

Stevens JJ, Graham B, Walker AM, Tchounwou PB, Rogers C (2010) The effects of arsenic trioxide on DNA synthesis and genotoxicity in human colon cancer cells. Int J Environ Res Public Health 7(5):2018–2032

Tchounwou PB, Yedjou CG, Patlolla AK, Sutton DJ (2012) Heavy metal toxicity and the environment. In: Luch A (ed) Molecular clinical and environmental toxicology, vol 3. Springer Basel, Basel, pp 133–164

WHO (1984) Guidelines for drinking water quality. Health criteria and other supporting information, vol 2, WHO, Geneva

Williams CJ, Frost PC, Morales-Williams AM, Larson JH, Richardson WB, Chiandet AS, Xenopoulos MA (2016) Human activities cause distinct dissolved organic matter composition across freshwater ecosystems. Glob Change Biol 22(2):613–626
About this article
Cite this article
Arojojoye, O.A., Oyagbemi, A.A. & Afolabi, J.M. Toxicological Assessment of Heavy Metal Bioaccumulation and Oxidative Stress Biomarkers In Clarias gariepinus from Igbokoda River of South Western Nigeria. Bull Environ Contam Toxicol 100, 765–771 (2018). https://doi.org/10.1007/s00128-018-2341-5
Received:

Accepted:

Published:

Issue Date:
Keywords
Aquatic pollution

Oxidative stress

Bioaccumulation

Heavy metals

Toxicity