Abstract
This study was conducted at ambient (398 ± 10 µmol mol−1), elevated (450 ± 10 µmol mol−1) and elevated (550 ± 10 µmol mol−1) atmospheric CO2 under three moisture regime and also three level of temperature (4, 25, and 40°C) to assess the degradation of pretilachlor and butachlor. Under dry condition at 398 ± 10 µmol mol−1, T1/2 was 28.5 and 59.4 days for pretilachlor and butachlor, respectively; slowly decreased to 18.2 and 44.5 days at 550 ± 10 µmol mol−1 indicated that elevated condition enhanced degradation than ambient condition. Under field capacity with increasing CO2 levels from ambient to elevated, T1/2 decreased from 18.9 to 11.6 days and 39.4 to 16.2 days for of pretilachlor and butachlor, respectively. Similarly, under submerged conditions with increasing CO2 levels T1/2 decreased 14.7–7.1 and 26.3–11.8 days for pretilachlor and butachlor, respectively. Study also revealed that both pretilachlor and butachlor dissipated faster at 40°C (T1/2, 9.7 and 19.4 days) than 25°C (T1/2, 16.2 and 36.7 days). Slower dissipation was recorded at 4°C (T1/2, 87.6 and 182.4 days).
Access options
Buy single article
Instant access to the full article PDF.
USD 39.95
Price includes VAT (USA)
Tax calculation will be finalised during checkout.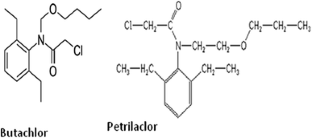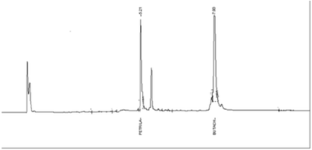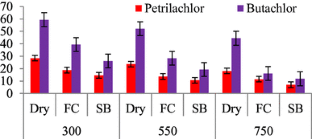 References
Adachi A, Komura T, Andoh A, Okano T (2007) Effect of spherosomes on degradation of pretilachlor and esprocarp in soil. J Health Sci 53:600–603

Adak T, Munda S, Kumar U, Berliner J, Pokhare SS, Jambhulkar NN (2016) Effect of elevated CO2 on chlorpyriphos degradation and soil microbial activities in tropical rice soil. Environ Monit Assess 188(2):105. https://doi.org/10.1007/s10661-016-5119-4

Bloomfield JP, Williams RJ, Gooddy DC, Cape JN, Guha P (2006) Impact of climate change on the fate and behavior of pesticides in surface and ground water—an UK perspective. Sci Total Environ 369:163–177

Chatterjee NS, Gupta S, Varghese E (2013) Degradation of metaflumizone in soil: impact of varying moisture, light, temperature, atmospheric CO2 level, soil type and soil sterilization. Chemosphere 90:729–736

Das SK (2013) Mode of action of pesticides and the novel trends—a critical review. Int Res J 3:393–401

Das SK (2014a) Scope and relevance of using pesticide mixtures in crop protection: a critical review. Int J Environ Sci Toxicol 2:119–123

Das SK (2014b) Recent developments in clean up techniques of pesticide residue analysis for toxicology study: a critical review. Univers J Agric Res 2:198–202

Das SK (2014c) Recent development and future of botanical pesticides in India. Popul Kheti 2:93–99

Das SK, Mukherjee I, Das SK (2017) Metsulfuron-methyl herbicide on dehydrogenase and acid phosphatase enzyme activity on three different soils. Int J Bio-Resour Stress Manag 8:236–241

Das SK, Mukherjee I, Kumar A (2015) Effect of soil type and organic manure on adsorption–desorption of flubendiamide. Environ Monit Assess 187:403. https://doi.org/10.1007/s10661-015-4623-2

Das SK, Mukherjee I, Roy A (2016) Alachlor and metribuzin herbicide on N2-fixing bacteria in a sandy loam soil. Int J Bio-Res Stress Manage 7:334–338

Dwivedi S, Saquib Q, Al-Khedhairy AA, Musarrat J (2012) Butachlor induced dissipation of mitochondrial membrane potential, oxidative DNA damage and necrosis in human peripheral blood mononuclear cells. Toxicology 302:77–87. https://doi.org/10.1016/j.tox.2012.07.014

Huarong GUO, Licheng YIN, Zhang S, Feng W (2010) The toxic mechanism of high lethality of herbicide butachlor in marine flatfish flounder, Paralichthys olivaceus. J Ocean Univ China 9:257–264

IPCC (2014) Climate change 2007: the physical sciences basis. Contribution of Working Group I to the Fourth Assessment Report of the Intergovernmental Panel on Climate Change. Cambridge University Press, Cambridge, pp 847–940

Jackson ML (1967) Soil chemical analysis. Prentice Hall, New Delhi

Kaur I, Mathur RP, Tandon SN, Dureja P (1998) Persistence of endosulfan (technical) in water and soil. Environ Technol 19:115–119

Khandelwal A, Gupta S, Gajbhiye VT, Varghese E (2014) Degradation ofkresoxim-methyl in soil: impact of varying moisture, organic matter, soilsterilization, soil type light and atmospheric CO2 level. Chemosphere 111:209–217

Kumar N, Mukherjee I, Sarkara B, Paul RK (2017) Degradation of tricyclazole: effect of moisture, soil type, elevated carbon dioxide and Blue Green Algae (BGA). J Hazard Mater 321:517–527

Manna S, Singh N, Singh VP (2013) Effect of elevated CO2 on degradation of azoxystrobin and soil microbial activity in rice soil. Environ Monit Assess 185:2951–2960

Mukherjee I, Das SK, Kumar A (2012) A fast method for determination of flubendiamide in vegetables by liquid chromatography. Pestic Res J 24:159–162

Mukherjee I, Das SK, Kumar A (2016) Degradation of flubendiamide as affected by elevated CO2, temperature, and carbon mineralization rate in soil. Environ Sci Pollut Res 23:19931–19939

Rao PSC, Davidson JM (1980) Estimation of pesticide retention and transformation parameters required in nonpoint source pollution models. In: Overcash MR, Davidson JM (eds) Environmental impact of nonpoint source pollution. Ann Arbor Science Publications, Ann Arbor, pp 23–67

Samuel TH, Morrison NI, Walker AS, Marubbi T, Yao J, Collins HL, Gorman K, Davies E, Nina A, Simon W, Anthony MS, Luke A (2015) Pest control and resistance management through release of insects carrying a male-selecting transgene. BMC Biol 13:49

Scarponi L, Buona DB, Vischetti C (2003) Persistence and detoxification of pretilachlor and fenclorim in rice. Agronomie 23:147–151

Sondhia S, Dubey RP (2006) Determination of terminal residues of butachlor and pendimethalin in onion. Pestic Res J 18:85–86

Starner K, Kuivila KM, Jennings B, Moon GE (1999). Degradation rates of six pesticides in water from the sacramento river, California, U.S. geographical survey toxic substances hydrology program: proceeding of the technical meeting, Charleston, South Carolina. http://ca.water.usgs.gov/archive/reports/wrir994018/CA-0216.pdf

Sultana P, Kotiguchi T, Shimazawa H, Nakagoshi N (2005) Measuring of some selected herbicides in paddy surface water in the sojo basin, Western Japan. J Agron Sustain Dev 25:55–61

Wang Y, Cang T, Yu R, Wu S, Liu X, Chen C, Wang Q, Cai L (2016) Joint acute toxicity of the herbicide butachlor and three insecticides to the terrestrial earthworm, Eisenia fetida. Environ Sci Pollut Res Int 23:11766–11776

Xinfeng D, Hanwen S (2016) Effect of temperature and moisture on degradation of herbicide atrazine in agricultural soil. Int J Environ Agric Res 2:150–157

Zheng J, Li R, Zhu J, Zhang J, He J, Li S, Jiang J (2012) Degradation of the chloroacetamide herbicide butachlor by Catellibacterium caeni sp. nov DCA-1T. Int Biodeterior Biodegradation 73:16–22
Acknowledgements
This study was funded by Indian Council of Agricultural Research.
About this article
Cite this article
Mukherjee, I., Das, S.K. & Kumar, A. Atmospheric CO2 Level and Temperature Affect Degradation of Pretilachlor and Butachlor in Indian Soil. Bull Environ Contam Toxicol 100, 856–861 (2018). https://doi.org/10.1007/s00128-018-2340-6
Received:

Accepted:

Published:

Issue Date:
Keyword
Pretilachlor

Butachlor

Elevated

Ambient

Temperature

Degradation