Abstract
Neonicotinoids are one of the most widely used insecticides in the world. DNA damage is considered an early biological effect which could lead to reproductive and carcinogenic effects. The present study aimed to evaluate DNA damage and bases oxidation as a mechanism of genotoxicity, on the freshwater fish Australoheros facetus acutely exposed to imidacloprid (IMI). The Comet assay with the nuclease ENDO III enzyme was performed for detecting pyrimidine bases oxidation using blood samples. Micronucleus and other nuclear abnormalities frequencies were also quantified. A significant increase of damage index at 100 and 1000 µg/L IMI was detected; while ENDO III score increased from 1 to 1000 µg/L IMI; varying both in a linear concentration-response manner. MN frequency increased in fish exposed to 1000 µg/L IMI. These results show that short-term exposures to environmentally relevant concentrations of IMI could affect the genetic integrity of fishes through oxidative damage.
Access options
Buy single article
Instant access to the full article PDF.
USD 39.95
Price includes VAT (USA)
Tax calculation will be finalised during checkout.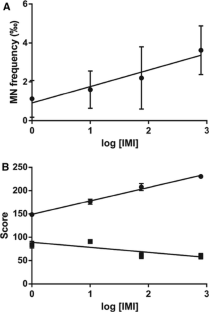 References
Anderson S, Sadinski W, Shugart L, Brussard P, Depledge M, Ford T, Hose JE, Stegeman J, Suk W, Wirgin I, Wogan G (1994) Genetic and molecular ecotoxicology: a research framework. Environ Health Persp 102:3–8

Anderson JC, Dubetz C, Palace VP (2015) Neonicotinoids in the Canadian aquatic environment: a literature review on current use products with a focus on fate, exposure, and biological effects. Sci Total Environ 505:409–422

Ansoar-Rodríguez Y, Christofoletti CA, Marcato AC, Correia JE, Bueno OC, Malaspina O, Fontanetti CS (2015) Genotoxic potential of the insecticide imidacloprid in a non-target organism (Oreochromis niloticus -Pisces). J Environ Prot 6:1360–1367

Arslan M, Sevgiler Y, Buyukleyla M, Yardimci M, Yilmaz M, Rencuzogullari E (2015) Sex-related effects of imidacloprid modulated by piperonyl butoxide and menadione in rats. Part II: genotoxic and cytotoxic potential. Drug Chem Toxicol 39:81–86

Bal R, Türk G, Tuzcu M, Yilmaz O, Kuloglu T, Gundogdu R, Gür S, Agca A, Ulas M, Çambay Z, Tuzcu Z, Gencoglu H, Guvenc M, Ozsahin AD, Kocaman N, Aslan A, Etem E (2012) Assessment of imidacloprid toxicity on reproductive organ system of adult male rats. J Environ Sci Health B 47:434–444

Bolognesi C, Perrone E, Roggieri P, Pampanin DM, Sciutto A (2006) Assessment of micronuclei induction in peripheral erythrocytes of fish exposed to xenobiotics under controlled conditions. Aquat Toxicol 78:S93-S98

Casciotta JR, Almirón AE, Gómez SE (2005) A new species of Australoheros (Teleostei: Perciformes: Cichlidae) from the río Iguazú basin, Argentina. Zoologische Abh 55:77–83

Collins AR (2009) Investigating oxidative DNA damage and its repair using the comet assay. Mutat Res 681:24–32

Collins AR, Dušinská M, Gedik CM, Štětina R (1996) Oxidative DNA damage to DNA: do we have a reliable biomarker? Environ. Health Persp 104:465–469

Díaz- Cruz MS, Barceló D, 2015. Personal care products in the aquatic environment. The Handbook of Environmental Chemistry 36 Series Editors: Damiá Barceló, Andrey G. Kostianoy. Springer ISSN 1616-864X (electronic) p 413

Elbert A, Haas M, Springer B, Thielert W, Nauen R (2008) Applied aspects of neonicotinoid uses in crop protection. Pest Manag Sci 64:1099–1105

Feng S, Kong Z, Wang X, Zhao L, Peng P (2004) Acute toxicity and genotoxicity of two novel pesticides on amphibian, Rana N. Hallowell Chemosphere 56:457–463

Ge W, Yan S, Wang J, Zhu L, Chen A, Wang J (2015) Oxidative Stress and DNA damage induced by imidacloprid in zebrafish (Danio rerio). J Agric Food Chem 63:1856–1862

Goulson D (2013) An overview of the environmental risks posed by neonicotinoid insecticides. J Appl Ecol 50:977–987

Guilherme, S., Santos, MA, Barroso, C, Gaivão I, Pacheco M (2012) Differential genotoxicity of Roundup® formulation and its constituents in blood cells of fish (Anguilla anguilla): considerations on chemical interactions and DNA damaging mechanisms. Ecotoxicology 21:1381–1390

International Union of Pure and Applied Chemistry (IUPAC). PPDB: Pesticides Properties DataBase. University of Hertforshire, Hatfield, Hertfordshire, UK. [cited 2017 January 23]. Available from: http://sitem.herts.ac.uk/aeru/iupac/atoz.htm

Iturburu FG, Zömisch M, Panzeri AM, Crupkin AC, Contardo-Jara V, Pflugmacher S, Menone ML (2017) Uptake, distribution in different tissues and genotoxicity of imidacloprid in the freshwater fish Australoheros facetus. Environ Toxicol Chem 36:699–708

Jergentz S, Mugni H, Bonetto C, Schulz R (2005) Assessment of insecticide contamination in runoff and stream water of small agricultural streams in the main soybean area of Argentina. Chemosphere 61:817–826

Jeschke P, Nauen R, Schindler M, Elbert A (2011) Overview of the status and global strategy for neonicotinoids. J Agric Food Chem 59:2897–2908

Oliveira M, Ahmad I, Maria VL, Ferreira CSS, Serafim A, Bebianno MJ, Pacheco M, Santos MA (2010) Evaluation of oxidative DNA lesions in plasma and nuclear abnormalities in erythrocytes of wild fish (Liza aurata) as an integrated approach to genotoxicity assessment. Mutat Res 703:83–89

Pinheiro-Araldi R, de Melo C, Mendes T, de Sá Júnior TB, Nakano- Nozima PL, Ito BH, de Carvalho ET, Barreiros RF, de Souza E, de Cassia Stocco R (2015) Using the comet and micronucleus assays for genotoxicity studies: a review. Biomed Pharmacother 72:74–82

Poletta GL, Simoniello MF, Mudry MD (2016) Biomarkers of oxidative damage and antioxidant defense capacity in Caiman latirostris blood. Comp Biochem Physiol C 179:29–36

Ruíz De Arcaute, C, Pérez-Iglesias JM, Nikoloff N, Natale GS, Soloneski S, Larramendy ML (2014) Genotoxicity evaluation of the insecticide imidacloprid on circulating blood cells of Montevideo tree frog Hypsiboas pulchellus tadpoles (Anura, Hylidae) by comet and micronucleus bioassays. Ecol Ind 45:632–639

Sánchez-Bayo F, Goka K, Hayasaka D (2016) Contamination of the aquatic environment with neonicotinoids and its implication for ecosystems. Front Environ Sci 4:1–14

Simon-Delso N, Amaral-Rogers V, Belzunces LP, Bonmatin JM, Chagnon M, Downs C, Furlan L, Gibbons DW, Giorio C, Girolami V, Goulson D, Kreutzweiser DP, Krupke CH, Liess M, Long E, McField M, Mineau P, Mitchell EAD, Morrissey CA, Noome DA, Pisa L, Settele J, Stark JD, Tapparo A, Van Dyck H, Van Praagh J, Van der Sluijs JP, Whitehorn PR, Wiemers M (2015) Systemic insecticides (Neonicotinoids and fipronil): trends, uses, mode of action and metabolites. Environ Sci Poll Res 22:5–34

Simoniello MF, Loteste A, Kleinsorge EC, Campana M, Parma J (2009) Alkaline comet assay for genotoxic effects detection in a neotropical fish Prochilodus lineatus (Pisces, Curimatidae). Bull Environ Contam Toxicol 83:155–158

Singh NP, McCoy MT, Tice RR, Schneider EL (1988) A simple technique for quantitation of low levels of DNA damage in individual cells. Exp Cell Res 175:184–191

Van Dijk TC, Van Staalduinen MA, Van der Sluijs JP (2013) Macro-invertebrate decline in surface water polluted with imidacloprid. PloS One 8(5):e62374

Xia X, Xia X, Huo W, Dong H, Zhang L, Chang Z (2016) Toxic effects of imidacloprid on adult loach (Misgurnus anguillicaudatus). Environ Toxicol Pharmacol 45:132–139

Zar JH (1999) Biostatistical analysis. Prentice Hall, Upper Saddle River, NJ
Acknowledgements
The authors acknowledge Dr. Andrew Collins (University of Oslo, Oslo Norway) for providing the enzyme Endonuclease III. The present study was supported by UNMDP (EXA 795/16) and FONCYT (PICT 2013-1348).
About this article
Cite this article
Iturburu, F.G., Simoniello, M.F., Medici, S. et al. Imidacloprid Causes DNA Damage in Fish: Clastogenesis as a Mechanism of Genotoxicity. Bull Environ Contam Toxicol 100, 760–764 (2018). https://doi.org/10.1007/s00128-018-2338-0
Received:

Accepted:

Published:

Issue Date:
Keywords
Neonicotinoid

Fishes

DNA fragmentation

Micronucleus