Abstract
Phthalic acid esters (PAEs) are a group of chemical species, ubiquitously present in the environment and pose a serious risk to humans. In the present study, the average concentrations of PAEs in PM10 (particulate matter ≤ 10 µm) are reported at a densely populated site in Delhi. The average concentration of PAEs was reported to be 703.1 ± 36.2 ng m−3 with slightly higher concentrations in winter than in summer; suggesting that sources are relatively stable over the whole year. The average concentration of PAEs was 35.7 ± 30.5 ng m−3 in winter, 35.4 ± 27.0 ng m−3 in summer, 3.4 ± 1.5 ng m−3 in monsoon and 7.5 ± 5.2 ng m−3 in post-monsoon. Principal component analysis was performed, which suggested that emissions were mainly due to plasticizers, cosmetics and personal care products, municipal solid waste, thermal power stations, industrial wastewater, cement plants and coke ovens.
Access options
Buy single article
Instant access to the full article PDF.
USD 39.95
Price includes VAT (USA)
Tax calculation will be finalised during checkout.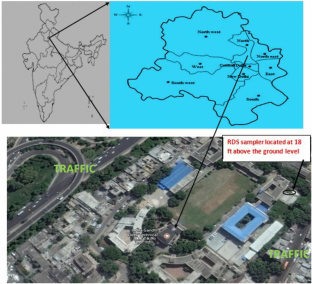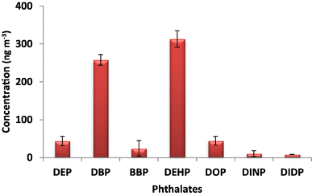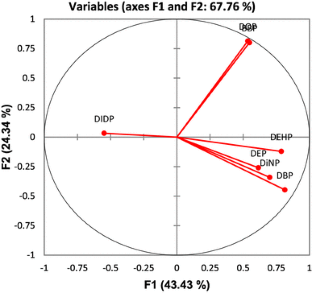 References
Cai QY, Mo CH, Wu QT, Zeng QY, Katsoyiannis A (2007) Occurrence of organic contaminants in sewage sludges from eleven wastewater treatment plants, China. Chemosphere 68:1751–1762

Callén MS, Cruz MT, López JM, Navarro MV, Mastral AM (2009) Comparison of receptor models for source apportionment of the PM10 in Zaragoza (Spain). Chemosphere 76:1120–1129

Cousins I, Mackay D (2000) Correlating the physical–chemical properties of phthalate esters using the 'three solubility' approach. Chemosphere 41:1389–1399

Current status of southwest monsoon 2015 and forecasts Press Release (4 June 2015). India Meteorological Department, Ministry of Earth Sciences, Government of India

Das MT, Ghosh P, Thakur IS (2014) Intake estimates of phthalate esters for South Delhi population based on exposure media assessment. Environ Pollut 189:118–125

Duty SM, Calafat AM, Silva MJ, Brock JW, Ryan L, Chen ZY, Overstreet J, Hauser R (2004) The relationship between environmental exposure to phthalates and computer-aided sperm analysis motion parameters. J Androl 25:293–302

Fu PQ, Kawamura K, Pavuluri CM, Swaminathan T, Chen J (2010) Molecular characterization of urban organic aerosol in tropical India: contributions of primary emissions and secondary photo-oxidation. Atmos Chem Phys 10:2663–2689

Giri B, Patel KS, Jaiswal NK, Sharma S, Ambade B, Wang W, Simonich SLM, Simoneit BRT (2013) Composition and sources of organic tracers in aerosol particles of industrial central India. Atmos Res 120–121:312–324

Gopalaswami P (2016) A study on effects of weather, vehicular traffic and other sources of particulate air pollution on the city of Delhi for the year 2015. J Env Poll Human Health 4(2):24–41

Guo Y, Kannan K (2011) Comparative assessment of human exposure to phthalate esters from house dust in China and the United States. Environ Sci Technol 45:3788–3794

Gupta S, Gadi R, Mandal TK, Sharma SK (2017) Seasonal variations and source profile of n-alkanes in particulate matter (PM10) at a heavy traffic site, Delhi. Environ Monit Assess 189:43. https://doi.org/10.1007/s10661-016-5756-7

Gupta S, Gadi R, Sharma SK, Mandal TK (2018) Characterization and source apportionment of organic compounds in PM10 using PCA and PMF at a traffic hotspot of Delhi. J Sustain Cities Soc 39:52–67

Itoh H, Yoshida K, Masunaga S (2007) Quantitative identification of unknown exposure pathways of phthalates based on measuring their metabolites in human urine. Environ Sci Technol 41:4542–4547

Ji YQ, Wang FM, Zhang LB, Shan CY, Bai ZP, Sun ZR, Liu LL, Shen BX (2014) A comprehensive assessment of human exposure to phthalates from environmental media and food in Tianjin, China. J Hazard Mater 279:133–140

Kong SF, Ji YQ, Liu LL, Chen L, Zhao XY, Wang JJ, Bai ZP, Sun ZR (2013a) Spatial and temporal variation of phthalic acid esters (PAEs) in atmospheric PM10 and PM2.5 and the influence of ambient temperature in Tianjin, China. Atmos Environ 74:199–208

Li J, Wang G (2015) Airborne particulates endocrine disrupting compounds in China: compositions, size distributions, and seasonal variations of phthalate esters and bisphenol A. Atmos Res 154:138–145

Liu H, Liang Y, Zhang D, Wang C, Liang HC, Cai HS (2010) Impact of MSW landfill on the environmental contamination of phthalate esters. Waste Manag 30:1569–1576

Mishra AK, Shibata T (2012) Synergistic analyses of optical and microphysical properties of agricultural crop residue burning aerosols over the Indo-Gangetic Basin (IGB). Atmos Environ 57:205–218

Rudel RA, Perovich LJ (2009) Endocrine disrupting chemicals in indoor and outdoor air. Atmos Environ 43(1):170–181

Sharma M, Dikshit O (2016) Report on comprehensive study on air pollution and greenhouse gases (GHGs) in Delhi, Department of Environment, Govt. of NCT, Delhi & DPCC

Srivastava A, Sharma VP, Tripathi R, Kumar R, Patel DK, Mathu PK (2009) Occurrence of phthalic acid ester in Gomati river sediment, India. Environ Monit Asses 169:397–406. https://doi.org/10.1007/s10661-009-1182-4

Teil MJ, Blanchard M, Chevreuil M (2006) Atmospheric fate of phthalate ester in an urban area (Paris-France). Sci Tot Environ 354:212–223

Wang P, Wang SL, Fan CQ (2008) Atmospheric distribution of particulate- and gas-phase phthalic esters (PAEs) in a metropolitan city, Nanjing, East China. Chemosphere 72:1567–1572

Weschler CJ, Salthammer T, Fromme H (2008) Partitioning of phthalates among the gas phase, airborne particles and settled dust in indoor environments. Atmos Environ 42:1449–1460

Wormuth M, Scheringer M, Vollenweider M, Hungerbuhler K (2006) What are the sources of exposure to eight frequently used phthalic acid esters in Europeans. Risk Anal 26:803–824

Xie ZY, Ebinghaus R, Temme C, Caba A, Ruck W (2005) Atmospheric concentrations and air-sea exchanges of phthalates in the North Sea (German Bight). Atmos Environ 39:3209–3219

Zhang LB, Wang FM, Ji YQ, Jiao J, Zou DK, Liu LL, Shan CY, Bai ZP, Sun ZR (2014) Phthalate esters (PAEs) in indoor PM10/PM2.5 and human exposure to PAEs via inhalation of indoor air in Tianjin, China. Atmos Environ 85:139–146

Zhu Z, Ji Y, Zhang S, Zhao J, Zhao J (2016) Phthalate ester concentrations, sources and risks in the ambient air of Tianjin, China. Aerosol Air Qual Res 16:2294–2301
About this article
Cite this article
Gupta, S., Gadi, R. Temporal Variation of Phthalic Acid Esters (PAEs) in Ambient Atmosphere of Delhi. Bull Environ Contam Toxicol 101, 153–159 (2018). https://doi.org/10.1007/s00128-018-2337-1
Received:

Accepted:

Published:

Issue Date:
Keywords
Phthalic acid esters

Particulate matter

Seasonal variation

Principal component analysis

Urban pollution